Welcome to Queer Outfit of the Week where I scour the world and tell you all about my one favorite queer outfit this week. I'll envision a scenario where you or your girlfriend or your best friend or your mom or your cat could wear it and talk all about why it's a great outfit for that event. Every week will be a different style, gender presentation and event so there's a little something for everyone — even the person who just wants to look at pictures of stylish queers! So let's get to it — we're going to figure out what the heck we're going to wear this week!
I may be Jewish but I'm pretty damn sure it 'tis the season for presents, family and cheesy movies with good music. Of course, all I care about is the plethora of holiday party invites that I'm sure must have gotten lost in the mail. Nothing beats shmoozing with 50 of your closest friend's closest friends. Or, more realistically, your grandmother's closest friends and bridge partners. But if you are so lucky as to waltz your way into a swanky holiday gala, I've got just the look for you.
This week's look comes to us from Kipper Clothiers, a Bay Area custom clothiers committed to suits and shirts for the LGBT community. Fortunately, if you're not living in the Bay Area or currently seeking custom made clothing, you can put this look together all on your own!
For a dressier holiday party a grey or blue suit is always a great place to start. Black can look a little like you're on your way to a funeral and browns tends to make the greens and reds of the season more earthy than festive. If you don't have a suit already, I suggest consulting with our in-depth suit sizing and buying guide.
Of course, any shmuck can slap on a suit and head out the door on Christmas Eve. The real party is in the festive color combinations. Now, I'm not one to go all hokey with red and green, but I do think choosing either a green or red patterned button up and correspondingly colored accessories is a nice way to pay homage to the colors of the season while keeping it classy. One thing to keep in mind is that while it's fun for your accessories to be bold red, you might want to opt for a more muted wine color for your shirt. This makes your accessories pop while also preventing your shirt from becoming overpowering.
Patterned socks are extremely popular right now, but one reason this look is particularly successful is that solid red socks pick up the hues from the red shirt and striped bow tie without overpowering them. Between the shirt, bow tie and pocket square you have three perfectly corresponding simple patterns. But four? That's a mess.
Finally, you want to finish off your look with a brown belt and brown shoes. Though black shoes are the classic mainstay of grey and navy suits, brown shoes, particularly brown oxfords, give just a hint of throwback dapper fashion. Plus, they strongly increase your chance of wearing the same shoes as your grandfather.
If you want to make this look a bit more tomboy femme, ditch the jacket and socks and swap in some narrow cropped trousers. But keep the bow tie — nothing looks cuter under the mistletoe than two girls in bow ties kissing.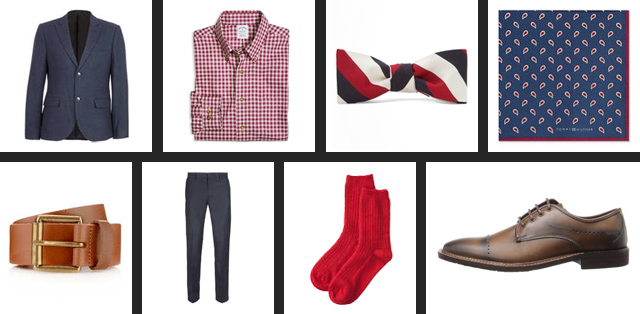 Steve Madden Men's Misionn Dress Shoe // Brooks Brothers Bow Tie // J.Jill Socks // Topman Leather Belt // Tommy Hilfiger Pocket Square // Brooks Brothers Shirt // Topman Premium Texture Navy Blazer // Topman Premium Textured Navy Pants 
Nothing heats up the winter like a fun holiday party. Armed with the perfect holiday look you can forget about feeling self conscious, pour some mulled wine and rock out until Santa is forced to put you on the naughty list!
---
If you see something that you think should be featured on Queer Outfit of the Week, send me an ASS message, ask on my tumblr, or tweet me @Ohheyitslizz