It's a weird time of the year for many of us in the Western Hemisphere, especially with the warmer climates we've been experiencing later and later in the year for certainly no reason at all. It's not quite time for a toasty beanie (and I, for one, have gotten pretty sick of only wearing dad caps even though they're obviously great), so I decided to find some chic alternatives.
If you don't know what looks good on you, try going to a fancy hat store like Goorin Bros. or your local department store's hat section, and try them on to your heart's content. Once you've got a decent idea of what you like, come back here and get yourself a more affordable version of that. A good hat can be dressed up or down — all you need is to wear it with the right attitude. And don't forget: you can pull off more than you think you can!
With that in mind, here are some options for you this upcoming season (or for shading your face in Spring or Summer, or just looking good on the patio of that coffee shop with the cute barista).
Short Brim (Reclaim the Fedora!)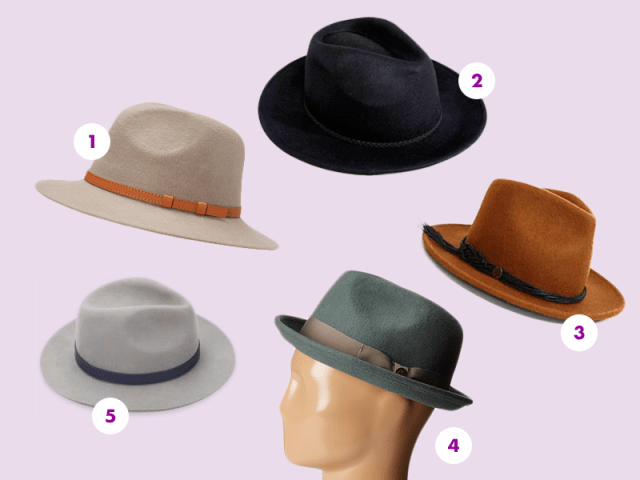 1. Zulily Gray Belted Wool Fedora / 2. Asos Felt Panama Hat With Size Adjuster / 3. Billabong Eastwood Panama Hat / 4. Goorin Bros. Good Boy Cap / 5. Saks Fifth Avenue Wool & Leather Fedora
I know, I know, the fedora gets a bad rap — which is all the more reason to subvert its reputation by being cute queermos who are kind to and respect women when we wear them! My personal preference for these is to match them to something I'm wearing and to avoid patterns at all costs. To dress things down, add a jean jacket and some big brown boots.
---
Mid Brim
1. Lucky Brand Point Crown Structure Hat / 2. Uniqlo Women's Idlf Wool Capeline Hat / 3. J.Crew Factory Hthr Camel / 4. Brixton Dallas Hat /5. World Market Grey Wool Rancher Hat / 6. Brixton Wesley Fedora
Whether you like mid-brim styles will depend largely on the shape and size of your face. As a petite person with a small, oval face, I find that mid-brims never feel overpowering like wide ones can. You can choose between a flat top shape or a round dome, or simply enjoy them both! Pro tip: If you prefer a structured brim but the felt hat you bought is a little too limp, try spraying some ironing starch on it.
---
Wide Brim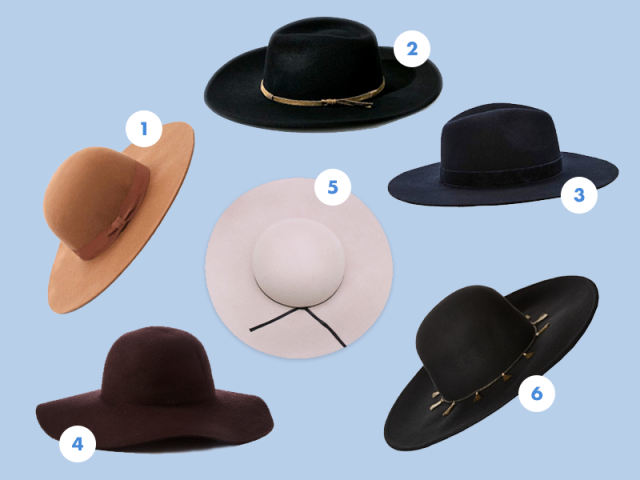 1. Forever 21 Wool Floppy Hat / 2. Urban Outfitters Georgia Wide Brim Rancher Hat / 3. Forever 21 Wool Fedora with Velvet Ribbon / 4. Scala Big Brim Wool Felt Floppy Hat / 5. ELOQUII Wide Brim Felt Hat / 6. Vince Camuto Tassel Chain Floppy Traditional Hat
The central question here is, floppy or structured? A large, flat-brimmed hat will frame your face like you're the patron saint of cool, while something floppier will give you that je ne sais quoi of a casual gal who just so happens to look this good. Either way, the wider the brim, the bigger the statement!
---
Colorful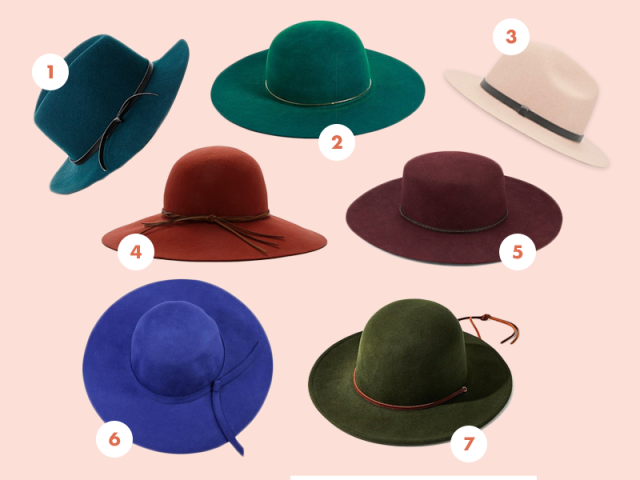 There's something thrilling about a classic shape updated with a modern color or pattern! Put this bright style to work by matching your hat to another part of your outfit — maybe your jacket, your shoes, or one of the colors on your shirt, or stand out with a monochromatic look and a pop of color on your head.
---
Western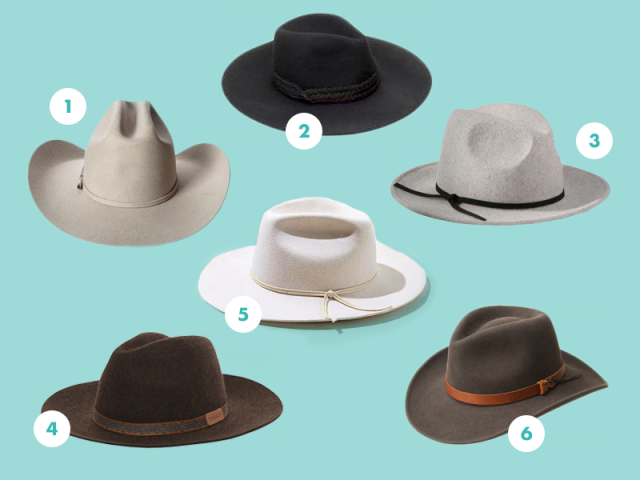 I'm a Texas girl at heart, so I couldn't go without including this section! Historically reserved for ranchwear, western hats are only getting cooler with time. An authentic Stetson will cost you a pretty penny, but scour nearby secondhand stores and you might just find something better! I found a vintage children's cowgirl hat at a local thrift store, and wear it often.
Bonus: Personalize your hats by fancying up the band! You can add pins (the vintage Stetson I found included a pin for the ranch brand, which is as authentically cool as you get), or tuck in some feathers or tassels instead. Or if you're feeling more industrious, replace the band entirely with a cool ribbon, leather string, or metal chain; you can even switch it up to match your outfit. Make your hat truly yours, and you'll want to wear it even more.