Feature image via Warner Brothers
A light, a glitter soaked electric purple sunbeam, has departed from the world. Prince has died at age 57.
TMZ first reported his death based on official reports that someone had died at his home. At 12:20, the New York Times published a two paragraph announcement with the promise of a full obituary to follow. The Times has pre-written obituaries for everyone who might conceivably die, but the world was not remotely ready for this vibrant, flamboyant, sexual and extraordinarily talented artist to go.
In a career that spanned 35 years, Prince vanquished the line between pop and rock 'n' roll, the distinction between words and punctuation marks, and the barrier between masculinity and femininity. He set a new bar for independence and creative control in the music industry. The black multi-instrumentalist embodied proof that the performative aspects of identity can be authentic, healing and radical. He created 39 albums, countless collaborations, a slew of identities. He broke every fashion rule and taught his fans to do it too.
At the youthful age of 57 and with no known medical conditions, he left us behind on this spinning rock to discover how to make the most of all he created. From his earliest tapes to his Record Store Day performance last weekend, Prince left behind an endless archive of music and videos, stories and ideas.
As Minnesota public radio station The Current streams Prince for nine straight hours, I can't stop thinking about his clothes.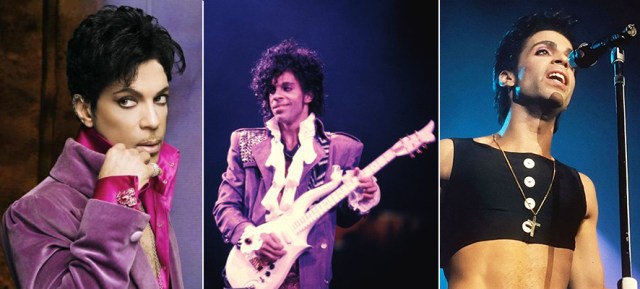 I often find myself frustrated with a cultural insistence that androgyny means exclusively women who wear men's clothes. Genderfuckery is so much bigger than button downs, but sometimes it's hard to see more options in any kind of mainstream media or discourse. Most of what I know about how to wear my own gender in the world I learned from Prince — and David Bowie, Alan Cumming, Panic! At The Disco and Adam Lambert. Femme men are supposed to be an anomalous and shameful accident, so to own that experience is a glorious and beautiful act. As Riese put it once in response to mainstream femme-panic, "Fuck that shame. Fuck hiding who you are. Fuck even worrying that if you are an effeminate gay or straight man that you can't play fucking Rambo one day and Angel Dumott Schunard the next."
As a teen I marveled at men in eyeliner, men who wore pink and gold, men who strutted in heels. I was terrified of my own body, of femininity and of sex. I watched Prince videos and gained a window into the vastness of what those things can be. I don't know what my gender is, and I don't really know how to interact with other people not knowing what my gender is. I saw Prince and I realized it doesn't matter, because I'm still me, and I'm still going to wear whatever clothes I decide were made for my body.
I can't tell you much about Prince as human being. I'm not an expert, and he was an intensely private person. He was presumably straight and cis, and in 2008 he spoke about his Jehovah's Witness faith and against marriage equality (though his PR team later disputed the homophobic quotes). The most personal thing I have seen about him online is the examination of his refrigerator contents — mostly mustard and Dunkaroos — shared in my queer and lez friends group text as we collectively mourned this loss. But Prince's whole career was about transformation, exploration, and holding seemingly-contradictory ideas in balance. His performativity and explicitly deviant lyrics allow us to take what we see on the surface and simply accept it.
Prince's fashion — his purple velvet jackets, skintight pants, heeled boots, coifed hair and spiritual symbols — don't instruct us about the gender of Prince the man, just as his lyrics don't actually tell us what kind of sex he was having. But his clothes, his lyrics, and his presence can inform our perceptions of who has the right to which clothes and of how masculinity and femininity can intertwine, if we will them to do so. Most importantly, no matter what he wore, he was always Prince: Instantly recognizable, endlessly desirable, and a singularly talented artist.
We have lost Bowie and Prince in the same quarter year, and I wonder what this means for the future of androgyny — who will we femme-hearted gender weirdos turn to for inspiration and assurance? I hope these losses will fuel, rather than dim, the louder vocalization of our collective, inalienable right to exist in our bodies in the world and make them look however we want them to look.
In the coming days, the internet will produce endless think pieces and personal reflections about Prince's impact on art, fashion, sexuality and the music business. Few artists reached people the way Prince did, and we can only begin to imagine the rippling impact his legacy will create in the future. At the moment of his death, we should revel in all he gave us. We should dance, we should wear too much (and yet exactly the right amount of) eyeliner, and we should remember.
My most important Prince memory comes from one of the last times I went on a date with a straight man. He was fine, an unremarkable dude with decent taste in music. We were at my favorite honky tonk and the blues band started in on a cover of Purple Rain. Let's dance! I implored. He didn't move. You can't sit down during Prince, I explained. He didn't know the song and insisted he didn't know how to dance to it, and I promised his body would show him the way. It didn't work out because he didn't want to get it. It dawned on me that I deserved more than basic. That moment proved to be a starting point for my discovery that the consequences on my soul of trying to normalize my gender and sexuality were enormous and that I was failing anyway.
Prince — the musician, the icon, the gender-bending dreamboat — taught me that the best and only thing I can be is exactly whatever I am. It doesn't have to make sense to anyone else as long as it keeps me alive and sparkling.
In "7," Prince sings:
I am yours now and you are mine
And together we'll love through all
space and time,
so don't cry."
So I won't cry. I'll just turn up Purple Rain and find some ruffles.