Previously on Pretty Little Liars, Ella and Ashley and Veronica and Pam spent too much time in Out of Town and not enough time getting straight up boohonged with each other on expensive merlot and solving the mysteries of Rosewood by laying everyone's shit bare. There was other stuff too, with dolls and a thousand yellow tank tops and a magical parrot and a dazzling tornado named Paige McCullers, but mostly it was the Pretty Little Moms not being sozzled — but, my darlings, their day has come.
The Liars' moms are all in town and breaking the bad news to their children that Rosewood's epidemic of victim blaming will continue right on into prom and graduation, and instead of the people in authority doing whatever they can to keep the predators out of the high school, they're forbidding the victims to attend either of those formative events so the predators will stay away too. This is the most awesomely filmed open PLL has ever done; it's one conversation cycling between all the Liars and their moms with overlapping transitions, like moms looking on as Liars smash their heads in the refrigerators and throw themselves out the window. The moms offer an alternative: A Liar's prom in the Hastings barn, the least safe barn of all the six thousand barns in greater Rosewood, PA. One in five girls get snatched from that place every time five girls are in that place.
On the upside, the moms say they will watch over the whole entire thing from the porch to make sure Charles doesn't roll up in there with a jeep full of mannequins and weapons of mass destruction.
The Liars adjourn to the Brew to talk about how batshit bonkers it is all their moms are in town on the same day, and what could that even mean, but then Lorenzo pops in there with his dumb arm still in a dumb sling and looks over at these girls who are talking about how they're not allowed to go to their fifth senior year graduation because of how they're constantly getting attacked and chopped into pieces, and makes a face like no one has ever felt pain like he feels because of how Ali swiped his RPD key card. Some people have real problems, Emily!
While Lorenzo continues to radiates his singular misery, Ali gets a text from her dead brother who keeps killing her, inviting her to prom so he can kill her some more. But how will accepting that invitation affect Lorenzo, Ali? Won't anyone think of poor Lorenzo!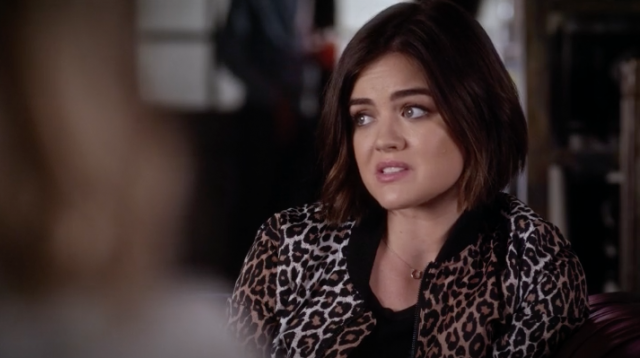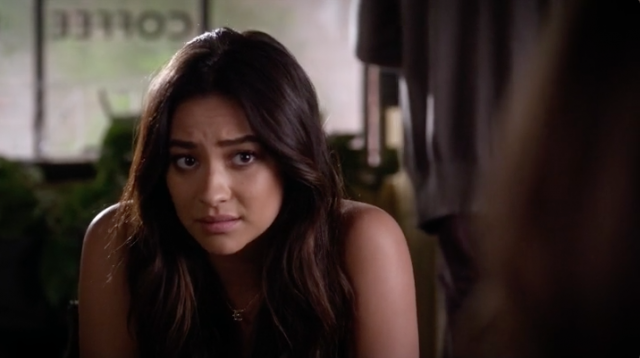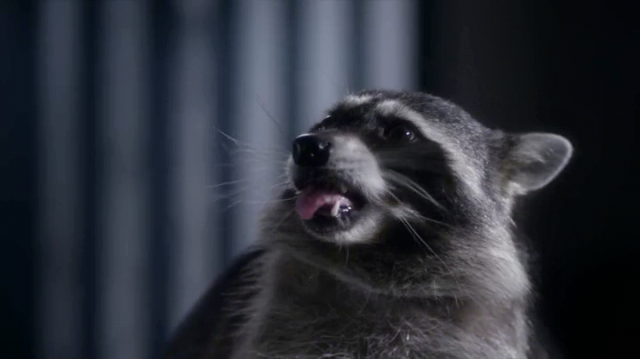 Ezra: I'd like to be your date to barn prom.
Aria: I thought you said you didn't want to go to prom with me.
Ezra: I didn't want to "share a punch bowl" with my former students.
Aria: …?
Ezra: I mean, my former students I haven't slept with/stalked.
Aria: Oh, okay. 'Cause I was like, we're gonna have a punch bowl at barn prom, Ezra!
Ezra: Haha, I know. That's not what I meant. I'm totally cool sharing a punch bowl with students I've seen naked!
Aria: Charles is probably going to show up to kidnap at least one of us.
Ezra: I"ll keep you safe.
The fact that he continues to say that with a sincere, straight face never stops blowing my fucking mind.
Ella arrives to tell Aria that this is her lucky day. She's won a photography scholarship at the American Murder Girl Doll School of Art & Design in Los Angeles, California! Ella says Aria should go and get the heck out of this town and be safe, because she doesn't know about the time that A flew to California just to run Caleb's mom off the road.
Also leaving town today is Caleb, who has packed one of his indestructible hacking laptops, which makes Hanna thinks he's not going to visit Uncle-Dad Jamie on the Bean Farm, as he claims, but is instead going after Charles. He assures her he is not doing that. He also assures her there's no reason for him to stay here and hang out in a tux in Spencer's barn. She kisses him, but only with a fraction of her usual affection, because she feels suspicion.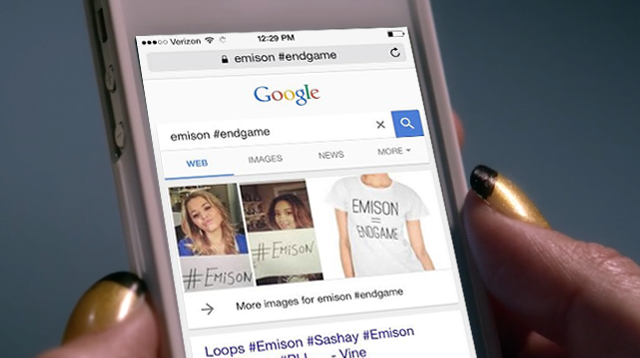 Emily is lesbianing with Sara Harvey, loading and unloading bikes onto the rack on her car, when out of the blue clear sky she issues a promposal. It's not like a regular prom, it's a barn prom. And, you know, just statistically speaking, the more people who show up, the less likely it is that everyone will get lured away to the kissing rock and/or stuffed into the Hastings/DiLaurentis mass grave. Sara thinks Emily's promposal is super romantic. Not many people these days give it to you straight re: your chances of being kidnapped and tortured when you choose to leave the house, but Sara's prom at her old school is that night, and even though Emily "means a lot" to her — for reasons that have not been communicated to me on my TV screen with any real effort — she's going to have to pass.
It's cool, they'll do something special later, like probably get married during the time jump or something.
Lorenzo has taken his bullshit to the town square, where Spencer and Toby are having a conversation about how the gummy bears he stole from her and ate in a single sitting got him suspended due to them being laced with weed. And Lorenzo also has been suspended for going with Toby to the horror arcade that night.
Lorenzo: This is all Alison's fault, and by extension, your fault, Spencer Hastings!
Spencer: Actually, this is Toby's fault on account of how he hijacked the plan I presented to him about Charles' birthday, stripped me of my autonomy, nicked candy that didn't belong to him; and it's your fault for letting him convince you to leave your beat and not tell your supervisor. But hey, thank you for continuing to be the embodiment of all the gross realities of Rosewood.
Toby: I blame myself for this, though.
Spencer: That's because you're a good guy, honey, who sometimes makes dumb choices.
Lorenzo: MY ARM HURTS! I WAS HIT WITH A TENNIS BALL, YOU KNOW!
Lorenzo's specific kind of worstness reminds Spencer of Garbage Art Johnny, and in a moment of inexplicability, Spencer begs him — seriously, just fully grovels with him — to forgive Alison and come to barn prom for her. He says no.
I hate Lorenzo so much, you guys. For all the reasons I've said before, but also because of how Lorenzo is supposed to make Alison nice. A nice girl. A real sweet nice girl seeking redemption. Alison is not a nice girl, though. And what I want is to see the reasons why she's not a nice girl. All that shit she did, blinding Jenna and blackmailing Toby and shaming Paige into the closet and giving Hanna an eating disorder, all of it, she did it for a reason. Part of it was selfish and part of it was noble and but most of it was an indistinguishable mash-up of both of those things, good guy stuff and bad guy stuff braided together in a cacophony of greyness. Alison is a bitch. Bitches get stuff done. Bitches keep themselves and their friends as safe as they can in a hard, dark world. If you want Alison DiLaurentis to be a nice girl, you don't deserve to even look at her. I can't believe I'm saying this, but you know how Mike loves Mona? That's the kind of relationship Ali needs in her life. (For example, the way Emily has always loved her.)
Over at Marin Manor, Hanna is tearing herself out of the frame because she can't get in touch with Caleb. He's not answering her calls, he's not answering her texts. For all she knows, Lucas is giving him a gloved massage without his consent right this minute. She goes outside to yell at his voicemail some more, and Ashley comes downstairs with the Heart of the Ocean necklace her family has been passing down on prom night for generations. I mean, yeah, it's a barn prom, but it's still a prom, and even though the Liars are going to get burned alive in it, they deserve to go up in flames looking fancy. Emily can't wait for the day when Ashley Marin is her mother-in-law. For now, she just squeezes her hand and smiles sweetly at her for understanding what it's like to want to look pretty while you're dying.
Alison is standing in the dark in her living room, not wearing a scarf thankfully, at least she's learned one thing, when her phone rings. She answers it. It's no one. She assumes, however, that it is Charles. "Charles??!" she shouts into the phone. "Charles, I know you are the silence!"
Barn Prom! But first, the moms unite in the Hastings kitchen with potluck options and a firm commitment to staying sober and watching over their children. Well, no. I mean, not a firm commitment. More like a slightly flexible commitment. A pliable commitment. Their commitment to say sober is a little wobbly, let's say. It's yielding. Their commitment is tested to its breaking point when Veronica offers wine not once, but twice. They say yes, yes, of course, one glass. Veronica pours and everybody guzzles. They wander to the window, quaffing that pinot like Gatorade, and see Ali in the yard. She's leveled up her yellow tank top of perpetual death to a yellow ball gown. She looks like Belle, but without the Disney-eyed wonder.
Ali waves. Moms wave. Then Ali scampers off into the night, with a red cloaked red coat right behind her.
Inside barn prom, Aria is dressed like what Snow White bought in the vintage store on vacation in Panama City; Hanna is wearing a fuck-you-I'll-die-a-literal-princess ball gown; Emily is wearing a Maleficent: The Early Lesbian Years sparkling pantsuit; and Spencer just took something out of Melissa's closet because it's just going to end up getting ripped to shreds in a bear trap anyway. Ezra takes their photos while Aria creeps on his phone and notices a confirmation for a flight from Philly to Los Angeles, which she assumes is him preemptively setting up his surveillance station at the American Murder Girl Doll School of Art & Design.
After photos, everyone retires to the couch where they spend the evening looking at Instagram photos of everyone else at prom and being assholes about who's doing what and who's there with whom. Realest teenage behavior in the course of six seasons. Noel Kahn is at prom and so is Lucas and so is Jenna, so definitely one of those guys could be Charles. Either way, I sure would like to see what Jenna is wearing.
The Liars spy Alison, and realize she's there to meet Charles, so they decide to go after her.
Out on the porch, a storm is brewing and the moms are getting more newted by the minute. It is majestic. It is true heavenly splendor on this earth. They are sprawled out, talking shit about everyone in the neighborhood, most especially Jessica DiLaurentis, with her boning of Peter and hiding that Jason is Peter's son and letting Melissa make out with her half-brother, and birthing a whole crop of kids who ended up at Radley and pretending one of them was dead, and everybody getting massacred in Veronica's backyard and ruining her hydrangeas. At one point, Veronica legit points to the grave, says, "And there's where that fucking dog dug her up!"
Veronica hops up and totters inside, and the other moms follow her because this gossip about Jessica DiLaurentis has been six years in the making and who cares if the barn gets exploded with acme dynamite? It was going to happen anyway. What were the moms going to do to stop it? Nothing, that's what, and anyway, obviously their daughters have already sneaked out of there to go to the one place they were forbidden to go.
Rosewood prom is insane. The theme is like: Okay, But What If Stanley Kubrick Planned Pride in The Forbidden Forest? Masks and cloaks and capes and centaurs serving champagne and a minotaur DJ and everyone is covered in blood and everyone else is cool for the summer. It is exactly zero percent difficult for the Liars to get into prom. They achieve it by walking into prom in a herd with their dates and standing in the doorway lit up by a spotlight and being still and glowering around. V. sneaky. V. subtle. Clark is taking photos, even though he doesn't even go here, a thing the Liars find suspicious but not enough to investigate at length.
Meanwhile, in the Hastings kitchen, the other moms are pickled and Veronica is straight trousered. She throws back another glass of merlot, decides her best plan of action is to stomp across the yard and crash through the DiLaurentises back door and start getting some motherfucking goddamn information from Vernon. It is truly shocking that it's taken Veronica this long to decide alcohol and rage will provide the #SummerOfAnswers she needs in her life, but she's there now and no amount of placating or small talking by the other moms will satisfy her. She throws the blender through the window, just because she can, and marches out into the stormy night.
The best moment in television history: Pam watches the moms go after Veronica, starts to follow, comes back and inhales the rest of her wine with the most panicked look on her face, and bolts after everyone.
What if after the time jump it's the moms playing the Liars? My god, I would be so happy. Mona would still be Janel Parish though.
At real prom, the Liars finally peep Alison and clomp up to her yelling about how she's going to get obliterated by her brother for like the fiftieth time in her young life by showing up at prom. Ali is like, "Let me count the places from which Charles has seized and slaughtered us, the places in which he has tortured us. Spencer's yard. Spencer's bedroom. Spencer's bathroom. Spencer's backyard. Every warehouse, every barn, every church, every haunted house, every abandoned ice cream factory, every doll hospital, every literal hospital, every graveyard, every forest, every boat on every river. Coffee shops, costume shops, restaurants, hotels, hoe downs, schools, swimming pools, my basement, Aria's basement, empty theaters, crowded theaters, the tops of buildings and parks in New York City. Schools, cars, planes, trains, bicycles, mental institutions, hotels, cabins, and mobile lairs." So yeah, she came to prom to meet Charles. It does not matter. He is everywhere and nowhere, how many times does someone have to say it?
The Liars realize she is correct, that their doom is inevitable, and so they decide to go out slow-dancing with the ones they love (except for Emily). I mean, Sara shows up and says she dropped by the barn prom and then decided to come to this prom because Emily is very special to her. I wish the story with these two had landed even a single emotional punch this season. It was so rote and empty. You can't expect Emily's relationship with Sara to feel as significant as the other relationships on the show when the other Liars' love interests have been here since season one and Sara just arrived out of nowhere. I really, really, really don't get it.
Caleb arrives dressed like Sherlock Holmes, but:
Caleb: I went to New York and got a job as a professional hacker for probably the Carissimi Group, I don't know, and I found an apartment in Manhattan in one single day, which is the most bonkers thing to ever come out of my mouth, but what I'm actually trying to say is: If you want to move there and go to college, I will support you in every way because one time I was a hobo living in the air vents at this school and you took me in and fed me and accidentally got naked with me in the shower and fell in love with me and there is no one in this universe who compares to you in literally any way and I want to give you what you gave me, which is unconditional love and a white hot belief in the beauty of your dreams.
Oh, Caleb! You beautiful tropical fish with that hair! I am so glad you came home from Ravenswood! Good for you for using your power to empower Hanna, to provide her with opportunities to make her own big decisions to become the person she wants to be!
Spencer and Toby dance too. She says she's put him through a lot. He says he knew what he was signing up for when he fell in love with her. Spencer's Spencerness was never a secret.
And also Aria and Ezra.
Aria: I've been thinking that I don't want you to follow me to California.
Ezra: Oh, I'm only laying over in LA on my way to Thailand to hang out with a whole other group of underage girls for the summer.
Aria: Oh, cool.
The moms are rooting around in the DiLaurentis house in the dark when Rhys Matthews arrives for some reason and gets shifty with them about what they're doing in there, when WHAT IS HE DOING IN THERE? He says he let himself into the house in the middle of the night to talk to Vernon about Jessica's Carissimi Group donations, totally normal non-profit CEO stuff, but then he slinks away into the shadows and out the door, and the moms are like, "Fucking Charles DiLaurentis, am I right?"
(That motherfucker still looks like the perfectly proportioned time-traveling son of Jason and Wren, I don't care what you say.)
They creep around a little longer, finally following a noise down to the basement like a kitten with a string, and obviously they get trapped inside. They bang on the door and wail and wonder how their teenage daughters have handled this happening to them once per week for six seasons, and still managed to find time to have sex and frolic around in Spencer's noir dreams. I mean, remember that time one single car drove through Pam's living room wall and she had such horrific PTSD that she had to go to Texas to stay with Wayne on the military base and Emily had to move into Hanna's bedroom? They agree that they're not cut out for this shit.
Pam for real goes, "We had one job tonight!"
The Liars are ostensibly keeping an eye on Ali while they dance, but they're as good at that as their moms were at keeping an eye on them at barn prom. She sneaky-creeps around all these nooks and crannies in the papier-mâché Forbidden Forest, and the whole time Charles is texting her about how they're alone at last and it's time to dance and she looks in all these mirrors and some of them are broken and probably that means Charles is Cece, right? Or maybe it's Jenna because this is fairy tales and she plays the flute like the Pied Piper and is leading Ali to the river to drown herself? Probably it's Wren, though. It's always the handsome British guy. Maybe he'll speak in an American accent. Maybe he'll talk about how hard it was to keep his beautiful face under a hood this whole time. Maybe he'll give me the answer I'm looking for: Where where where is Paige McCullers?
So anyway, Ali is bobbing and weaving and the Liars realize she's missing. They go chasing her through the woods and so does Clark. The boys beat him up but then he has a gun and also a badge because he is an undercover cop, and Aria will literally never trust another man again as long as she lives.
Ali finally comes face-to-mask-over-mask-over-mask with Charles. She asks him to take it off and he does. Her face is like, "Of fucking course." And my heart is about to explode right out of my chest.
Goodbye forever, Risen Mitten.
Thank you thank you thank you to Nicole (@PLLBigA) for the screencaps. She's got so much good information about the time jump in season 6B. Follow her on Twitter!
Pages: 1 2 3 See entire article on one page