Tuesday night on Pretty Little Liars, we spent at least thirty years of what were most likely the brightest, bestest, most beautiful television-watching years of my fleeting youth, watching Aria think about Ezra. Aria waited for Ezra. Aria was bathed in a giant swath of car-sheen-twilight radiating from Ezra. Aria walked around thinking about Ezra, and Aria talked about Ezra, and when she wasn't talking about/waiting for Ezra, she was in the parking lot intensely kissing Ezra while wearing the most jailbaitish outfit of all time. Kissing him with TONGUE.
In between all of that hootenanny, there were certain discoveries made relating to the Alleged Death of Ian and Allison's brother returned played by a new actor. Spencer, who was particularly Nancy Drewish this week, dashed around hunting for clues and also for Toby, her forbidden love.
I think Hanna's Dad came back and she re-friended Mona but I used those scenes to make myself a grilled cheese.
But what happened with Emily the lesbian? Well! Emily's Mom, who is suddenly mega-hot, still insists jetting off to Texas and leaving Emily's multiple paramours and assorted murder mysteries is a fantastic plan.
In fact, they've already secured a buyer for the house so Emily should start packing. You know. "Packing." Emily slides over to her laptop to check out what Babeland's stocking for whatever holiday is around the corner in Rosewood's Eternal School Year, only to discover…
It's true, we're sold out of Autostraddle t-shirts. Also, Emily's hard-drive is wiped clean, it was probably A., who stopped in for a real estate tour at the end of last week's episode.
Even Spencer, who's got all her organs neatly organized underneath a ferocious giant belt object (which nicely compliments her Earth-Toned clown sleeves), doesn't know what to do about the hard drive erasure.
Emily's the only one with the videos on her computer! Spencer reminds us. This is like when Lez Girls got stolen and you didn't know if you should be sad because it makes people mad or happy because you won't have to see any more clips of it for the rest of the season.
Oh! I almost forgot! Despite the fact that the Fantastic Foursome have been prohibited by their alternative therapist from hanging out with/talking to each other, they continue hanging out with each other although they do bookend each conversation with a brief chat regarding how they shouldn't chat.
This is most tragic in the lunchroom, when the four girls dramatically enter the lunchroom and collectively conclude that they must sit at separate tables in order to evade the psychic judgment of the psychiatrist who wasn't on payroll this episode.
This separate tables nonsense definitely helps them overcome their collective reputations as paranoid lunatics and definitely makes them look like privileged entitled table hogs.
Later that day/week, Emily is gliding through the pristine waters of the Rosewood pool like a guppie who sleeps with other guppies.
Paige, Emily's swim team companion who Emily was sorta/kinda dating last we checked in with the lesbian storyline, is oddly nowhere to be seen.
But another hot femme wants to take Emily to a movie! Remember her, from last time? It's okay, I'm sure she'll vanish shortly, like everyone who kisses Emily eventually does.
Emily's like, but um, I'm moving to Texas! And Samara's like, um, so what are you saying, you don't want to start something right now so that we can both be sad on our inevitable shared tumblr in two months when we're in love and you're in Dallas, crying your eyes out at a Rodeo?
Silly me, Emily realizes. Let's go to the movies!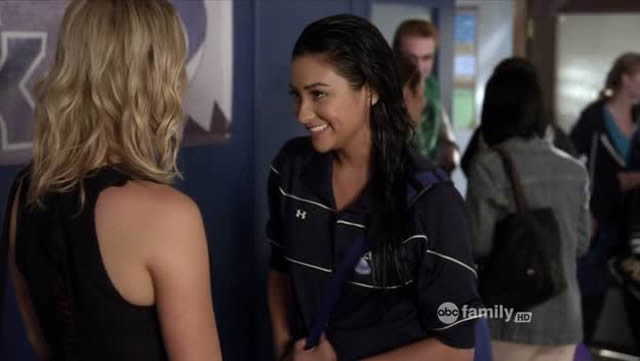 Oh ALSO! Look who's also at the game — it's a SCOUT from Bigtownhappyswim University !
He says Emily could be looking at a scholarship, but not if she leaves this Town of Death and Lies. Emily's like, "Oh nah it's not set in stone," because I mean, she's about to go to a movie with this girl, soooo they'll probs move in together next week.
So someone broke into the Fields' garage and stole some camping equipment, and someone broke into someone else's house too, and would Emily, she with the sketchy friends and homosexual lovers, know who this could be? OF COURSE NOT EMILY HAS HER COMPUTER TO WORRY ABOUT.
On account of the Gestapo and Communist China, Emily's Mom is taking Emily's phone away to ensure Emily can't communicate with the Bad News Bears (Aria/Hanna/Spencer), which is really honestly quite horrifically invasive and inappropriate although maybe I'd feel differently if Shay Mitchell wasn't so obviously 24 years old.
Emily's Mom will stop at NOTHING to limit Emily's social interactions. No lesbian friends, no lesbian girlfriends, no straight friends, you know what fuck it let's just get the hell out of town and get you into homeschool.
When Spencer brings poisoned brownies to Allison's brother to dig for info about Ian's whereabouts, she has a flashback! Emily is in the flashback, see:
The best part of the flashbacks is how all four of the girls seem just as in love with Allison as Emily does. Anyhow, LET'S GO TO THE POOL!
The Danby Recruiter Scout is back again for more Emily, unlike her ex-girlfriends. She assures him she'll stay at Rosewood and he says nice things about her getting a scholarship and Emily gets her hopes all up like she does.
Emily's overall earnestness about college and life and love and How These Things Work despite murder and death and secrets and lies and Texas is in Adorable Overdrive this week. She asks Mom if Mom could unpack the two boxes of books she's been glancing at and stick around if it meant Emily would get a full ride to college.
And Mom says… quite possibly yes!
Butttt she'd like a commitment from Damby Panby University in writing before they consider reneging on a real estate contract and all that talking of packing.
Emily cannot leave this town without vadgeblasting at least one of the smokin' hot chicks who keep landing in her lap hoping for a journey up her various billowy shirtfrocks.
Starting with…
Emily & Samara are on the "movie theater" set with other extras. This set reminds Emily of Maya, just like falling off her bike in the rain reminds her of Paige and going to school reminds her of Allison and lying on her bed reminds her of Maya.
Samara notices Emily's preoccupation with the set and asks if she's been there before — these girls aren't wasting any time — LET'S TALK ABOUT OUR EXES! Except Samara's ex isn't an ex, she's something else. Is Maya dead? Like really Emily talks about her like they broke up but they didn't, it's just that Maya went to ex-gay camp and never came back! Why is everyone obsessed with Allison when Maya's also missing.
Before Samara can yawn and sling her arm around Emily or Emily can get scared and leap onto Samara's lap or either one of them could get stabbed in a bathroom stall, the scene ends. If this was The Real L Word, they would've been naked from the get-go and subsequently be scissoring with strap-ons coming out of their ears.
Or something like this:
Emily, who again, for a college-bound Person of Interest Champion Athlete seems overwhelmingly naive about the college admissions process (but then again this is teevee where everyone ends up at "California University") asks Scouty McScouterson if he could put in writing that she'll be guaranteed a big fat scholarship if she stays here instead of Texas.
Of course he can't give her a promise, but he can give her an "I'm very interested" letter. Emily will take it. She will take what she can get.
Hopefully next week Emily will get some action and decide to stay in Rosewood so she can spend more time talking to her friends about not talking to her friends.
What did you think of this week's episode? Are you concerned about Maya's health/well-being because I am.