I'd like to officially report Pretty Little Liars for false advertisement. This week's episode of Pretty Little Liars was titled "The Naked Truth" but no one got naked. What gives? Instead, Rosewood High School held their "Truth-Up" overnight which is basically Challenge Day if any of your high schools did that. If not, everyone gets all touchy feely with their insides and does exercises like If You Really Knew Me You'd Know… or Step Over the Line if You've Ever… Essentially it's one big triggerfest designed to make high school students cry about their feelings to each other and tell everyone at school about their abuse/eating disorder/depression/general awfulness.
We join our story just prior to Truth-Up day where Hanna, Ms. Marin, Mrs. Marin and Kate are all sitting in Mr. Principal's office.
I totally recognize Ashley Marin's dress. Okay I just searched through all billion fashioncaps and I can't find having ever talked about it, but it's getting weird that I've started to so quickly recognize pieces from everyone's wardrobe. It's like I actually know them. Look, I found it except, like all of Ashley Marin's wardrobe, it's been hemmed up from "appropriate" to "brr it's cold in here."
Oh! I found Hanna's shirt too! Well, in black. We're off to a good start anyways.
Step-mother and step-daughter are all pissy because since everyone saw pictures of Kate's good bits the phone has been ringing off the hook for modeling offers and dates and who has the effin' time for all that when you're so busy practicing your scowl. Of course, no one actually saw Kate's nipples because every time someone looks at their phone their hand is strategically placed.
Kate is also pissed that wearing a black blazer while sitting in a black chair makes her look like she has chair-body in pictures. Mr. Principal is outraged by Hanna's behavior so he doles out the extremely severe punishment of basically nothing and makes Hanna and Kate be in the same group for touchy-feely day. No one believes Hanna that she didn't send the picture because they're working under the assumption that we live in a world where high school students don't know how to remotely hack in to phones. Idiots.
Meanwhile the remaining liars are at home solving the mystery of the dry cleaned jacket. Our fearless heroes have discovered that if you bring a dry cleaning ticket to the dry cleaners, you will probably get back someone's dry cleaning.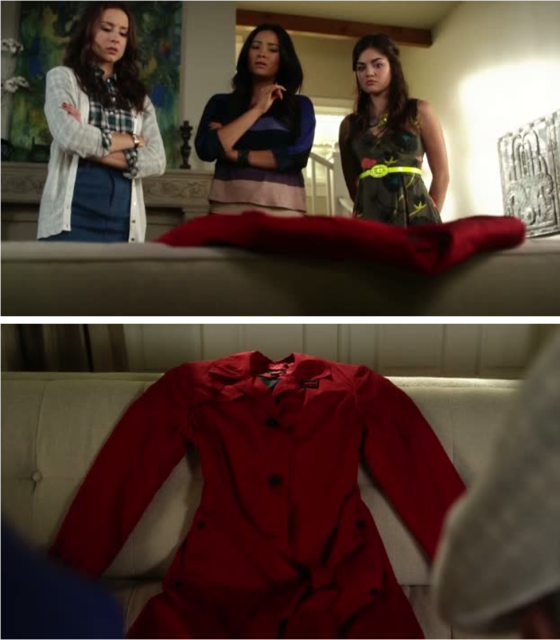 Aria finds a phone number in one of the pockets and she and Spencer are all hopped up to try it. Emily's a little more tentative as she's noticed that when they try to investigate who A is or the mystery behind Alison's death someone usually ends up dead and one of them has to break up with her boyfriend. Spencer accuses Emily of being scared and Emily's all like, "Nuh, uh! I'm not scared of nothing! Not even psycho killers or jackets." Mostly Em is just really concerned about the aura in the room.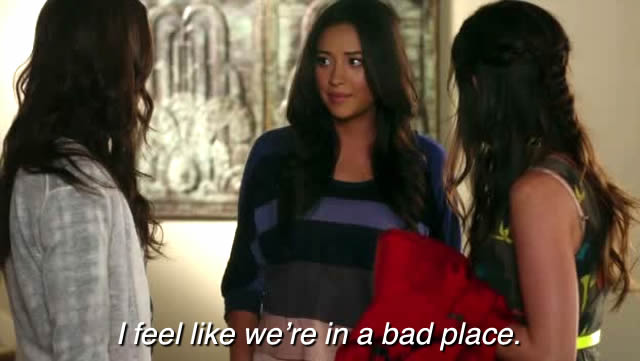 They call and it goes to voice mail. Womp womp. Either way, everybody heads off to school. Oh, did you think this was mid-day? That the liars might not have school one day of their lives? Don't be ridiculous.
Stop! Fashion Time!
Aria is one step ahead of us to Spring and already has a cute new Sariah dress and neon accessories. I went into Bloomingdale's the other day and there was nothing but neon. Neon is going to be huge. Aria's also continuing her spree of exclusively wearing Jeffrey Campbell shoes by sporting a neat little of pair neon wedges while helping Holden "Fight Club" Strauss hang a sign just as some drugs fall out of his bag.
You can't have your own personal Aria dress because it's from last season, but you can have a different but highly similar Sariah dress to pair with your very own neon belt and shoes. I'm extremely signed on for neons this season, if only because I am so fucking bored with winter blacks. Obviously Aria is also bored of wearing her witch Halloween costume all the time.
I was planning on making fun of Spencer somehow but then I realized I'm actually wearing a plaid shirt tucked in to skinny jeans with a sweater and the sleeves rolled up at this exact moment. Clearly I have some self fashion loathing to work out soooo maybe I'll just lay off on this one. A lot of people ask me about buying plaid button ups and how to keep them from pulling across the chest. I use two main tricks. The first is that I always look for button ups where there is a button at the fullest part of my chest. Secondly, I pin them. Yup, you just gotta pin them. I would love to also say something interesting about Emily's outfit but she wears the same thing every episode and I'm over it.
While Aria and Holden go all after school special, Spencer runs in to Jason Dilaurentis. He really wants to see Papa Hastings for vague reasons. Papa Hastings scares the shit out of me and is fucking dangerous with a wood stove and a hockey stick. Seriously, he really ruins s'mores. As soon as Hanna gets done with Mr. Principal Emily takes the opportunity to complain about him. Apparently he's the one keeping her from her swim suit dreams. And here I thought it was the felony.
Now that Mr. Fitz isn't a teacher anymore, no one goes to class and suddenly it's the next day: Truth-Up day.
In proper Pretty Little Liars fashion, no pun intended, there was a lot of standing around saying things like, "No one is safe at this school, it's filled with phonies and liars you fucking backstabbers" and not much actual plot reveal. The kids do all sorts of trust building exercises. Some of them actually reflected what goes on in real high schools.
Others… Not so much.
Meanwhile we did get a nice dose of badass Emily. She got super real during a cross the line if you got kicked off the swimteam exercise.
Emily hulks out to Mr. Principal who reminds her that she wasn't exactly filming It Gets Better videos back when Alison was still alive. Realizing she'd been an awful person, Emily apologized to Mona. It was super heartwarming. I love Mona — she's all bossy and insecure. Mona acts like she barely remembers how the girls were mean to her, which by the way makes her the number one candidate for A status, but then gets all sweet on Emily. You know, Kim Possible sweet where she breaks in to Mr. Principal's office and digs up info on his computer to blackmail him in to letting Emily back on the team. This school really does have a great computer science program for a public school. It's a wonder Emily doesn't think this might be one of those things A could use against her. Or maybe she's just blinded by how cute Mona's shirt is.
Metallics and lace are both wicked popular this year, so it's no wonder that Moan decided to combine them in her epic adorableness. It's a great combination because the metallics tone down the girliness of the lace and the lace softens the metallics. It's a whole thing.
While Emily and Mona play secret agent, Hanna has a lot of feelings about Kate. She and Caleb go up to the roof to snuggle and Hanna takes a page straight out of my middle school playbook and asks Caleb to "just hold her."
Somehow all that holding worked because Hanna sees Kate take off her sweater, notices that she has a birthmark and realizes the nudie photo was photoshopped. Who would take the effort to photoshop out a birthmark? Duh, Kate. Kate sent the picture, boo Kate.
Hanna skips off to announce that the jig is up and sends Aria to go retrieve Caleb the rooftop manfriend. Suddenly everything gets dark and scary and Aria's running and scared and her luscious hair is whipping in the wind. Of course the she decides to run up a ladder which mysteriously appeared on the roof. Was someone chasing her? Yes. Noel. Damn Noel.
Just when it seems like Noel might actually grab Aria's ankles and probably just reveal that there's nothing wrong and he's actually a great guy, Holden comes up and busts out his Jaden Smith. I was exactly zero percent surprised.
Right, so Hanna busts Kate, Holden hulks out and Emily and Mona get their blackmail on. Everyone was too poorly lit to see their outfits… What am I forgetting…. Oh right. Spencer finds out Jason is her half brother via being her father's illegitimate son with Alison's mom. I think I already guessed this one. How could I miss it?
The big climactic end was the phone number calling back for "A friend of Vivian's" with some serious questions. It wasn't actually that climactic. Tune in next week when we'll find out that the person on the other end of the phone is actually just pissed because Alison ordered a bunch of pizza she never picked up or paid for.