Beginning tomorrow, Prague's first pride festival will take over the city. So will counter marches organized by the Young Christian Democrats association (KDU-ČSL) and the Movement for Life, conservative groups who are concerned at the amount of attention LGBT people are drawing.
Prague Pride 2011's Festival of Tolerance will take place over four days in the Czech capital. The festival (slogan: "Drink beer, be queer") puts emphasis on acceptance and is being promoted as a party and not a political event. According to festival spokesman, Daniel Kupsovsky, "Prague, unlike most of the Eastern European capitals, will not create Pride as a protest, but as a celebration of tolerance — and a street party, because we feel there is not much to protest about."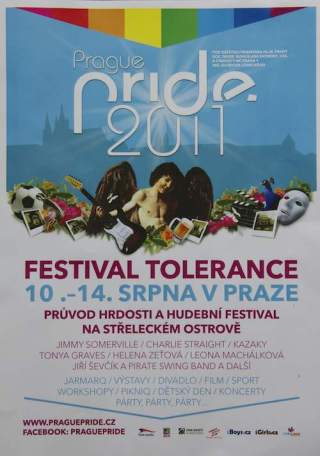 The Czech Republic, and Prague in particular, is considered to be one of the most queer-friendly places in Eastern Europe. While gay adoption and marriage are still taboo, open military service is legal, registered partnerships are permitted, and statutes against workplace discrimination have been in place since 2001. Unfortunately, legal protection doesn't always guarantee an atmosphere of acceptance. During 2008's Brno Pride, neo-Nazis and other extremist groups blocked the parade route and threw tear gas at marchers. Activists have continued to hold the parade in Brno in the years since the attack, and hope that this year's Prague Pride will be as successful.
As innocuously-named as it is, the Festival of Tolerance has already drawn criticism from conservative politicians as high-ranking as the President, Václav Klaus. The scuffle began when Petr Hájek, deputy head of the Presidential Office, criticized other center-right politicians for supporting Prague Pride. He called on the Mayor of Prague, Bohuslav Sodoba, to denounce the event for supporting "sexual or any other deviation[s]." Despite objection from centrist and left-leaning groups, Klaus supported his aide's statements.
The back-and-forth continued on Friday when the Embassies of 13 countries including the U.S. sent an open letter declaring their solidarity with festival participants. In response, conservative group D.O.S.T. wrote a letter addressed to Norman Eisen, U.S. Ambassador to the Czech Republic,  and Svodoba asking them to withdraw their support for the event.
Ladislav Bátora, the Czech Education Ministry head of human resources who co-authored the letter, has said he'll be marching in the KDU-ČSL-sponsored counter marches on Saturday. Ironically, representatives from KDU-ČSL have voiced their disapproval with Bátora, who has ties to extreme-right parties, in the past. In an open letter to the Prime Minister, senators wrote that "it is unacceptable that people with such extremist pasts can occupy high-level government posts and participate in the governing of our country. It is unacceptable for the government to tolerate and approve such persons in these posts."
Supporters are refusing to accept Bátora and co.'s demands, chiming in with others who've said there's no room in the Czech Republic for their bigotry. Oldrich Lomecky, the mayor of Prague's 1st district and a patron of Prague Pride, drew comparisons between opponents of the festival and Norwegian terrorist Anders Behring Breivik; "Those are claustrophobic opinions. Breivik is just the tip of that iceberg. Those opinions make for intolerance."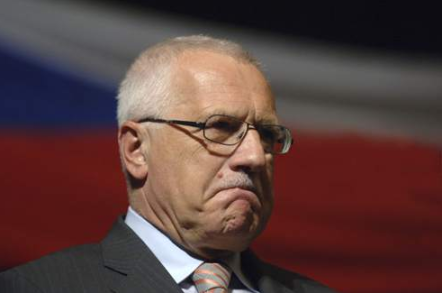 President Klaus remains adamant in that he "feel[s] no 'pride' about this event." In a remarkable display of political doublespeak, he says that he respects homosexuality but not 'homosexualism.' What exactly is homosexualism? According to Mr. Klaus's record, it's one of those fashionable modern "-isms" like feminism, environmentalism, and liberalism, (and communism, which is confusing because I thought communism was about conformity and oppression and he seems to be a-OK with that) that threaten to change our way of life. Sign me up! He's also accused the Embassies who signed the open letter of overstepping their boundaries; "The ambassadors should know that the debate in our country was not about whether or not to permit this manifest action of homosexuals but about its public support by a prominent member of a right-wing conservative party, the Mayor of the city."
In his attempt to reframe the bigger issue of homophobia as political support for a single person, the president is doing his best to erase the problem rather than address it. His attitude towards homosexuality–"I don't care what you do in your own bedroom, but keep that shit to yourself"–is nothing new. It's the same message we get from some of our families, our schools, strangers on the street and bullies. It's why pride festivals are so important. Pride reinforces the idea that queer people are normal and are valuable and, despite what the Mr. Klaus believes, deserve to be celebrated.