This week's Pose is titled "What Would Candy Do" — but it's really about Damon, Ricky, Community, and Madonna. The mainstream popularity of Madonna's "Vogue" opens up new opportunities for Damon; the lines to his classes are "wrap-around-the-block" long and he's still taking new clients. A scout shows up to one of his classes and asks him to audition for Madonna's "Blonde Ambition" tour. She even says she'll bump him to the front of the line. What Damon doesn't know yet is that Ricky knows about the audition too and what follows is a comparison of Damon and Ricky's home lives that sets the tone for the majority of this week's episode.
Ricky is a Wintour now and Elektra is more concerned with how Ricky's potential job would impact her. Both Ricky and Damon are star-eyed over potentially meeting Madonna, becoming famous, and doing something that their parents might see, but while Blanca hugs Damon and tells him how proud of him she is, Elektra — and the rest of the house of Wintour — are already planning their future lives as Madonna's BFF's.
Before Damon can audition, Blanca tells him he needs permission from Helena, his dance teacher.
Blanca also checks in with Damon about Ricky, who she calls "a low-down dog of a cheater." Damon says he and Ricky are like ships in the night, but not for his lack of trying — Ricky just won't acknowledge him. Helena gives Damon permission to audition. She tells him that she made the same choice when she left school to join a dance company at his age. Like Blanca, she tells Damon that he's good enough. I'm so happy to see Damon getting affirmation and support he needs to bloom because he deserves it. Damon lets Blanca know he's good to go and what follows is yet another montage! This time it's a two-for-one.
We see how Blanca gets Damon ready; she tells him he's going to get the support he needs and Evangelista pools together money for his outfits and Papi even pulls out the clippers to give Damon a haircut. At Wintour, Elektra says she's not a nurturer but a provider and throws some cash at her kids — after telling Ricky not to fuck up — so they run with it and get him fancy barbers and expensive fashion. Pose has proven to love montages so I'd like to officially make a request for a Blanca/Angel shopping montage where they steal clothes and fuck shit up. Please. I still can't get over Blanca not being able to get the clothes she wants and I want Angel to fix it. Anyway. Despite the different approaches, both Ricky and Damon look refreshed and ready after their makeovers. Blanca reaffirms that she's proud of Damon and that the House will be there for him no matter what. Elektra tells Ricky not to come back if he doesn't make the cut.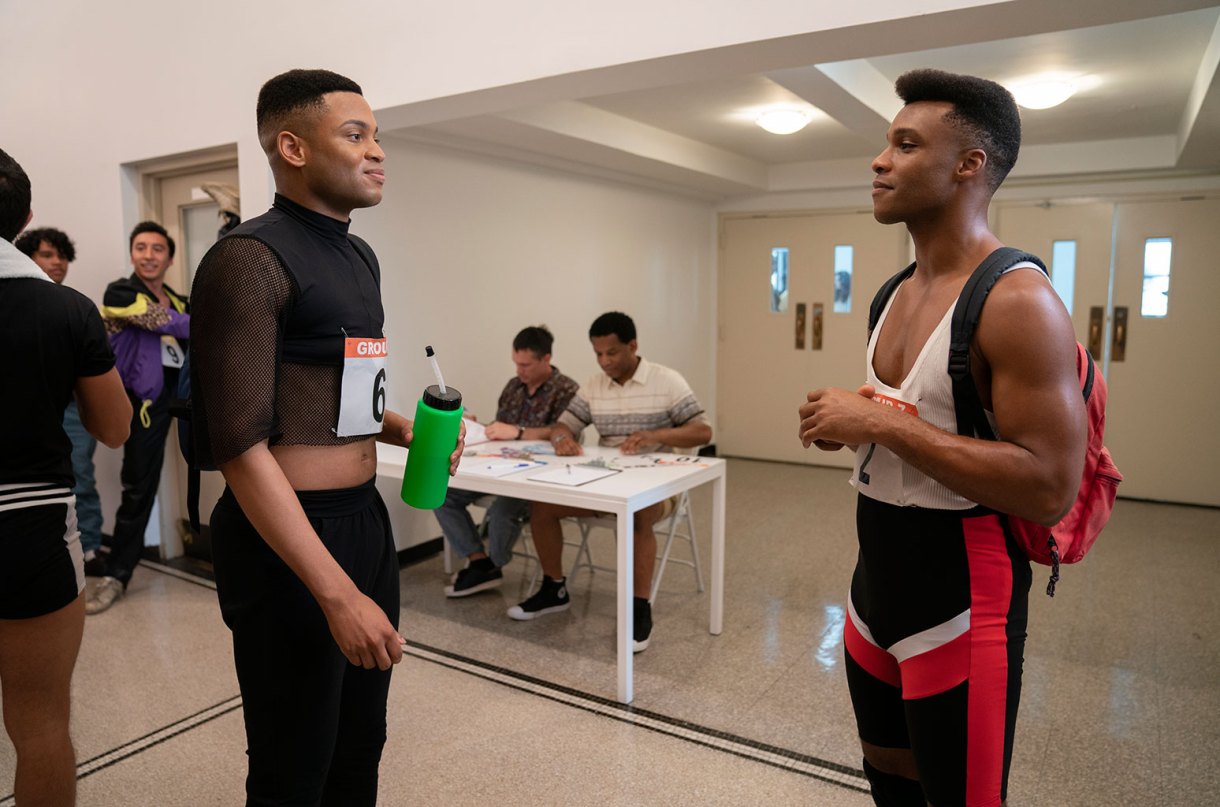 Damon and Ricky meet at the audition; they get sorted into the same group and they're surprisingly chill with it. They ace their auditions, in fact, everyone in their group was really good — to me — so it's no surprise that they both get callbacks. Damon reacts the way a lot of people that feel they're not good enough react when they do the thing; he cries, and then he screams in joy. Blanca screams with him and they full-body-hug it out; Damon picks Blanca clean off the floor and it's so wholesome. Their relationship is one of my favourites in the show and I'm very invested in both of their happiness. Ricky makes it to callbacks too, but his jubilant attempt to hug Elektra is mostly just awkward; she had gone for a composed "good" and went back to looking in her vanity mirror so the look she gave Ricky when he hugs her made me laugh. A lot. Still, I'm interested in seeing Elektra's character grow outside of her role as the villian, or the unemotional one. I also want to know more about the literal dead body in her closet. Is Elektra okay sleeping with that at night? Is she in therapy? Is she really going to keep it forever or was she just being dramatic? I need answers.
A complicated thing is the characters' excitement at the chance to be mainstream. They're so hopeful for the future but the audience exists on the other side of that. I know that mainstream acceptability isn't all it's cracked up to be; all too often, it's used as an excuse to bury the violence that is inflicted on queer communities — specifically queer communities of color. Yet, being able to see myself in film, music and art changed my life. Pose is doing the same thing the characters are fighting for; interjecting a queer narrative into the "mainstream" and shaking it up.
After the callback news, Ricky is practicing for the night's ball and he and Chris — the guy that told Damon Ricky slept with him — get into an argument. Chris calls Ricky a follower and Ricky says ending things with Damon was a mistake and that Chris is a "selfish, self-centered bitch." I don't know a lot about Ricky and Chris's relationship, but I do know that how Damon treated Ricky wasn't healthy. He made him the center of his universe. Earlier in the episode, Damon called dance his first love and I feel like he's getting back to that. Ricky needs to figure out what he wants outside of other people. After a few last digs at each other — seriously, they're so mean! — Ricky and Chris breaks up, which is for the best.
Elektra calls a pre-ball meeting and poses the question "W.W.C.D" to her house. What would Candy do? Then she pulls out Candy's hammer and tells her kids that they need to break Damons foot. As incentive, she offers an opportunity to accompany her to Madonna's birthday party. I know Elektra can be … Elektra but breaking Damon's foot seems like a hard line. Thankfully, Lemar seems to agree because he tells Papi and Angel what's going on and they inform Blanca ASAP. Blanca confronts Elektra and maybe she was never planning on breaking Damon's foot because after feigning ignorance for a hot second she collects the hammer from one of her children and gives it to Blanca. She also says, "you ruin all my plans, mongrel" but she says it with a smile and Blanca smiles too so maybe this is their love language? Seems complicated tbh but I'm glad they're good and Damon's foot is not hurt.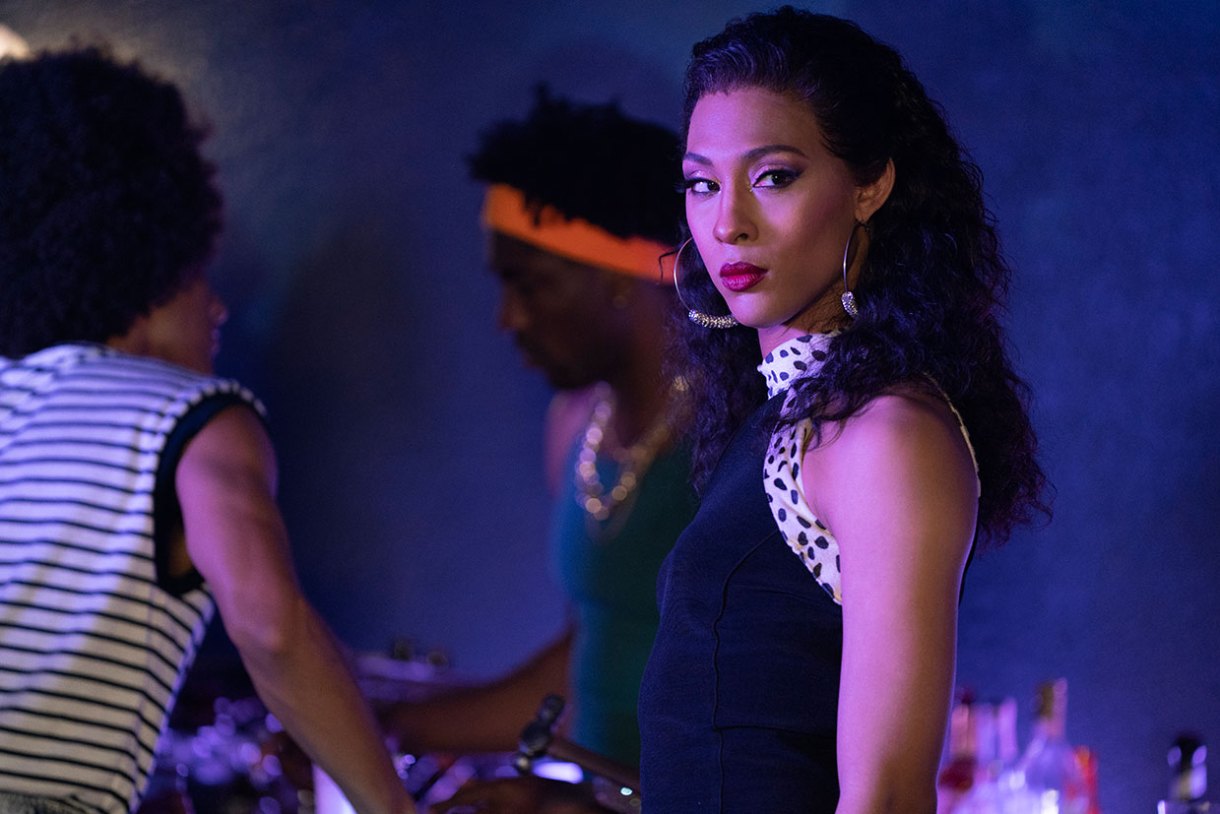 Also of note is Papi and Angels' (I don't like Pangel. Do we have something better yet?) really cute interaction during the Ball. Papi's been working double's to contribute more financially, and Angel's been using work to distract herself from Candy's death so they haven't been seeing each other. They check in and Angel tells Papi that she booked another Wet n' Wild campaign and got an Essence cover try. Papi tells her that they can take a raincheck on their dinner date when she gets the cover. Like that isn't cute enough he waits for Angel to walk off — I love that Angel walks like the world is her runway — and calls her name only to say "you look good, girl." You know, at first I thought I was Papi and I definitely still relate — Instagram boyfriend squad! — but now I think I just love him, but specifically him with Angel.
Damon and Ricky compete in the "Butch Queen Vogue Femme" category and Damon wins but later he tries to hand the trophy to Ricky because he thinks Ricky did better. We also see Ricky get turned down by someone because he just broke up with Damon and he's too drunk. Damon tells him he's going to get picked for the tour but asks him to promise to stop drinking. Ricky's drinking hasn't been mentioned before, but it was mentioned back-to-back this episode so I'm concerned. Also, I wish Damon would believe in himself at least half as much as he believes in Ricky.
Ricky tells Damon that he broke up with Chris and Damon forces down a half smile and says he's "sorry to hear that." When Ricky says he was better with Damon, the latter tells him that he's good on his own. He just needs to learn "how to stand on [his] own two feet". They hug and they both look like they're hurting but Ricky looks like he doens't want the hug to end.
Despite Damon's belief in Ricky, he doesn't make the final cut — and neither does Damon. Ricky's upset about it and he says he lets his family down but Damon's able to see that not making this cut doesn't mean they won't make any cut. I think the difference in their support systems is starting to show. Damon's right though because Gemma Oswald — the scout that recruited Damon in the beginning of the episode — tells them both that they killed it and she has another opportunity for them: Solid Gold, an '80s music and dance show where dancers perform routines to popular songs, is being rebooted. They do the ex's "near kiss" dance in excitement and I got worried. I don't think that Damon and Ricky are impossible together but they're so young. Damon invests a lot into his relationships that he could be investing into himself and Ricky tends to use relationships as a distraction from himself.
The Solid Gold audition ends up being a conversation with the guy in charge who tells them that he's only casting three people, he can't pay them a lot, and they only have enough funding for a pilot episode — but they're hired! The scene easily transitions to said pilot episode and introduces the third cast member, "Las Vegas nudie revue legend, Riddle Rene." The pilot looks pretty good. I enjoyed the gold and the glitz and the three cast members got a few seconds of screen time together after the performance. They shared their hopes that the show gets picked up and I hope that it does because Rene is amazing.
Damon and Ricky talk some more and Ricky pulls out the old playbook — though, if this was the '90s is it still old? — and say's that he's changed but Damon is consistent with his boundaries and says they should be friends so the episode ends on their handshake. Damon doesn't rule out anything more in the future so it's up in the air how long they'll remain platonic, but I'm proud of him either way.
Also, Pose is Emmy-nominated! The show is up for Outstanding Drama Series and Billy Porter is the first out Black man to be nominated for Outstanding Lead Actor in a Drama Series!
See you next week!