Very few women get the opportunity to watch pornography in public, with strangers, in a setting that feels safe, but Albuquerque, New Mexico's Pornotopia is changing that. The seven-year-old erotic film festival, taking place November 13-16 at the Guild Cinema, was founded by Matie Fricker, who also happens to own Self Serve, one of the growing number of sex shops that are woman-owned, sex-positive, feminist-run, and education-orientated.
The focus of Pornotopia is simple: steamy sex had by folks with realistic bodies resulting in real orgasms. Sadly, it's kind of a novel idea, especially when you consider how much of mainstream pornography – a $13 billion industry in the US – fails at showcasing any of those things.
As always, this year's offerings were selected by Pornotopia's small, dedicated planning committee, who pore over mostly independently-produced porn for the months leading up to the festival. Together, they decide what "sets" the festival will feature and which clips will go in each set. This year's festival will reflect a wide range of interests and communities; there will be bike porn, a gay set, a trans set, a BDSM set, and in a historical move: a fisting set called "Fistbump!" Fricker says Pornotopia may be the only erotic film festival in the country to have ever offered a homage to fisting, which sadly is considered a gutsy move.
There's a great deal of stigma surrounding fisting in the porn world and it's as a direct result of the Cambria List. In 2011, Paul Cambria, a longtime attorney for the porn industry, compiled a list of "potential triggers" for obscenity lawsuits. In 2011, Courtney Trouble, a queer, feminist independent porn maker who has voiced their support of Pornotopia, declared October 21 International Fisting Day as a way to fight back against the list, which features fisting, squirting, sharing a dildo, wax dripping, blindfolds, bondage toys, transsexuals, bisexual sex, menstruation sex, and interracial sex , all of which Trouble said is "listed in equality with underage fantasies, rape, necrophilia, incest, and bestiality."
When speaking to them back in 2011, Trouble said companies rarely shoot fisting because adult industry lawyers have advised them not to — and that's emblematic of a bigger issue in porn.
"Many of the things prohibited, such as transsexuals, bisexual sex, menstruation, and squirting, identify a larger problem within the community of adult industry lawyers that mandate these guidelines and the filmmakers and producers that perpetuate this list's power over our work — namely that the adult industry is misogynist and homophobic," Trouble said.
In Albuquerque, Self Serve's owner has become known as a woman who doesn't back down. It is because fisting is so rarely seen in porn – and so widely enjoyed by people everywhere – that it was extra important for Pornotopia organizers to feature it in this year's festival. Deeply invested in showcasing what is often referred to as "marginalized sexuality," the Pornotopia crew has pushed every step of the way to make the festival an enjoyable experience for all, but it hasn't been easy. It wasn't until last year that Pornotopia was allowed to exist in the city without harassment from local officials.
"For a long time we were operating in an environment of intimidation," Fricker said. "With something like Pornotopia, it's very important that it's a safe space for people and with the constraints the county was putting on us, that was making it very hard."
The issues began during the first annual Pornotopia in 2007 when the city of Albuquerque's zoning board asserted the Guild Cinema, the location of the film festival every year, was operating as an "adult amusement establishment," which violated zoning laws. In a story that has now become legendary, the Guild Theater was served with a cease and desist letter just four hours before the festival was set to begin when fortuitously, a group of law students happened to be watching a movie at the Guild. When they overheard what was happening, they made some calls and before long, the Albuquerque chapter of the ACLU was involved.
With the help of the ACLU, the film festival was permitted to continue. Over the course of the next year, Pornotopia organizers met with the city to no avail. After no agreement was reached with city hall before the 2008 festival, the Guild was officially cited. A years-long legal battle ensued, with the theater being convicted of the zoning violation, a decision that was upheld by the State District Court.
"If everyone followed the law the way it was written, Albuquerque would be like a Footloose town," Fricker laughed. "Seriously, screening The 40 Year Old Virgin would be illegal because of the sexual focus. A reading of The Vagina Monologues would be illegal. Even given that, it was clear why we were cited. The straight set wasn't cited, but a set called 'Trans Men in Action' was."
Pornotopia continued on despite the legal troubles, but after being cited again in 2010, Fricker began to lose hope and didn't want to put The Guild in the position of being cited again. In 2010, instead of the film festival, Self Serve planned to put on a show about censorship with local burlesque performers, who were threatened with citation, despite performing at a city-sponsored event a few months prior.
"We were being censored and we were losing at every turn. It was hard to stay optimistic. We knew Pornotopia was important, but as a queer woman trying to go against the grain, I didn't have a lot of hope in the powers that be. I thought, 'At least we're putting up a good fight. There's honor in that,'" Fricker said.
In 2013, the case went all the way to the New Mexico Supreme Court. The State reversed the decision on the conviction and ruled in favor of The Guild. Needless to say, the Pornotopia crew and the many self-described "perverts" that had come to love the festival, were elated.
One of these lovely pervs is Hunter Riley, Self Serve's current manager. As an undergrad, Riley used Self Serve's owners as sources for a column about sex ed she wrote for her school newspaper. She attended Pornotopia for the first time in 2009 and like many who have become hardcore devotees of the yearly festival, Hunter had never watched porn in public with strangers.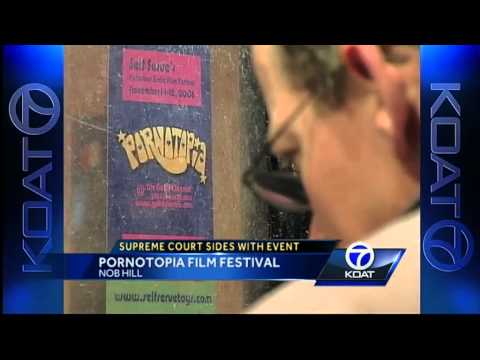 After attending Pornotopia and learning about the court battle, Riley began volunteering at Self Serve and was soon hired as the store manager. Shortly after, she received the training necessary to become a sex educator. Her experience with the shop and the festival is one she characterizes as "life changing," which is also true for the many who have benefited from the sex-positive atmosphere Self Serve cultivates in its shop and more broadly, in the city of Albuquerque, where Catholicism has had a stronghold… well, forever.
"The ties between Porntopia or Self Serve and social justice might not be immediately apparent, but it became very apparent to me," Riley said. "It's not just about sex. It's about autonomy and being in control of your body. It's an intentional, feminist approach. We're committed to providing access to resources and information about how your body works that isn't based in shame. For a lot of people, Pornotopia is the first time they're seeing porn where people look like them and their partners and they're experiencing real pleasure and it's not fetishistic. There is real power in that."
The experience of Pornotopia has been transformative for many communities of people, including elderly folks. Riley says that last year, between 80 and 90 percent of the festival passes sold went to couples who were 65 or older. Riley says many attendees told her no such thing existed when they were growing up.
"I think what people are learning through Pornotopia is that porn doesn't always have to be about getting aroused," Riley said. "Porn can be about curiosity or it can be a way to learn things without asking inappropriate questions. Porn can act as sex ed; it can be something informative that you learn from. It's not just about getting off."
For those of us whose first experiences with sex shops were in darkened, skeezy stores inhabited by creepy men where we had to wade through aisles of gag gifts to get to the less-than-stellar toys, the idea that a sex shop can be both educational and a community resource may seem ludicrous. According to Fricker; however, shops like hers are the third generation of feminist sex shops.
"I was trained at Grand Opening and for me, it's so crucial to love, support and acknowledge those who came before. Shops like Self Serve wouldn't exist if not for trailblazers like Good Vibrations and Eve's Garden, which has been around since 1974," Fricker said. "Good Vibrations had an apprenticeship program for folks who wanted to open their own shops, which is how Babeland came to be."
Fricker, who also worked at A Different Light, the nation's oldest independent GLBT bookstore, upon moving to San Francisco in her early 20's, says apprenticeships were plentiful, until the internet happened. Soon, the handful of feminist-run, sex-positive sex shops had to see each other as competitors, rather than partners.
"We can't forget that sex shops are small businesses and competition is stiff, so I can understand how things had to shift once the internet became more prevalent. Personally, I don't see feminist sex shops in other towns as my competition," Fricker said. "I like having a network so that we can share resources."
Enter: the Progressive Pressure Club, a network of independent brick and mortar sex shops dedicated to helping people make informed decisions about sexuality products. The "Club" enables people like Fricker to connect with others and discuss – as Self Serve's owner says – "the business of doing business," but it's also a way for consumers seeking out feminist, sex-positive shops to find stores in their area.
"I want people to understand that if you don't support the endeavors you want to see more of, if we don't support great, feminist things, they go away. The magazine On Our Backs is part of the reason my store exists. As a teenager growing up in Orange County where there was no queer culture, I could go to Borders and read On Our Backs and learn how to fist my girlfriend. Access to information is so important and primarily, that's what shops like mine provide. If you want to see more feminist sex shops, support them," Fricker says.
Putting even more financial pressure on independently-owned businesses like Self Serve are large, chains that are taking notice of their success and as a result, are "rebranding" to appear more women-friendly. These stores are cutting down on the gag gifts and only employing women, which is great in theory, but the changes are only surface-level because the stores are still owned by men and often, no real progressive practices have been put in place.
Carlyle Jansen has played her part in revolutionizing sex shops and the porn industry. As the owner of Toronto's feminist sex shop Good For Her, she also founded the Feminist Porn Awards in 2006, the longest running celebration of erotica focused on women and marginalized people. Jansen says many of the shops that are rebranding are entering the space with very different politics than feminist sex shops and the goal doesn't seem to be education.
"I think informed sex is better sex," Jansen says. "And if you're informed, I think you have a better life in general. I doubt the goal for mainstream shops is information; it's more likely profit. We need to make a profit too, but when you boil it down, if our customers are informed and happy, so am I."
Jansen says that she is happy that the mainstream – both shops and porn companies – are paying attention to shops like hers and Self Serve's. She hopes it leads to more diversity.
"They're seeing that there's a market and once they recognize there's a market, they're going to want to make money off of it. The issue is that while they might be moving in more women-friendly directions, the people on the packaging of toys and the performers in movies are still primarily young, white, thin, and cisgender. There also doesn't seem to be an understanding that feminist porn or products can be edgy and inclusive of rough sex or dominance and submission," Jansen said.
If you're having trouble detecting whether your local shop is feminist or parading as "women-friendly," Jansen says the first indicator should be whether or not it appears the shop owners are making very conscious decisions to be as inclusive as possible. Jansen says there shouldn't be any joke products that make people feel bad. Another good sign is if sex toys are on display in a way that enables customers to touch them and turn them on.
"At Good For Her, we're very intentional about not featuring the packaging toys often come in, which usually features thin, white, cis women in like, a cat suit or something. We don't want to perpetuate stereotypes or make anyone feel excluded," Jansen says.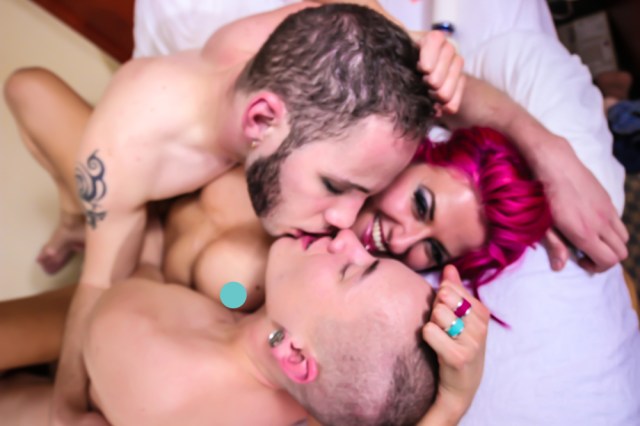 Once a week, Good For Her has women and trans-only store hours. The shop also doesn't sell pornography that fetishizes people in negative or oppressive ways or perpetuates racist stereotypes. The Feminist Porn Awards are also very intentional about which kinds of films can win awards. Women and/or traditionally marginalized people must be involved in the direction, production, and/or conception of the work; the work must depict genuine pleasure, agency, and desire for all performers; and the work must expand the boundaries of sexual representation on film, challenge stereotypes, and presents a vision that sets the content apart from most mainstream pornography. Of course, it also has to be hot.
"A good sex shop, good porn, they will both aim for the same goal: sending the message that one type of body is no more important than another type of body," Jansen said. "Sex shops should be inviting, safe spaces. Porn should be enjoyable and representative of many different communities. I feel like each year, we're making more strides. It can only get better if we keep pushing."