There's not too much queer pop culture news this week. I blame San Diego Comic Con. But here are some queer things! And some feminist things! And one very adorable thing.
---
Teevee
+ Transparent's season four trailer has A LOT going on.
https://www.youtube.com/watch?v=-EsXMS1YfYs
+ At the Television Critics Association summer press tour, CBS execs agreed they've got a straight white man problem. This isn't the first time they've been called on it at TCA and promised they're "working on it." I'm mentioning it as an excuse to post my all-time favorite The L Word quote.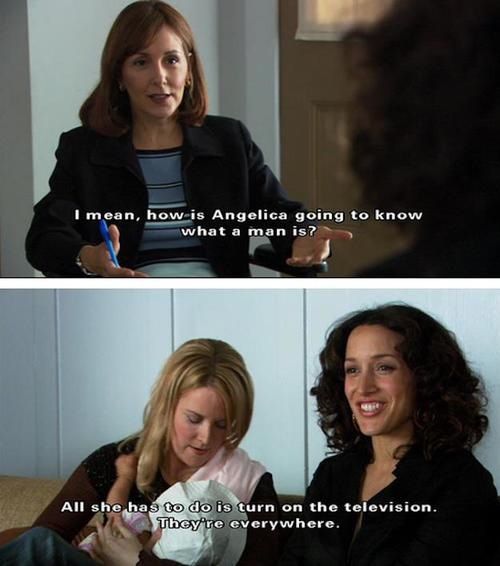 + Speaking, as always, of Buffy the Vampire Slayer, your pals Kristin Russo and Jenny Owen Youngs of Buffering the Vampire Slayer (among many other things) are writing their first comic book!
+ Variety wonders what it will take for the Emmys to close the gender gap.
+ TVLine has a Daytime Divas season one finale post-mortem with the showrunner.
+ Zoe Saldana is launching a Latino-focused digital media brand called BeSe
"Latinos are a growing community in America, but Latino stories have remained historically marginalized," said Saldana. "I'm so excited to be leading BeSe, a truly uplifting brand that fills a niche for young audiences craving positive portrayals of the modern Latino experience in America. I'm grateful to partner with Daniel, Monica and Plus Foundry so that more voices can be heard and empower others to actively create their own futures."
+ Hulu has renewed Harlots. Riese is writing a thing about season one for you!
+ The VMAs are losing the Moonman trophy in favor of a Moon Person trophy.
+ Looks like queer women Portia de Rossi and Alia Shawkat really are going to be reunited for another season of Arrested Development. Jason Bateman tweeted a picture from the set this week.
Here comes trouble. The Bluths move back in on the 8th. pic.twitter.com/0PF7ZqkmWM

— Jason Bateman (@batemanjason) July 30, 2017
+ Jaina Lee Ortiz will headline the new Shondaland firefighter series, which is set to be some kind of spin-off of Grey's Anatomy.
Movies
+ Atomic Blonde won the box office on its opening weekend. Kayla ranked Charlize's coats from the movie, I hope you know.
+ Blue is the Warmest Color and The Handmaiden made Indiewire's list of 25 most sexy movies of the 21st century
+ Try not to cry, I dare ya.