Autostraddle's Pop Culture Fix is a weekly round-up of the queer arts and entertainment news you need in your life.
---
TeeVee News-ish
+ Tig Notaro's new HBO comedy special, Boyish Girl Interrupted, will land on August 22. To tide you over, here's a trailer of the big event.
+ The CW is making a TV show about Little Women. About dystopian Little Women.
+ At the Television Critics Association summer press tour this week, Jill Soloway talked a little bit about "taking the bubble wrap off" of Maura this season on Transparent.
"We're not doing 'Trans 101' anymore — we're not having to introduce the world to the concept of a trans woman. Now Maura can be a little bit more human. She can make mistakes more, she doesn't have to be exemplary, so that's exciting as writers for us, to allow her to make some bad turns."
+ Here are some Grey's Anatomy spoilers about Callie and Arizona's sapphic hijinks in the upcoming 12th season, straight from Shonda Rhimes.
Definitely some new romances for them this season, and some pretty exciting ones, too, which I think are going to be kind of interesting
Team Arizona and Dr. Geena Davis, to be honest. Team Callie and Meredith.
+ The Hollywood Reporter's annual Emmy roundtables are arriving! I love these things! They're my favorite part of the Emmys! First up, Viola Davis, Taraji P. Henson, Lizzy Caplan, Maggie Gyllenhaal, Jessica Lange, and Ruth Wilson talk sexism, racism, ageism and nudity in Hollywood. For a full hour, they talk about it!
+ IndieWire thinks UnREAL is the feminist masterpiece theater we've been looking for.
The show doesn't pity [Rachel or Quinn], or make excuses for them. Quinn and Rachel may be working within the constraints of a system, but they still have choices, and they frequently make bad ones — for which they suffer harsher consequences than a man ever would. UnReal is smart enough to wrap its critique of patriarchal structure in a compulsively watchable drama full of outrageous plot twists, appealing to the very factors it leads you to question. That it airs on Lifetime, buffered by ads for shows that appear to do the same without the layer of self-conscious criticism, just makes it more potent. This is what a feminist TV show looks like.
+ The A.V. Club is super into UnREAL too. They think it's one of the most accidentally authentic things on TV this summer, along with I Am Cait (which plummeted in ratings for the second episode, by the way).
This same disconnect makes shows like Caitlyn Jenner's new Lifetime show I Am Cait, which trades on perceived authenticity, something of a tough sell. Tackling transgender identity on television is still complicated, not least because of prejudices against transgender people as somehow deceptive—a perception hard to tackle sensitively on reality TV, a genre ruled by either conflict or voyeurism. I Am Cait's biggest triumph is that it manages not to rely overmuch on either; the result is something both well meaning and carefully controlled, a Fabergé egg of public image. Those expecting vapidity will be stymied by the show's sincere mission statement; those expecting any raw-edge authenticity will be disappointed by its careful polish.
+ Variety is all about Jenji Kohan, Shonda Rhimes, Lena Dunham, Jill Soloway, Ilene Chaiken, and other female showrunners in this week's print issue. Here's Ilene:
Women often "come from a less top-down approach, and are more able to engage in the process of listening to the room to find the best idea, and guiding the story to that, rather than rigidly guiding it one way,wp_postsChaiken says. "I think women do that naturally and more intuitively than men."
+ Don't forget: Dannielle Owens-Reid is teaming up with some awesome queer folks to make the definitive documentary on the evolution of LGBT folks on TV.
---
The Silver Screen
The first trailer for Roland Emmerich's Stonewall is here. It features more characters of color than the promo photos (which were all super white), including Jonny Beauchamp and Otoja Abit as real-life activists Ray Castro and Marsha P. Johnson, respectively. However, some critics are still worried about potential trans erasure in the movie. (Also, Otoja Abit is a cis man playing a trans woman of color, which is another problematic thing.) The film drops on September 25.
+ Kate McKinnon and her new squad of Ghostbusters surprised patients at a Boston children's hospital.
---
Queer + Feminist Folks Doing And Saying Things
+ In the wake of the Lafayette theater shooting that killed three people and wounded nine more, Amy Schumer has decided to fight back with more than words. She's teaming up with her cousin, New York Democratic Senator Chuck Schumer, to promote a "three-pronged approach to fighting mass shootings, focusing on background checks and mental health funding." You can watch Schumer's full press conference announcing the forthcoming legislation here.
+ Former A-Camper Danielle Strassman teamed up with some of her friends and HereTV to do a street investigation inspired by the Do I Sound Gay? documentary. Can these random people pick out the lesbian in the crowd just from the sound of her voice?
https://www.youtube.com/watch?v=gEQM6RynSkE
+ More Kate McKinnon? Okay! She's doing some pretty amazing commercials for Ford now.
+ Jennifer Beals' name is everywhere in my Feedly and Twitter timeline right now. I think she's trying to change the press narrative because of how she left her dog in a hot car or whatever that was that happened earlier this week. I can't watch videos like that. Anyway, she did an extensive interview with The A.V. Club yesterday, in which she talked about her whole career, including The L Word.
AVC: It's amazing how far we've come just since the show went off the air.
JB: Isn't that incredible? It really is incredible. For me, when I started playing the character, when I saw the script for the pilot, I thought, "This would be amazing to have some girl somewhere in the middle of nowhere, who has no access to her tribe, really, see herself represented as a multiplicity in a mainstream media.wp_postsI thought that would be incredible. To touch just one person with this story, I would've been happy. But for the show to have had—and to still have—the kind of following that it does is incredibly gratifying. There are no fans that are more loyal than The L Word fans. They're so engaged and present.
+ Mindy Kaling previews the TV that's coming our way this fall for The New Yorker. (Kind of.) (Just read it.)
+ If you're a bigot, you're a bigot, and Ruby Rose is not going to apologize for saying it (even if you are the Prime Minister).
+ Lea DeLaria spoke out at TCA and called butch lesbians "the pariahs of the community."
---
Also.Also.Also.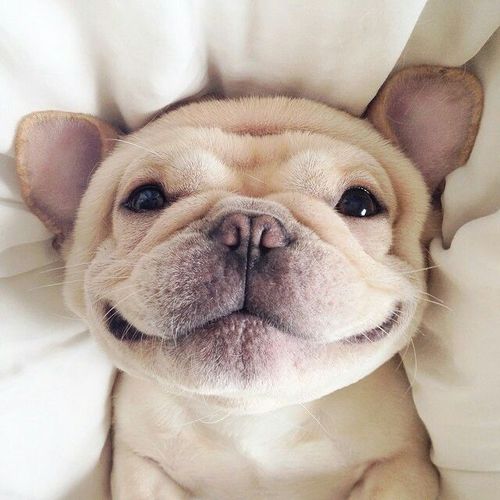 I hope your day makes you smile like this puppy!