Feature image via Entertainment Weekly
Hello and welcome to your weekly Pop Culture Fix. A very enormous thank you to Riese Bernard who filled in for me last week when I had the flu and also didn't flinch when I told her I needed a raise to be able to afford my health insurance this year, without which I would not have been able to get treated for the flu. The world is dark and there are some goddamn wonderful people still creating light in it.
---
Teevee
+ Hello excuse me, Supergirl is making Valentine's Day all about Maggie and Alex, according to Entertainment Weekly.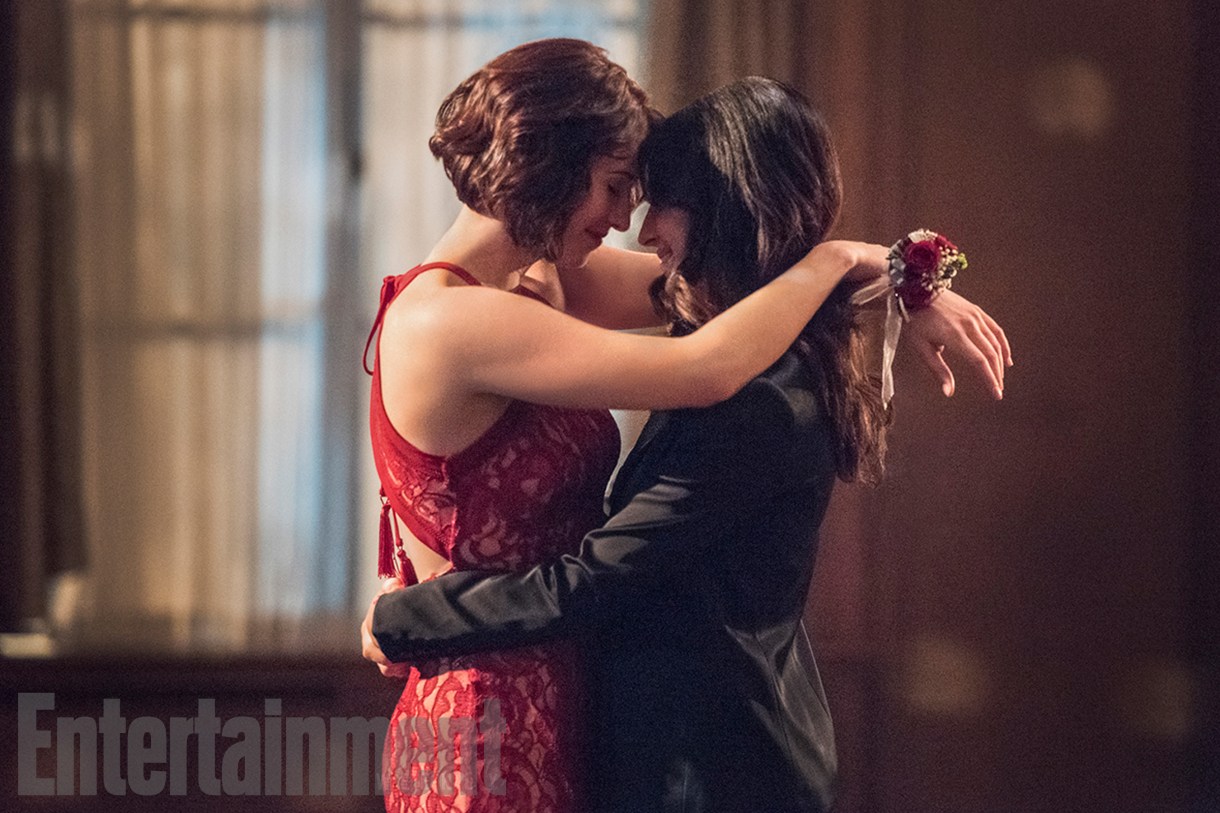 Here's what we know: Alex (Chyler Leigh) is super excited for her first Valentine's Day with a girlfriend, but Maggie (Floriana Lima) is not keen on the Hallmark holiday, which leads to their first real fight. But Maggie will make it up to Alex by recreating a special night — note the corsage on her arm!
+ There's a rumor Shonda Rhimes is getting ready to launch her own Netflix-style streaming platform or network so she can have full ownership over all her shows. I wish she had full ownership over all the world. TV Line says she's up to something good and everyone knows it.
+ Your girl Portia de Rossi is getting ready to film Arrested Development season five. Apparently a lot of the season is going to be a prequel to the original series? Due to scheduling conflicts? I know it's cool to hate on the Netflix season but I loved it anyway.
+ Here's a headline: "Jill Soloway on the Audacity of I Love Dick, and How It Might Create 'Radical Feminist Sleeper Cells"
+ The next season of Ryan Murphy's American Crime is going to focus on Hurricane Katrina, and after that he's got his eyes on Bill Clinton and Monica Lewinsky.
+ Yara Shahidi is going to star in a Black-ish spin-off!
+ Abbi and Ilana gear up for Trump's inauguration in the new Broad City trailer.
Movies
+ Listen, Viola Davis is well on her way to the EGOT. She's already got the Emmy and Golden Globe and she's a favorite for the Oscar this year for Fences. Hidden Figures pulled down three well-deserved nominations, including one for Octavia Spencer and one for Best Picture and if La La Land beats it I am going to punch a hole in the sun.
+ Do you know of this movie called Below Her Mouth? It stars Swedish model Erika Linder and Canadian actress Natalie Krill and will be released in Canada on Feb 10th and in the U.S. sometime later this year. It's lesbiany, that's for sure. Lesbiany in time for Valentine's Day.
Queer Humans, Out and About
+ Just when you think you can't get anymore excited about Gabby Rivera's upcoming America Chavez comic book, she posts this:
+ Would you like to know Carrie Brownstein's favorite albums from high school? Okay, here you go.