It's Wednesday; you're fixin' to get pop cultured!
---
+ Kristen Stewart's new Charlie's Angels, a thing I have refused to believe is real until someone provided photographic evidence, has made a strong case for its existence this week by releasing some stills. According to Entertainment Weekly, "[Charlie's] expanded roster includes the crew at the center of Elizabeth Banks' story: Sabina Wilson (Kristen Stewart), the hard-partying, highly skilled wild card; Jane Kano (Ella Balinska), the ex-MI6 muscle of the group; and Elena Houghlin (Aladdin's Naomi Scott), the MIT-trained scientist who, Banks says, serves as 'the heart of the movie.'" Also if Kristen Stewart isn't gay in this film WHAT'S THE POINT.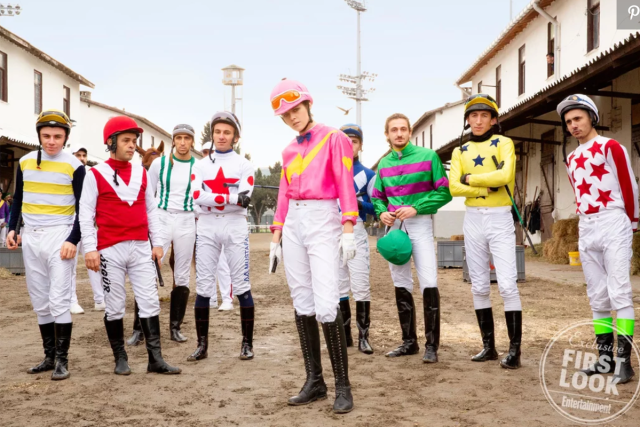 + The Guardian is curious why Coronation Street keeps exploding its lesbians.
+ Rafiki hits theaters this weekend in the United States for the first time! Here's an excellent interview with director Wanuri Kahiu.
+ You know GBBO's Prue Leith? She writes an epic novel series about chefs, I guess? Well, her next book has lesbian sex in it and apparently she chatted up Sandi Toksvig's wife for some pointers on writing about it. (I need to warn you: If you click on that link, about 25 autoplay videos of Paul Hollywood are going to start blaring at you. Maybe he even reaches through the screen and tries to give you a handshake if you leave the tab open long enough, I don't know, but I wouldn't risk it.)
+ Kate McKinnon will star and executive produce the new Hulu series The Dropout, about the life of Theranos founder Elizabeth Holmes.
+ Lin-Manuel Miranda's In The Heights just keeps getting better and better. This week: Stephanie Beatriz is Carla!
+ DERRY GIRLS IS COMING BACK FOR SERIES THREE. (Also thank you to Natalie for this deep investigation into what happened to Michelle's mam's big bowl.)
+ Shay Mitchell is joining Hulu's Dollface and 100% of our TV team agrees this means her character will be gay.
+ Paula Pell plays a lesbian in Netflix's new SNL lady-helmed comedy, Wine Country.
Amy Poehler, Maya Rudolph, Rachel Dratch, Ana Gasteyer, Paula Pell, Emily Spivey, and Tina Fey star in Wine Country — a new movie about friendship, aging, and drinking. Lots and lots and lots of drinking. pic.twitter.com/EQ0weG224h

— Netflix (@netflix) April 11, 2019
+ Jeffrey Tambor's getting killed off the final season of Transparent I guess. 
+ IDW is feeling more and more confident about season four of Wynonna Earp.
+ Sony Pictures Television Studios' Jeff Frost said he feels "reasonably confident" they'll find a new home for One Day at a Time!
+ Shrill's coming back for a second season.
+ Lena Waithe's queer girl comedy, Twenties, is coming to BET.