I'm weary of the ways of the world
It's difficult to start the process of healing. We grow accustomed to holding onto our anger, jealousy, or sadness; it starts to feel like a comfortable baseline. As a black femme, this year has been particularly difficult. I continue to see my people shot and killed in the streets. My social media feeds are still filled with videos of horrific murderers. Each day feels like an uncertain battlefield and I never know what armor I'll need to survive. As a black queer femme, these fears are magnified to an even higher degree. There have always been few spaces where I feel safe and even fewer spaces where I feel safe to be my black, gay self. But 2016 feels different — the realities of the boundaries I exist within as a queer black woman feel even more constricting. The dangers of my existence are clear; I see the evidence every day.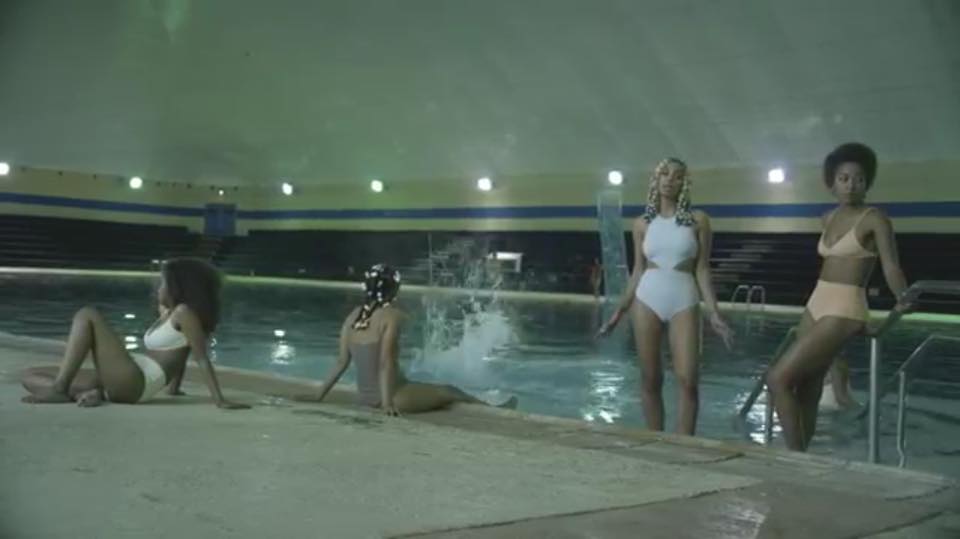 I've grown accustomed to that fear; to the anger I feel. As I watch this year's political proceedings or see Kylie Jenner wear cornrows, I can't help but feel anything else. How can healing take place when I'm still trying to convince the world that my negative feelings are valid? That I'm more than an Angry Black Woman? I don't know that I can answer that completely, but I do know that A Seat At The Table represents a starting point for healing my black femme self.
Artists like Beyoncé, Jamila Woods and Noname have created beautiful musical depictions of black girl magic and empowerment this year. Lemonade made me demand space for myself. It made me proud to exist as a black woman no matter how flawed or trying that existence may be. The childhood hand games prevalent on Woods' HEAVN reminded me of my connection to generations of black female unity and my right to love that young, black girl inside of me who prayed she'd wake up white one day so the taunts about my hair would finally stop. Noname's Telefone helped me realize that I have every right to grieve over my losses and difficulties.
These albums created a beautiful narrative exploring the variances and common ground between black women. They spoke openly a coded language that I'd only been accustomed to sharing in knowing glances and nods when I came across other black femmes. I felt connected and empowered in my blackness, but it didn't change the fact that I was still tired, angry and sad. While I could now give voice to those feelings, it didn't change the fact that I was weary and hurt by the world. I still felt a need to fight, to defend myself. It wasn't until I listened to A Seat At The Table, that I finally felt like I could put my armor down. While Solange gave voice to my anger and sadness, A Seat At The Table asks us to look forward to healing and acknowledges that the journey isn't easy.
"Cranes in the Sky" reads like my own troubled journey of realizing my own need for self-care. She tries to drink it away, sex it away, run it away. She tries to be alone, she tries to keep herself busy. These are all tactics we as black women use because we're not supposed to show weakness. The Strong Black Woman trope is one that acts like a burden as much as it is empowers. I looked at my own ever-growing to-do list; the looming deadlines. I started to see them as the distractions they were — accompaniments meant to make my armor seem more appealing. In order to take a seat at the table, I needed to put these things away.
The very title, A Seat At The Table, hints at a place of acceptance. It asks you to put down your baggage and take a seat at the table; you can finally stop shouting for your place and allow yourself to be served — it's safe here. It felt unlike anything I'd ever experienced to finally hear someone acknowledge what I was going through and wholeheartedly accept me for it. It felt like one of those embraces that lifts you up, straightens your spine. It felt like my mother gently detangling my hair while roughly pulling at my kitchen; oiling my scalp and asking me, "doesn't that feel better?" It does.
This album is for us black, weary and tired women. It's a place for us to celebrate our blackness rather than defend it. In a world that thinks anyone but us invented our cornrows, box braids and bantu knots, A Seat At The Table is a quiet shared side-eye among black femmes. We know the truth and in this space we can embrace that truth. Solange has created a space where healing can happen. "F.U.B.U." makes Solange's intent was entirely clear. While Beyoncé hinted at "Formation" being for those of us with negro noses and Jackson 5 nostrils, her status as a superstar made it easy for white audiences to gloss over those points and embrace the song as another "feminist" anthem. Solange doesn't give those audiences the chance.
"All my niggas in the whole wide world,
play this song and sing it on your terms."
Her use of nigga is at once aggressive, communal, and joyful. I broke down when I heard her sing, "When you feeling all alone and you can't even be you up in your home," because someone was finally giving voice to my entire lack of a private sphere. So much has been appropriated and reprimanded that even in my home, images that glorify whiteness and white standards seep in; to acknowledge this felt at last like catharsis. It felt ok to slow down, to mourn, to acknowledge my pain; an album had never made me feel this way before.
Then my inbox started to fill up again with requests for immediate hot takes and perspectives on the album. As though white audiences demanded I make sense of this work for them. It felt overwhelming when all I needed was time to process, to heal. It's not easy to find the words that explain what A Seat At The Table means for all black women or all black people. I only know what it means to me; it's entirely personal and holistic. I decided to take my time. I sat with the album every day since its release. I tried to think of a way to present this work to people outside of my experience and I still couldn't find the words. Then I realized I didn't want to find them. I didn't want to be assigned media translator for something that required explanation for white audiences. I know that A Seat At The Table is for me and if it's for you, you know it too. You know it incalculable ways that unify and diversify us. If you can sing along, you are singing along joyously, proudly. If you're not, don't be mad; you've got the rest of the world. But for us, we've finally been given a seat, please give us a moment to put our feet up and enjoy it.