A-Camp this year was on some new shit. One of the best parts about this past camp was our QPOC-only space called The Speakeasy. Unlike what some people imagined in the comments section of 36 Reasons Why QPOC-Only Spaces Are Very Necessary, The Speakeasy was super fulfilling, didn't at all increase support for white supremacy, and generally enhanced the atmosphere of  queer love on the mountain. It gave us a space to see each other and build community without the prying eyes of well-intentioned non-QPOC.
The Speakeasy provided a calm environment for QPOC identified individuals to have a moment where we could just be ourselves and discuss anything and all the things. We created small zines and discussed ways that we could add more diversity on Autostraddle. For me, as one of the many facilitators of the event, I was curious about what queer people of color wanted to see more of on Autostraddle. One thing that popped up and was agreed upon by many was that we wanted to see more artists of color highlighted on the site. Funny thing about representation though, in order for it to be as frequent and as a genuine as we need it to be, it has to come from us. We gotta be the ones saying: Hey beautiful humans, check this person out. We have to be the ones shouting out the music we want to hear.
And also, like we were so deeply and genuinely supported by non-QPOC Autostraddle staff and execs. The only reason that I stress this is because in my heart, Autostraddle is a huge part of the person I am today and if we weren't supported at A-camp or on the site, I'd probably be trying to find somewhere else to lay my heart and basically feel like I was dying in the process of doing so. ALLYSHIP is so important and it's way more than just having a Latina or Asian girlfriend, y'all. It's wholly and without question sharing space and owning the silence of your voice so that others may speak.
After camp, we created a Facebook group called The Speakeasy and it's literally giving me life everyday. In one of the groups posts, I asked if we could start a music thread: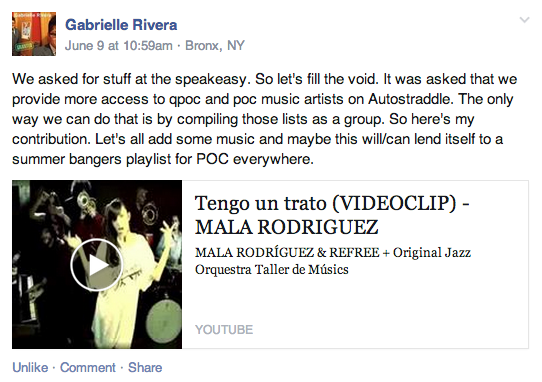 Who are the QPOC or POC artists that we bob and weave to on an everyday basis? If we were at a party, what are the tracks that we want to dance to? People in the Speakeasy threw down with suggestions and I've tried to compile most of them into a banging playlist. We picked songs from artists of color that are queer or otherwise identified. Mostly we picked songs that make us lose it on the dance floor or be at peace in our daydreams. Seriously, it's a mix up in this bitch. From Angelz Haze to LE1F to Frank Ocean to La Santa Cecilia, we got mad bases covered baebaes. In the spirit of The Speakeasy being one of the most bomb ass places I've ever been witness to, here is a Block Party playlist for everyone to enjoy. If we threw a party, best believe that everyone would be invited because when it comes to shaking that ass the only rules are:
1. check yourself before you wreck yourself
2. wobbly dee wobbly dee wop wop wobble wobble
Speakeasy Bangers: A QPOC Block Party
Get Down – Amplify Dot
Werkin Girls – Angel Haze
Tengo Un Trato – Mala Rodriguez
Roc The Mic – Mikey J And The UK Female All Stars (Amplify Dot, Baby Blue, Lioness, RoxXxan, Mz. Brat, and Lady Leshurr)
Get Ur Freak On (Remix) – Missy Elliot Feat. Nelly Furtado
Partition (Dave Aude remix) – Beyoncé
Wavvy – Mykki Blanco
212 – Azaelia Banks
I Adore You – Adore Delano
Boom – LE1F
El Kofeyyee Arabeyye – Shadia Monsour Feat. M1
Cookie Cutter Bitches – Snow Tha Product
Imma Homo – Rainbow Noise
Daniela – Kumbia Queers
Ice El Hielo – La Santa Cecilia
Sacar La Voz– Ana Tijoux
Bad Religion – Frank Ocean
Babylon – SZA
Water Me – FKA TWigs
Beautiful Beast – L.U.S.T. & POeTiq
Mary Jane Girlz (The Tree Mix)  – Dawn Gun, Miss Bliss, Oracle Jayne Doe, M$Ney And Brandi Kane
Gimme That – The Sistem
Funkdafied – Da Brat
It's Time To Get Paid – Shunda K feat. Snax
Freedom (Panther Remix) – Queen Latifah, Yo Yo, TLC, Mc Lyte, Nefertiti, Salt N Pepa, Patra, M'eshell Ndegeocello
U.N.I.T.Y. – Queen Latifah
Bebot – The Black Eyed Peas
Sissy That Walk – RuPaul
Also, are you a self-identified QPOC — that includes multiracial queers and folks from any non-white backgrounds — that wants to be part of The Speakeasy? Join us on Facebook.
P.S. What songs and artists would you add to our playlist, weirdos?
---
Want to suggest a playlist theme? Hit Stef up and someone on the team might make it for you.