Is it warm where you are? Is it at least warmer than it was last week? If so, maybe it's a good time to go outside — perhaps even eat some food while you're there! I'm thinking that there must be literally zillions of people like me who are going to will spring to happen and also like sitting on blankets and eating food with their hands, and I'll bet my bottom dollar you're one of them!
If you have the right weather for listening to this outside, please do that. But if not, put your sunglasses on inside and live the dream anyway.
---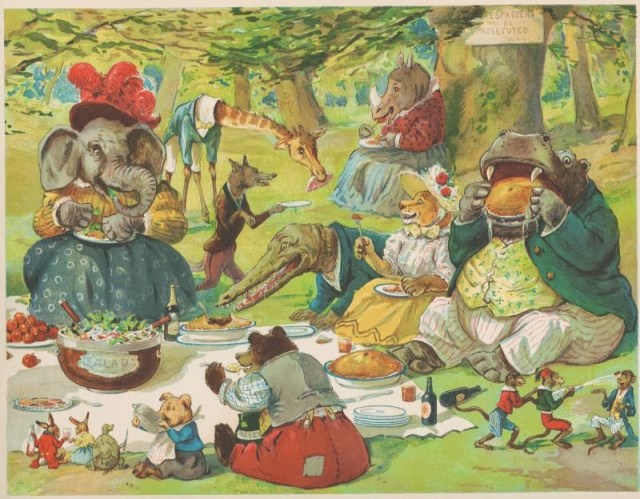 Let's Go On A Picnic / Lay In The Grass
Let The Beat Build – Lil Wayne
Doo Wop – Lauryn Hill
Rill Rill – Sleigh Bells
Treasure – Bruno Mars
Die In Your Arms – Justin Bieber
We Ain't Them – Childish Gambino
Bitch, Don't Kill My Vibe – Kendrick Lamar
Underneath It All – No Doubt
Always Like This – Bombay Bicycle Club
In The Hot Hot Rays – Fleet Foxes
Say You Love Me – Fleetwood Mac
Sweet Life – Frank Ocean
Valerie ('68 Version) – Amy Winehouse
Forever – HAIM
Uptown Funk – ft. Bruno Mars Mark Ronson
Sans Soleil – Miike Snow
Badfish – Sublime
Cold Girl Fever – The National
You Love Me – DeVotchKa
Everyone – Van Morrison
Sunshine [Ottacee Mix] – Lil' Flip
Radio – Lana Del Rey
Good Friday – (feat. Common, Pusha T, Kid Cudi, Big Sean & Charlie Wilson) Kanye West
Pusher Love Girl – Justin Timberlake
Happy Feat – Derek Martin C2C
Somewhereinamerica – Jay Z
My Love – The Bird & The Bee
Young Adult Friction – The Pains of Being Pure at Heart
Past In Present – Feist
Better Days – Citizen King
Good Intentions Paving Company – Joanna Newsom
Million Dollar Bash – Bob Dylan
Quiet Houses – Fleet Foxes
He Can Only Hold Her – Amy Winehouse
Sweet Honey – Slightly Stoopid
With Arms Outstretched – Rilo Kiley
Last Call – Kanye West
---
Want to suggest a playlist theme? Hit Stef up and someone on the team might make it for you.