I realized something inside of me had forever changed the first time I was smoking with the windows down and the music loud in my car and thought to myself "Huh, I could imagine myself doing SoulCycle to this song." It was a passing moment, I ignored it, I let it slip away, but then it happened again. And again. And again.
Clearly, riding a stationary bike into a mountain of my own feelings and then crying during final stretch twice a week was no longer enough. It was that realization that led me to a late-night Google search for gyms in my area, which then led to me remembering that I don't do exercise in front of other people in well-lit rooms, which then led to an even later late-night search for exercise bikes. At no point in this process did I think I'd actually buy one. I was just looking! I was just curious, jeez. Then I found one with a baby pink polka-dot wheel, a tiny white frame, a baby pink chain cover, and a negligible price tag.
And I bought the fuck out of it.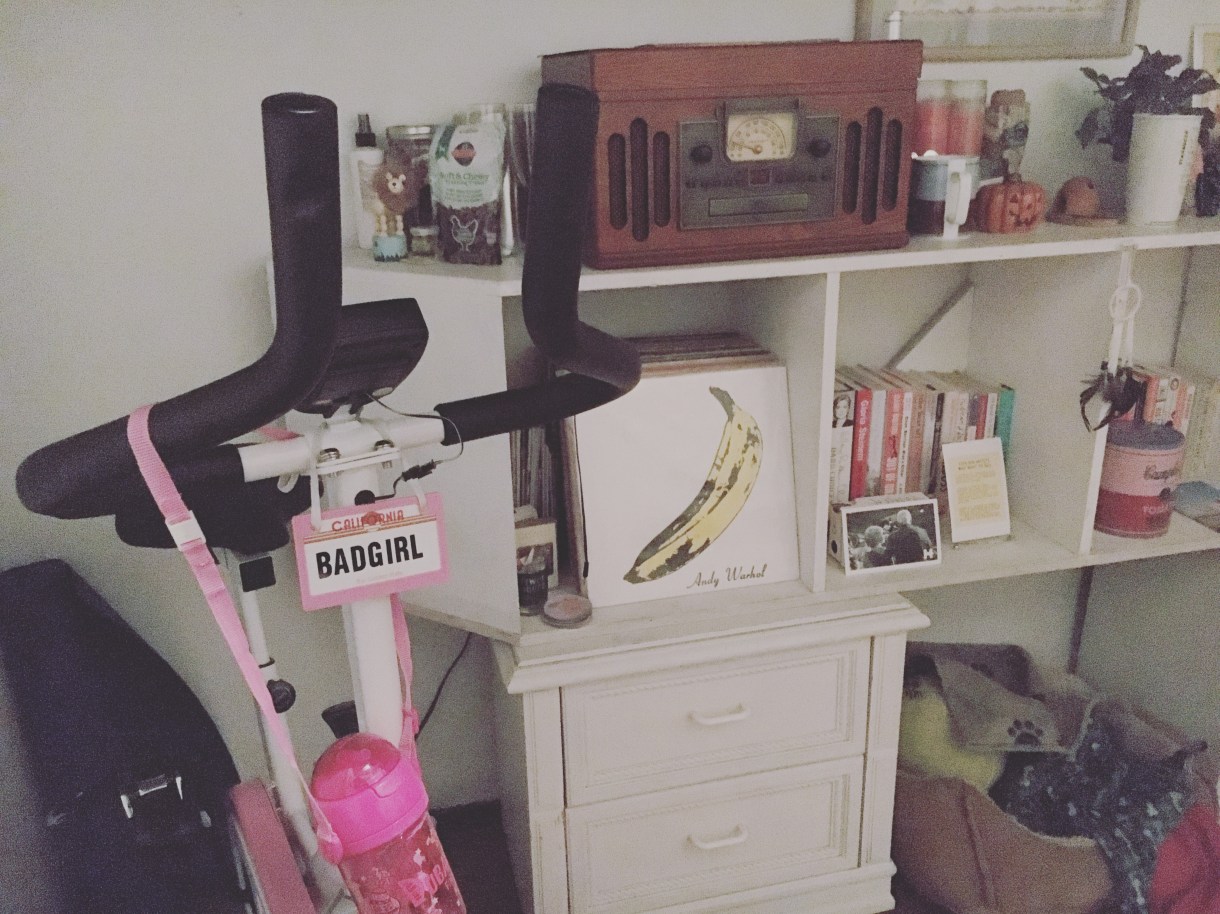 In an effort to live my brand as "SoulCycle Ho" as best as possible, I decided it was what I had to do. When it arrived four days early, I rushed home to assemble it. As soon as it was in one piece, I adorned it with a tiny license plate and a sippy cup. And once I was done taking photos of it like a mother would a newborn baby, I hopped on that motherfucker and attempted to ride it in time with the rhythm to every song that had ever made me wish I was tapping it back in a candlelit room while someone incredibly fit talked to me about walking through fear or finding my own strength or making brave choices.
These are those songs.
Pity Party – Melanie Martinez
Beauty And A Beat – Justin Bieber
Trophies – Young Money
Don't Wanna Know – Maroon 5
Losing You – Solange
Roses – The Chainsmokers
Me Too – Meghan Trainor
Let Me Love You – DJ Snake ft. Justin Bieber
Work from Home – Fifth Harmony
Unstoppable – Sia
How To Be A Heartbreaker – Marina and the Diamonds
Fade – Kanye West
Goodnight Gotham – Rihanna
Floating to Nowhere – Lando Chill
We Don't Talk Anymore – Charlie Puth ft. Selena Gomez
High School – Nicki Minaj ft. Lil Wayne
Lonely Star – The Weeknd
Wild Things – Alessia Cara
HateULoveU – Ghita
Titanium – David Guetta ft. Sia
7/11 – Beyoncé
Hands To Myself – Selena Gomez
One Dance – Drake
Love Myself – Hailee Steinfeld
Confident – Demi Lovato
Take Back the Night – Justin Timberlake
Blow – Beyoncé
Freedun – M.I.A.
Sex On The Beach – PARTYNEXTDOOR
IV. Sweatpants – Childish Gambino
California – Grimes