Megan, Brenda, Scout, Nathan / 25, 26, 4, 5 / Charleston, SC
"Nathan was a birthday gift from Brenda to me. I came home one day and our house was destroyed, then Nathan popped up out of a little cardboard box with the look of Satan in his eyes. We adopted Scott a few years later when we realized Nathan may stop biting our ankles if he had a friend to play with. We have had a long line of pets with human names, Nathan's full name is Nougat Nathan. Scout is in honor of Brenda's time as a Girl Scout. Nathan sometimes forgets he has a tail then gets spooked when he rediscovers it. Scout makes direct eye contact with everyone and it makes some people very uncomfortable. Cute! We like to watch reruns of Will and Grace (see tv in background)."
---
Christy and Reddy / 43, 3 / Costa Mesa, CA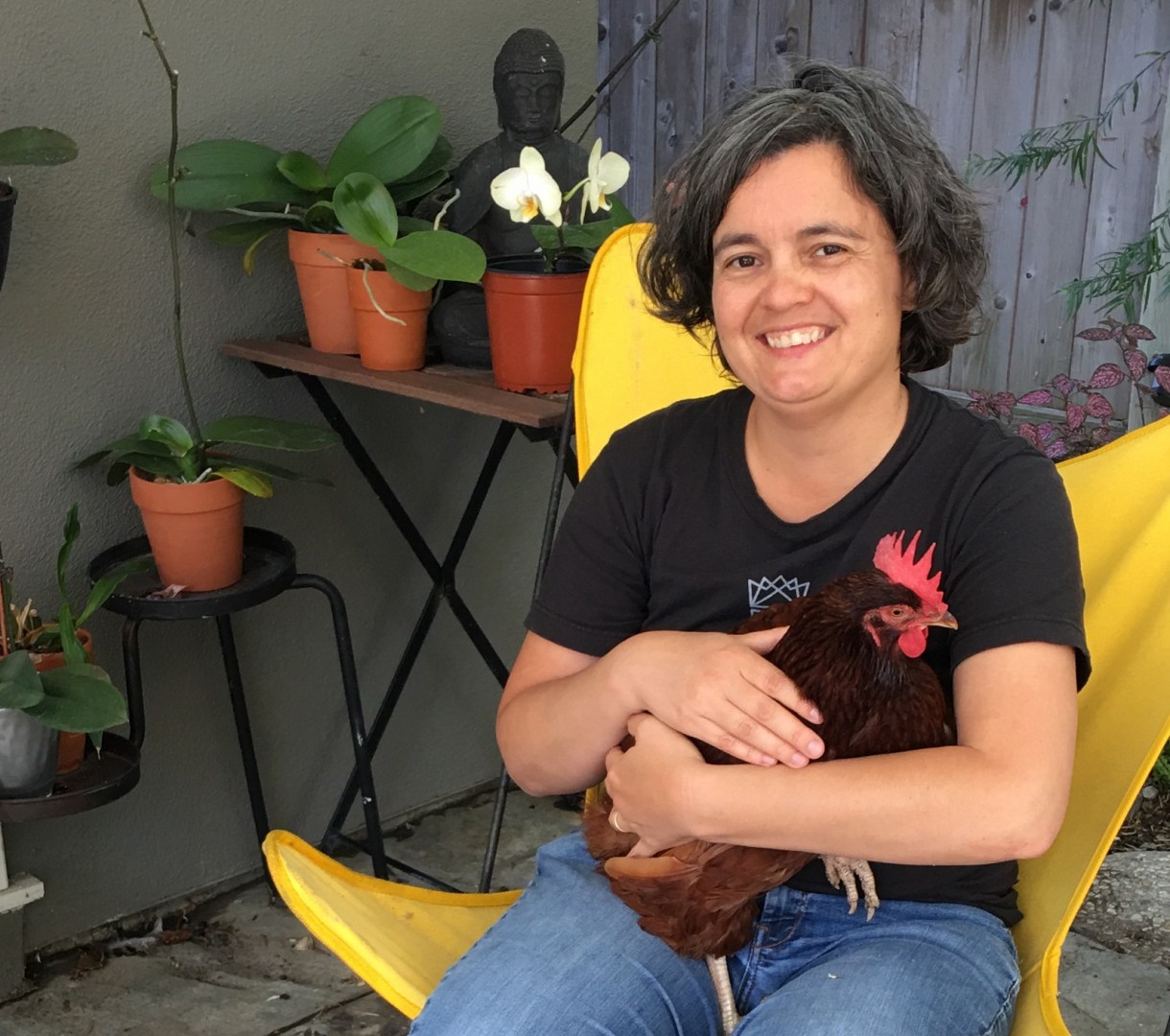 "Our family got Reddy as one of four chicks from the local feed barn. For while they lived in a cardboard box in the laundry room. She was the smallest of the group and would sometimes do a face plant, instantly falling asleep in the pine shavings. We'd all freak. "Is she dead?"  Needless to say, she's alive and well. I guess she was just really tired. Of all our chickens, she's my fave. I love her for her countless eggs and her easy going personality."
---
Emily and Lily / 20, 4 / Pacifica, CA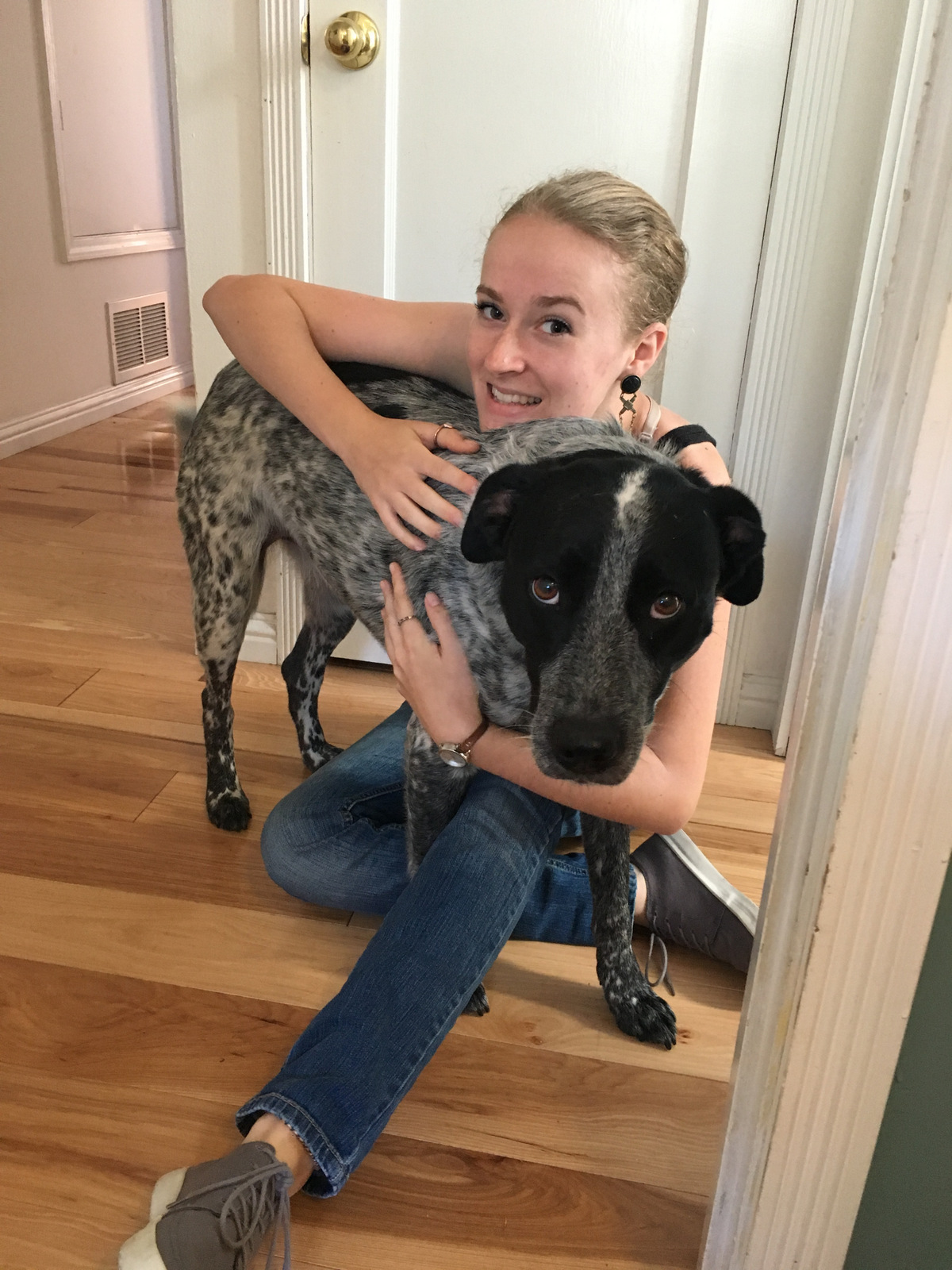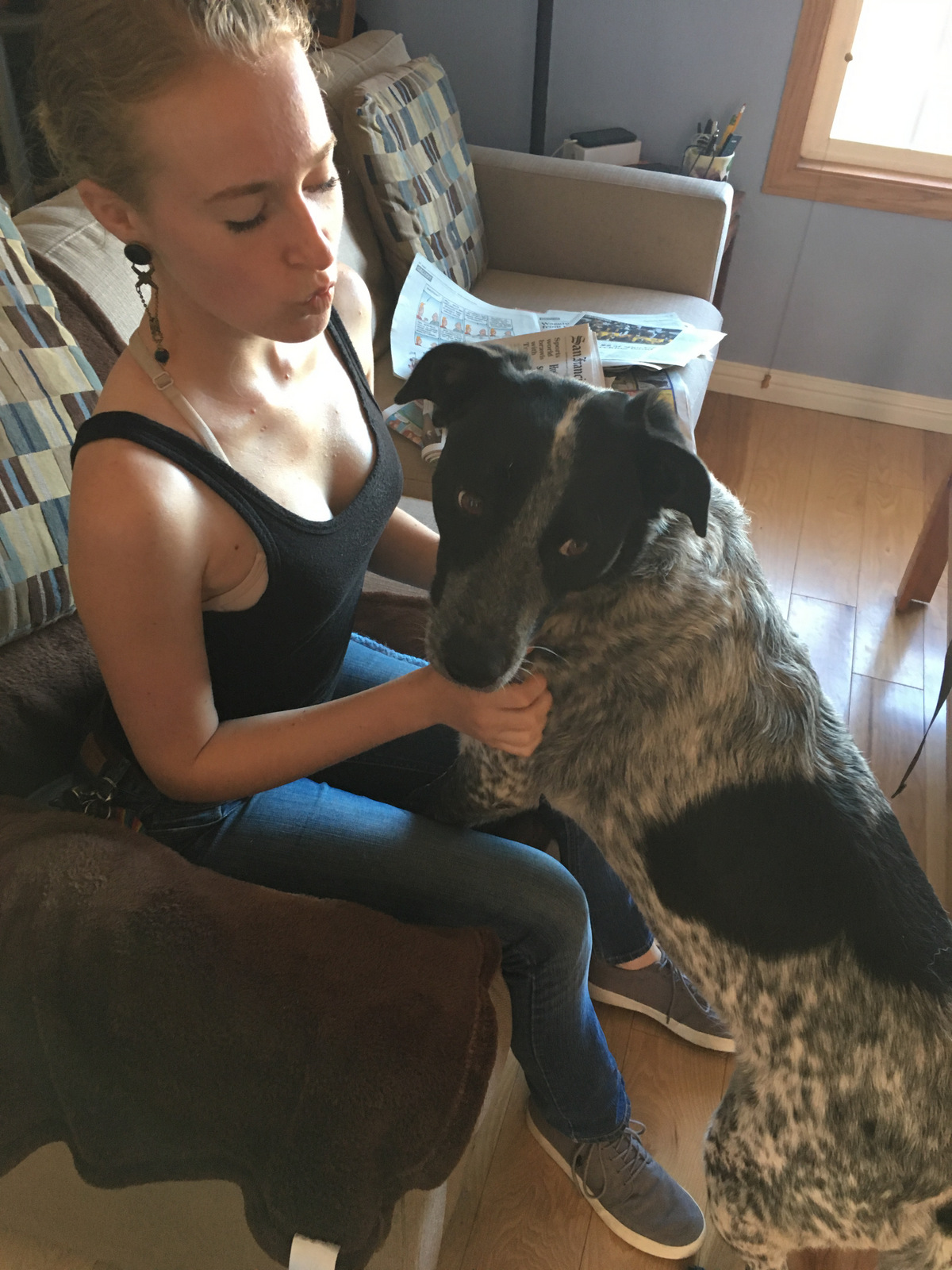 "Lily came to us about three years ago from the San Francisco SPCA when we were "just looking," but, you know, famous last words. How could you say no to that little face? She's a black Labrador/Australian cattle dog mix; her hobbies include eating the fuzz off tennis balls, rolling in gross dead things she finds at the off-leash beach, smacking her head into the backs of people's knees to herd them into groups (the cattle dog thing), snatching whole loaves of bread off the counter (the Labrador food thing), and belly rubs. Dislikes include fireworks, the mailman, the vacuum, and when you close the bathroom door and don't let her come in with you. This is the part where I put in a HUGE plug for adopting a shelter pup; she's whip-smart, gets along with everyone, even people who don't really like dogs, is a total lovebug and just the greatest of all time."
---
Erica, Gandalf, Beverly / Sacramento, CA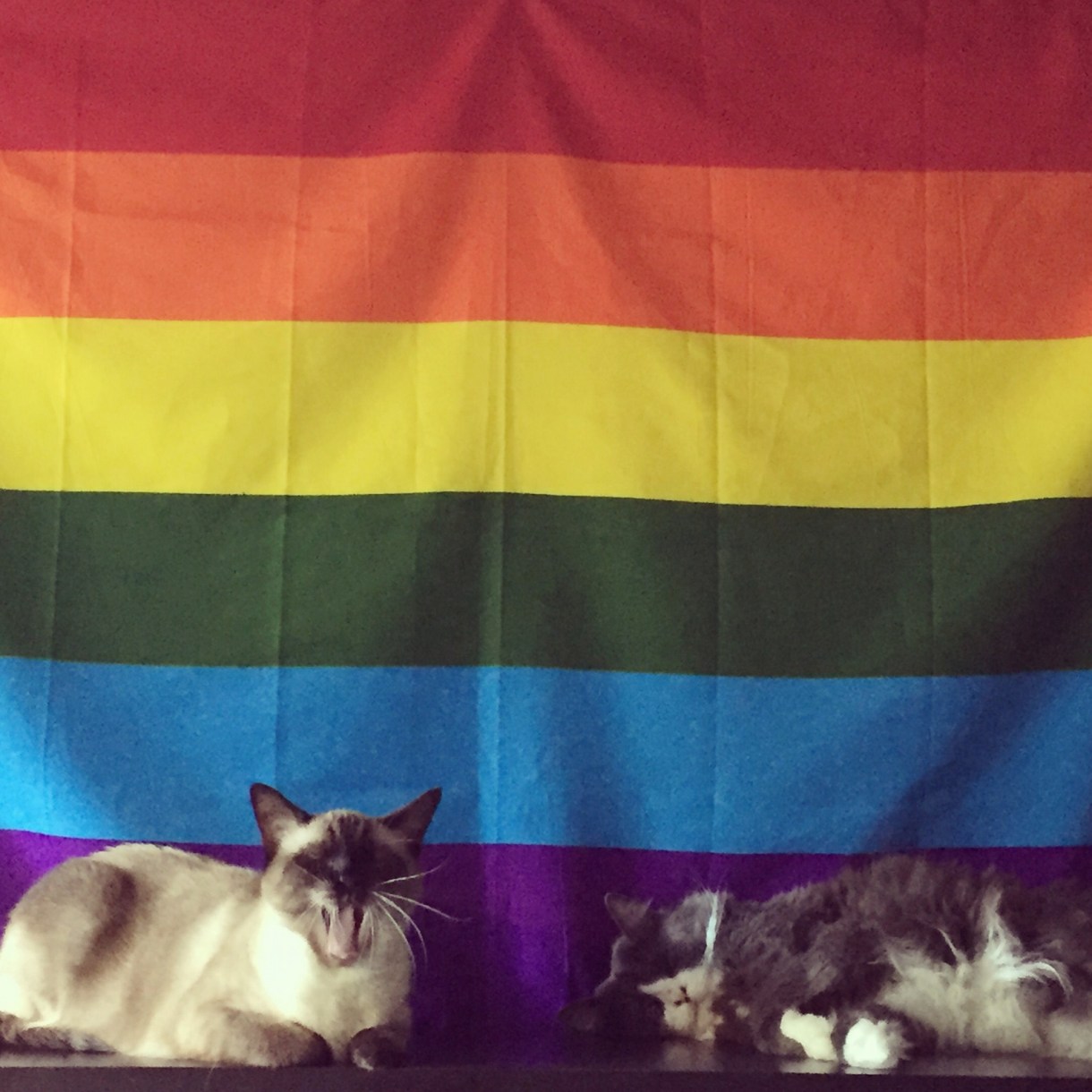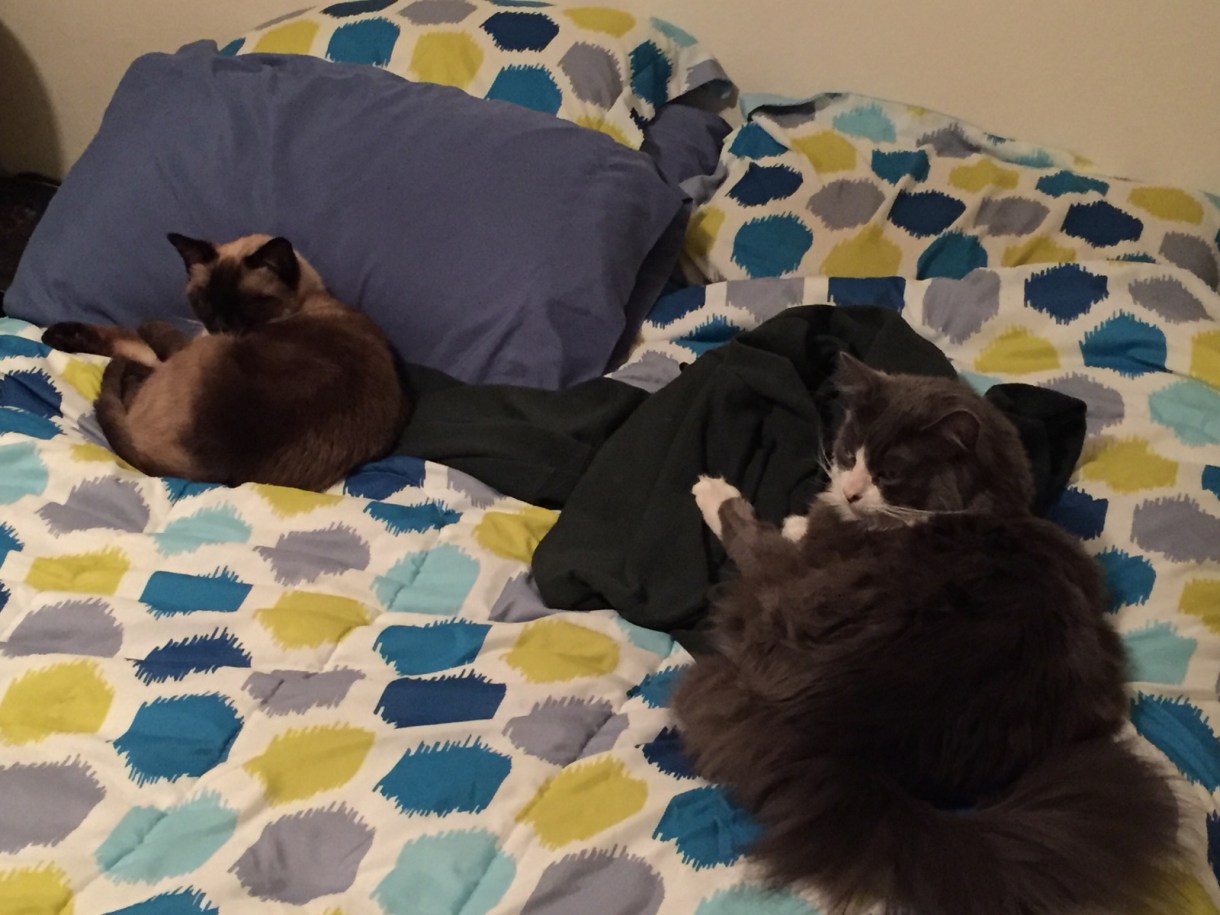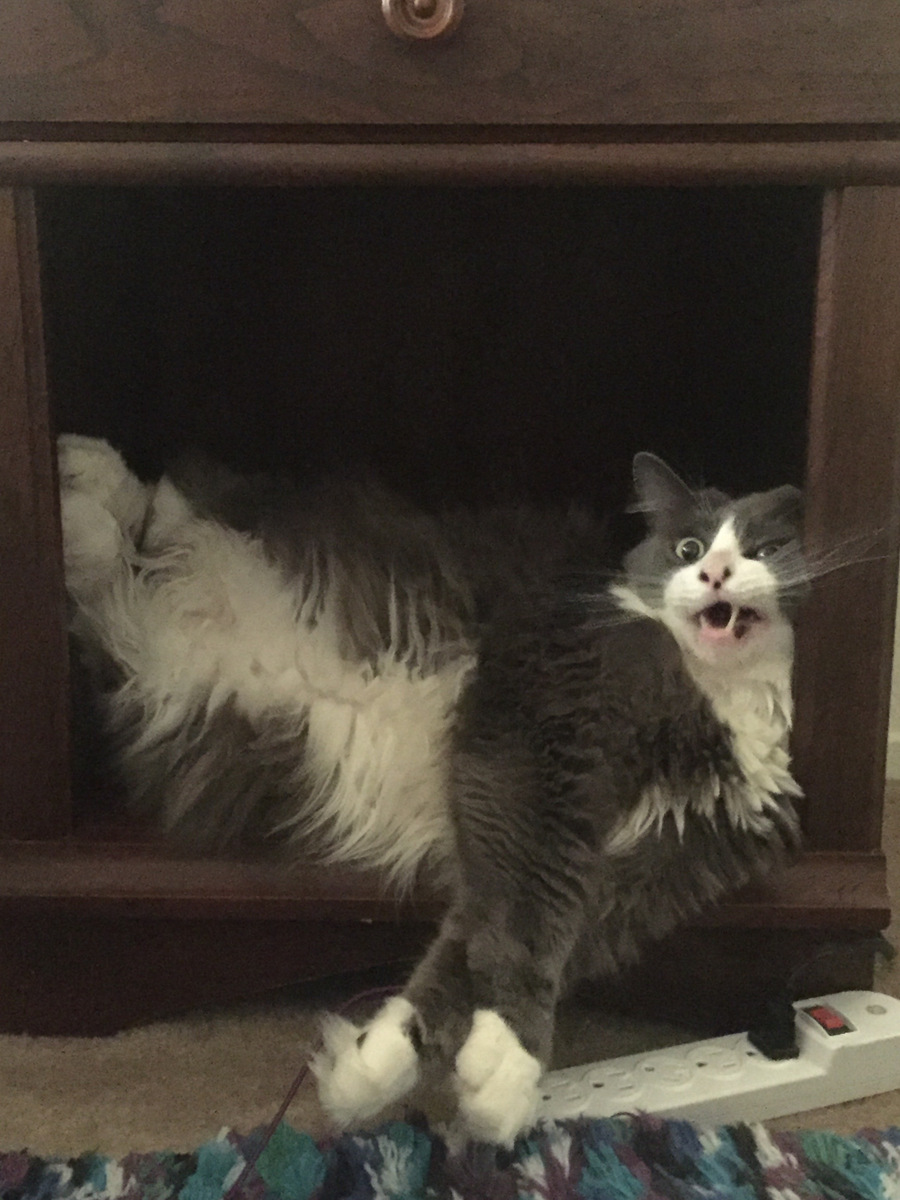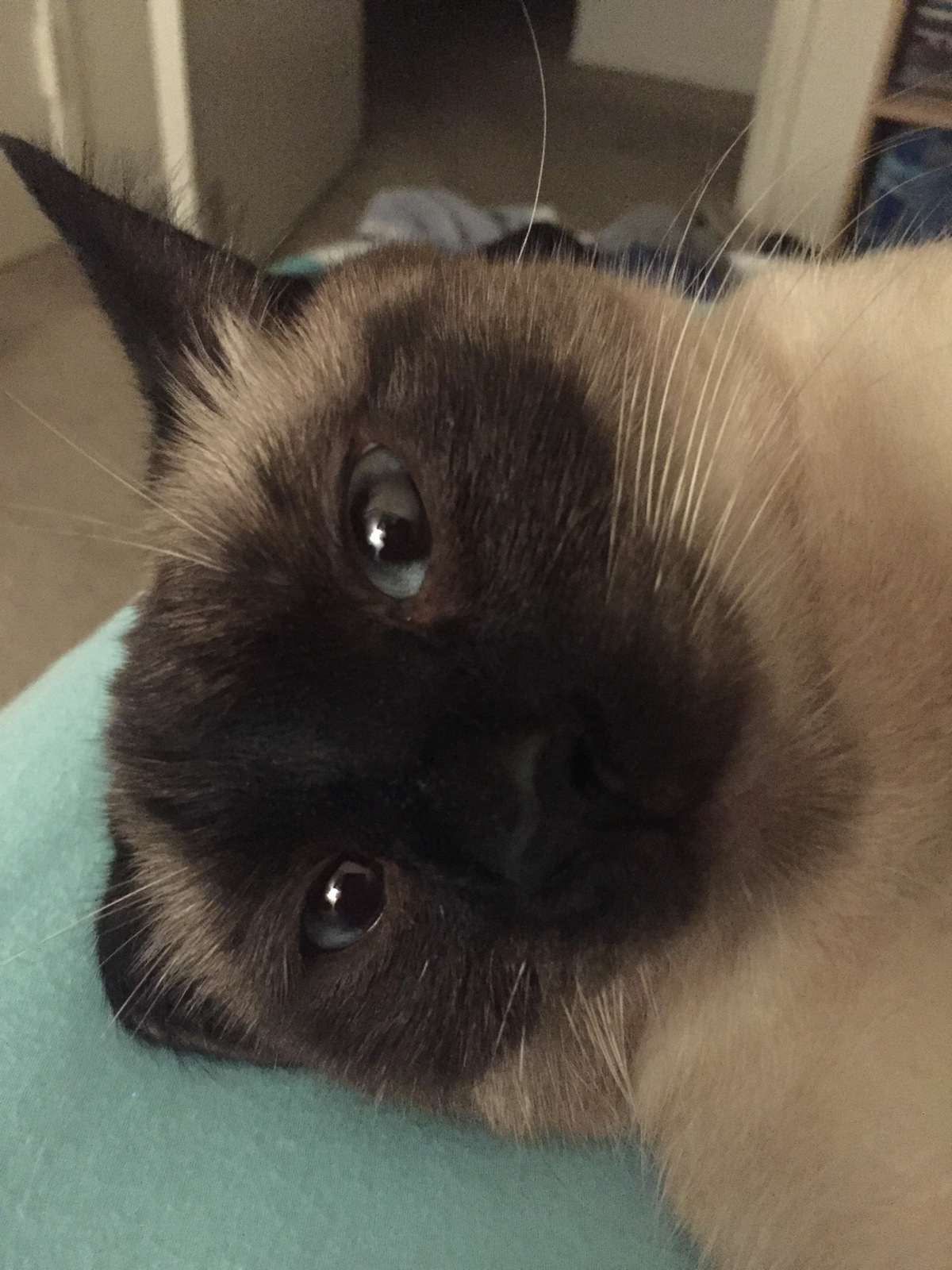 "I freaking love cats. I am a cat lady through and through. So much so that people call me for advice on what to do when their cat escapes and they can't find them, or when their kitten is a kneading menace. Gandalf is my grey and white Norwegian Forest  Cat. He was outside my apartment one early November morning in 2013 and my roommate, who had said she was allergic to cats and was the reason I didn't already have a cat, decided to bring him in because he was so freaking cute and it was cold outside! So he walked in like he owned the place and had been living there for years. He got a bath, amused us with chasing his wet tail for a while, and promptly sat on our couch for a nap. My roommate and I generally shared his food and vet costs, but after a while it became clear he was really my cat (he slept in my room most of the time) and because my roommate didn't have a lot of money I eventually ended up paying most of his medical bills. So he officially became mine after she moved out in 2016. He's so sweet and chill and I wouldn't change a thing about him. He's been such a rock for me through job changes, depression, and current event scares that I can't imagine how I navigated life without him. He is a strictly indoor cat but tries to escape into my apartment complex occasionally. He also really enjoys boxes and licking people's feet and smelling their shoes. WEIRDO.
Beverly (named after Dr. Beverly Crusher from Star Trek: The Next Generation) was brought in to the no kill cat sanctuary I volunteer at as an adorable and slightly feral Siamese kitten in October of 2015. I decided to try to "foster" her after the first cat I had wanted to foster was fostered by someone else. And by "foster" I mean the sanctuary paid for all her medical bills and food and litter while I provided a home for her to see if she would fit in with my other cat so I could eventually adopt her. After a very long and slow introduction to my cat and my roommate's cat, I decided to officially adopt her.
As a kitten she was VERY scared of everything but loved snuggling with me in bed. She hardly ever left my room for a long time and if she did venture out into the living room she would run back into my room at the smallest noise. Eventually she got a lot better about being out and about in the apartment and has even warmed up to a few people who come over, but she's still a big scaredy cat about everything. She is also a harbinger of destruction, having destroyed and eaten parts of blankets, scarves, shoe laces, and a $60 pair of headphones. She is about two now so I don't understand WHY she still does that shit. I will blame it on her being a neurotic Siamese-they're famous for being weird. She also cries a lot right next to my face while I'm in bed trying to go to sleep. She hates being picked up and if you touch her the wrong way she hisses and growls at you, but five seconds later she can be fine and purring again. ??? CATS, YA'LL.
Gandalf and Beverly get along really well, although I wish they would be better snuggle buddies because THAT'S SO CUTE! Sometimes they do decide to sit near each other, and they often bathe each other which I gotta say is the sweetest thing-and then it immediately turns into rough cat play which is extremely amusing. I'm glad I got Beverly to be a buddy for Gandalf even though I think he gets jealous and resents her presence sometimes. Beverly just wants to be good friends with him!! So sad."
---
Paige, Brit, Benny, Gertrude / 25, 25, 6, 9 / Bushwick, Brooklyn, NYC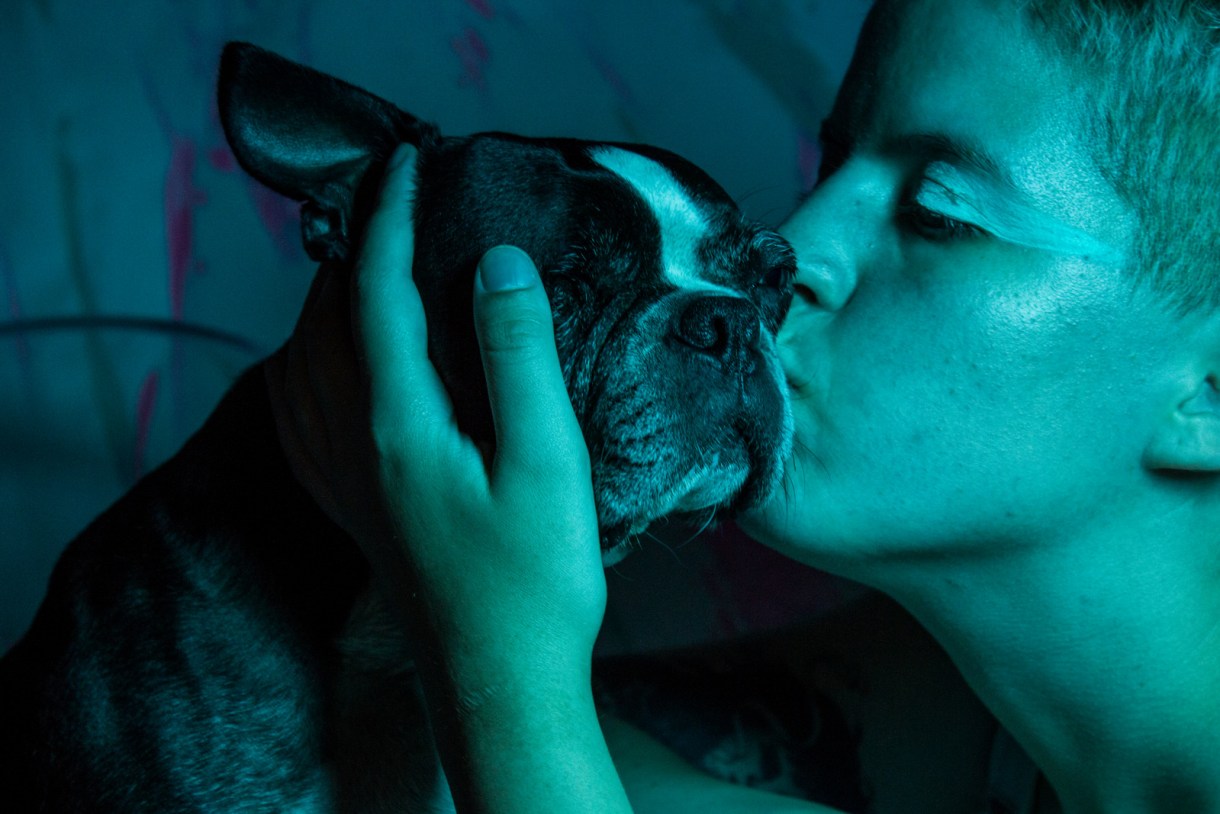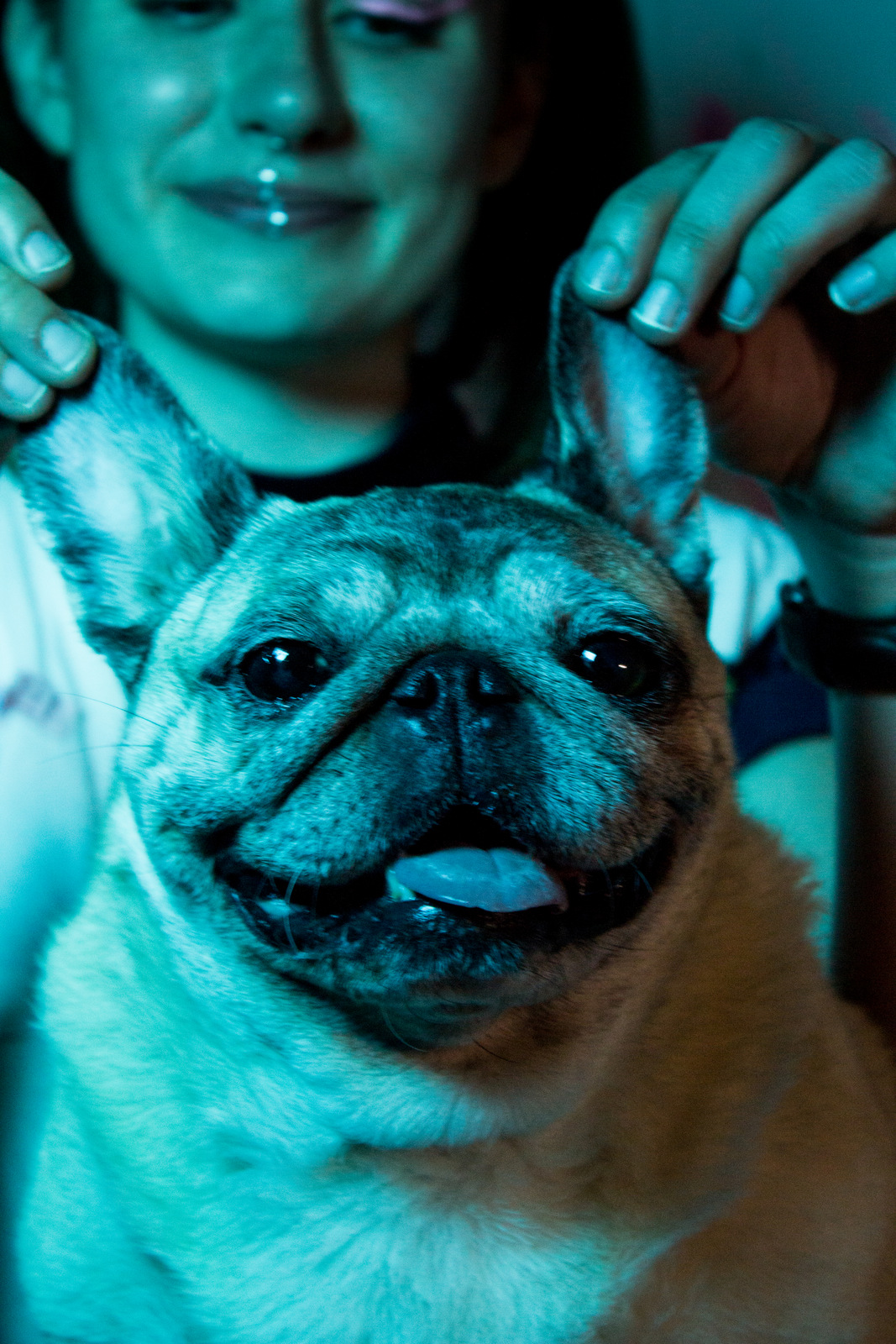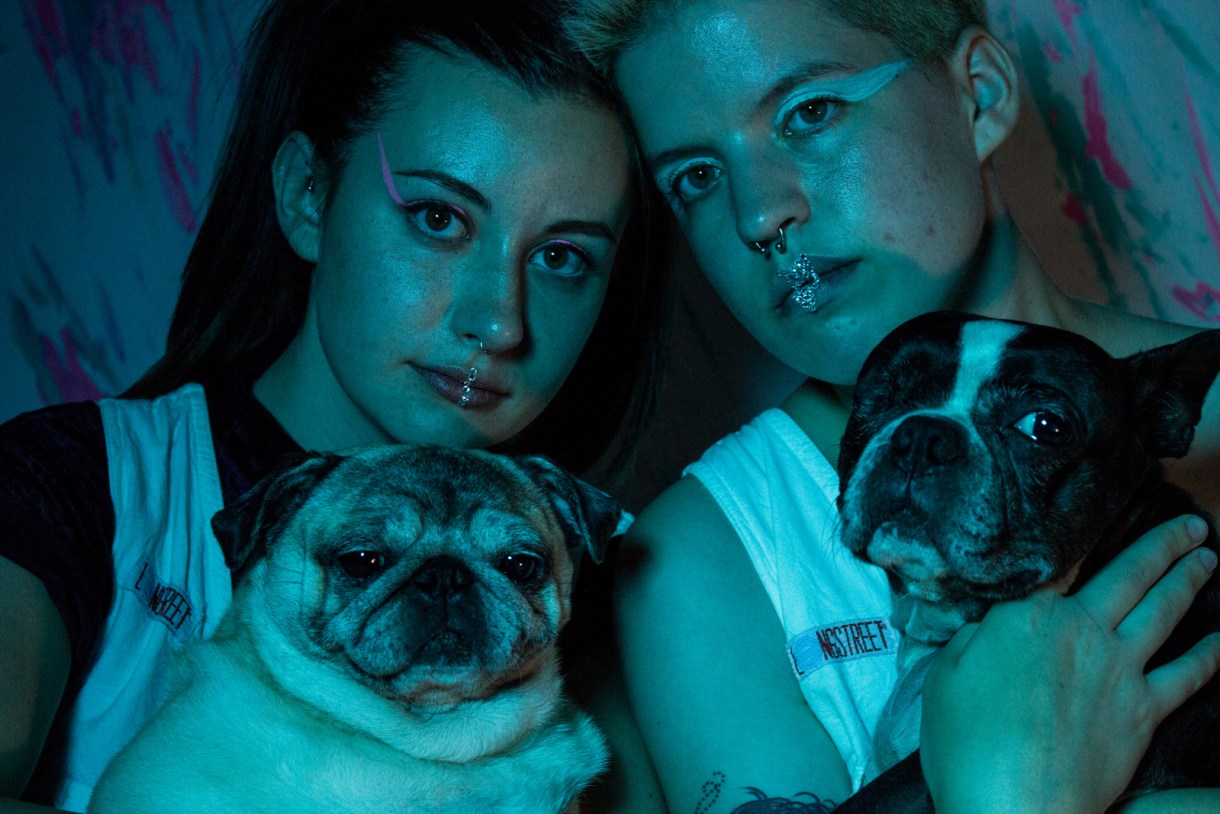 "I (Paige) have bipolar disorder, and Benny is my emotional support dog. Three years ago my psychiatrist recommended that I get one, so I looked on PetFinder.com, saw his picture, and immediately said, "Holy shit, that's my dog." We're soulmates; he has a lot of feelings too.
Gertrude and I (Brit) found each other in the summer of 2012 when her previous owners were giving her up for adoption. I was immediately drawn to her strange noises and hedonistic outlook on life. I named her Gertrude, after Stein, because she reminded me of an elderly lesbian. Our favorite things to do include eating, sleeping, flirting with cute girls, and eating. The best thing about Gertie is her warmth and openness toward everyone she meets. It's hard to pick the weirdest thing about this absolute enigma of a creature, but it would probably be her predilection for eating mouthfuls of sand. Or this bizarre thing she does that I call "corn-cobbing," where she will grab someone's finger and start frantically nibbling back and forth as if eating a miniature corn cob. You can find her on Instagram at @gertiethepug."
---
Kylie, Rosie, Scarlett, Pie, Cosmo Waffles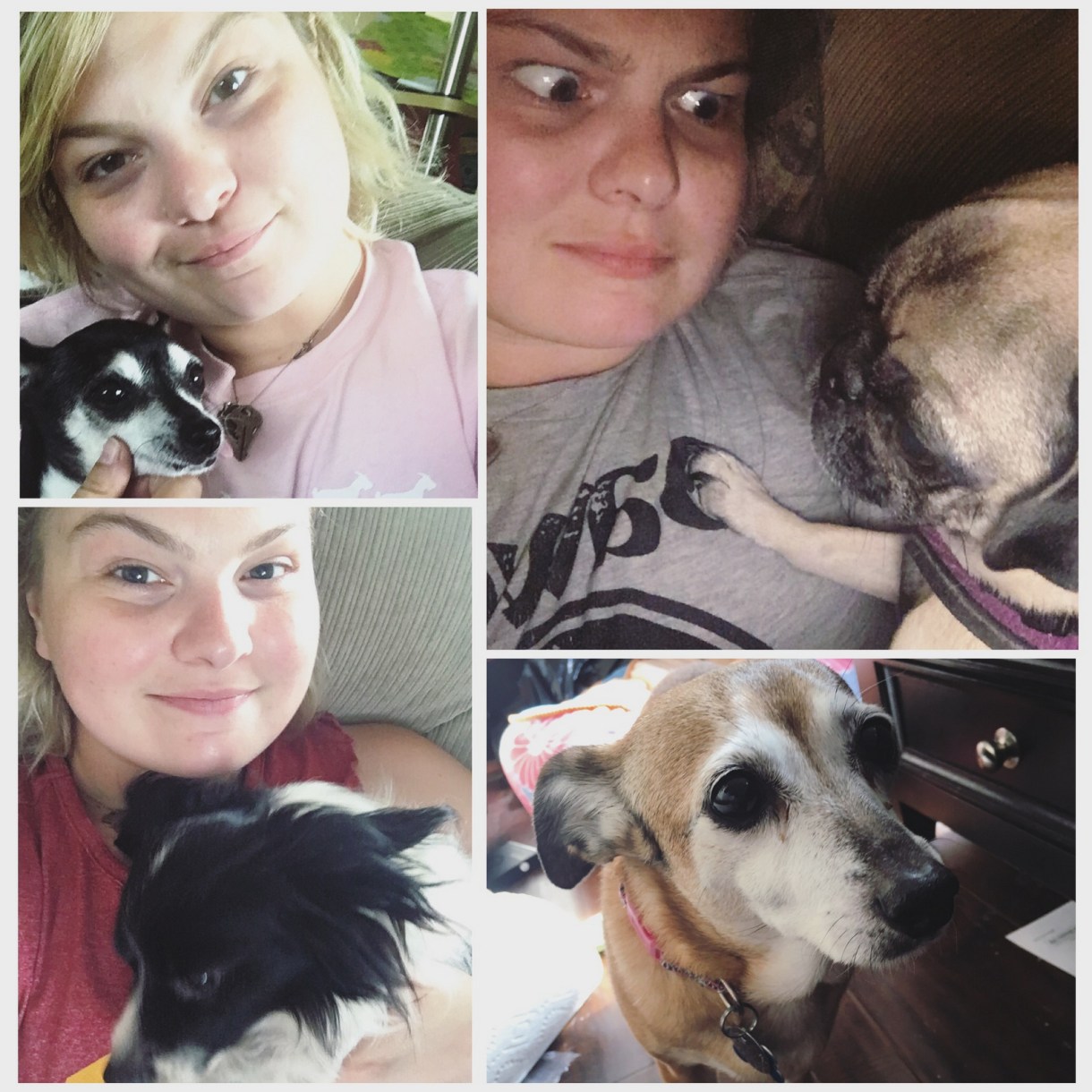 All rescues! Rosie (Chihuahua) and Cosmo (Papillion) are the newest additions to our family as of two months ago.  My mom saw Cosmo on Petfinder and Rosie was the "stowaway" we weren't planning on-when we arrived at the San Pedro shelter to pick up Cosmo, Rosie was so new she didn't even have a name in the system, and we instantly knew we needed her too. Both acclimated so fast to our home that it feels like we've always had them, and even with their health issues (Cosmo is mostly blind, Rosie does not have teeth and missing a bit of her lower jaw and they both have tumors that need to be removed) and being senior dogs, they act like puppies!
Scarlett (Pug) I've had since she was a tiny puppy pug. My dad rescued her and brought her to me the day before I had a major surgery and she has been my bratty teenager ever since (no one tell her she's not a cat because she acts like one!) she LOVES green beans. Her favorite snack since she is grain/gluten/poultry free due to her severe allergies. She eats better than I do most days! Her favorite toy is her Rabbit or what we call "Bun-Bun," but her FAVORITE time is when BarkBox arrives. She instantly knows it has toys and treats for her and her sisters!
Pie (Corgi/Dachshund mix) is really more my mom's dog, but she had such a traumatic past and we adopted her 5.5 years ago.  In the past year she finally has learned how to trust other humans, and she is always down for a good snuggle.  Scarlett is really the reason why Pie has learned how to "dog"-Pie now plays with toys and other dogs because Scarlett taught her! We're a happy little family and I can't imagine life without my zoo."
---
Lauren and Luna / 28, 3 months / Long Beach, CA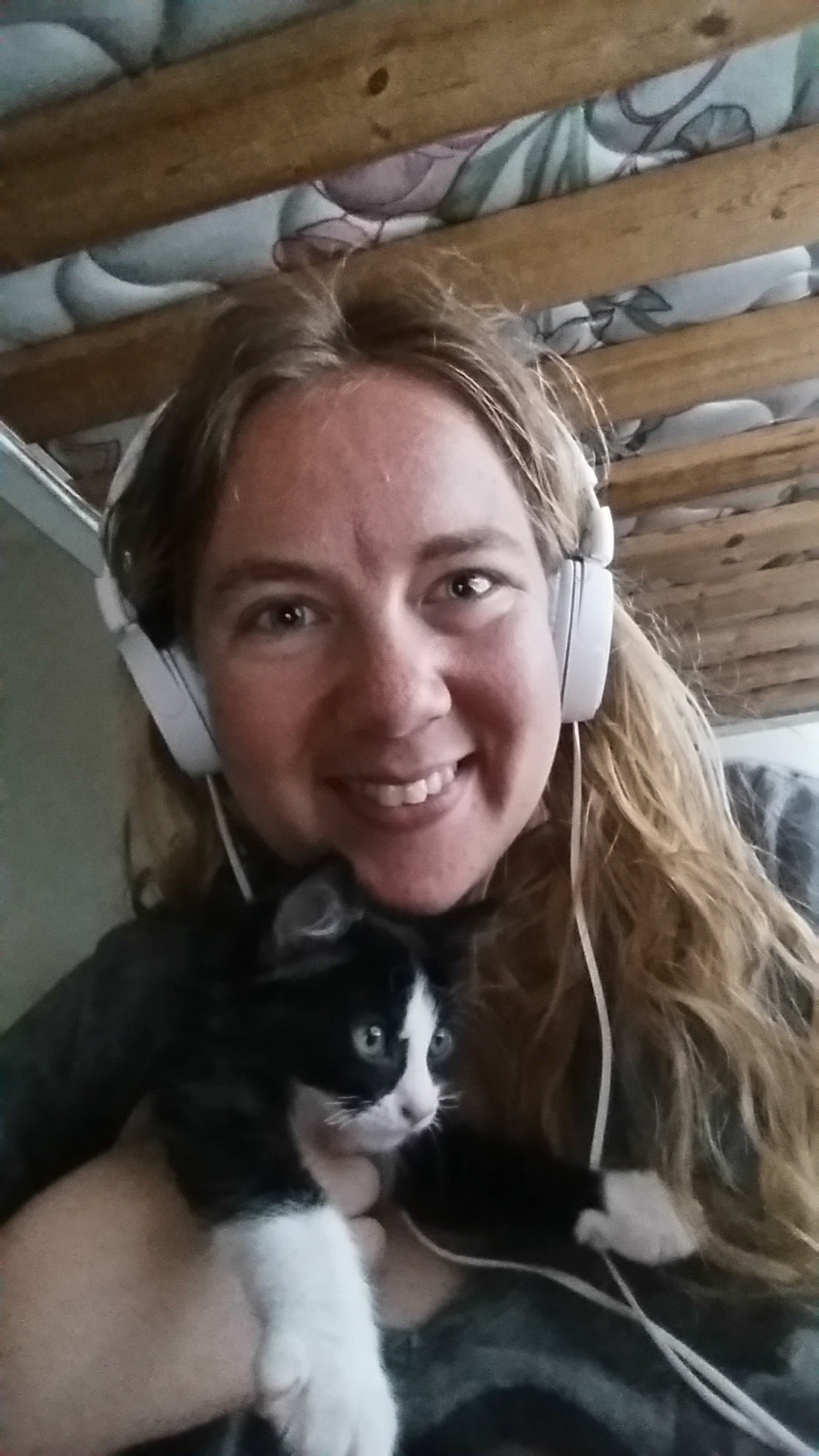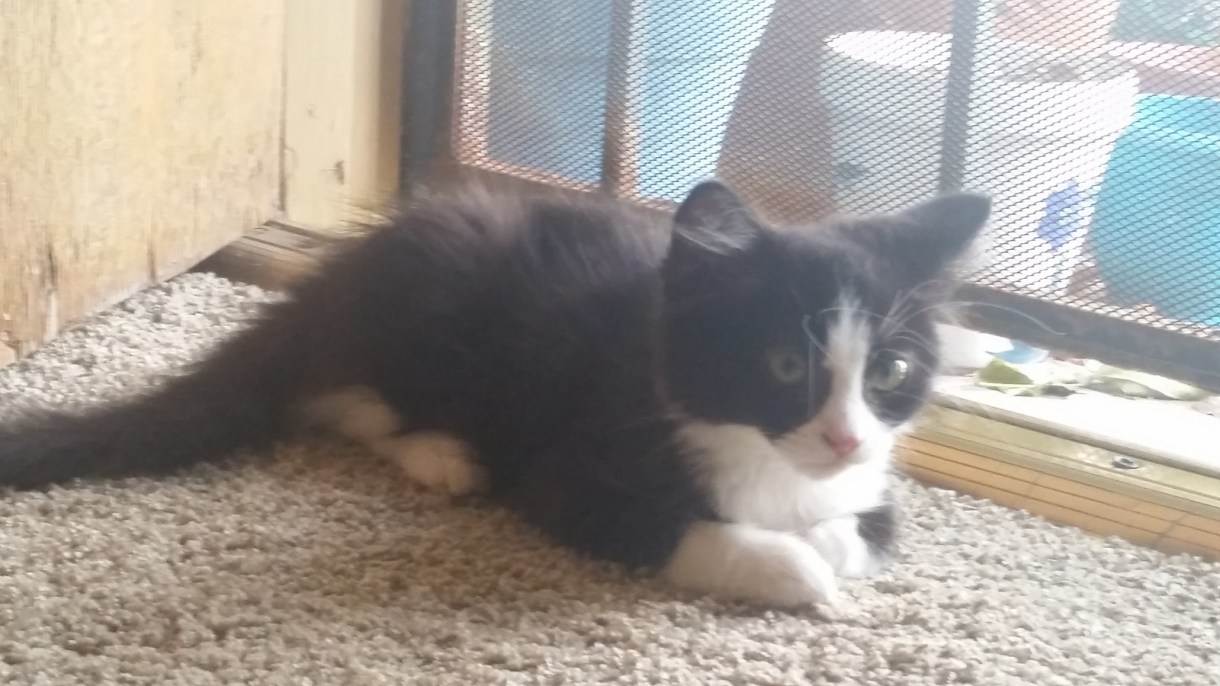 "I just got Luna on September 9th, when a pregnant stray cat walked into my friend's church. My friend has already rescued 35 cats, so she was able to give her a home until she had the kittens. Then she had five kittens, and they spayed her, and my friend was taking care of the family until she found homes for them. I named her Luna, because I'm a witch, and I also love Sailor Moon, and her astrological sign is Cancer, which is ruled by the moon. She's super soft and cuddly, and she loves to purr, and play and sleep."
---
Heather and Auto / 30, 7 / MS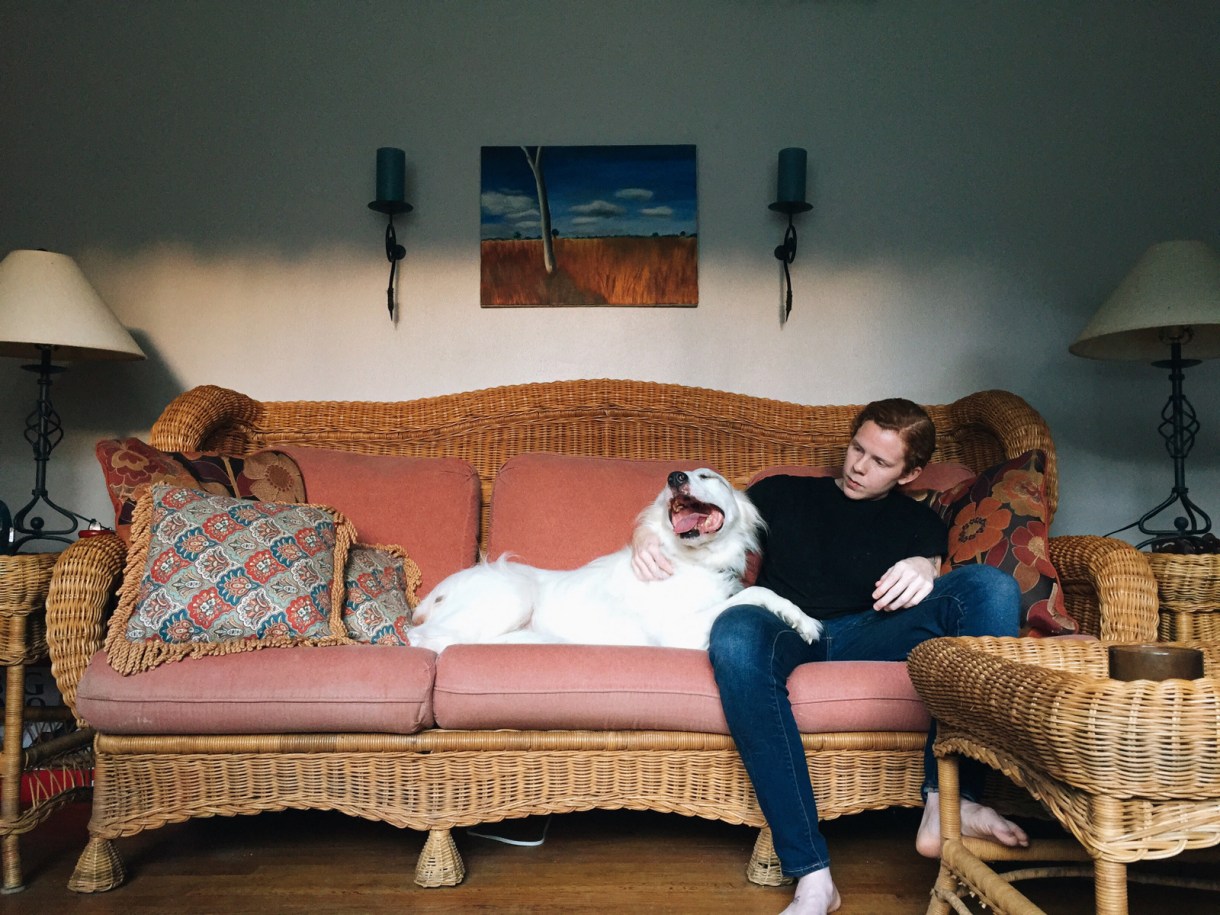 "Take a wild guess why I decided on that name. Auto's the sweetest, happiest dog I've ever met and loves everything in the world except for thunder and bees."
Editor's note: ?
---
Nic and Cayleigh / 34, 10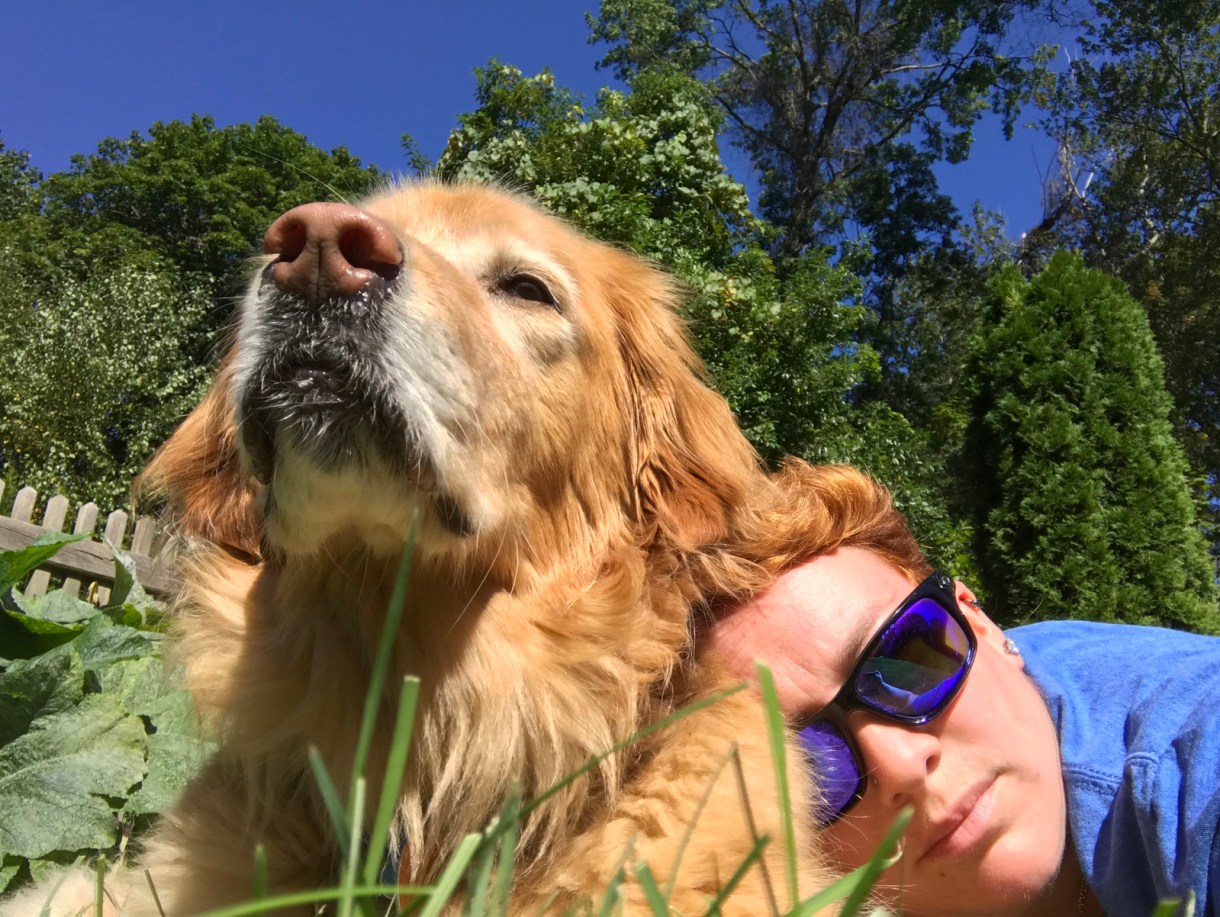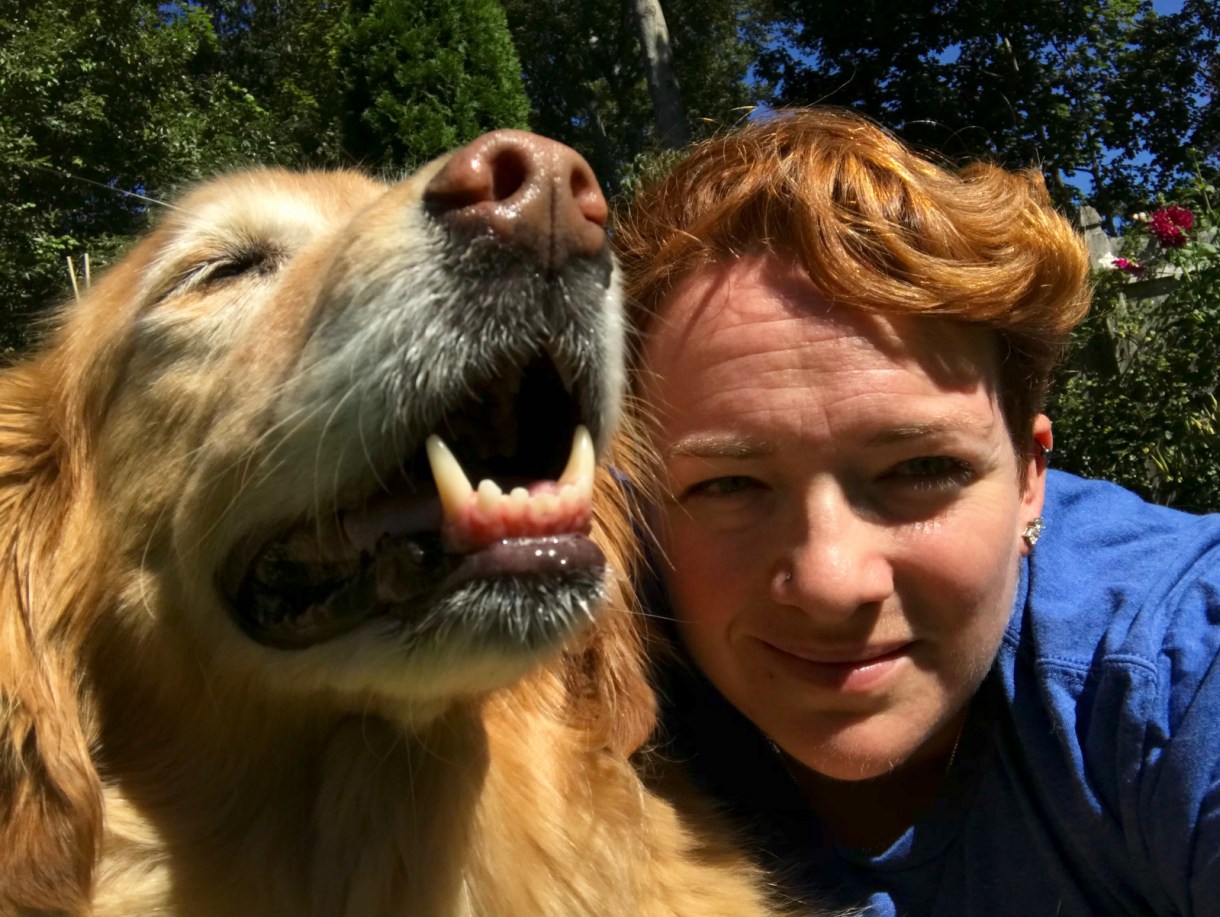 "Cayleigh joined our family not long after we lost our first Golden Retriever. My mom and I went "just to look" at puppies, called my uncle while we were on our way up, and he said he'd pay for the new puppy. Low and behold we got a dog. She's a typically needy Golden Retriever who is obsessed with ice cubes and sheds like it's going out of style but I wouldn't trade her for the world."
---
Cleo, Chester, Cleo / 47, 16 (RIP), 14 (RIP) / Chicago, IL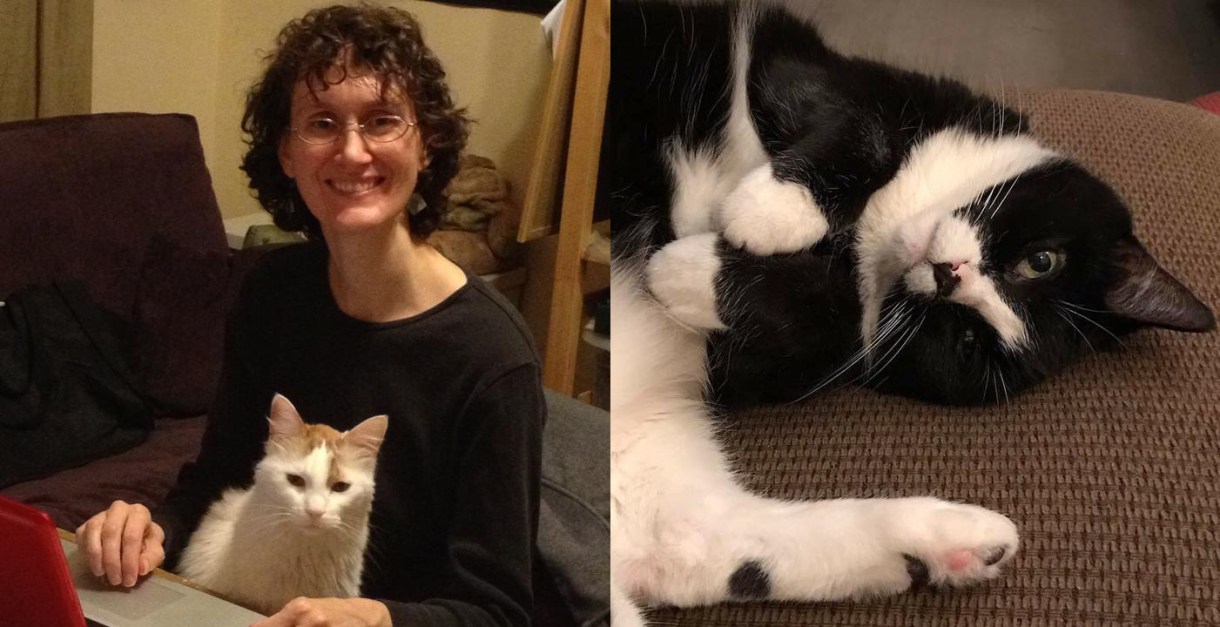 "Yes, I use my cat's name and photo as my avatar. Both of my cats died this past year, so I'm glad to be able to memorialize them here with AS.
I met Chester (white and ginger long hair Turkish Van) when he was a skinny, fluffy stray cat. He showed up on my friend's back porch, limping and meowing his head off. When I went to give him water, he started purring before I even put the bowl down and the next thing I knew, I had a cat. He was my companion for 16 1/2 years. Like many cats, his behaviors kept changing. But he was consistent in his persistence in going after what he wanted – whether that was petting, fresh air, running water, crumpled paper, food, peace & quiet or head scratches. He was an affectionate lap cat and he acted as my "work-life balance couch" – sitting in my lap or next to my laptop while I worked until he decided it was time for me to stop. In this photo, he's helping me grade student projects.
My partner and I adopted Cleo (black and white short hair domestic with tuxedo markings) from a shelter after we bought our condo. We thought we were getting a companion for Chester, but we really were getting her for us. Cleo's hobbies included chasing balls, batting crumpled paper, purring and getting as high up as possible. She excelled at finding the warmest spots, entertaining small children and fitting into boxes of all sizes. She liked to join us for meditation and to supervise my sun salutation Yoga postures. She was an expert practitioner of her own style of kitty yoga.
She was not a lap cat and not fond of petting from strangers. But she'd crawl under the covers and curl up next to my belly on winter nights. She was particularly adorable while hanging out with us in front of the TV."
---
Before you go!
It takes funding to keep this publication by and for queer women and trans people of all genders running every day. We will never put our site behind a paywall because we know how important it is to keep Autostraddle free. But that means we rely on the support of our A+ Members.
Still, 99.9% of our readers are not members.
A+ membership starts at just $4/month.
If you're able to, will you join A+ and keep Autostraddle here and working for everyone?
Join A+
Pages: 1 2 3 4 5 6 7 8 9 10 11 12 13 14 15 16 17 18 19 20 21 22 23See entire article on one page