Erin and Ollivander / 24, 4  / Pittsburgh, PA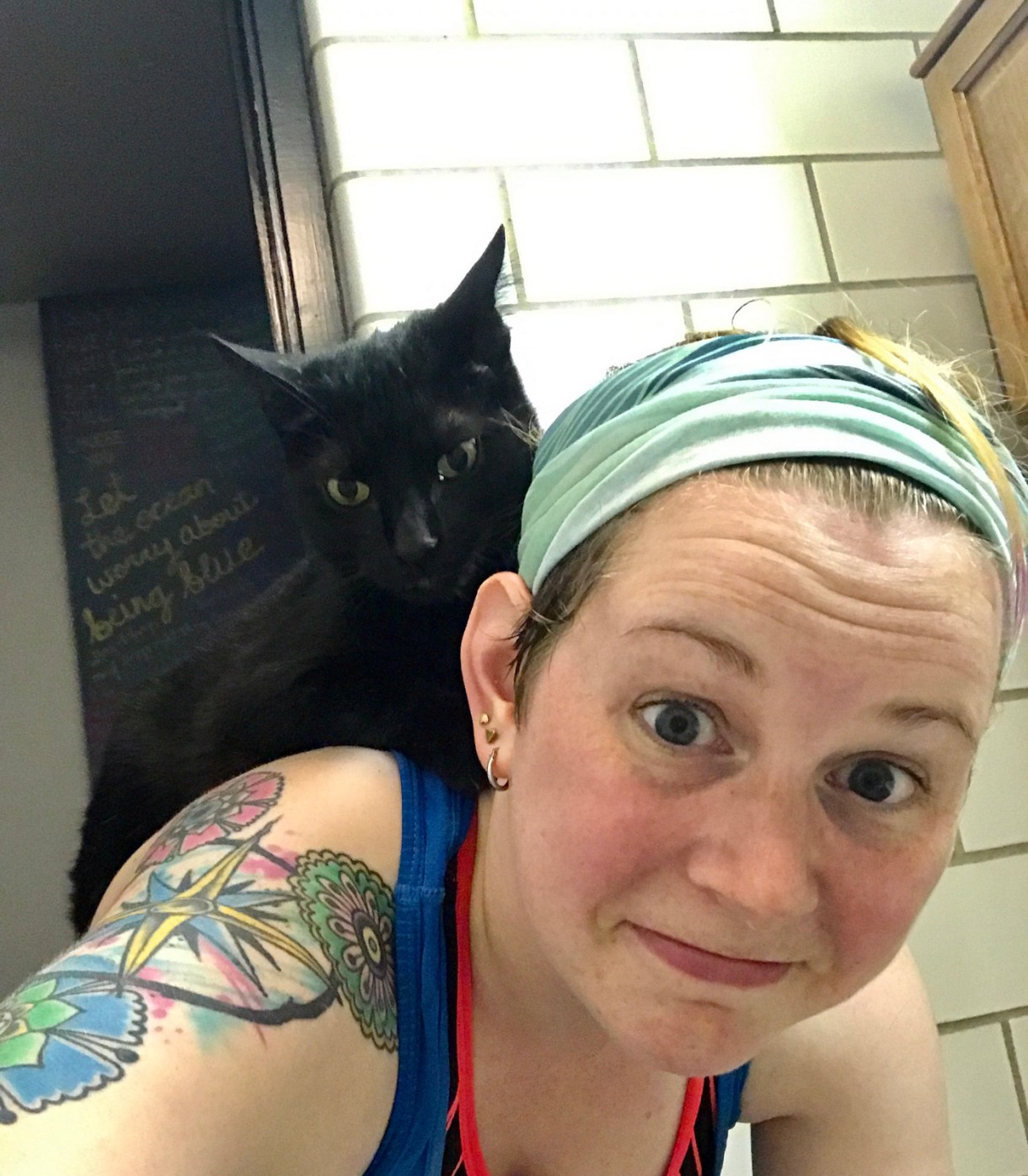 "I decided to take Ollie in after my girlfriend at the time could no longer keep him, and it was one of the best decisions I've ever made. Unlike most cats, Ollie hates to be left alone. He meets me at the door to yell at me every time I come home from work. If I'm walking around my apartment, he's either laying on my shoulders or flinging himself on the ground in front of me so I'll pet him."
---
Shea, Beau, Arrow / 27, 7 months / Chicago, IL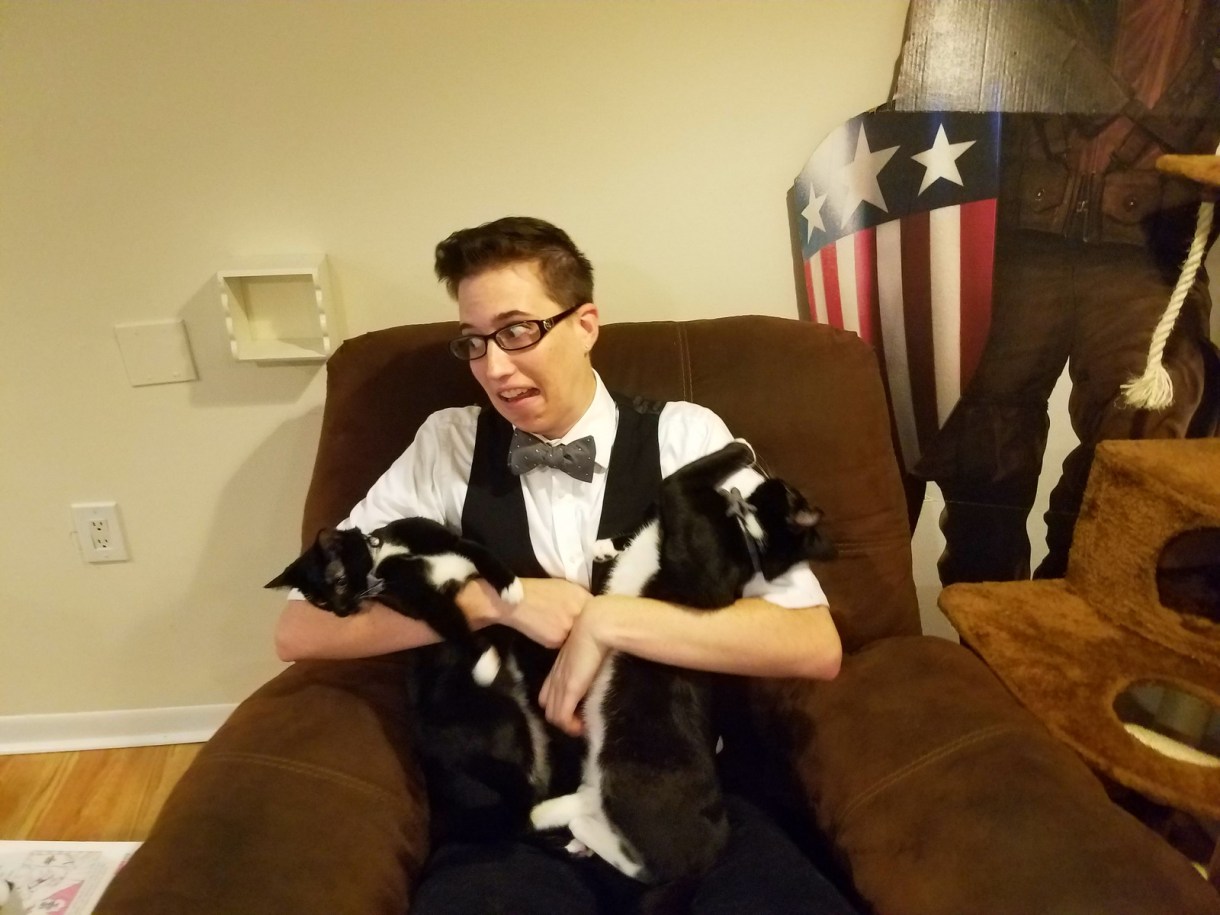 "These two goobers were found on one of the train cars at my work, they were barely a day old and we think their mom missed the ride to the repair shop. Luckily my boss let me watch them/feed them at my desk until they were old enough to stay at home. Beau is an aggressive cuddler. Arrow is recklessly brave. Seven months ago they fit in one hand and now look them!"
---
Nunu and Rous Rose / 28, 140 (dog years) / Limburg, Belgium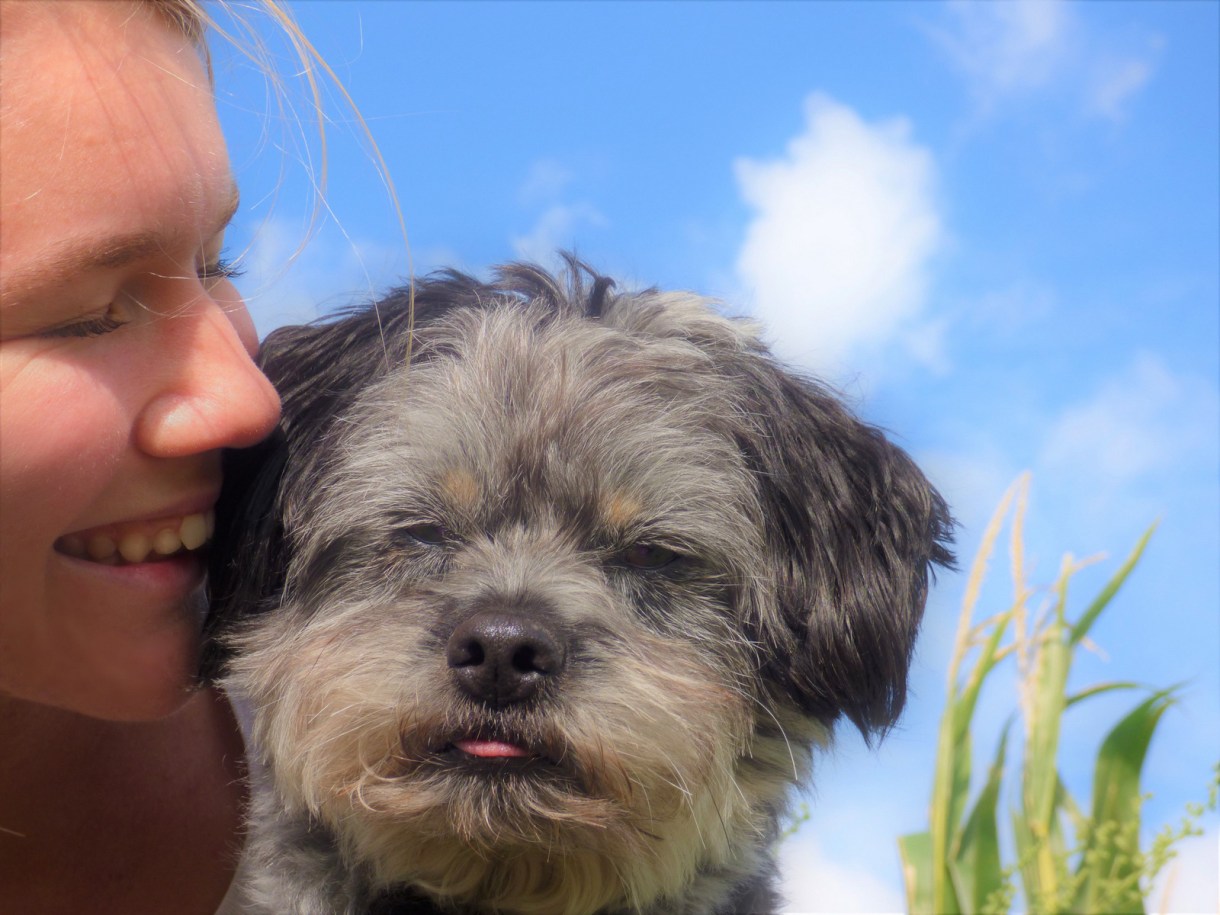 "Hello Autostraddle! My name is Nunu and this is my pet gaymo Rous. She loves it when I allow her to scratch the luscious curls on my belly, but not so much when I jump onto the table and eat half the curry it took her 3 hours to make, proceeding to spend the next two days adorning the floor and furniture with explosive diarrhea. The absolute best thing about her is that she allows me onto her bed, even though she knows she's not supposed to do that 'cause she needs to appear dominant (ha, as if). The worst is that she gets mad when I bark my loudest bark at our neighbour's lesbian harem of chickens. It's just that I really want in, but I don't know how to ask."
---
Eva, Katie, Hazelnut, Henry / 34, 29, 2, 3 / Sandbanks Provincial Park, Prince Edward County, Ontario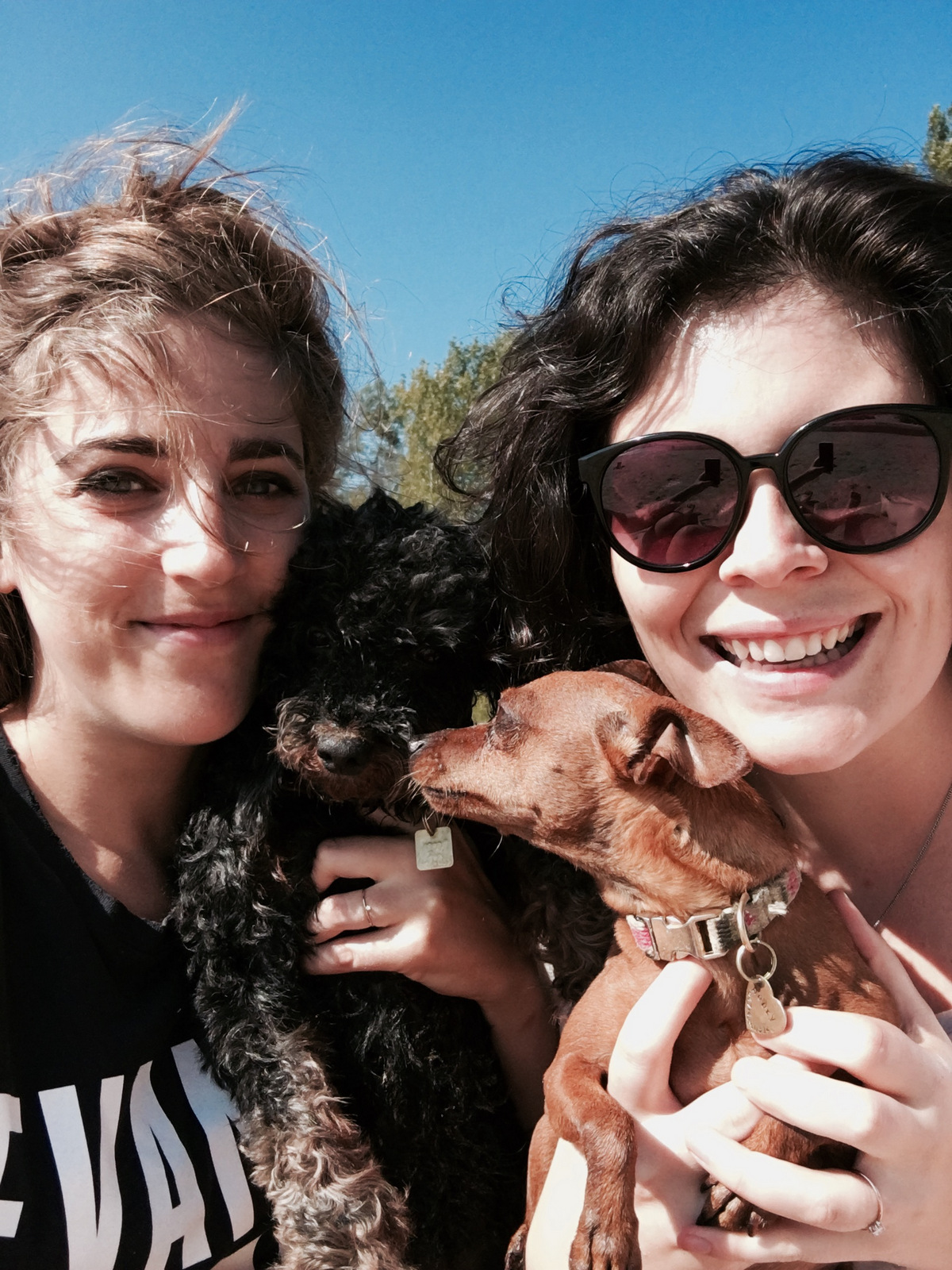 "We took this pic the morning after getting gay engaged! The dogs were there and obviously ate one of the ring boxes. Henry was only a twinkle in his mom's eye when I became obsessed with Minpins and contacted a lady about getting me one. Hazel we found on Petfinder! She was being fostered in Thailand, and as soon as we saw her, we were like, 'Uh oh, we love her.' I sent Katie the adoption link and she called me weeping from her work bathroom about how she should be ours. A week later, we picked up our curly nugget from the airport! Henry's full name is Henry Tim Riggins. Henry because he's a little gentleman, and if you don't get Tim Riggins, I can't possibly explain it. Hazel's full name is Hazelnut Clover, and it's because we like old lady names. Plus nature-y things. The alliteration with her brother's name is also good!
As our dog walker put it, 'Henry has the best personality to size ratio of any dog I've ever met.' Plus, his bulgy little round eyeballs. Hazel is infinitely generous with her love. Some of our favourite activities include: snacking, snuggling, running around in the woods, scritches, under-our-shirt-snuggles, socializing with other pups, hard chilling with their dog cousins, pooping when we don't have poop bags. Henry is truly a top-notch weirdo. If he doesn't like the way a garbage can is placed in a room, he will bark until someone adjusts it to his liking. Hazel's obsessed with bushes. She makes a beeline towards them, and then just like…snuffles around inside for a good long time. Instagram: @henrythesmall. I'm really busting my butt trying to make him an #influencer, but he couldn't care less about his brand. He'd rather try to lick up our noses."
---
Sarah and Cheddar / 29, 6 months / San Francisco, CA
"I had wanted a cat for a while and finally decided to take the plunge. I met Cheddar at the local SPCA and he definitely picked me. He looked right at me, walked over to the window, and I knew he was the one. I had picked out several names before I went to adopt a cat, and Cheddar was on the list if I ended up with an orange kitty. It seemed to fit him perfectly. The best thing about him is how much personality he has. He's silly, full of energy, and does the funniest things — currently, he's obsessed with playing with ice cubes. He brings a lot of joy to my life and helps remind me that even when bad things happen (like him throwing up or breaking something), I can handle it."
---
Jess, Syd and Teva / Southern OR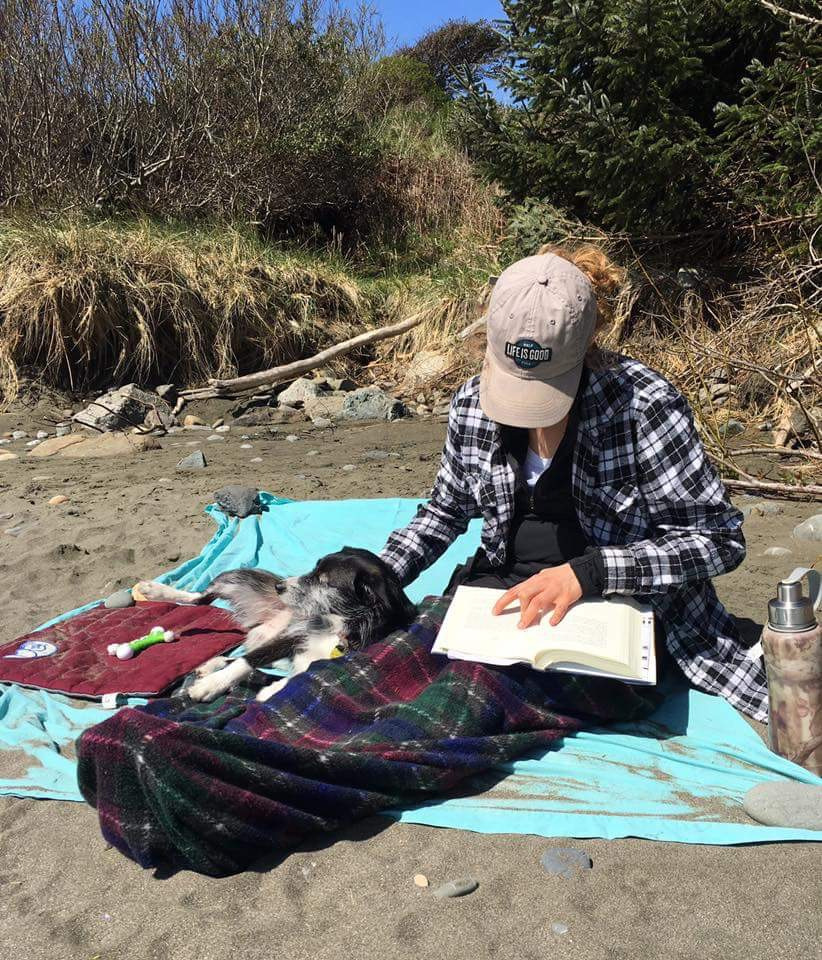 "Syd fell into my lap nine years ago after previous owner died. She's calm, confident, and doesn't put up with others bullshit. She's basically everything I want to be in dog form. Teva is a shelter mutt and is the best adventure buddy a queer gal in the PNW could ask for."
---
Diana and Katniss / 24, 2 / Isle of Palms, SC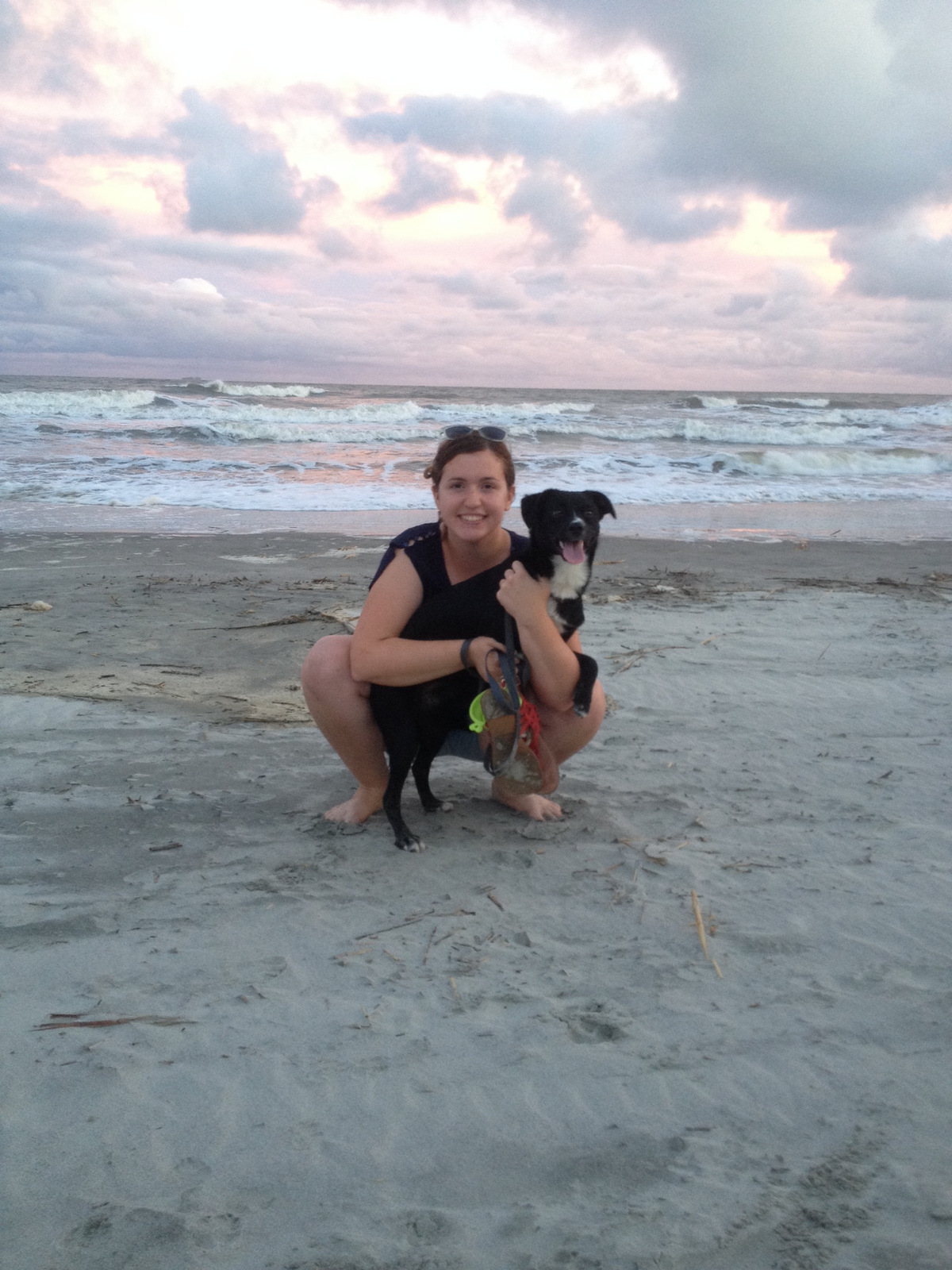 "I adopted Katniss when I was living in North Carolina from the Humane Society. She and her siblings were all named after Hunger Games characters by the shelter staff. We now live in Atlanta and go to the dog park every day so she can run off her seemingly endless energy. She's also my personal paper shredder. My girlfriend's mom calls her "a good lookin' dog.""
---
Mary and Goose / 30, 2 / Charleston, SC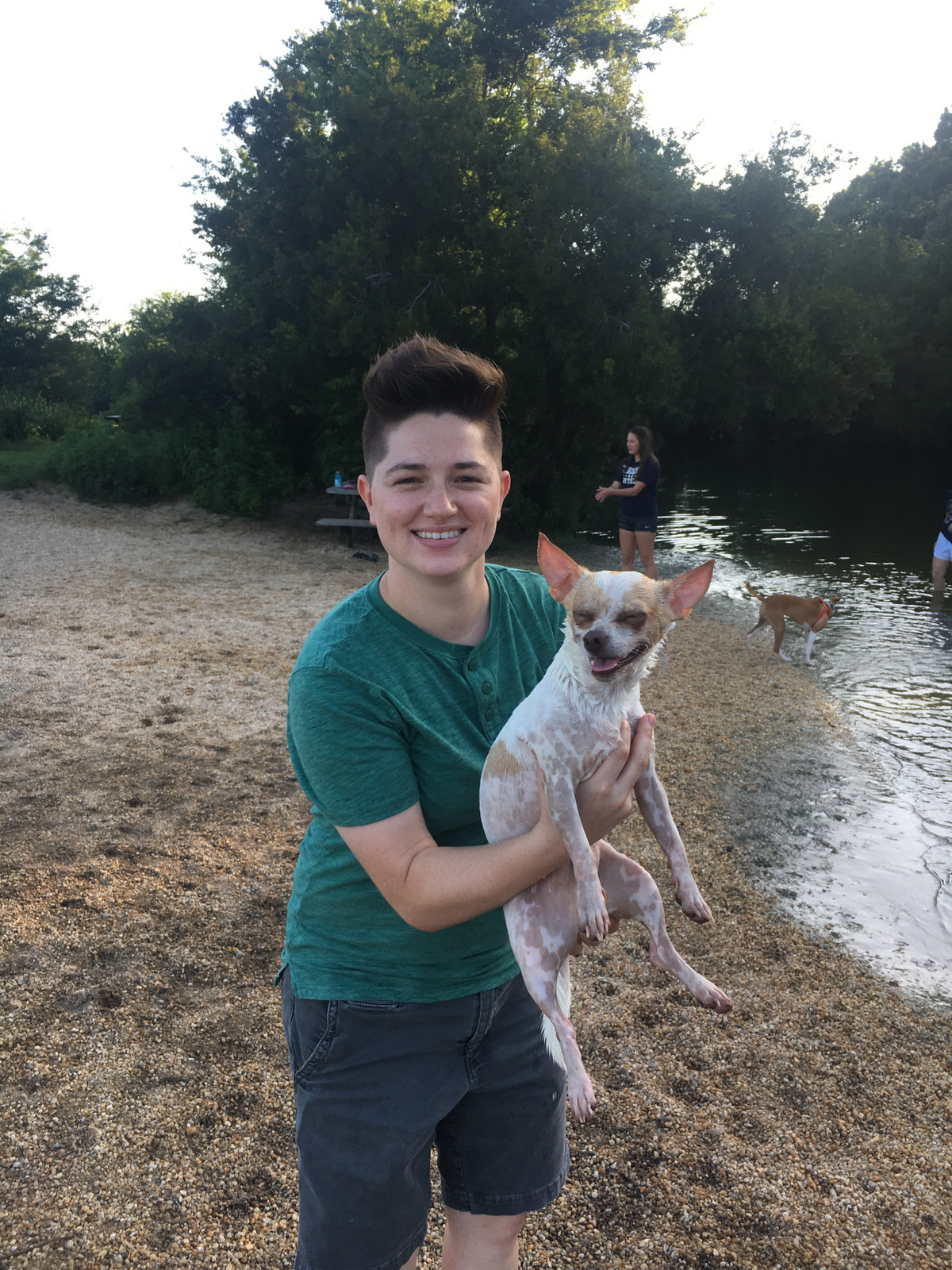 "Goose has a wonderfully shrill voice, and gives great high fives."
---
Anna, Anna, Kristen Stewart (Stewie), Teddy / White River State Park, Indianapolis, IN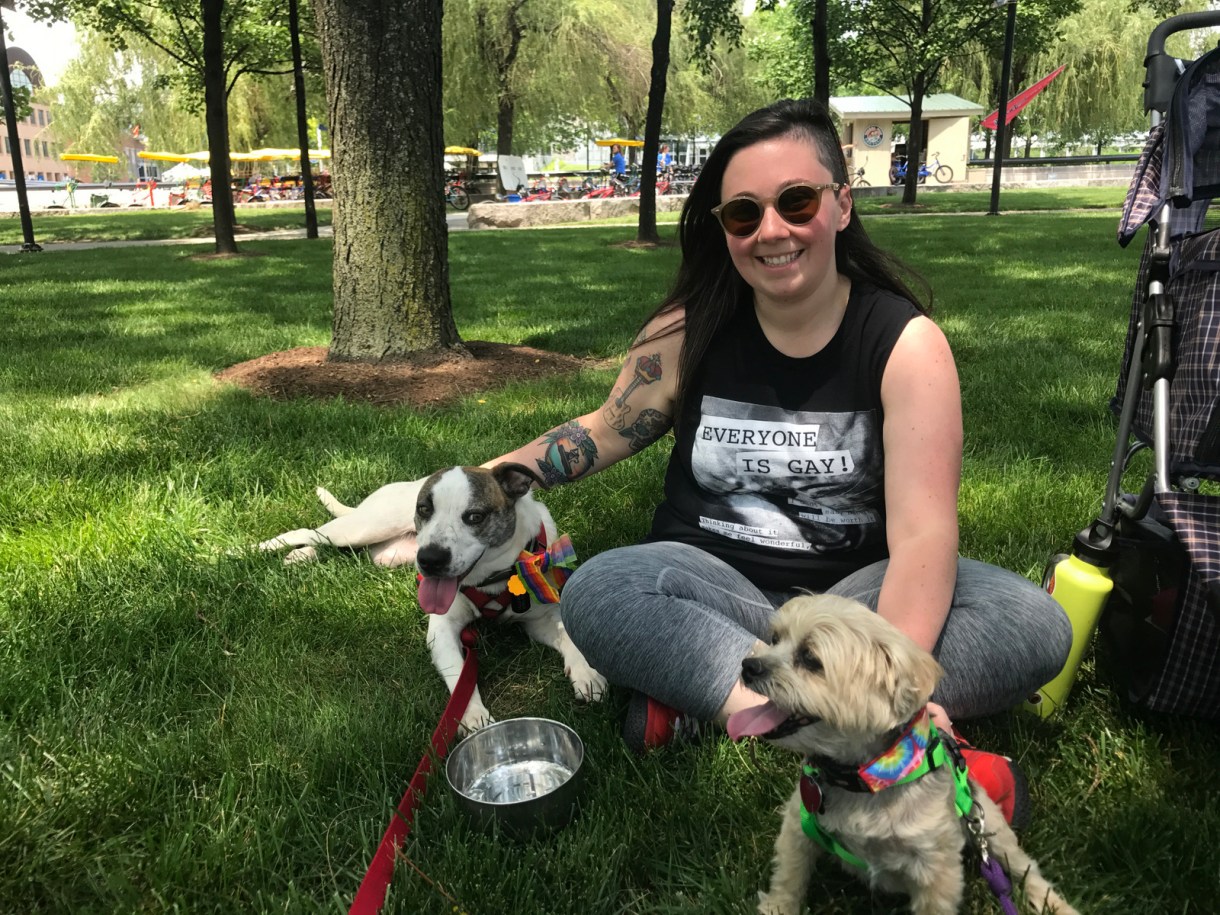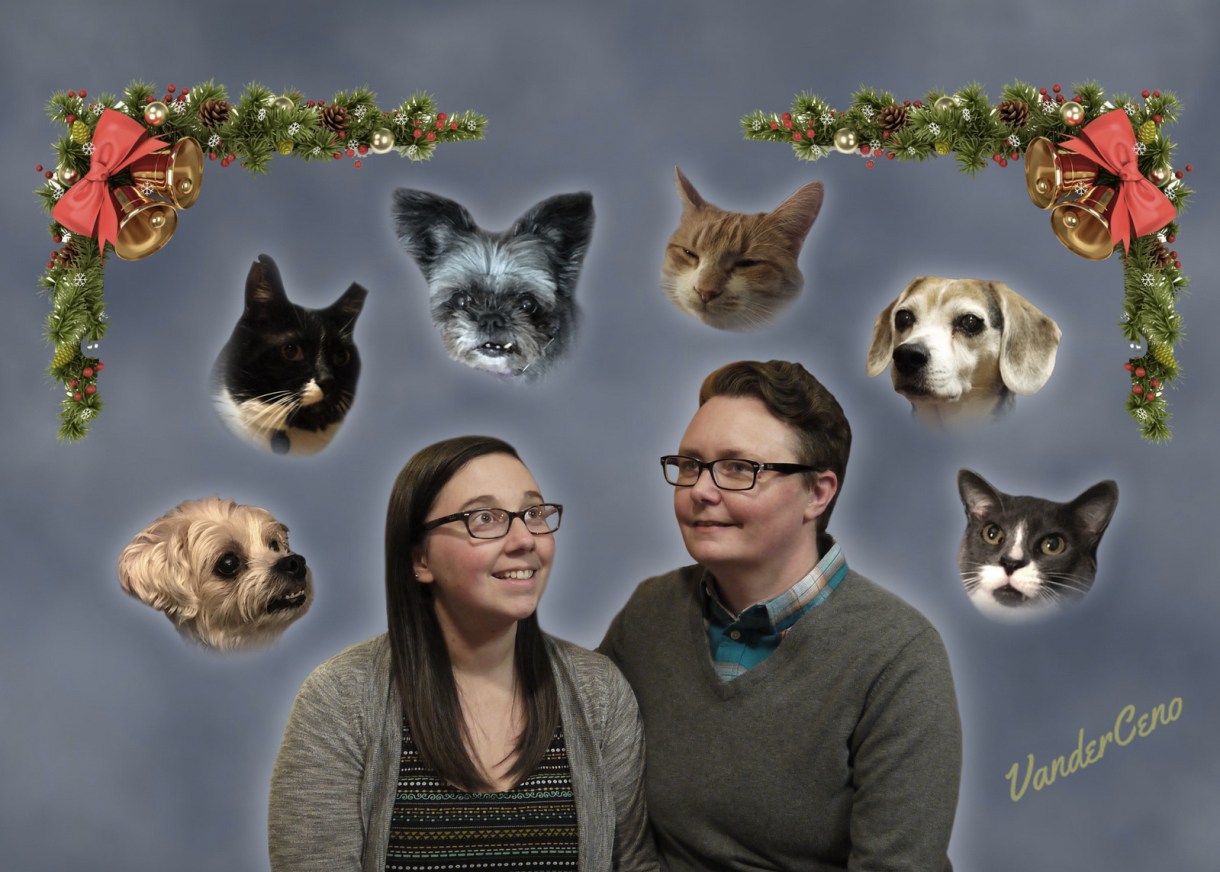 "Stewie and Teddy are both incredibly high maintenance pups who make up for it by being adorable and cuddly. Stewie, whose full name is Kristen Stewart (because let's face it, they look exactly alike), was surrendered by her previous owner to Indianapolis Animal Care Services. One of the amazing volunteers there paired us with her after listening to what we wanted in a dog — medium size, not super energetic, does well with other dogs and cats. We could tell right away that Stewie had an old soul and we wanted her to be part of our little petting zoo family. Her brand of high maintenance is having really bad separation anxiety, but with the help of a behavioral vet and anti-anxiety meds, we are slowly but surely making progress. Our favorite thing to do together is a tie between hugging each other, and walking in parks (mainly to see the squirrels). She also looks really adorable while eating green beans.
We got Teddy a year ago. We were at PetSmart getting cat food, and there just happened to be an adoption event for a local shelter. We saw this little teddy bear looking pup in a cage, and went over to him and fell in love. We originally decided against adopting him, but after driving about a mile away from the store, we decided to turn around to go back and adopt him. Not long after getting him home, we noticed he was panting really hard and his breathing seemed labored. Being my household's Jewish mother figure, I was naturally worried. It was a Sunday, so we took him to an emergency vet and after some tests, we found out he was in diabetic ketoacidosis and the outlook wasn't great. So after only having him a few hours, we had to leave him in a vet hospital overnight and were expecting about $3000 in vet bills. Luckily he responded to insulin quickly and we brought him home the next day! And now we have the pleasure of giving him insulin shots at 7 AM and 7 PM every day!
The weirdest thing about Teddy is that when he cries, it sounds like a human doing a dolphin impression. Our favorite activities to do together are belly rubs, and giving hand shakes for carrot treats. They don't have their own Instagrams, but you can find them using their official hashtags: #DogKristenStewart and #TeddyTooters.
Also attached: Our 2016 Christmas card. From left to right: Teddy, Bo, Mogwai, Mister, Rosie (may she rest in peace), and Detective Olivia Benson (may she also rest in peace; 2017 has been a shit year!)."
---
Emma and Leo / 36,3 / Madison, WI
"Leo is a Shih Tzu/Bichon mix who came to stay at my house for a weekend 5 months ago and never left. It's a long story. He lived in a Chicago high rise before and had never learned any commands or been house-trained. He's a work in progress! Even so, I've never loved an animal the way I love Leo. My housemate gives me shit when she catches me singing to him, which happens all the time. The best thing about him is morning snuggles and his derpy face. Leo loves going out with me- he's a favorite at my local beer garden. When I give him a biscuit, he will carry it around in his mouth for a while and then "bury" it under my pillow. He doesn't have an Instagram yet, but he's definitely the mascot of my crew. (Also, he loves being on the water and is a pro at stand up paddle boarding)."
---
Before you go!
It takes funding to keep this publication by and for queer women and trans people of all genders running every day. We will never put our site behind a paywall because we know how important it is to keep Autostraddle free. But that means we rely on the support of our A+ Members.
Still, 99.9% of our readers are not members.
A+ membership starts at just $4/month.
If you're able to, will you join A+ and keep Autostraddle here and working for everyone?
Join A+
Pages: 1 2 3 4 5 6 7 8 9 10 11 12 13 14 15 16 17 18 19 20 21 22 23See entire article on one page