Emily, Isabelle, Mali / Anglesey, Wales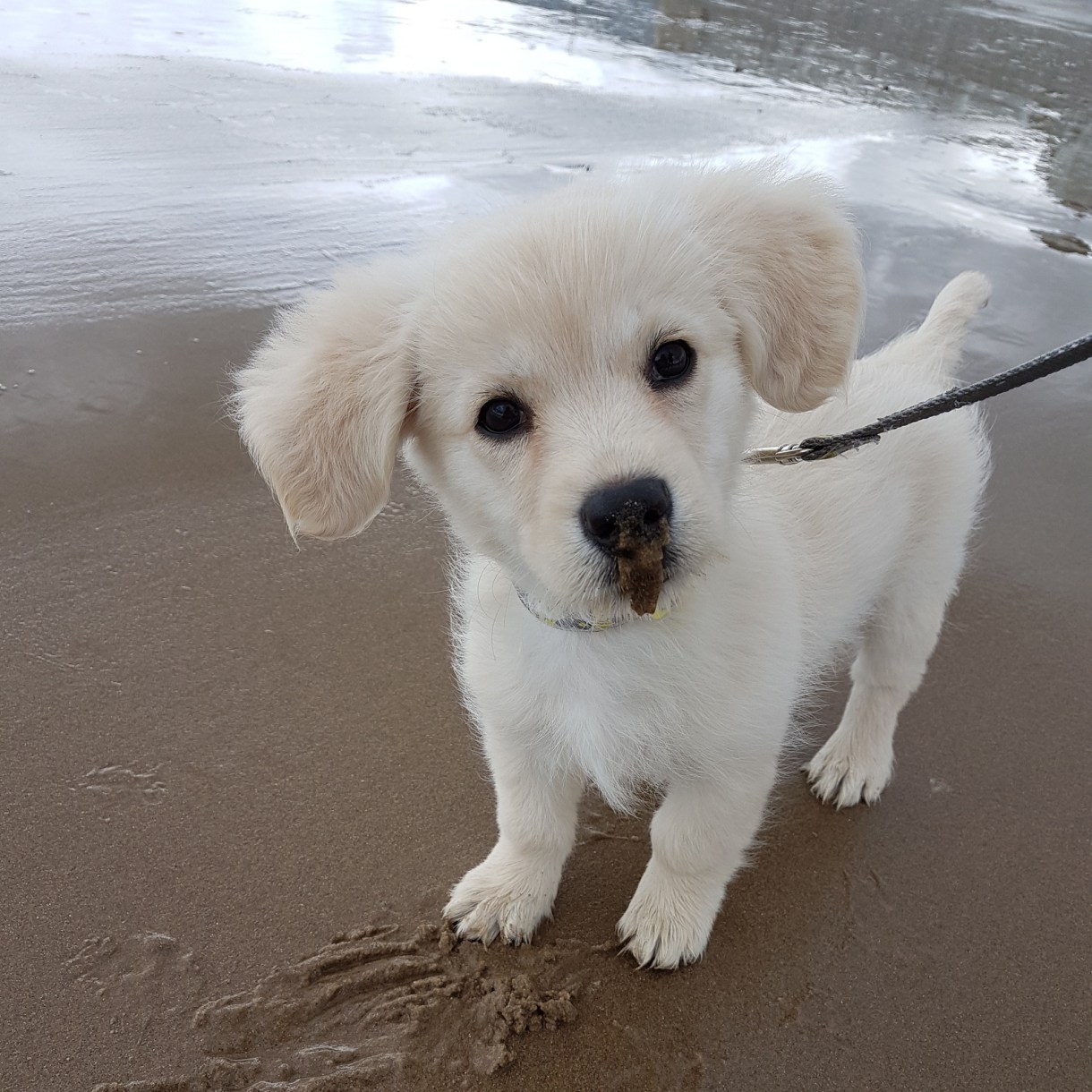 Her mother was found pregnant in the pound, so Mali came from a foster care. Now the mother and the litter of seven have found new homes. Mali is a little welsh name for a little welsh dog. The best thing about her is that she came to us when we really needed her and she's always happy. We love to visit beaches, cuddle, watch TV and play. Her favourite show is Westworld (she hates Twin Peaks). Instagram: @malibu_puppup
---
Ella, Dijana, Octavia, Albus / 28, 34, 1, 3 / Melbourne, Australia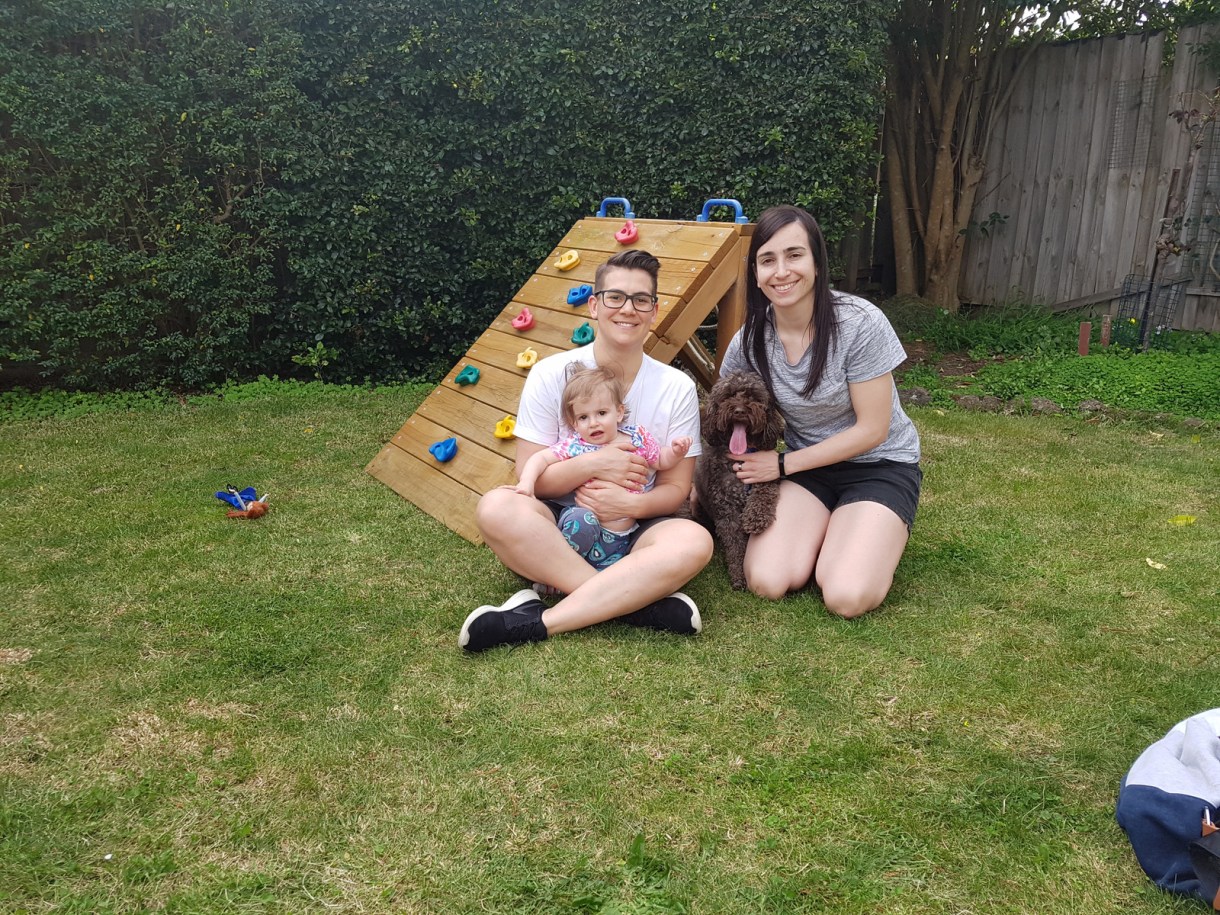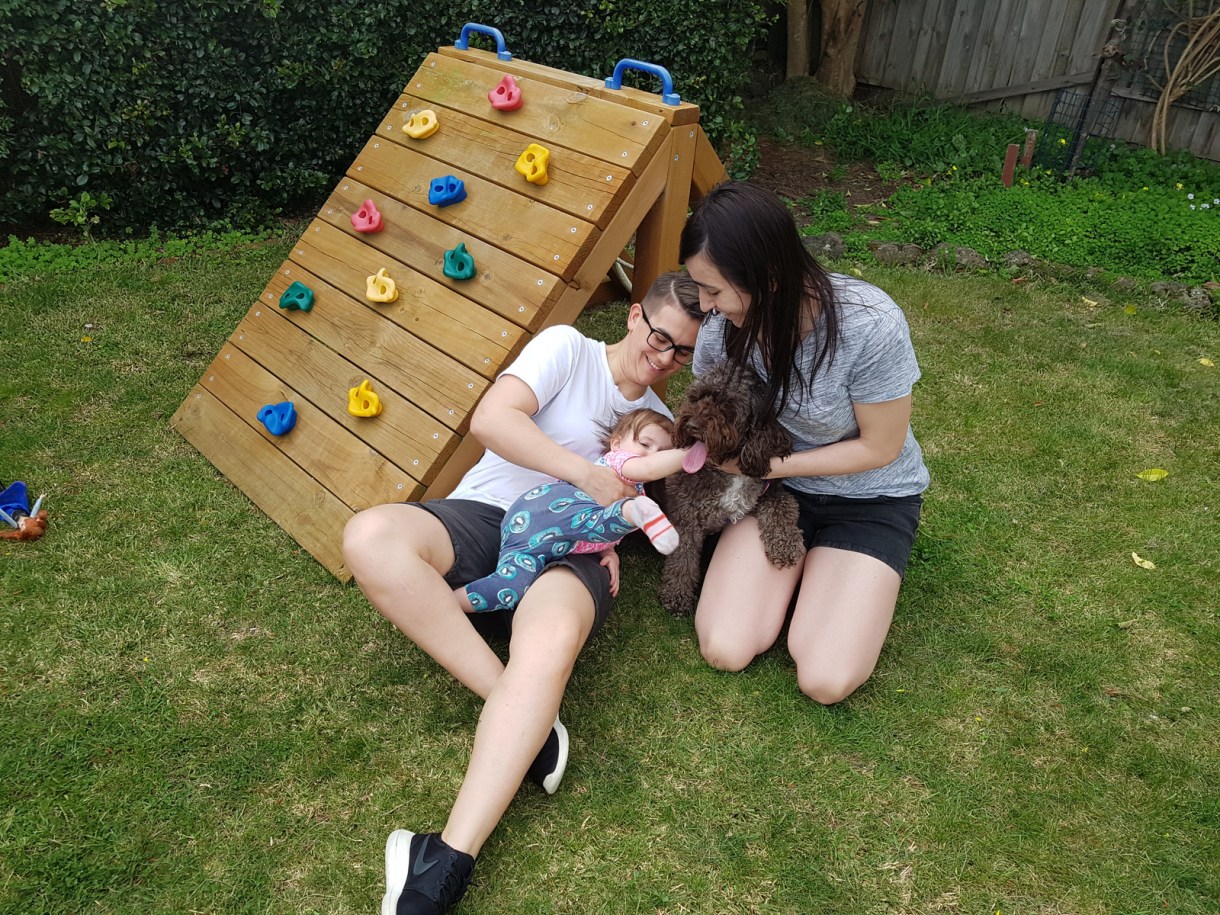 "I (Ella) nagged until Dijana agreed to get a dog. I told her she could name him but ended up giving her a shortlist of approved because she wanted to call him Choc Chip. It worked out because he loves her the most and I can't even be mad because they have such a beautiful bond. He is the gentlest soul in the world and Octavia is obsessed with him, she feeds him all her food and gives him all her toys. He is definitely the heart of our family."
---
Alice and Mio / 24, 2 months / Italy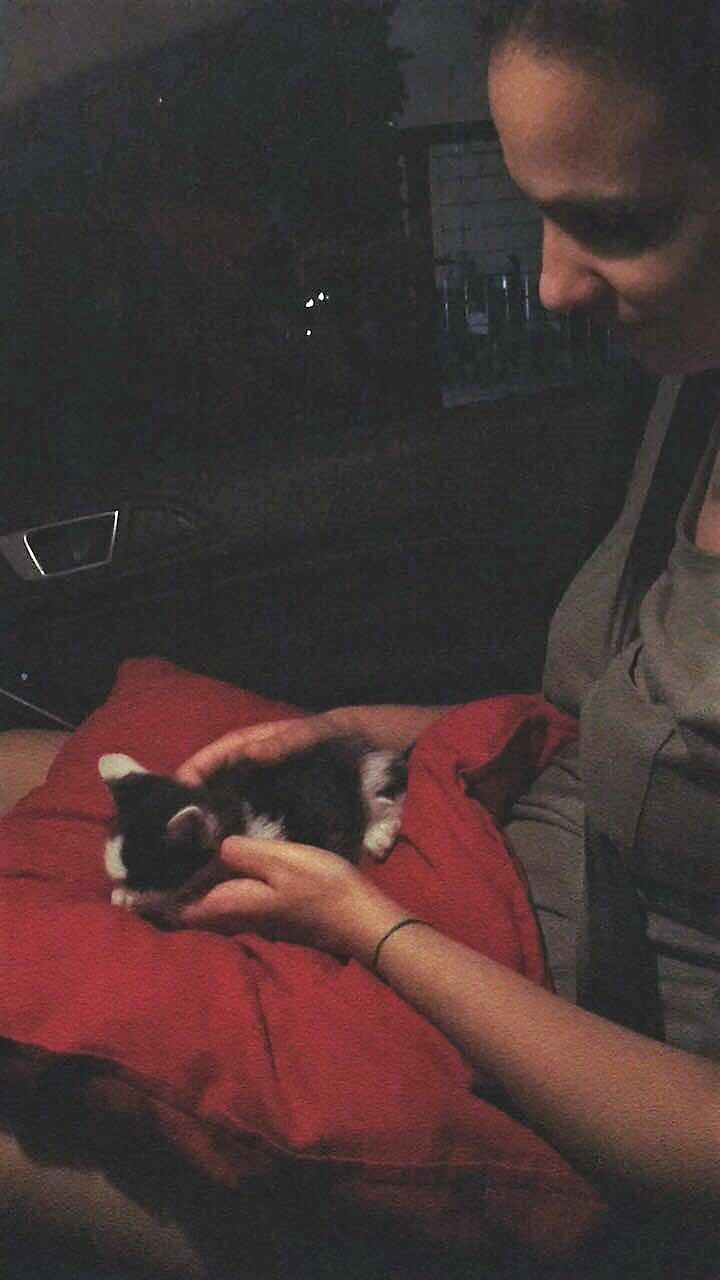 "Ok, so I have so many pictures of my dog that I do not actually know how I can possibly choose, so I decided to send this picture instead (don't worry, I talked about it with my puppy first. He understands my choice). Here I am melting while holding the tiny tiniest kitten I have ever seen in my whole life. My best friend found him in front of her house one morning last week and he looked so scared and so lost! We took him in and tried to figure out if he was a stray kitten or if someone had lost him, and thankfully we managed to find his owners through Facebook (this really sweet middle-aged couple who, when we brought him back, spent 15 minutes showing us pictures of Mio and his brothers when he was even smaller. So cute.). I want a cat now. This is me coming out as both a dog person and a cat person."
---
Kimber, Kenzi, Digby / Winnipeg, Manitoba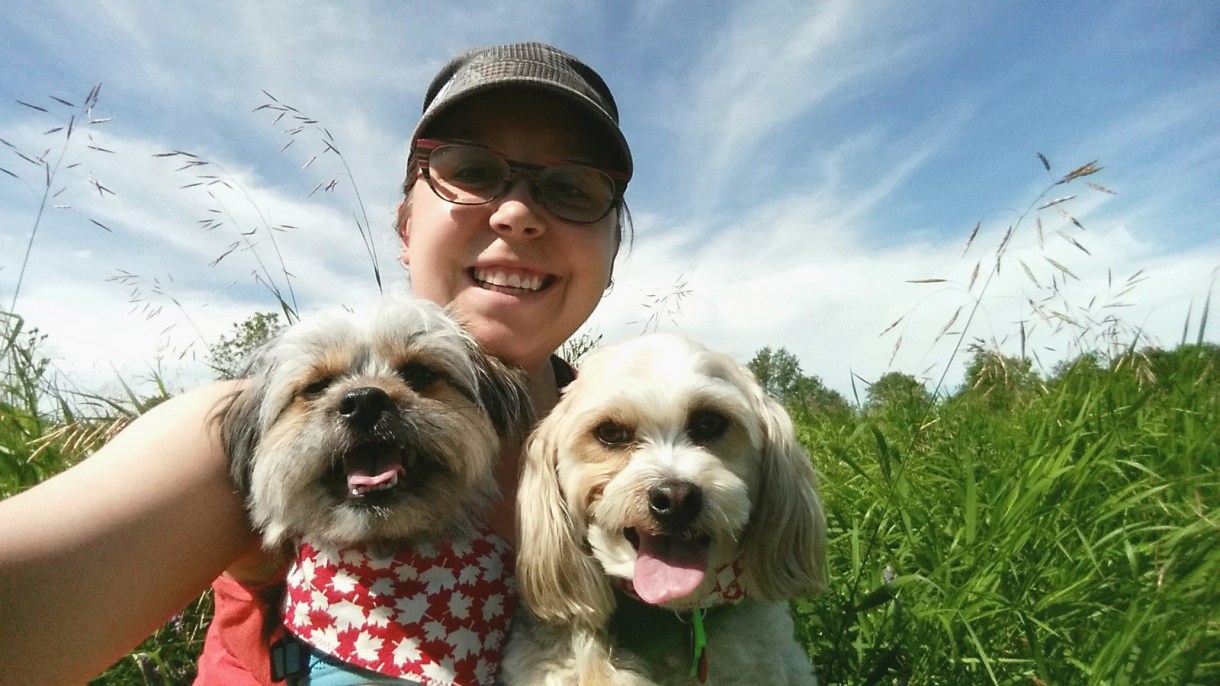 "Both Digby and Kenzi are rescues I adopted as puppies. I met Digby's pregnant mama in her foster home and Kenzi I saw on the rescue's website with her mama and sister. Both of my pups are named after TV characters. Kenzi's namesake is from Lost Girl; Digby is named after the dog on Pushing Daisies. EVERYTHING is the best thing about my pups. They are fantastic companions and are just as happy running through the park as they are chilling on the couch with me watching Netflix."
---
Collins and Madison / East Nashville, TN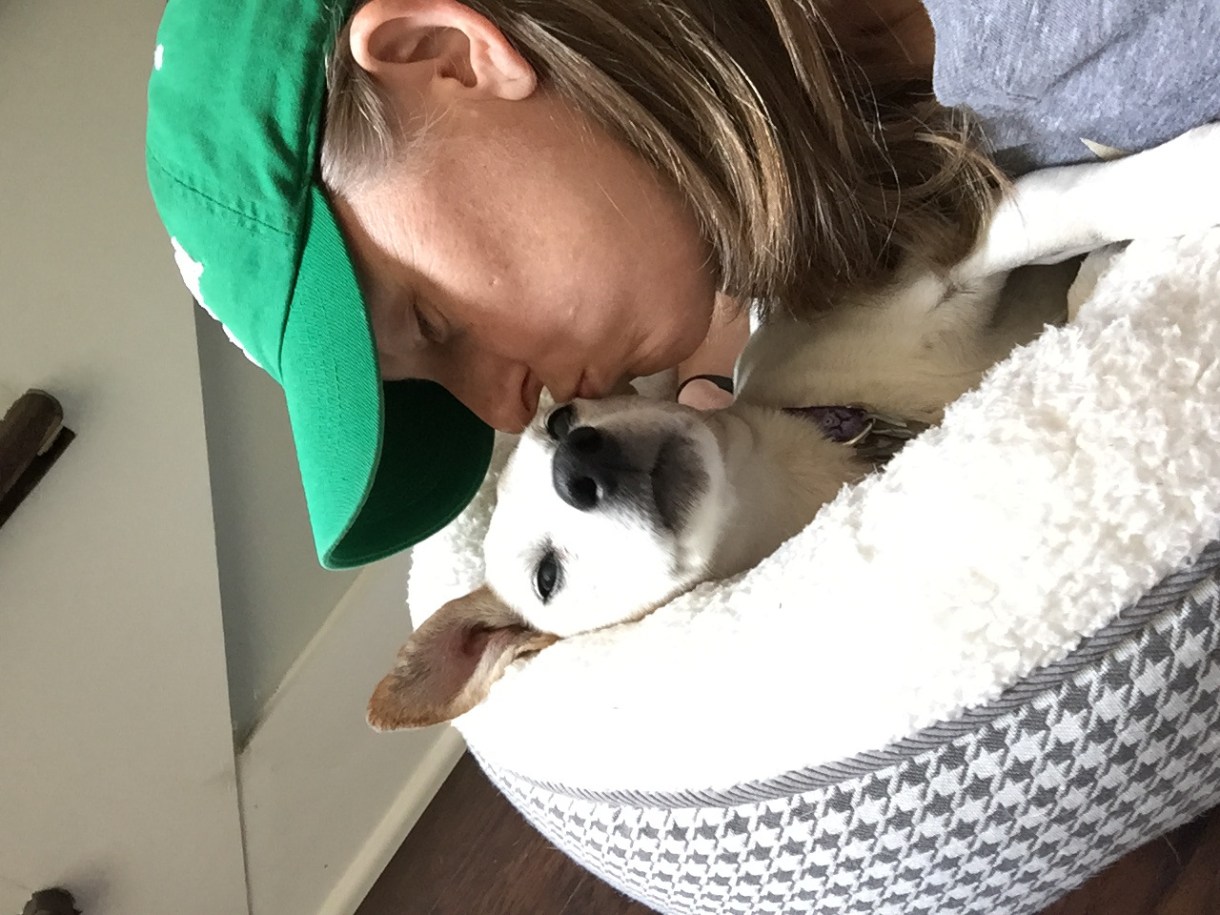 "Her dad, Jasper Jack, was how my dad decided to cope with being an empty nester back in the late 90s and I loved him so much that after college I decided I wanted one of my own. Both her and her father are named after small towns in northern Florida. I remember driving past the exit for Madison (to the west) and Jasper (to the east) Florida on I75 on the way to my grandmother's house every summer during my childhood. My grandmother's been gone for nearly 10 years now and Jasper's been gone for almost 5. But my dad and I still love on this little girl as much as possible.
The best thing about Madison is that even though my job keeps me away from her every weekday, she's always so happy to see me when I get home. That enthusiasm hasn't waned even though she's greeted my return nearly 5,000 times. Oh, and the cuddles. This dog knows how to cuddle. The weirdest thing about her is that similar to many Jack Russell Terriers, she can jump straight up in the air pretty high, almost like a kangaroo. Rather than making her feel weird about that, we gave her a nickname, The Roo! No Instagram (she likes her privacy) but sometimes she'll let me post her picture on my Twitter. You can find us at: twitter.com/collins3779"
---
Caitlin and Callie / 33, 2 / Northern CA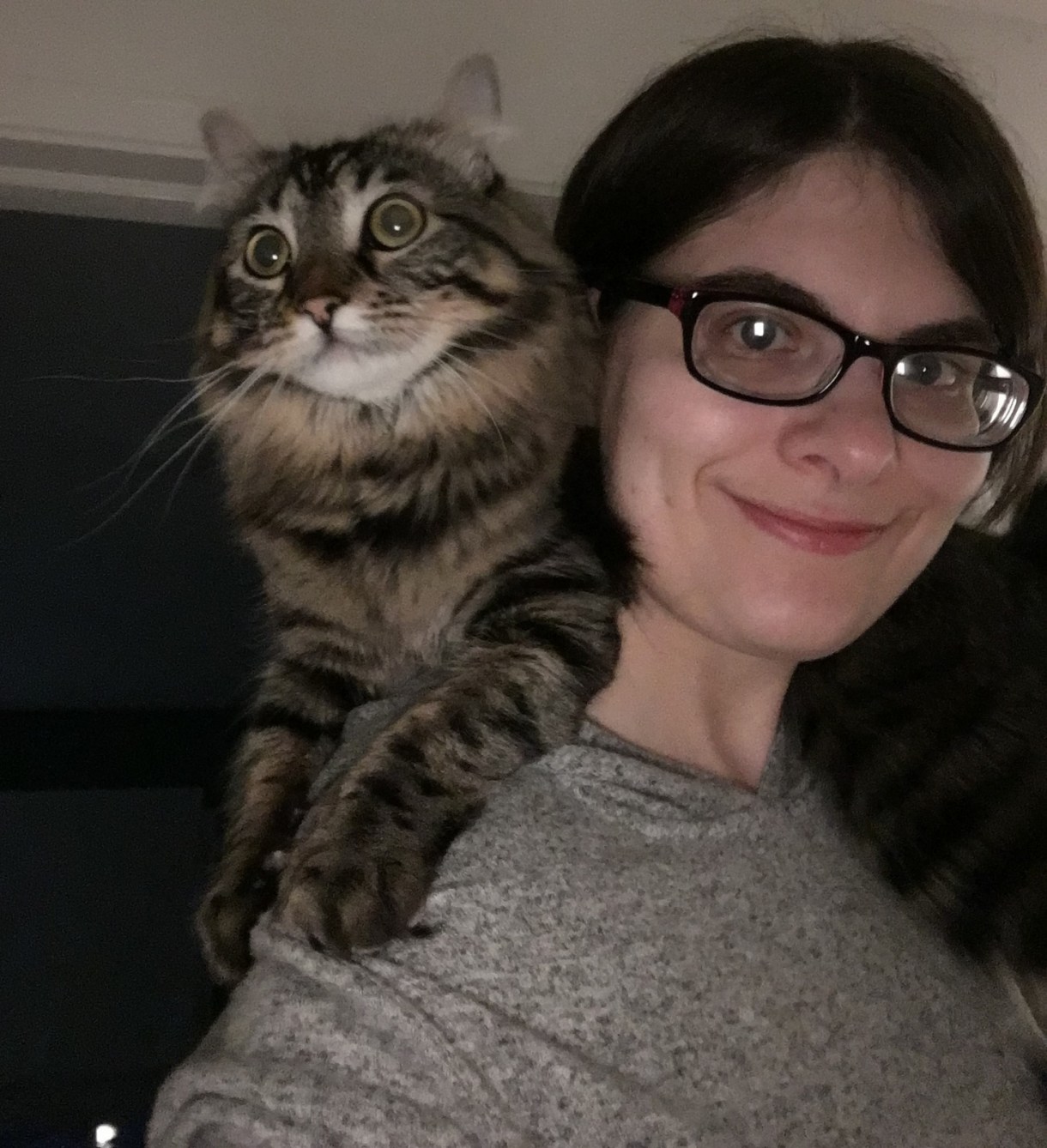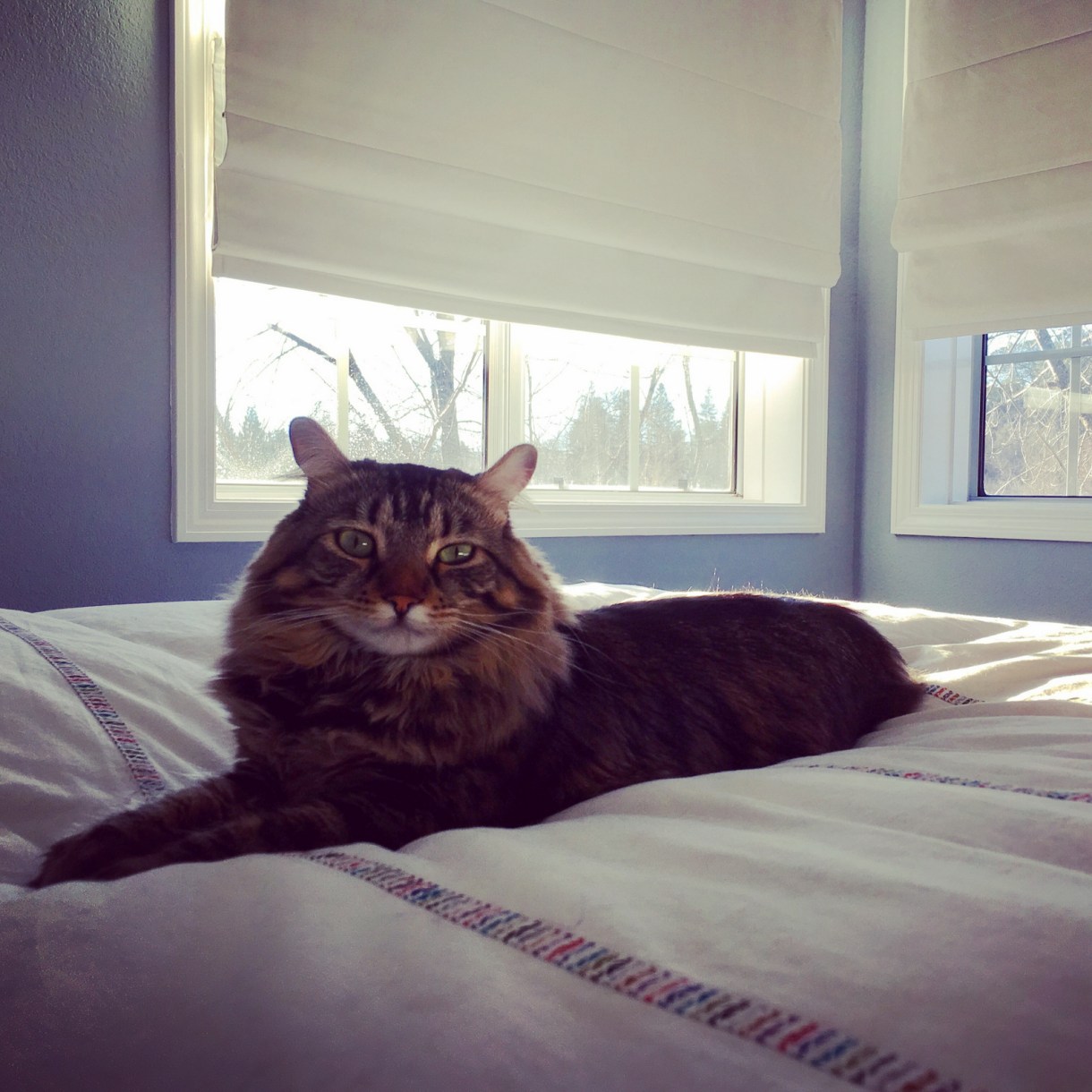 "This is my little monster, Callie, which is short for Callisto. She's a Highlander, bred from the Desert Lynx and Jungle Curl (apparently these are not actual wild cats, which is a shame because I've been telling people they are!). She has the signature bobbed tail, but her ears are not completely curled, just slightly curved and very stiff. I found her at PetSmart's kitten adoption day and it seemed like fate. My boss had offered me tickets to a Giants game and I would have accepted if my friend had been able to go. Instead of going to that baseball game I found myself at PetSmart looking at all of the cute kittens. When I finally got to Callie's cage I knew I had to take her home with me. I wasn't even planning on getting a kitten at that time, but when you find the one, you know it. She was already 6 months old and I do not know how she came to be at a shelter. I'm just glad I found her! That was towards the end of August 2015. Two years later and she never ceases to amaze me. She is the funniest, weirdest (sometimes worst) cat I have ever had. There is never a dull moment with Callie around! She likes to steal things (rubber bands, toys, clothing); she doesn't meow (except for a funny little rasp); she likes shoulder rides (but they have to be her idea); she plays fetch and even knows the names of her toys. I don't know what I would do without this crazy cat in my life! Callie does, in fact, have an Instagram. I didn't intend to turn it into a Callie account, but she's so photogenic! @identitytokens"
---
Amanda, Heather, Freckles / 32, 34, 1 / Madison, WI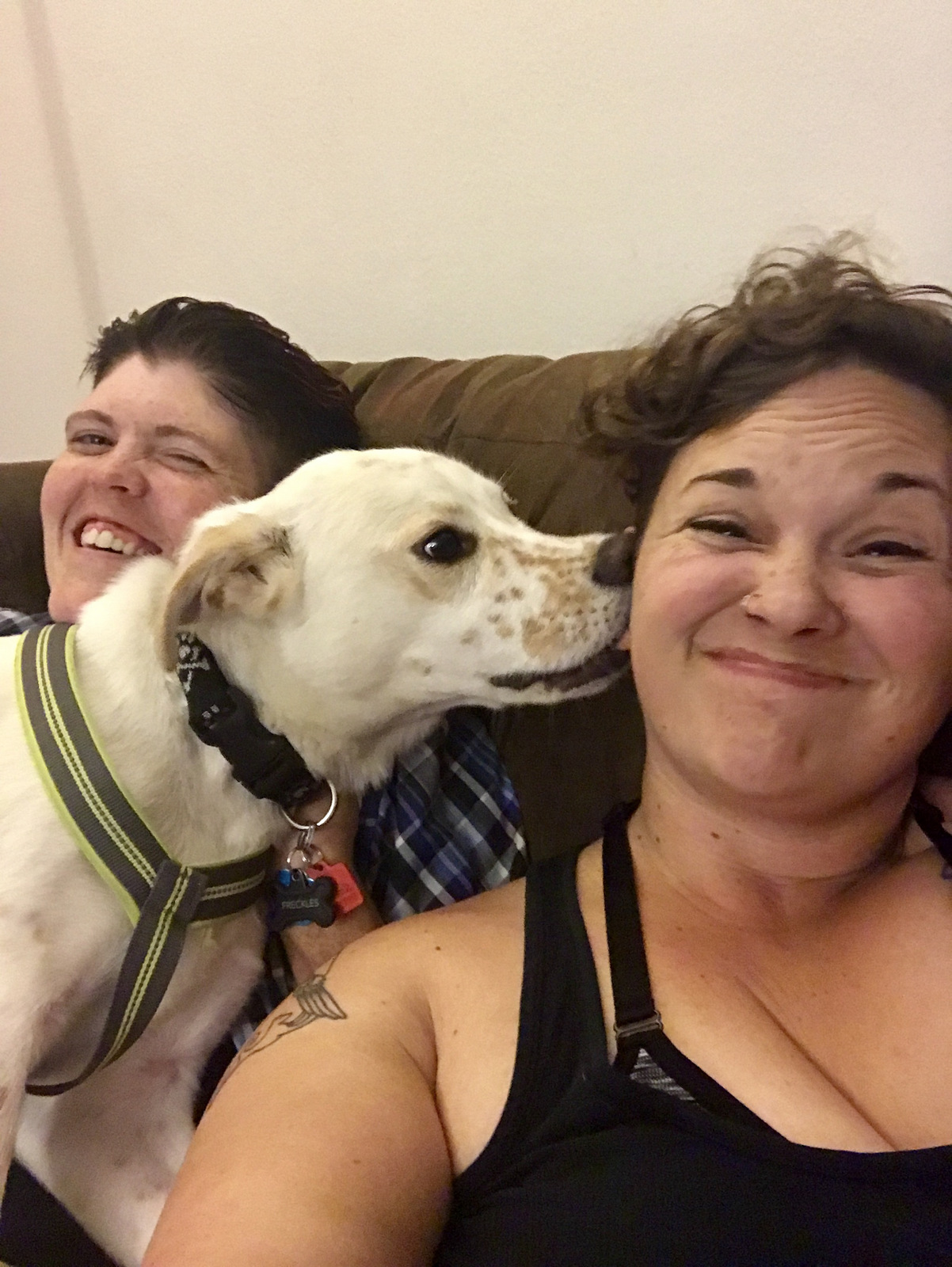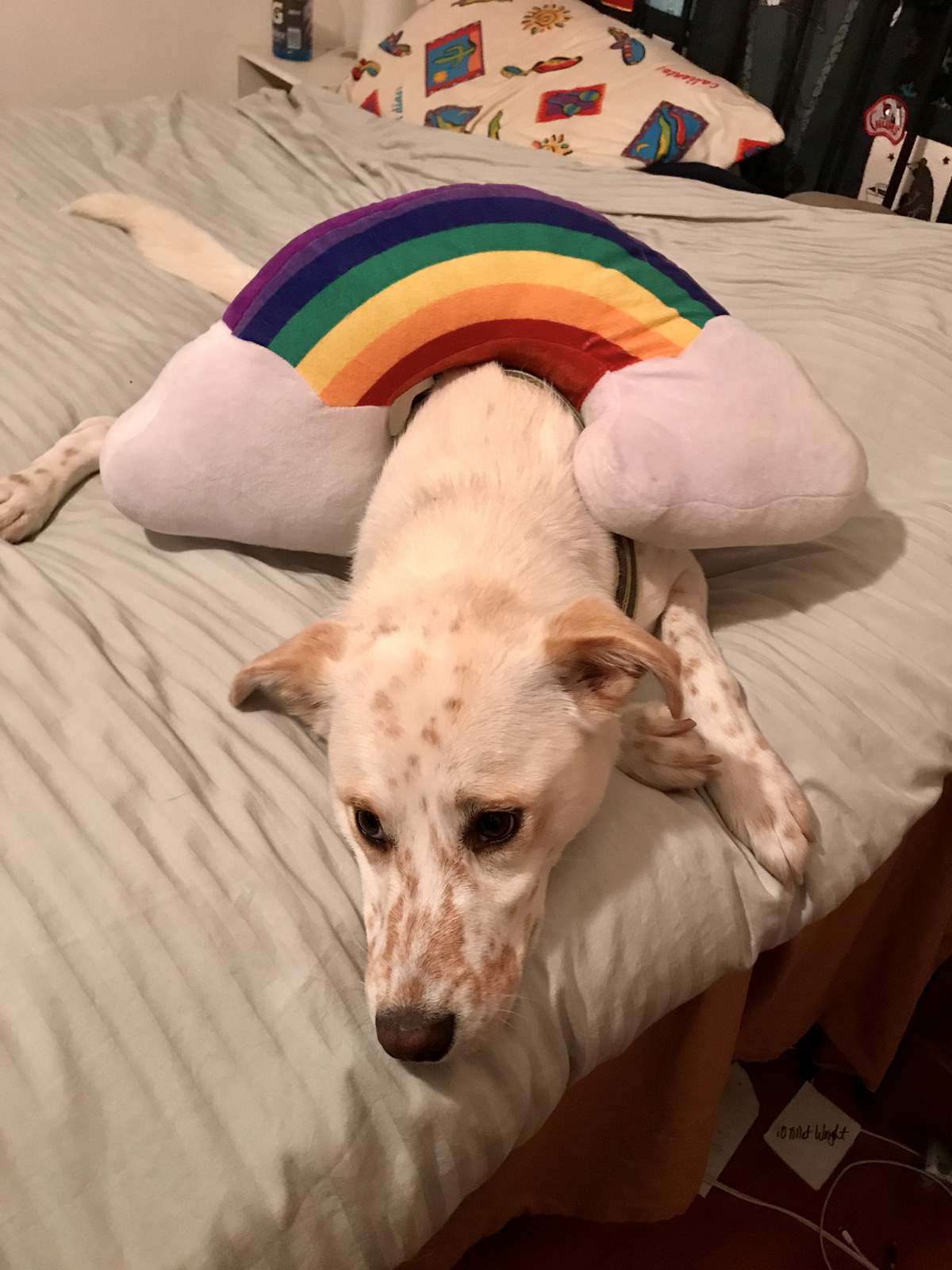 ---
Amanda and Junebug / 24,4 / Fort Wayne, IN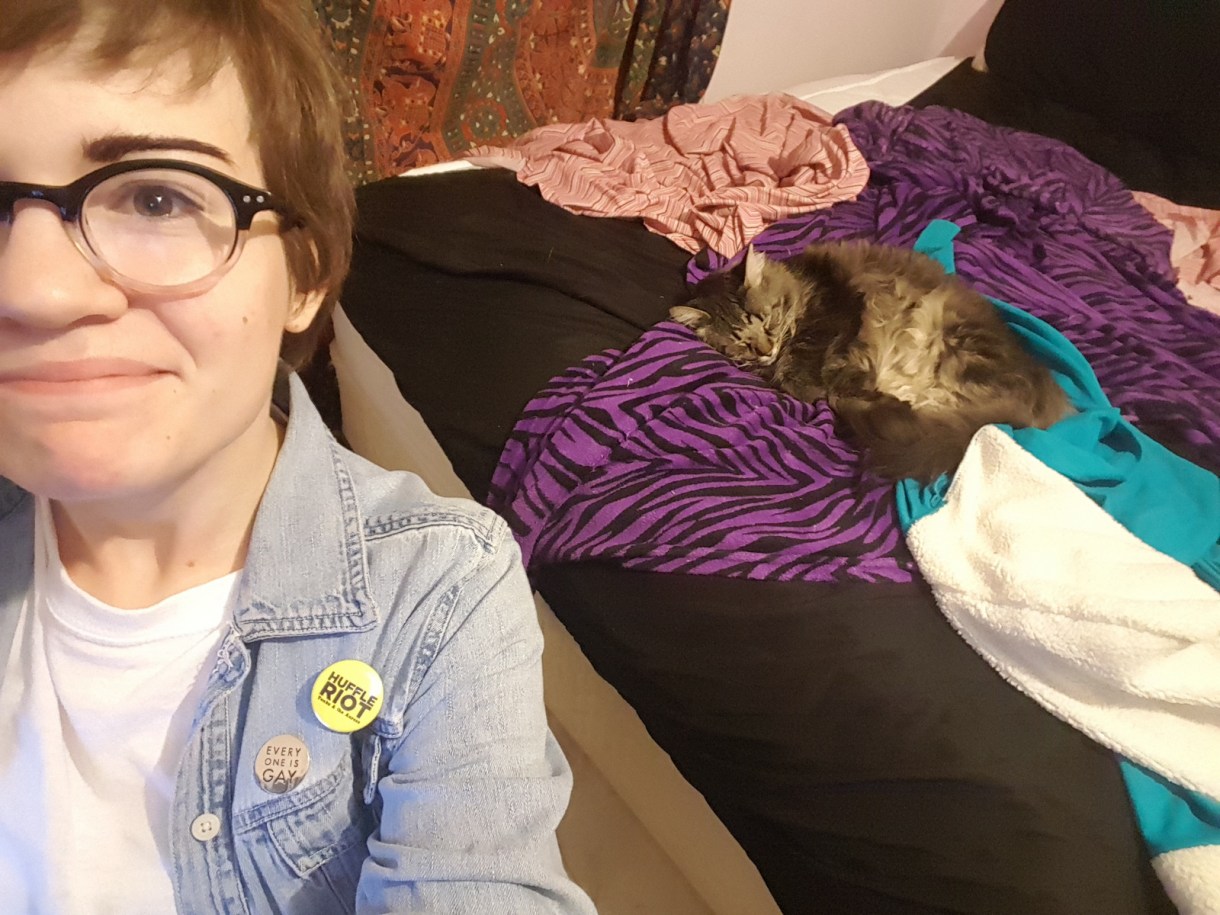 "Junebug was an scraggly outdoor cat when he wandered up to my old apartment's porch in June of 2015 (hence his name). The first time I saw him he was drenched from a summer rainstorm. Me, my partner, and our downstairs neighbor started feeding him. I was pretty adamant about not adopting another cat because Alo, my partner Tre and my first cat, had recently died. My heart was sore and we were already taking care of two other cats at the time. But one day we noticed June was sick so one emergency vet trip later (to treat an upper respiratory infection) and a week of trying to lure him out from under the porch stairs to take his medicine, and he came inside to live with us. While we lived at that apartment, he'd walk me halfway to work (until we reached the bridge) and often slept on the porch with my partner (occasionally warding off the family of raccoons that lived in our backyard). He's the sweetest boy. He loves to play fetch and sleep on top of people. I can't imagine my life without him."
---
Kate and Ollie  / 26, 8  / Columbus, OH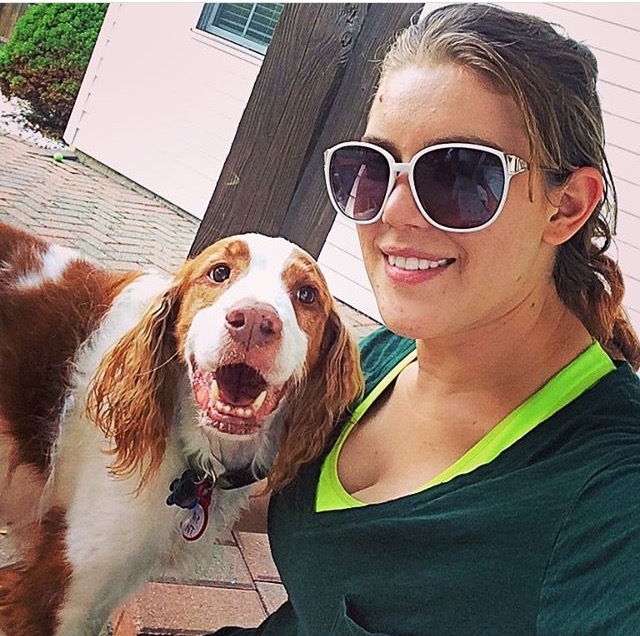 "Ollie (Oliver) is a Brittany who had a terrible case of sibling rivalry when my sister began having human children. His name is Ollie, though we call him "ollieollieoctopuuuss "or "ollieball" or just "ball" or an expletive, depending on the day. This guy is the best thing about coming home. His need for attention (almost) rivals mine, and I love watching him transform from a zoomer into an elegant hunting dog when he's in his element: the woods. He once licked his own penis so much he gave himself smegma and needed to go to the doggie ER."
---
Linda and Cleo / 30, 1 / Stellenbosch, South Africa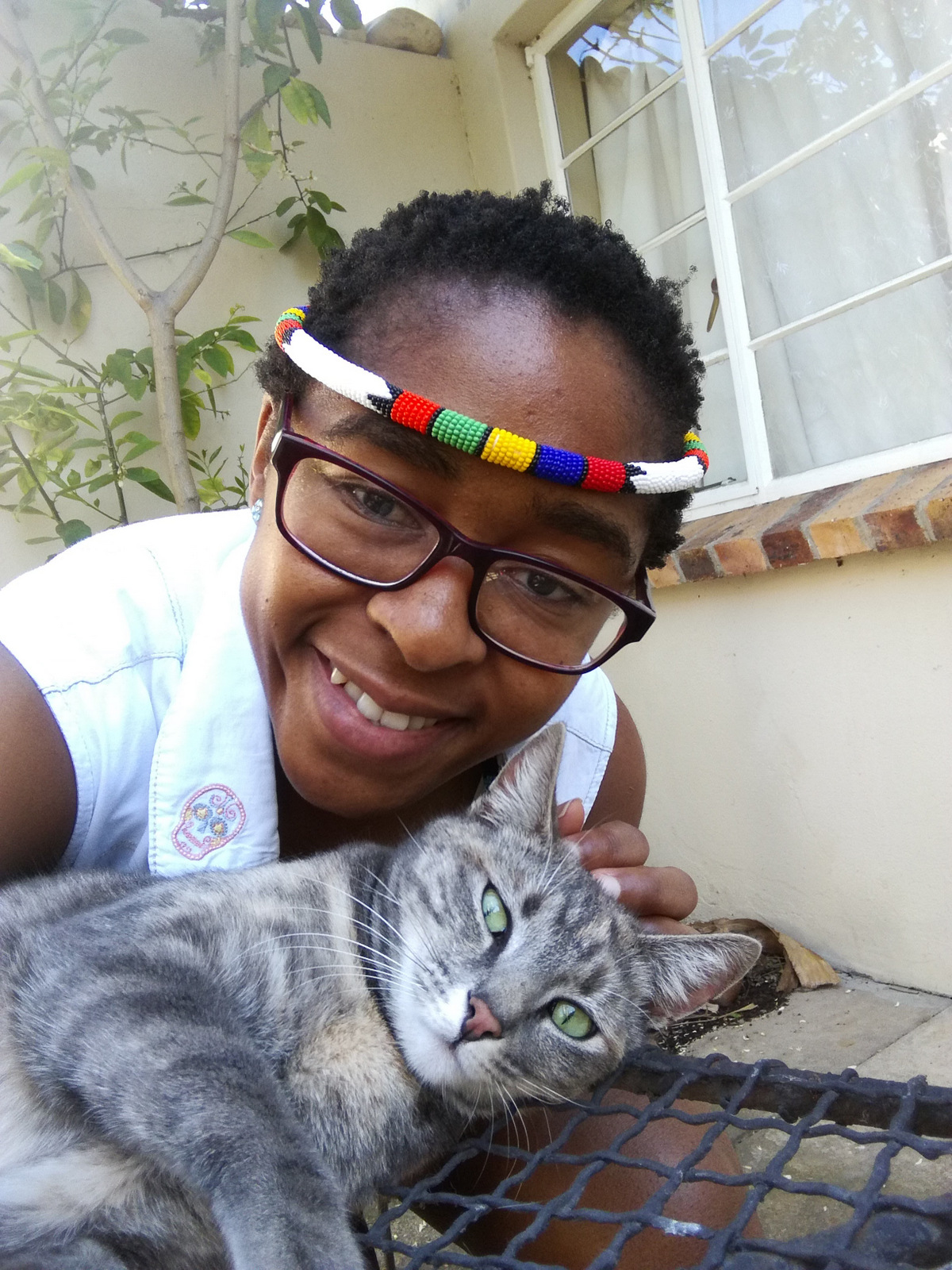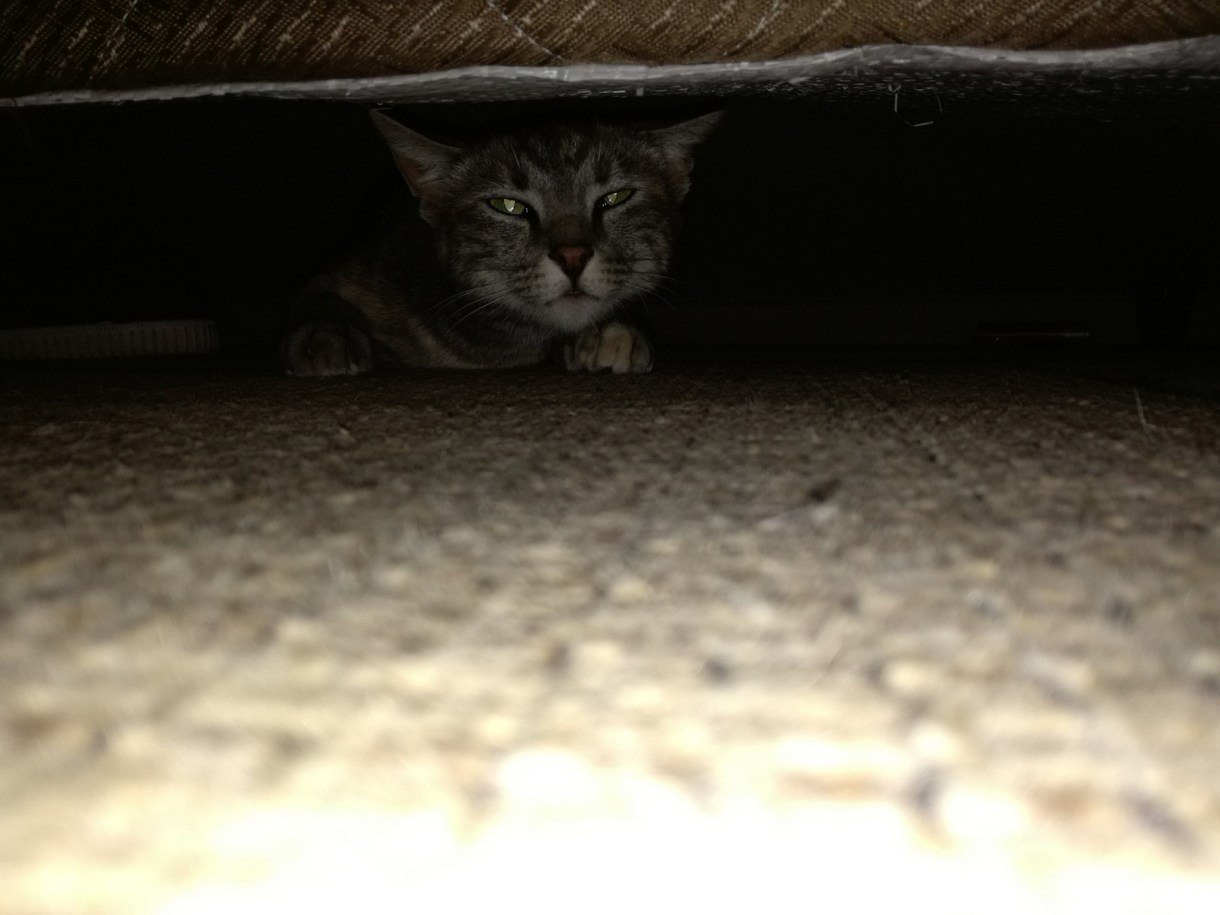 "I was not a cat person at all until this lovely lady came into my life. Cats scared me! In fact, the first time we met she ran towards me and I screamed so loud my neighbors came to investigate. After I calmed down she came back and immediately wormed her way into my heart. She was a scared little stray that somehow saw me and decided I was home. I have never been so grateful for anything else! Needless to say I have said "I love you" and "you're so cute" everyday for the past year she's been in my life.
Black South Africans rarely have pets (especially cats), and my mom begged me for months to not keep her because of fleas and snakes. When she finally met Cleo she also fell in love. She now has a stray cat that she's kinda adopted (she's named her, feeds her but Jojo's not allowed in the house). That's the power of Cleo. She loves being silly/making me laugh, stalking things, climbing trees, digging holes in the garden and cuddling with her mommy."
---
Before you go!
It takes funding to keep this publication by and for queer women and trans people of all genders running every day. We will never put our site behind a paywall because we know how important it is to keep Autostraddle free. But that means we rely on the support of our A+ Members.
Still, 99.9% of our readers are not members.
A+ membership starts at just $4/month.
If you're able to, will you join A+ and keep Autostraddle here and working for everyone?
Join A+
Pages: 1 2 3 4 5 6 7 8 9 10 11 12 13 14 15 16 17 18 19 20 21 22 23See entire article on one page