When Valerie Anne reviewed the first season of HBO's Perry Mason, they nailed it: This reboot of the much-beloved, much-revived courtroom procedural is just a bunch of sad white men being sad, slowly, and one exceptional lesbian who makes it all worthwhile. And when Valerie said slowly, they weren't joking. The first time I sat down to watch an episode, I was like, "Did I take a gummy or something? Why have I entered this languid time warp?" But no, that's just the modern noir of it all. Season one landed gruesomely: with a murdered baby; got even weirder, with Tatiana Maslany as a silver-haired cult leader; and ended with Perry Mason trading his private investigator shenanigans for a job as the defense attorney of the murdered baby's mother. He won with a mistrial. Season two, which premiered on HBO Max last week, picks up there, but comes with some much-appreciated adjustments.
You're here for the homosexuality, which is good and right, so let's start with Della Street (Juliet Rylance), who is not only holding down the offices of Perry Mason, Attorney at Law; she's also managed to reappropriate their very limited funds to hire a secretary, so Mason will stop asking her to make the coffee. He promised her she could be in the room where it happens, see, and she is, at the office and in the courthouse.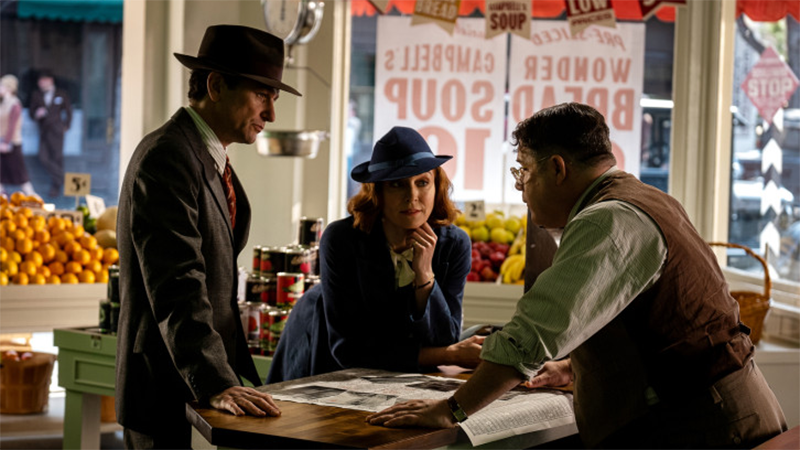 At night, she's studying for her own law degree while shacked up with her lesbian beau, Hazel, whomst she met last season. But Della's got a wandering eye and an impulse for danger, so of course she ends up in the powder room flirting with an independently wealthy broad who offers to take her home right that second and ravish her. (Her name is Anita St. Pierre, played by Jen Tullock, and she's based on real life lesbian Hollywood screenwriter, Anita Loos.) Della declines, at first, but she can't say she's not intrigued. There's something fascinating about a queer character in a 1930s drama who's working tirelessly for a more stable future, with the very limited options available to her, who has the truly uncommon luck of having a woman at home, but who can't stop her wandering heart/pants.
Della is meant to be Mason's assistant in court, but of course she's the one doing all the work. The investigations, the briefs, the actual law research — and Mason's dragging himself in late, with a satchel full of props, ready to unleash his showmanship for the jury. It's very Peggy Olson/Don Draper, to be honest, but, unlike Peggy, Della's never been able to keep her beautiful mouth shut. She shouts "OBJECTION!" over the defendant, his lawyer, the judge, and Mason's eyebrows at one point, and even though she gets scolded, she can't muster up a bit of remorse. She was right to object! And she'll fuckin' do it again!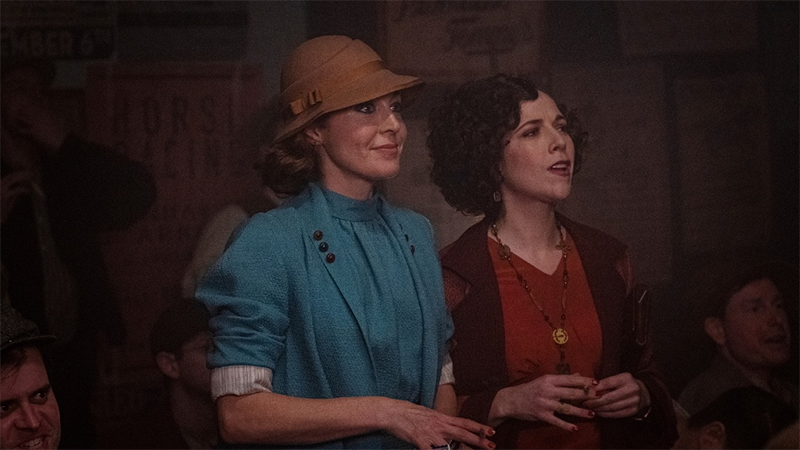 Della has lots to do this season, personally and professionally, and it continues to baffle me that Juliet Rylance isn't receiving more recognition for this show.
Some improvements to season one include: A more focused over-arching plot that involves the death of a rich adult asshole, instead of a literal baby; more procedural-style weekly court cases, like the Perry's of decades past; Mason struggling with the elusive concept of "justice," along with his other struggles like PTSD from World War I, the loss of his family farm, and his inability to ride the motorcycle he accepted as payment from one of his clients. And a setting that allows Della and Mason to be seated right beside each other, playing off each other with their begrudging respect, genuine affection, and antagonism. It turns out Della likes to put on a little show for the jury now and then, too.
There's still lots of moody music, endless melancholy gazing, and a drag to the dialogue that could lull you to sleep if you watch it at the wrong time of day, but at least you'll doze off to the sardonic ASMR-ish tones of Della Street. And if you like this kind of thing, which I grew to do, well ring-a-ding-ding, sweetheart, let's get dizzy with this dame.