The first episode of the final season of Orphan Black is upon us. Co-creator John Fawcett said the beginning of the end feels like Orphan Black without feeling like Orphan Black. I agree.
The setting is new, the stakes are higher, but the excitement and the humor and the tension are the same. The beauty of the sets, the mind-boggling clone interaction, the winks and nods at fans, they're all there. But everything has changed for our girls. We pick up right where we left off; Alison and pregnant-with-twins Helena are camping with Donnie in the woods, Sarah is bleeding alone on an island, Rachel has snapped, Cosima is in a mystery campground. They're all in brand new positions, forced to be new versions of themselves, while still being true to their core.
Every season this show has kept its center but shifted and molded and grown and morphed into something entirely new, and The Final Trip is no different. In some ways it feels like something totally unexpected, in some ways it feels like exactly where we were going all along.
I don't want to spoil you on what's coming, but I want you to get excited with me. Here, I'll tell you a few random things that I guess are technically light spoilers but are going to read basically like a redacted document.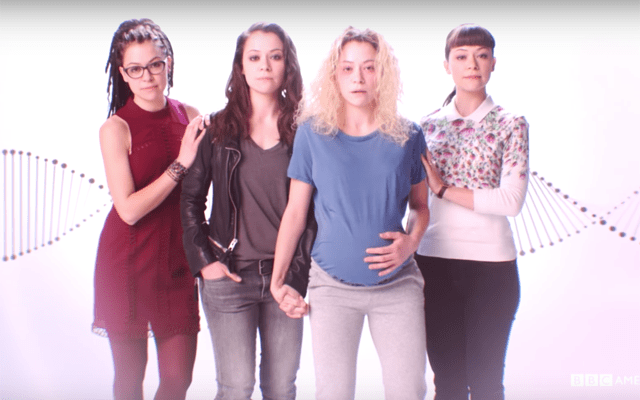 + Six Leda clones appear in the first episode.
+ Cosima is in a YURT at the start of the ep. A yurt!!
+ Art finds himself partnered with someone…interesting, to say the least. Maybe "tethered to" is a better phrase for it.
+ Felix made me laugh out loud at least one time.
+ Loons play a bigger role than one would guess loons would ever play on this show.
+ Science!
+ At least two sestras have scenes involving sticks.
+ Despite it being one episode, and the first at that, some questions are answered, some storylines are tied up, more questions are posed, more storylines are set up.
---
This week I had the extreme honor of attending an Orphan Black premiere event at the Split Screens Festival, where we got to watch the episode on the big screen (the only thing better than multiple Tatiana Maslanys on your screen at the same time is multiple larger-than-life Tatiana Maslanys on your screen at the same time…followed immediately by IRL Tatiana Maslany). After the episode, the cast and creators came out for an amazing panel — one of the last they'll do all together, Jordan Gavaris noted, choking up. At one point, a girl in the audience told the story of how Cosima and Delphine helped her come out and live her best life, making Tatiana and Evelyne Brochu tear up and ultimately laugh and clap proudly when the audience member thanked them for leading her to become her "gay ass" self.
Afterward, I was invited to a BBC America after-party, held at what can truly only be described as Club Neolution. A man with one white eye lead me down a long tunnel, with phrases like "I'm not one, I am a few, no family too, who am I?" scrawled across the walls, and all of the clones' voices echoing throughout.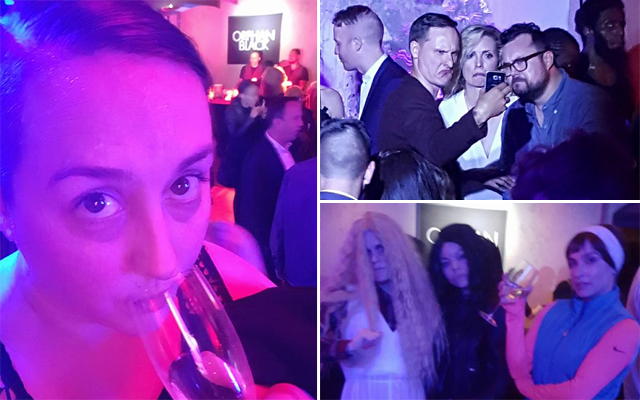 I entered Club Neolution, where I was handed a glass of wine and found myself in a room, quite literally elbow to elbow with John Fawcett, Graeme Manson (the show's other co-creator), Jordan Gavaris (Felix), and Maria Doyle Kennedy (Mrs. S.). Over a small balcony, I could see a dance floor that lead to a stage, where, when the Water Prayer Rasta Mix started playing, women dressed as clones recreated the Clone Dance Party. Next to that stage I saw Tatiana Maslany, smiling her shining smile, laughing away with friends and fans alike.
Honestly just standing there watching this all unfold would have been enough. I was hobnobbing with the creators of Orphan Black, THE Tatiana Maslany was in my field of vision, I watched Evelyne Brochu (Delphine), Kristian Bruun (Donnie), and Calwyn Shurgold (Hell Wizard) take a frowny-face selfie on the stage. At one point Evelyne was dancing in place while twirling her hair as she talked to a friend two feet away from me. I was in Orphan Black heaven, and I could have stayed in one spot and been happy as a clam all night.
But somehow — maybe it was partly the wine, maybe it was partly knowing that this was The Final Trip and possibly my last chance — I worked up the courage to make my way over to Tatiana Maslany and say hi. I told her I had been writing recaps of Orphan Black for the LGBTQ+ community for years, and thanked her for her continued support.
Part of me wishes we could have talked longer; I would have wanted to know how she was feeling, having finished filming, getting ready for the final season to air. I would have asked what she was excited for in the future. Our conversation was short, but we met eyes, we connected for a moment, and I got to thank her. Hopefully she knows how deep my gratitude — all of our gratitude — runs.
As Tatiana got pulled away by someone else, she looked back at me and smiled. "It was nice to meet you." It's a pleasantry, but it sounded sincere. And it felt like a neat little bow on the most perfect gift I could have hoped to come from this night.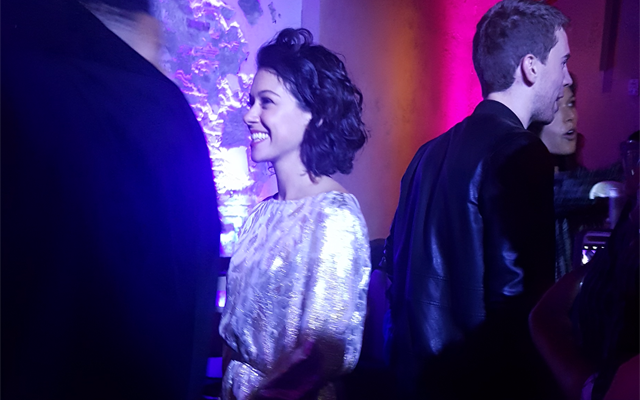 I know recapping TV sounds like a dream — and it is; it was my literal dream, and now I live it — but I would be lying if I said it was easy. Some weeks it is! Some weeks the words pour out like water from a faucet. And some weeks it's like sharing a bit of my liver; it's part of me but it doesn't really cost me anything. But some weeks are harder. Some weeks it drains more than that. It's hard to explain. Those weeks always end up being worth it, but it can be exhausting on a deeper level than the physical. But this invite was BBC America thanking me for cover the show for the past four years, and I truly felt appreciated.
When I started recapping Orphan Black, I had no idea what it would become. It was just a weird little sci-fi show I loved; would it be around for years, or would it be misunderstood and lost in the shuffle of the mysterious "peak TV"? But what it became was ground-breaking. It's one of the few shows to cover all four letters of LGBT at once, it puts and celebrates women at its center, it's dark but smart, and it lets each character be complicated and messy and real. It was unlike anything I had ever seen, and I was in awe of it constantly. (And I don't have to remind you how mind-blowingly talented Tatiana Maslany is.)
When the website I was writing recaps for unceremoniously dumped all its freelance writers, the first thing I thought was, "Am I losing Orphan Black?" (Also Wynonna Earp, but that's a discussion for another day.) Orphan Black had become such a huge part of my life, writing recaps included, and I didn't know what my life would look like without it. I met so many of my very best friends through the fandom, and writing about this show changed the trajectory of my life and career. It raised the bar for me, writing-wise, and I find myself constantly rising up to try to reach it. I saw parts of myself that I had never seen represented in Cosima — even little things, like talking with her hands or being consistently late — and my sense of self had become somewhat wrapped up in the show. What's more, I got to hear a small fraction of the stories from people whose lives were also changed by this show. It's a rare and beautiful understanding of the power of fiction we share, and I feel so grateful to be able to continue that sense of community here at Autostraddle.
I've had some of my favorite conversations with some of my favorite people about this show, and I look forward to continuing on in this vein. I can't wait for you all to see the episode, and recap the episode, and talk about the episode with you in the comments of that recap. We have four years of references and inside jokes and theories to discuss, so let's go on this wild ride together, one last time.
The new and final season starts this Saturday at 10pm EST on BBC America, and you'll find my recaps right here on Autostraddle dot com on Mondays.