The way I first started watching Orphan Black isn't a romantic one. I wrote for a different website back then, and had just started a few months prior to Orphan Black's premiere. I'd seen the ads for it on the subway, some commercials on BBC America, and had been interested, but hadn't even realized it started, to be honest. When my editors sent out a call for someone to cover the show after season one, episode five showed queer promise, I offered to take it on. I had wanted to watch anyway, and I had only been recapping Once Upon a Time so far, and thought it would be a fun challenge to write about a show with a drastically different tone.
I was assigned the piece on a Tuesday afternoon and ended up watching all five of the aired episodes on Tuesday night. In an email to my editor to let her know the general gist of my piece, I described the show as, "very witty, dramatic, mysterious — with three pretty badass chicks as the leads (all played by the same extremely talented and very attractive actress)" because my love was immediate and deep. I had been right — writing about Orphan Black was different from any other kind of writing I had to do; the show was smart and complex, and I had to find a way to write about it that was clear, but not too dense; even five seasons later it's sometimes hard to make these recaps not sound like book reports!
A few weeks later, I had an email interview with Tatiana Maslany, my first ever interview of any kind. I went to my first event as press the next year, before the second season started, at the season two premiere event in NYC, where I got to interview Evelyne Brochu and Jordan Gavaris on the red carpet. Right before the second season started, I organized my first fan meetup and met some Clonesbians who are now some of my closest real life friends.
A lot of things have changed in my life over the past four years, some big, some small. But Orphan Black was always a constant; it was the first show I'd recommend to people when they asked what they should watch next, it was a show people would directly send me news about because they knew how much I loved it. My friends who had never seen an episode knew Tatiana Maslany by name because of how much I talked about her. When the website I had been writing for unceremoniously stopped hiring its freelancers back, the way Autostraddle invited me to join their team was, "Will you come recap Orphan Black and Wynonna Earp for us?" (Supergirl came later.)
So I can't imagine what my life will look like without ten weeks of the year (okay fine, more than that) being dedicated to this show. Without theorizing about who is good and who is evil and if there's even such a thing as either. Without fearing for Cosima's life every time she coughs. Without forgetting Tatiana plays all the parts week after week, cast photo after cast photo.
And don't even getting me started on Tatiana Maslany! Tatiana was never shy about speaking out about feminism, she was a loud and proud ally of the LGBTQ+ community, she cared so much about this show and the characters and the people she was representing with each role she played. She was smart and kind and always the first one to give praise to her unseen costar, her clone double, Kathryn Alexandre. I met her for one brief and wonderful moment, and her eyes were so kind and her smile so genuine; she is truly made of magic.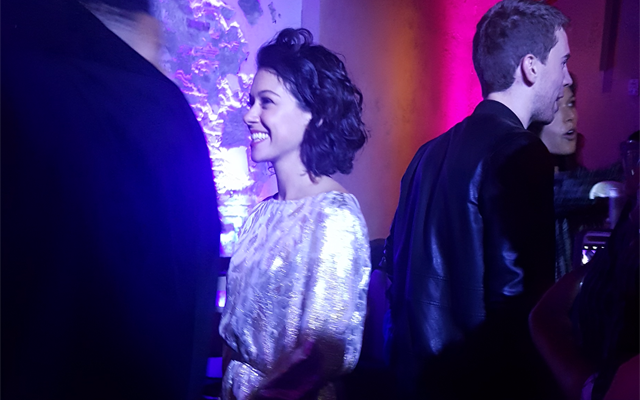 But before I officially say goodbye, we have one more episode to recap. An episode I've been dreading since the announcement, but that ended up feeling like wish fulfilment porn. I cried because I hate goodbyes, because I'm going to miss this show in my bones, but it was a beautiful hour of television.
We start with a flashback, Sarah in the car with Mrs. S.
They're outside a Planned Parenthood, and discussing whether or not Sarah wants to keep the baby. Sarah sounds defiant, like maybe she does, but maybe only because S thinks she doesn't. She's young and she's scared and S is just trying to be supportive.
Cut to present-day, with Sarah trying to get Helena out of the DYAD facility while Helena is actively having contractions. The alarm is sounding, and fucking Coady is still cheating death somehow. PT comes in and finds her and is pissed she let Helena waddle away. But Coady says Helena's water broke so she couldn't have gotten all that far.
And it's true, because Sarah and Helena are in a basement room and Sarah is putting down some cardboard as a makeshift bed for Helena. Helena doesn't want to have her baby here, amidst all the danger, but Sarah tells her that the alarm sounding is their people, that they're coming for them, that they're not alone.
And as if to prove the point, Art sneaks up on Enger, who is hunting down Sarah and Helena, and knocks her out.
PT is fading fast, getting more and more desperate as his health fails him, and says they'll have to do the surgery somewhere else because they can't isolate the mutation in this contaminated area. Coady doesn't love this plan but is a little scared of the ol' guy so she agrees. But first they have to find the girls.
Sarah starts to leave Helena to find medical supplies, but Helena begs her not to go. Sarah hands her a screwdriver and tells her she'll be right back, takes a pipe, and heads into the worst level of a video game where you have to sneak around in the dark and hope no one spots you. Luckily it's Art who finds her first.
Sarah sends Art back to be with Helena while she looks for medical supplies, so he gives her a gun just in case.
Coady follows Helena's blood trail to the basement door and goes in, wielding her gun and insults. PT wants to come see for himself but Coady says she needs someone who could actually help her, but instead of sending his doctor, PT kills him instead. It's chaos.
Art finds Helena and Coady thinks this is a perfect turn of events because now Art can be the midwife while she stands at a safe distance with her gun.
Meanwhile, Sarah is lurking around murder-tarps, trying to get medical supplies.
PT is lurking too, though, and confronts Sarah. He calls her and Helena "fertile freaks" as he moves through the plastic as a shadow. PT says they were the only set of twins they ever produced, and it turns out they only need the one. Sarah shoots blindly in the direction of his voice, and hears a grunt and a thud, but just when she thinks he's down for good, he lurches out of the shadows and starts to smother her with the plastic.
And listen. I thought this was it. It's the last episode, Helena's giving birth in a basement at gunpoint, I thought Sarah and Helena were going to die at the same time, leaving newborn twin babies in their stead. I was crying and crying and my heart was breaking but then!
Helena and Art take out Coady and get her to come close enough for Helena to scree-scraw her to death (for real this time), and Sarah throws PT off of her and says, "I survived you, we survived you, me and my sisters, together," then BASHES HIS BRAINS IN.
It was the literal opposite of what I thought was about to happen and my tears dried up on my cheeks and I punched the air, triumphant. Our girls won. Finally, finally stopped cutting heads off the hydra and stabbed it right in its stupid, cold, black heart.
So Sarah runs to help her sestra give birth, all the while having flashbacks to when Siobhan was by her side when Kira was born.
Sarah is echoing some of the supportive words S said back then, with an added "Meathead" or two, and laughs with joy the way S laughed when Kira was born.
The twins are born and crying healthy cries and Sarah, Helena, and Art are crying happy cries and it's beautiful.
Cut to a short time later, with the babies in their cribs with their homemade sestra-mobiles above them. One of the bbs has on orange socks and one has on purple socks and they're chubby and cute and Helena loves them so much.
Meanwhile, Sarah is Skyping with Cosima, who is talking to her about math, because Sarah's going to take her high school equivalency test, and it's the cutest sestra thing ever, and it's a miracle I didn't just die of feelings overload at this point.
(Though I'm glad I didn't because we're nowhere near peak feelings.)
Cosima (and Scott!) wish her good luck and she says goodbye as she sends Kira off to school. Felix will pick her up from school to take her to Auntie Alison's house. Because they're all one big happy family.
Over at Alison's, Donnie is calling the babies Orange and Purple and Alison is claiming Helena hasn't named them yet which I think is silly because Orange and Purple are lovely names. Donnie agrees.
Alison doesn't have time to debate over what words can or cannot be names though because she has to finish decorating for her sestra's baby shower. Just, being very Alison, new haircut and all.
Meanwhile, down the Rabbit Hole, Cosima and Delphine are trying to find more Ledas. Together. Girlfriends. Doing science. TOGETHER.
They've already given the cure to the clones they know of, including Krystal and Tony, but they're having a hard time tracking down the rest of them; especially since they don't even know how many there are.
Art is helping though, so they do have their next one, a woman in Colombia. (They actually say "Clone Club Colombia, we're all over the world." Which is beautiful.)
But it doesn't matter how long it takes, Cosima and Delphine are going to save them all.
Over at Mrs. S's house, Sarah is boxing things up to get ready to sell the house. She finds a card from S that makes me cry but she's being pretty tough. Felix comes in, a little upset that she's already packing up, without a real plan, without asking what Kira wants. But Sarah doesn't want to talk about it, reminds him to pick up Kira from school, and heads to the high school to take her test.
She gets a call from Helena while she's there, and tells Meathead she'll come to the baby shower of course, and that she feels weird being the only one here to take this test.
Sarah can hear S's voice in her head, a conversation they had, S telling her that to be a good mother she should try staying still, Sarah retorting that she doesn't need anything from S. Sarah decides then to walk out and not take the test after all, despite me yelling NOOO DON'T GOOOO at the screen.
Over at the baby shower, everything is playing out very similar to the way Helena dreamed it way back at the start of season three. Except now their family is bigger than she even imagined, and the babies are born, and everything is beautiful. Cosima got little science monkeys for the babies and shows up with Delphine and the sun is shining in the sky and in my heart.
And then in a moment of hilarity, Felix passes off the baby he's holding to Cosima and she PANICS.
Luckily Delphine is more comfortable with it, so Cosima coos at the baby from a safe distance.
Sarah heads to the baby shower and immediately goes to the fridge to grab a beer.
Delphine comes in and hugs her, because why not give me surprise feelings in the middle of the kitchen. Sarah spent so long (understandably) not trusting Delphine, Delphine spent so long fighting for Sarah (and her sestras) anyway, and here they are, having a moment alone together.
Delphine tries to express her condolences about Siobhan, that S taught her how to be brave, but Sarah doesn't want to hear it. She also doesn't want to talk about her test, even though, one-by-one, people are filing into the kitchen and it's their first question.
Felix excuses himself because he has a text and Colin follows him. Felix says he's expecting someone, on the downlow, and y'all I almost had a full-on panic attack. I thought it was going to be revealed that Felix has been shady/on the wrong side of this the whole time, and I was going to have to cry forever/never trust anyone again. I don't know why I kept expecting the worst! But I did and I was practically shaking with the fear of it until the moment it was revealed who he was talking to. And who he's talking to is Rachel, who came here in an Uber to make sure everyone is okay and to give Felix an envelope. When she asks about the babies, Felix reminds her that there's no way she would be welcome at this party, which breaks my damn heart, but Rachel seems more or less okay with it. She's had her fill of clones. Now she can go live in beach house made of windows and sip martinis to her heart's content.
Art comes into Helena's garage apartment and Helena admits that she's worried about Sarah. She's still so out of it (she has not mended) and Helena doesn't know how to help her sestra.
Inside, Sarah brought some of Kira's old toys, and Alison takes this time to tell Sarah that she doesn't want her to move. She says Kira has cousins now, that she's bonding with Gemma, Oscar, Maya, and Charlotte. That they can finally live like sestras, that they're finally free. But Sarah just grumbles that freedom looks different to everyone. When Alison pushes again, Sarah snaps and says she doesn't want to raise Kira in the house where her grandmother was shot to death. Which promptly shuts everyone up.
Sarah is sitting alone outside and, one-by-one, her sestras come out to sit with her. Helena asks her to open up, and sitting in this backyard with her sisters, finally together, finally able to relax, Sarah opens up. Breaks herself wide open, admits that she didn't go to her test, admits she feels like she's a shitty mother. Ever since she came back to the city, she's been able to blame these feelings on the whole being-hunted-by-various-organizations thing; anyone would have a hard time balancing that and parenting, right? But now there's no one left to blame it on, and she's feeling the full weight of the responsibility. And despite what her younger self said, she relied on Siobhan, she needed her support, she needed her help.
There's a moment of silence when her sisters let her hold this pain, but then they start jumping in. Alison admits that the other day she threatened Gemma for not cleaning her room, to the point she scared her. Helena admits her babies keep eating sand she can't find the source of. Cosima admits she's terrified of babies and doesn't feel maternal and doesn't know if it's because that's how she is and if so is that selfish, or just because she's scared?
Cosima holds Sarah's hand; the point is, they're all scared. It's okay not to be okay. Nobody — not a clone, not a human in this world has it totally figured out. It's okay to feel like you're failing sometimes, and it's okay to reach out for help. She's not alone, not anymore. Not if she doesn't want to be.
Felix joins his sisters, then, bearing the envelope he got from Rachel. It's a list of every single known Leda clone around the world. A complete list. Everything they need to cure them all.
And there are 274 of them. The thought of that is…sobering.
But Helena doesn't want them to dwell on that right now because she has something for her sisters, too. Her memoir is finished and she wants to read it to them. It's called Orphan Black, and Sarah thinks that's a stupid name for a thing. They all laugh about it and it's so perfect. It's such a wonderful way to pull us all in for one last group hug.
The story is one that has many beginnings but no end, she reads. And it starts when her sister Sarah stepped off the train and met…herself.
And then we do one of my favorite cinematic endings; a "where are they now" sign-off for our four main clones.
Alison is playing piano and Donnie comes home and dances for her, making her laugh.
Helena is playing with her babies in the backyard. Happy, safe. An angry angel no more.
Cosima is with Delphine in Colombia, inoculating that clone Art found for them, Camilla. Camilla is flirting with Delphine, because who wouldn't, and Cosima is hiding nearby so as not to spook her.
They still have a lot of clones to save, but they have a list now, and they're going to do it together.
These two have been through the ringer, haven't they? They started flirting; Delphine because she had to get closer to Cosima, Cosima because she knew Delphine was her monitor. But then real feelings bloomed, and misunderstanding after misunderstanding, some lies, some betrayals, some separation, some anger. But then a coming together, a working together, some trust and a stronger relationship. Stronger at the broken places.
Delphine was not just Cosima's girlfriend. She was always more complicated than that. And sometimes she wasn't even Cosima's girlfriend. Cosima was never the token lesbian — but she was never shy about the fact that she was one. She said literal lines that proved it: "My sexuality isn't the most interesting thing about me." and "I'm not going to apologize for my heart, okay?" and it wasn't and she didn't. They kissed and had sex and fought and exchanged "I love yous" and broke up and got back together. They were everything.
And hell if they didn't earn their happy ending.
Sarah is getting ready for a trip to the beach with Felix and Kira, still in Mrs. S's house. She pauses on the way out, looking back at this home she's decided to embrace, this life that might not be as crazy as the life-and-death she's been living, and might not be perfect, but something that's somewhere in the middle. Something that's hers.
And then she closes the door.
And that's the end.
I was so afraid this series finale was going to be a massacre. I thought Sarah was going to have to sacrifice herself to save her fellow Ledas, or it would end with another Helsinki-like event. But instead it was the breath of fresh air these girls have more than earned. It was the bad guys being defeated and good guys winning…and realizing that "good" doesn't mean "perfect." (And when every day the news makes it feel like we're losing, it's nice to be reminded that it's worth having hope, it's worth fighting.) It was four different versions of what love looks like, four different versions of happily ever after, four different-looking branches of one big family.
God, goodbyes feel so impossible. I guess it's not really goodbye; Orphan Black might be over, but Clone Club is forever. This show will settle onto that shelf in my heart where Buffy is, something I will always be referencing, something that will always be part of who I am in my core. So I guess this isn't goodbye. Not really. Not forever.
Goodnight, Orphan Black. You'll always be more than a show to me.