Hello and welcome to the second recap of the third season of Orange is The New Black which has all my friends in a binge-watching time-warp codependent relationship with Netflix. Hey, at least we're all in this together!
---
Flaca has bumps on her arms, obviously they must be crabs. She lists all the different ages she's been when crabs have taken over her body. Each year has a delightful, warm-hearted anecdote re: crabs. She tells this to Dr. Dude whom I've never seen before but when do I ever really pay attention to men? Anyway, back to the crabs which turn out to not be crabs because you don't get crabs on your arms. At least that's what Dr. Dude says. Flaca's shocked. She hasn't even had her arms near anyone's chacha. So how for she get bitted?
Dr. Dude runs off in a panic.
---
We flash to Flaca and Maritza on the Latina side of Prisonlandia ripping sheets off their metal cots. IT'S BED BUGS TIME. Dun dun dun dun dun dun dun dun BED BUGS! Sing it with me to the tune of the Batman theme song. Everybody now!
Maritza isn't phased. Like bed bugs for real? Or more like poison ivy? Or scabies? Or possibly an allergy to mashed potatoes? No, bitch, it's chinches.
Flaca takes a minute to give us Bed Bugs 101:
They don't live on you.
They live on your sheets, and clothes and shit.
Wash everything.
Flaca didn't give NOBODY bed bugs. Someone gave them to her.
Daya and Aledia stroll through San Litchfield. — How is Daya still pregnant? Have we talked about this? Riese, did you see how pregnant she still is? Is Daya ¼ elephant? We should have jumped into this season with a pretty little chubby baby but nope.
Anyway. Daya adds her fifty cents and a quarter water to the "is it scabies?" debate raging between Maritza and Flaca and everyone else. Her verdict? "Cooties are still cooties."
But where did the chinches come from? Daya's grubby little garbage pail sister? Maritza's waitressing job at a hotel in Miami? No. According to Aleida, they came from Flaca's "hairy chia pet poon" and they've been living in there since before Flaca got locked up. In fact, the very first bed bug breathed its first breath in Flaca's chia poon.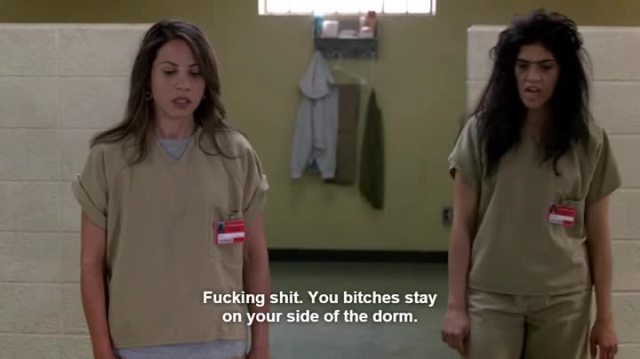 Word spreads like a bedbugs outbreak and Blanca demands that Flaca and Maritza stay on their side of the dorms. Gloria orders everyone to strip their beds. Aleida let's out a long fuck, the kind of fuck we all need to let out sometimes…
dun dun dun dun dun dun dun dun dun dun dun dun dun BED BUGS!
---
Red walks to her old digs with Piper. Before she turns the corner, she takes off her "sad clown" expression and throws on her "I'm a bad old bitch" face. Necessary facial changes, y'all.
Piper, the cherubic spawn of Polly Pocket and Dennis the Menace, is happy that Red's back. Red gives her the cold shoulder. Piper is a lying sack of weasels and Red doesn't have time for that shit. See, last season, when Piper got furlough because she's white, had political leverage, and there was a death in her family, she passed by Red's family business. It was shuttered. Instead of being real with Red, Piper, the lying sack of weasels, lied to Red and said business was booming. She lied to Red, y'all. So Red's pissed because her morose-looking sons and bumblefuck husband visited on Mother's Day and she knows something's up with the business.
Obviously in Piper's world, lying makes everything better. She's still figuring out how to live with consequences, jeez. Red takes two marshmallows and stuffs one in each ear. No time for this. None. Piper takes this opportunity to wax about her very real and firsthand knowledge of an exotic culture. This time it's Korean culture, next week it could be Indian. Who knows? As Piper speaks the language of her people, NPR-ese, Red calls bullshit.
Bullshit in Russian is "Bullshit."
Red calls Piper "a selfish little person" which is Russian for a "lying sack of weasels."
---
Next up we have Mendez's Stepford Mom with a Heart of Gold visiting ye olde jail.
Bennett has an internal panic attack over Mendez's mom visiting Daya's fam. Mendez's Mom admits to also having the fever for Latina Flavor, so she's totally down with this whole situation.
Pornstache loves ya, mami.
---
Mendez's Mom admires Aleida's Hispanic skin. But Aleida wants to know if bitch has her money.
It all boils down to Mendez's well-off white lady mom wanting to adopt Daya's baby and give it a better life. Daya's hood family will be no match for Mendez Gilmore of the Connecticut Gilmores. Aleida gets a cut, the baby gets a rich white family, and EVERYONE WINS. Except Daya.
Daya is gonna suffer bad emotionals her whole life.
---
Latinaville is bustling with bras and super comfy tighty whiteys. Since the bedbugs came from Flaca's chia poon, everything must burn or be washed.
Anyway here comes the mope-faced nebbish Bennett. He reminds me of a soggy bowl of Cheerios. I can't with him. He's in the dorms while they're undressed-ish even though only female guards are allowed.
Daya's still pregnant and in her underwear while they're having a super awkward and whiny conversation about the meeting of the moms. They flirt and it's gross not 'cause they're straight but because of his privilege and her imprisonment.
Daya's made up her mind. She's keeping her baby. Ooh, she's gonna keep her baby.
What will the women wear now that they've had to give up their clothing? Send in Office Depot's new fall line of paper bag hazmat dresses! Cue fashion show!
Caputo takes this moment to brush his scruffy whiskers against Bennett's smooth-as-a-baby's-butt-cheeks. He whispers, "It's me." Bennett stiffens, he pants, "Yes, daddy, I knew."
Caputo gives Bennett shit for stalking Daya and tells him that the way to deal with being around womenfolks is to choke ones chicken. Flog one's bishop. Jam one's jimmy. Just beat it. I could continue.
As the wisdom of men is passed on through the generations, Caputo is informed that they're out of construction paper uniforms. Enter Litchfield's first "Super Casual Friday."
---
Bennett's army days are in full flashback swing. He's as annoying as a soldier as we'd all expect him to be. Yes, sir, I'm ready to get in the shit, sir! Cue army-style slurs for Arabic people. Cue helicopters. Cue Bennett using his good old American charm to win over his superior.
Get yourself a snack and come back.
---
And we're back at the lesbian pajama party brunch, Bras-n-Panties v. Team Blue Scrubs. Everyone's scratching.
Scott and Wanda are grumbling about money. Caputo sends Wanda to pick up more Office Depot hazmat prom dresses for the inmates.
Let's take a moment to appreciate Maritza.
---
Black Cindy shoos away unwelcomed guests at the VIP table. In drops Poussey wearing a garlic chain, a black sports bra and cute grey briefs. I'm sure some of us took in a very deep breath when she walked into the scene. Ahem. — Also, who's the person sitting next to Watson? Cuz she made my heart skip a beat. I definitely paused and rewound to catch a glimpse of her again. Why can't life be more like Netflix? —
Poussey is wearing the garlic necklace she bought at La Botanica GloNo. It wards off the evil chinche spirits and offers protection as she fulfills her destiny as the Avatar.
But what everyone at the table really wants to know is why are the Latinas still making food with Flaca's chia poon if all the bed bugs came from there? PROTEINZ.
It's been three days since Black Cindy showered and I think she looks glorious. Taystee thinks that's the reason she's itching. Everyone else thinks it's gross.
Poor personal hygiene can be a sign of depression. Suzanne is a prophet.
Tits, pits, and naughty bits are really the only things that need scrubbing, according to Black Cindy.
Everything else can ferment. Like Pensatucky's old teeth.
Pensatucky's new teeth decided it'd be a good idea to sit at the Black Women- only table. Note: don't sit at the Black Women's Only table unless you have a permission slip signed by everyone already sitting at the Black Women Only table and everyone who's ever sat at the table and everyone who ever will sit at the table.
And THEN Pensatucky decides to go in on Vee. So she drops her white ass into their VIP table and then proceeds to shit upon someone who they have a complicated love/hate relationship with? Suzanne wastes no time in attempting to potato-whomp Pensatucky. Taystee calms Suzanne down so she doesn't get thrown into solitary.
Pensatucky is summoned to drive the jail to society prison shuttle. If you're nice, she'll also take you to In-N-Out Burger.
---
The scene ripple fades to Piper asking Alex whether she's hungry or not.
"I'm not standing in that parade of tits and ass." Well you knew what you signed up for when you agreed to be the Grand Marshall of the Reno Pride Parade, Laura Prepon. You knew!
Alex is convinced that there's a target on her back. She's worried about getting shanked in her sleep, rightfully so. And Piper, being the out-of-touch-basic-ass main character we're all forced to suffer, tells Alex that she'll survive and that the cockroach is her "spirit animal." Y'all can those of us who aren't Native stop calling things our spirit animals? Like I thought we all already knew not to do that.
Alex is over it too. She asks Piper to really think about what she just said and of course, Piper doesn't. Piper goes on and on about how awesomeness of roaches. Since Alex doesn't have a potato, she can't potato whomp Piper. Alex walks away instead.
---
Nichols and Big Boo notice a slew of early releases exiting the prison. They talk about drug smuggling. It's all very Breaking Bad. Bonus: Big Boo in a black sports bra too.
---
If you don't know about the ways oatmeal can spice up a spell, too fucking bad. Gloria's not about to share that knowledge. Actually, it's for the itching re: Flaca's bed bugs.
Bennett, once again abusing his power, corners Aleida in the back of the kitchen and questions her motives around meeting up with Mendez's Mom. Daya's there too. Still pregnant, btw.
Aleida breaks down MM's reason for wanting to adopt Daya's baby. She has a nice home, lots of money, and she feels guilty for raising Mendez. Together, the baby and Mendez's mom get a fresh starts. Bennett tries to interrupt but he gets the shut-the-fuck-up finger from Aleida.
Daya's still got time on her sentence. So does her mom. Grandma's too old. Cesar might use the baby as bait in a dog fight. What's a girl to do??
Daya's not sure if she's gonna keep her baby. But she also doesn't know that her moms just shook down Mendez's mom for a monthly allowance. Bloop.
---
Pages: 1 2 3See entire article on one page