Hello and welcome to the first recap of the third season of Orange is the New Black, which dropped six hours early, therefore saving Intern Nikki from watching Men in Black II with her parents because there was nothing else good on Netflix. Y'ALL THIS SEASON IS SO GOOD.
---
We open in a brand-new van with air conditioning and upholstery that doesn't smell like hot dogs and/or despair. Pennsatucky's at the wheel with an alternative lifestyle haircut that's evolved into a Mandy Mooreish situation. She's full of wise observations on buttering your muffin and, um, racist observations about crack. Maxwell and Wanda are unamused — which, as usual, is of no concern to Pennsatucky, who misses social cues like Ruth missed her actual cues in our 7th grade production of Joseph and the Amazing Technicolor Dreamcoat.
They're headed to CVS to get some sexy party gear for Mother's Day, because they're having a big celebration. It's the New Improved Litchfield, where humans are no longer treated like animals but instead like humans-resentfully-accepted-as-mostly-human.
FLASHBACK!
Young Pennsatucky is squirmy and hyperactive like a little monster — possibly 'cause Mom made her chug a bottle of Mountain Dew before their social security appointment.
So the deal is this: Pennsatucky's Mom cares about her kid because she cares about the size of her social security check. HAPPY MOTHER'S DAY!
---
Back in Litchfield, Red's been released from medical and is moved into where Rosa once lay dying, which's been transformed into a shrine Red now must deconstruct, much to Anita's brief despair. Then, to Anita's brief delight, Red offers up one of the Oxys she's got stashed away someplace special but again, to Anita's brief despair, Red's been stashing them in her cheek. Anita's not into cheeks, so.
Seriously, isn't anybody in this room on the market for some free hydrocodone? ANYBODY?
HEY-O!
Yes ma'am, somebody in this room needs some pain relief and her name rhymes with Phallic Moss.
---
Speaking of moss: out in the lush green yard, Caputo strolls along with a new counselor, Rogers, trying to show her "the ropes" while being repeatedly foiled by her superior intelligence and perception skills. She's gonna crack everybody wide open like an egg, isn't she? (Healy will remain poached, I assume, or else soft-boiled.)
Taystee shows up like an old friend we've missed since June 7th, 2014, but who is played by an actress whose off-season journeys into Leslandia kept us reasonably entertained on instagram in the meantime.
Then we're in the kitchen.
Gloria's doing her darnedest to do some egg magic on the Weeping Woman and generally being boss, as is her way, when Poussey shows up straight outta Saintlandia of My Heartsville. She's got an idea for Mother's Day game booth and before you ask, no, it's not cornhole.
They're gonna toss ping-pong balls into tiny bowls of water for prizes! Poussey's even gonna buy prizes for the kids from commissary, 'cause she's got a heart bigger than the world's largest intestine. But seriously, maybe someone should text Pennsatucky to see if she's still at Duane Reade and could possibly pick up some half-off Cadbury Eggs 'cause commissary shit is hella overpriced to be giving away. Like if you were at a basketball game inside a Renaissance festival inside a theme park inside an airport inside an airplane, whatever tootsie rolls would cost there, double that, and that's what they go for in commissary.
Poussey tells Gloria, "It's y'all's day, must be hard as fuck being in here when you got kids on the outside."
Gloria reminds Poussey to remember to call her mother, and Poussey's perfect face falls when she's gotta disclose that her Mom recently died. Oh girl, I feel you. So Poussey is standing there heart-deep in consuming fleeting grief and Gloria says she's sorry to hear that and then does that thing — that thing they all do on this show, in this world, where they're only allowed to express a certain small amount of care about the pain of anybody outside of their crew. Because empathy or sympathy is weakness, right? You can be polite and feel a little pang, but that's it, no matter how sad and soft and vulnerable a person is, you can't go soft too.
So Blanca's like, "I won a goldfish once in one of those games. Tequila, we named him. We gave him fruit loops to eat. Like 12 years that thing lived. Until my cousin Antoni ate him on a dare, fucking asshole." Same.
---
In the yard, Piper and Luscheck are building a mini-golf course for the party and talking ideal suicide methods when Luscheck lets it slip that "the hot one's back." Piper's whole emotional situation changes and she immediately requests the afternoon off. Her lesbian request is denied.
---
Over at Vidal Sassoon Litchfield, Sophia's prioritizing mothers who need haircuts, which doesn't include Moretti and her imaginary four children.
Moretti: I need this, I lost my van, I've been scrubbing toilets. Let me feel like a person!
Maria: You can feel like a person after I see my actual baby who came out of me and exists.
Moretti's chatty and desperate, sad, displaced: Sophia pities her, much to Maria's chagrin and says she'll do her up quick. Sophia's pretty excited herself about Mother's Day 'cause Michael's coming!
Moretti asks what that's like, being a "ladyman" on Mother's Day with her wife now dating a Pastor who's gonna get celebrated on Father's Day, and Sophia is all like:
Sophia: You really wanna call me a ladyman when I've got a fistful of your hair in my hand?
Moretti: Oh, I just thought it sounded nice. I don't know from these things. That's why I'm asking questions.
Then we smash-cut into a flashback of Sophia and her pregnant wife, back when Michael was just an idea and Sophia was keeping her secrets wound tight. They're so cute and so happy, just two expectant mothers on a couch giddy on hope and hormones, singing and rubbing feet and feeling like the future is still theirs for the taking.
---
Down in laundry, Angie's convinced that Nicky's been hanging out around there 'cause she's crushing on her. Leanne points out that Angie sucked a cock for a bag of ranch Doritos.
But nope, of course, Nicky's not there to show Angie her ass in some tan pants or woo her into some churchy cunnilingus — she's there to stare at the drugs in the vent. Which brings us to a LITTLE NICKY FLASHBACK!
Specifically, Little Nicky's staring at the muffins she's making for her mother, 'cause it's Mother's Day, and she's a kid who doesn't know yet that her mother is terrible. It's just her mother, and that's enough.
"She didn't even read my card," says Little Nicky after her Mom ignores the muffins and orders the housekeeper to dress her daughter so they can get through brunch at the Four Seasons with Grandma and then Mommy can go to the spa, alone. I can't even give you a screencap of the card situation 'cause kids doing cute things for other humans who don't appreciate the cute things BREAKS ME APART INSIDE.
---
In the Mel-Caf, Nikky's complementing Moretti's dark ripe fruits, which fills both of them with a type of temporary sanity, when Piper's wilted stalk of celery shows up with a black eye, much to everybody's delight and surprise and much to Alex's embarrassment.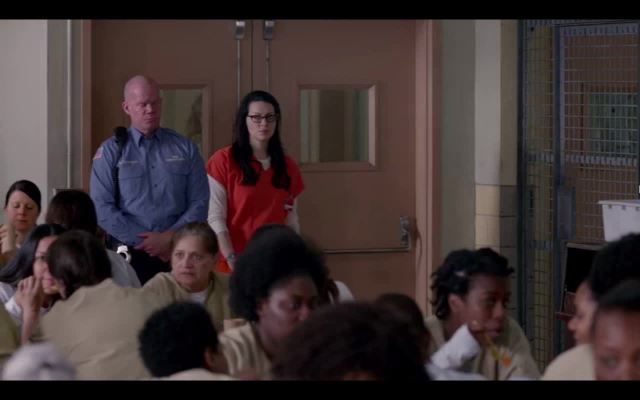 Piper's so damn happy to see her girl she can barely contain it, but she's gotta, 'cause Alex is in a bad way, and clearly wasn't, as I thought last season, hinting to Piper that she'd be safer in jail than on the outside and maybe wouldn't necessarily mind returning if it meant she'd stay alive. "Why am I here," Alex wants to know. What if we took a walk, Piper wants to know.
Nobody knows for sure what happened to Vee but Suzanne, for one, wants to believe that Vee's out there somewhere, scheming in the sunshine, perhaps once again plotting to emotionally manipulate Suzanne into confessing to a federal crime she didn't commit. Now Taystee's in charge of making sure Suzanne doesn't throw food at people.
This episode is flashing back like Quantam Leap, y'all, and now we're time-traveling back to Little Poussey in bed with her mother and oh sweet jesus mary heaven whatever I'm a Jew I don't know, sweet abraham issac and jacob, Poussey and her Mom are reading Calvin & Hobbes. Poussey is being Calvin and her Mom is being Hobbes!
Little Poussey looks like one of those girls who grew up too scrawny and hard and boyish for anybody to know what to do with her. Except her mother. Who loves her and is loved in return. And now she's dead and now we're sad.
---
Aleida, a name my various word-processing situations are determined to turn into another word, like "Allied," informs her daughter that she's already a mother 'cause her kid's already giving her pain and trouble and that's what motherhood is. Daya brushes her off, so Aleida comes back harder, snatching a stack of Daya's mail like there's gonna be a Delia*s catalog or a Good Vibrations commission check in there or something. But there IS a fancy letter from Connecticut!
It's from Mendez's Mom! She'd like to meet up and discuss the future of Asher Millstone Junior. Aleida sees money and wants it, but Daya wants none of it.
---
Good news, gumshoes: Boo's got a guy on the outside to buy the drugs Nicky's been staring at like Silent Bob at the Magic Eye kiosk. They've just gotta figure out a way to get said drugs out of the laundry room and into the greenhouse using something besides their vaginal canals.
---
Out in the prison yard / organic commune, the ladies of Litchfield have taken up a full moon circle. Welcome to the "kinder, gentler Litchfield!"
One woman is so inspired by the moonlight that she begins undressing! This is the best slumber party EVER. Meanwhile, Red's taking this opportunity to cover the greenhouse tunnel in cement and mark it RIP Vee. She's probs just shifting all her operations to Shopify or HelloMerch.
---
Healy's pissed that Rogers got hired, 'cause he's fundamentally opposed to the idea of Two Counselors One Prison Camp. Also he's racist and homophobic and misogynist and awful, but he's so pathetic in his awfulness that I can't even bring myself to actively demolish him with my words anymore.
So we flash on back to a Healy flashback: one small plump child with a breakfast tray for his mom, one mom scrawling on the yellow wallpaper, negotiating with nobody for a world only she can see.
Ah yes, this is where it all began — she throws an ashtray at him and then she wants to dance, and he's just trying to keep up. Happy Mother's Day!
---
Meanwhile, Piper and Alex are kinda-cuddling in the church, stroking each other's hair and talking about their Moms. Like how Piper's isn't coming for Mother's Day, and how Alex's is dead because remember that time her mother died and Piper left her? These two!
Alex thinks her Mom is probably looking down on her from heaven vomiting angel dust. That's what I'd do if my daughter was in That 70s Show. Have I talked about how much I hated that show yet. It was ALWAYS ON.
Alex is beating herself up for bearing arms when Davy Crockett came a-knocking, and Piper's plan to foil the despair with a little kiss is foiled by snot from Alex's nose. Alex is crying and cursing herself, and Piper is right there on the precipice of telling the truth but just can't. She's got this needy girl in her lap who's the only inmate semi-interested in entertaining Piper's ridiculousness. Plus, now Piper holds all the cards. Alex named her, so then she named Alex. And here we both are.
Piper: It wasn't you. It was the system. You got caught.. in the system.
Alex: I'm just a fly in the prison-industrial complex?
Piper: But at least we're in the same web, right?
---
Pages: 1 2See entire article on one page