Welcome to Oh Gay Cupid! Autostraddle's OkCupid series. We get lots of questions on Formspring regarding online dating, so we finally got a bunch of people together to talk about it. While OkCupid isn't the only online dating site for queers, and maybe isn't even the best, it does seem to be the one we use most often. We'll be discussing all things OkC, including meeting friends, first dates, profiles, fuck-ups, letdowns and more. Even though it's the 'OkCupid Series,' the advice given in this series could easily be applied to any online dating site.
 Oh Gay Cupid! illustrations by Rory Midhani
+
Twenty-One Signs Your OK Cupid Date Isn't Going Well
(As Taken From My Life)
Why does this shit always happen to me?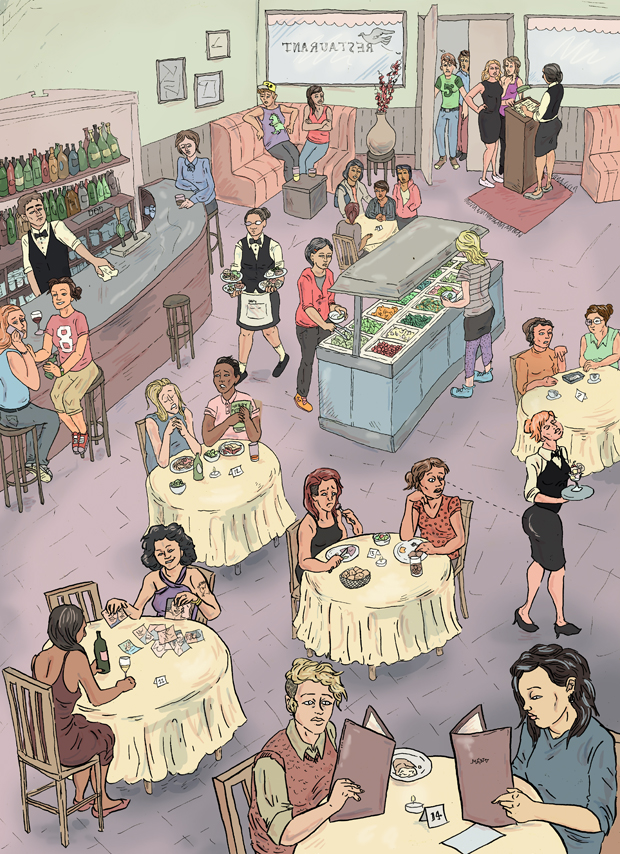 1. "Oh my God, do you want to see the staph infection on my crotch?"
2. She isn't upset that the American Girl Doll Samantha is being retired.
3. You meet her mom and sister in the first two hours.
4. [In bed] "Wow… two girls in bed… it's just so many men's fantasies."
5. A bird poops on your head.
6. "I prefer AfterEllen."
7. "So… are you paying for this or what?"
8. You have to call Rachel to pick you up because your date won't let you leave.
9. "Oh god I hope you're not a theater person."
10. "My date earlier today said…"
11. She's just returned from a month-long european vacation that she went on with one ex and stayed with another ex.
12. "Aren't we a little old for Harry Potter?"
13. "I think our relationship doesn't necessarily need to be super sexual. It can be a deeply passionate relationship of the mind."
14. You both stare in silence at the menu for over 20 minutes.
15. "It's not that I like her better than you…"
16. "I don't usually tell people I'm gay because I don't want them to think I'm a feminist" [eye roll].
17. She open's her wallet to pay the bill and there is still a picture of her and her ex together in it.
18. They decline a ride home during a snowstorm.
19. "I don't really read, you know?"
20. [Post-kiss] "Sorry I just don't feel anything."
21. "Don't worry, if your anus ever prolapses I'll pop it back in for you."