Learning to feed yourself can be one of the most terrifying things. Am I about to give myself food poisoning? If I eat this too often will I end up with scurvy? How can I get the most nutritional bang for my buck? Why does this still taste like ass?
With Ode to My Pantry, learn to navigate a grocery store without having a meltdown in aisle three. Give a man a fish and feed him for a day, teach a queer to cook and stave off malnutrition for another semester.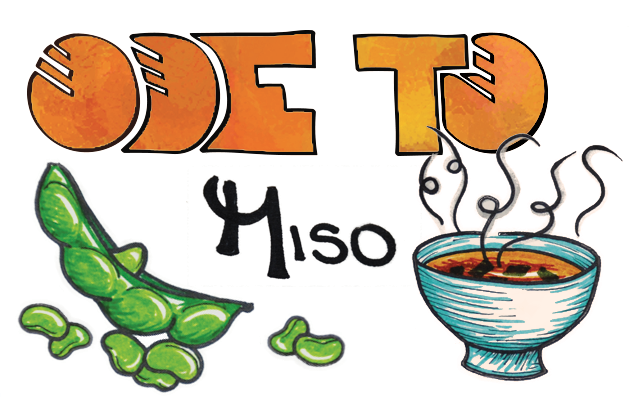 ---
Every lunch hour a coworker will say, "Ooh! What is that?" and I just kind of blankly stare at them and say, "Leftovers?" I think they all imagine I'm fancy and/or schmancy because I have a different cardboard-box-less dish each day. Truthfully, I'm sure they spend more time looking through the freezer section for the "best" 100 calorie "meal" than I spend cooking. I just want to shove my face full of something tasty so I can hibernate until the morning without waking up to a grumbling tummy or scurvy symptoms.
One way to take the guesswork out of meal planning is ensuring your pantry and fridge are stocked with a variety of nutritious proto-sauce and soup bases. If you know that everything you have stocked is vaguely balanced in the macro/micro nutrient department, you have one less thing to worry about. Miso paste is on the top of my list when it comes to Versatile Kitchen Things because it's a complete protein, tasty as fuck and I don't go blind reading its ingredient label.
In its simplest form, miso contains nothing more than water, soybeans, rice and salt. Ferment and age said mash with a variety of yeasts and bacteria and you're left with a paste the texture (and sometimes colour) of peanut butter. I have no idea who saw its primitive form and said, "Gee, that pile of possibly molding beans and rice looks tasty" but I'm glad they did.
When you're looking to buy your paste (which you'll find in a refrigerated section typically stocked with Asian goods or soy products) you may find yourself staring at a daunting wall of brown tubs. Stay away from brands that contain preservatives, colouring agents or synthetic flavours. Other than that, try your luck until you find something that suits you. You Chew You. If your palate is sensitive to overly robust flavours, start with a sweeter white miso (shiromiso) that contains a high proportion of rice to beans. If you prefer whoop-you-in-the-ass flavour go for red miso (akamiso) that contains less rice or even soybean miso (mame miso) which forgoes grain all together. If you're salt-sensitive choose a low sodium variety so you don't misout on the goodness.
Compared to the other stocks and bouillons you may love, miso brings more to the table than salt. (Although keep in mind that it is quite high in salt.) It's also a great source of vitamin K, manganese and all of the essential amino acids.  You're going to benefit from all of the lovely byproducts that Lactobacilli, Pediococci, Torulopsis, Zygosaccharomyces made while they were snacking. On the crude side of things, they break beans' tummy-trouble inducing carbs into digestible pieces. They'll also break apart proteins and fatty acids to liberate  flavour compounds that are simultaneously rich, salty and savory.
You could do a lot worse than miso soup when you're making your next meal. Throw in extra veggies, eggs and noodles to make a heartier soup or use it as the base for your next stew. Better yet, make soup an event instead of an appetizer by having a hotpot for your next dinner party. Everyone gets to partake in the cooking experience and no one can blame you when they give themselves food poisoning! Win-win! The hardest part of hotpot (if there is one) is finding a heating device that your friends can crowd around. After that you can prepare the broth and leave your friends to procure the other ingredient such as:
Thin cuts of beef, pork or other animals
Choi, mushrooms, daikon, carrots, broccoli and other veggies
Tofu
Eggs
Noodles or rice cakes
Surimi, fish paste or other seafood type objects
Dumplings
Whatever else you think you see in this illustration.
If béchamel, hollandaise, velouté, tomato and espagnole are 
the five mothers
 because they give rise to other sauces, miso is the aunt since it
also
makes a family of sauces but is way less demanding. It's really difficult to wreck and/or disappoint a miso-based sauce. The paste is already an emulsion so if you can work a fork, you can make a sauce.
Are your greens too naked? Just thin miso with a bit of boiling water to make a dressing when you're crunched for time. You can also team it up with mirin, soy and rice wine vinegar if you want a more well rounded flavour.
Wanna top a bowl of fries/noodles/rice/carby type objects? Try your hand at the Naam's miso gravy.
Need to impress your friends? Take a cue from David Chang and simply add butter to the equation. Blend room temperature butter and miso into a homogenous paste, apply it to your finger and lick it off your hand. Or if you prefer to be more civilized, add it to steamed vegetables, noodles or the Best Grilled Cheese Sandwich ever.
Everyone has
their own
 take 
on miso
, so experiment to make your own signature sauce. Then give me suggestions because I always need more ways to impress/confuse my coworkers.