Learning to feed yourself can be one of the most terrifying things. Am I about to give myself food poisoning? If I eat this too often will I end up with scurvy? How can I get the most nutritional bang for my buck? Why does this still taste like ass?
With Ode to My Pantry, learn to navigate a grocery store without having a meltdown in aisle three. Give a man a fish and feed him for a day, teach a queer to cook and stave off malnutrition for another semester.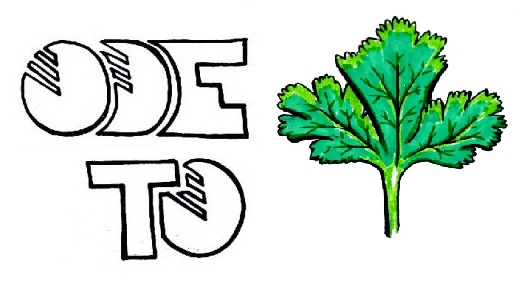 Cilantro is one of those polarizing foods that other people can't seem to understand. Given enough time, vegans, vegetarians, pescatarians, carnivores and omnivores learn to appreciate one another, but all that built up respect flies out the window once you invite that little green thing to the party. Friendships dissolve, relationships fall on the rocks, family dinners become tense and suddenly you're wondering if you even understand the person you're breaking bread with.
My hatred was learned through a highly traumatic summer. I think I was five when my mom's green thumb was exceedingly prolific and my visiting grandmother decided to put it to good use. Shu mai? Let's put cilantro in that. Fried rice? I'll add some there. Eggs? Yes, cilantro worthy. And hey, let's make it into a salad too. Then, let's spend the rest of summer dehydrating the herb garden so the house reeks of cilantro for days on end. Then you and your sister can painstakingly remove each crispy leaf from the stems until you fingers are tainted with an odor that makes you want to hurl! 
There are enough feelings to inspire a community that expresses their disdain through verse!
Taste of Soap? I wish!
More like an aged skunk carcass
Soaked in gasoline.

oy! such a flavor
too bad it's so repulsive
greatly overused

A certified chef,
even I cannot bear it;
the foulest of herbs.

Why ruin salsa?
Mexican food was once great.
Today, not so much.
I would have gladly displayed this mug and I wouldn't be alone. It seems like every scientist that hates the green stuff wants to prove that there's reason behind their fussiness. A survey of 50,000 people found that cilantro distaste is tied to a genetic polymorphism that's situated near genes related to smell receptors. These smell receptors specifically bind aldehydes, a chemical structure that's also responsible for soap. So while some people will happily munch away on their guacamole, a lot of people can't stop thinking that someone washed their avocados with Palmolive.
If you have an aversion, you can just avoid it right? Sounds easy enough, but sometimes you end up in this situation.
I hate cilantro
but my girlfriend loves that shit
so unfortunate.
What could you do? Vow to eat separate meals for the rest of your lives? Sell off the cat and start moving out now? Both of you should put down your U-Haul rental forms and reassess the situation before you have to raise the white flag.
Harold McGee, one of my favourite writers, 'fessed up to being a soap-taster. Instead of simply grimacing and writing the herb off, he spoke to Jay Gottfried, a neuroscientist with a focus on scent.
I didn't like cilantro to begin with. But I love food, and I ate all kinds of things, and I kept encountering it. My brain must have developed new patterns for cilantro flavor from those experiences, which included pleasure from the other flavors and the sharing with friends and family. That's how people in cilantro-eating countries experience it every day. So I began to like cilantro. It can still remind me of soap, but it's not threatening anymore, so that association fades into the background, and I enjoy its other qualities. On the other hand, if I ate cilantro once and never willingly let it pass my lips again, there would't have been a chance to reshape that perception.
When it comes to the hated greenery, try and try again.
Keep It Fresh
If you're going to try to develop some positive cilantro memories, make sure you get the good stuff. Dried cilantro tastes funky, so either grow it yourself or grab it from your market. Look for bright green leaves without any yellowing or wilting. Stems should be turgid and roots unmatted.  Cilantro leaves don't tolerate abuse or cold since they're relatively thin and delicate. (I recently learned that cilantro can't survive two minutes in -20°C! Weak!) If you're out buying herbs this winter, make sure to insulate them for the trek home.
Once they're in your kitchen, pop them into a make-shift vase, cover them with a bag and stick them in your fridge. Pluck off leaves as you need them and be sure to change the water if it gets murky. Keep your plants perky as there's nothing grosser than slimy herbs. Wash your leaves right before use to prevent them from becoming sludge.
Try 
Now that you own a plant that you hate, how should you approach your adversary? Look to other cultures that use cilantro and just put in a little bit to build up a tolerance and/or appreciation. Guacamole? Pho? Lentil dal? Give it a go.
Try Again
One way to combat the soapy flavour is to allow the plant's own enzymes to break down the aldehydes. Chop up your cilantro as fine as you can and walk away as it cannibalizes itself. Make use of your plant puree by pulverizing it into a pesto.
No Seriously, Try Again
If you can't fathom eating a dish with cilantro as the star ingredient,  try a slow stew like ghormeh sabzi (green stew). Cilantro's bite is counterbalanced by the other herbs and spices while the long cooking time drives off a lot of cilantro's volatile oils.
Admit Defeat
Sometimes you just can't overcome your nature with nurture. If cilantro still leaves a bad taste in your mouth, relegate the herb to garnish. Your cilantro-philic girlfriend shouldn't be too disappointed, since cilantro tastes brightest when it's finely chopped and added last minute. You can also use parsley, Vietnamese coriander, basil and celery leaves as mediocre substitutes. They won't taste the same, but that's kind of the point.
So what camp do you fall in? Cilantro-philic or cilantro-phobic? And have you ever ruined a relationship because of it?