Header by Rory Midhani

---
It's been four days since news broke of the devastating Pulse shooting in Orlando, and our community mourns. I hope you're all taking care of yourselves. The chosen family open thread and safe space is still going strong. There's also a lot of QTPOC-specific support going on in The Speakeasy on Facebook.
For personal reasons, I often find engaging with social media after mass shootings to be too overwhelming. I want to show up for the victims, I want to amplify Latinx and Black voices, I want to bear witness to and hold space for queer and trans grief and rage. But I don't want to hear all the details about how scary the shooting was. I don't want to see photos of panic, of carnage, of bodies lashed to stretchers and paraded in front of red and blue police lights. I don't want to see the shooter's face, or speculate about his sexuality, or debate what role religion played in all this. And it's okay that other people do want or need some of those things. I just can't.
I don't want to take away from our remembrance of the victims, celebrating their lives and grieving their loss— that's super important and should be absolutely central right now. But as an aside, one thing I've personally found comfort in is thinking strategically about what we can do to keep this from happening again. So if anyone else finds strength in that, I want to hold space for that. Here's a place for us to talk about gun control and its complicated intersection with race. Family only.
Scientific Research vs. the National Rifle Association of America
My original thought here was to provide a list of scientific studies relating to the efficacy of gun control (this column is about science, after all). As it turns out, however, there really aren't that many. As a direct result of NRA lobbying, public safety research into guns has been overwhelmingly suppressed for the past 20 years.
According to Scientific American,
The problems began when investigators funded by the U.S. Centers for Disease Control and Prevention found that having a gun in the home tripled the chance that a family member would get shot. Outraged that reality was not falling into line with presuppositions, then representative Jay Dickey of Arkansas added language to federal law in 1996 that barred the CDC from conducting research that might be used "to advocate or promote gun control.wp_postsThis deliberately vague wording, coupled with a campaign of harassment of researchers, effectively halted federally funded gun safety research.
Dickey's amendment also stripped $2.6 million from the agency's 1997 funding — the exact amount that the CDC had spent on a fledgling gun violence research effort the previous year. In 2013, Congress extended the law to prevent the National Institutes of Health (NIH) from researching guns. President Obama responded by issuing a presidential memorandum to the CDC to do studies on gun violence, advising that it did not break with federal requirements. The CDC resisted, concerned that Congress would punish them anyway by taking future funding away. Though they have since released studies on the topic, the NRA's political clout and history of researcher harassment has truly made conducting gun-related scientific research an uphill battle.
It should also be noted here that research around gun control is largely based on theoretical models and case studies. For obvious reasons, scientists are unable to design experiments where human lives are knowingly put at risk. This doesn't mean that all research conclusions about gun violence and gun control are invalid; just that there are limitations due to the subject nature, and that it can be difficult to identify significant results that would have broad applicability.
The Effect Of White Supremacy
Although we're now beginning to see scientific research trickle out of federally funded organizations, one thing to keep in mind as new information becomes available is the inextricable link between gun control and anti-Black racism throughout American history. Scientific research can never be truly politically neutral so long as there are human beings involved, and I find this is particularly true when unconscious racial bias is involved. Some of the earliest gun control measures in this country were used to restrict Black access to guns, and as recently as the late '60s, white conservatives supported gun control as a method of keeping civil rights groups such as the Black Panthers in check. Today, although people of all races are allowed to carry guns, there's still a pernicious racial double standard at play. When a white person carries a gun, our cultural narrative frames them as motivated by zeal for personal defense and individual rights. They're eccentric, perhaps, but an accepted part of our democracy. In contrast, when a Black person carries a gun, our cultural narrative frames them as criminally motivated, usually linked to a gang. They're seen as aggressive, imminently dangerous, and an overall threat to society. People of all races have internalized this story, to devastating and lethal effect.
I mention this context not to imply that gun control is a racist concept — I don't think it is, particularly in light of the fact that gun violence disproportionately harms Black and Latinx people — but because I want us to interrogate the ways in which white supremacy has informed our thinking. If we allow gun violence to continue blighting communities of color, we have failed. But if we enact gun control measures that aid the police state in criminalizing Black and brown bodies, we have also failed. Taking into consideration who in our community bears the brunt of anti-LGBT violence, we need to be particularly conscious of this as we collectively strategize and move forward.
Gun Control Strategies
Though strategies around gun control abound, there are three major categories of restrictions: dangerous uses, dangerous users, and dangerous guns. Let's break them down.
Dangerous Uses
What is this?
"Dangerous use" controls seek to limit the times and locations where guns are allowable. Examples include laws prohibiting concealed weapons, or bans on guns in airports, schools, churches, courthouses, or across state lines.
What does science say?
Not much! There's a tiny bit of research on concealed weapons (most of which says "it seems like there may be other factors at play" and "we need more research"), but I wasn't actually able to locate a solid scientific paper relevant to the other types of laws. If anyone finds one, please list it in the comments and I'll update this so we can discuss.
Okay, what else?
Logically, it makes sense to me that we wouldn't want to allow guns in some spaces — there are countless people feeling upset and desperate in courthouses, for example, which becomes a serious safety issue if guns are present. But is this the most efficient way to lower murder rates? I'm skeptical. Not opposed, necessarily, but skeptical. I wish someone would do a good study on this.
Dangerous Users
What is this?
"Dangerous user" controls seek to limit which people are allowed to have guns. This includes items such as minimum legal age requirements for handgun purchases, and background checks that ban people from buying or owning guns if they've been convicted of any felony or a misdemeanor crime of domestic violence; been subject to a final domestic violence restraining order; been a fugitive from justice; been involuntarily committed to a mental institution; or been addicted to or arrested for having controlled substances.
What does science say?
Okay, what else?
A common argument against background checks is that the creation of a national gun registry will constitute an unacceptable invasion of privacy. Such a registry does not exist, and in fact, federal law already bans the creation of such a thing. Currently, there is only one gun tracing facility in the whole country, and the way they store gun sales records is extremely low-tech.
A more legitimate concern, I think, is that background checks do not lead to race-neutral outcomes. Black people are incarcerated at particularly disproportionate rates, and are thus less likely to pass a background check. Do we accept that overpoliced Black communities should have a more difficult time accessing guns than white communities? In the long run, does this manage to prevent deaths or benefit communities of color in other ways? Would a greater benefit be achievable by funding programs to directly address urban gun violence? I don't know the answer here, but I do know that POC need to be major players in the policy creation and decision-making process.
It should also be noted that at least half of people committing gun crimes do not meet any of the prohibiting conditions under federal law. While the evidence clearly shows this category to be effective at preventing some gun deaths, it's a long way from solving the problem entirely.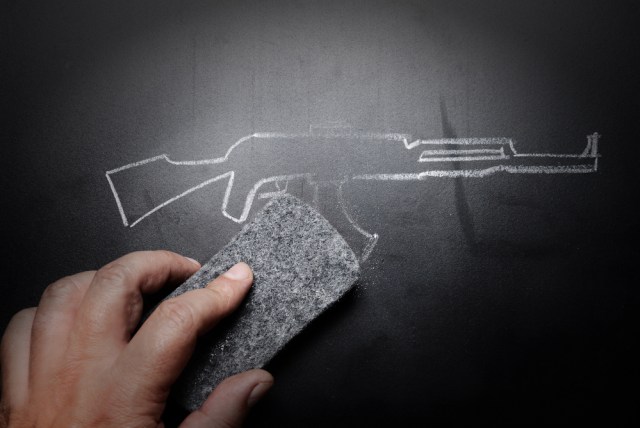 Dangerous Guns
What is this?
"Dangerous gun" controls seek to limit overly powerful gun technology. For example, banning automatic weapons or ammunition feeding devices that hold 10+ rounds of ammunition. Efforts to implement "smart guns" would also fall under this category.
What does science say?
In a government study following the 1994 federal ban on certain semiautomatic assault weapons and large capacity ammunition magazines, it was found that the share of gun crimes involving automatic weapons declined by 17% to 72%. This decline was offset, however, by increased use of other guns with large capacity magazines. We can postulate that results would have been better, had the law been less easily and legally circumvented, but alas. That's not what was actually done. So for now, there's no clear evidence that this works.
Studies that include more recent data have come to the same conclusion.
Okay, what else?
Individual gun ownership is often talked about in terms of freedom — the idea being that guns serve as the ultimate guarantee of liberty, therefore stronger guns are even stronger protectors of freedom. Here's an editorial breaking down why that doesn't make logical sense.
Also, there's been a lot of discussion recently about banning AR-15s, the semiautomatic assault rifle that the shooter was initially reported to have used in the Orlando Pulse shooting. This turns out to be incorrect (he used a different type of assault rifle), but it's still fucking horrible. Experts suggest that legislation focusing on banning all large capacity ammunition magazines would have a bigger impact than restrictions based around specific gun models. Again, however, this particular fix would not be impactful in addressing day-in-day-out urban gun violence (mostly carried out with handguns), which accounts for the majority of gun-related deaths (mostly young Black and Latinx people). But it could have an impact on deaths from mass shootings, and that's also important.
What's next?
While any given gun control law is bound to have a weakness in some area, on the whole, restricting access to guns results in fewer gun-related deaths. Multiple studies have shown that more guns = more homicide. In a 2013 study published in PLOS ONE, Dominik Wodarz and Natalia Komarova showed the effect of gun availability. "The key insight [of the study] is that there are essentially two perfect worlds, one in which no one owns a gun (meaning no one is able to attack) and one in which everyone owns a gun (meaning no one is willing to attack)," another researcher wrote in praise of their work. "In between, we get the worst of both worlds because some criminals have guns and they choose to use them. This means that the effect of gun availability is crucially dependent on where we sit between these two worlds." I don't know about you, but my takeaway from this is that any approach resulting in decreased gun availability will save lives. We just need to determine which methods are both effective and acceptable. For everyone.
Perhaps more importantly, though, we need to address homophobia, biphobia, transphobia and racism. Gun control is a good first step in decreasing the number of deaths in our community. It doesn't stop people from wanting to kill us, though, and for people with intersectional oppressed identities — such as the clubgoers at Pulse on Latino night last weekend — it may not be enough.
I'm sad about what happened and what's happening. I don't have the answers. I'd really love to hear your perspective in the comments.
---
Notes From A Queer Engineer is a recurring column with an expected periodicity of 14 days. The subject matter may not be explicitly queer, but the industrial engineer writing it sure is. This is a peek at the notes she's been doodling in the margins.