Header by Rory Midhani
Feature image via shutterstock
---
I got a promotion this week at work! After asking for one! Woooooooo!
Lady Scientists
+ Sarah Tesh at the International Conference on Women in Physics in Birmingham
+ Genetta Reeves: Valedictorian to financial analyst to first year DeKalb math teacher
+ Wonder Women: Celebrating Female Heroes of STEM
+ Alyssa Carson, y'all. 15 years old. Probably going to be the first person to go to Mars.
+ Unsung: Marie Maynard Daly, The first African American woman to earn a Ph.D. in chemistry made important scientific contributions to the study of cardiovascular disease.
+ I contributed to our career path roundtable, in case you missed it and want to read about a whole bunch of fabulous writer types and one weirdo engineer
+ This is from 2014, but I think you might like this open letter to brogrammers:
Yes, you read that right. Ada was so fucking baller she wrote code before computers had even been invented. You think you're hardcore because you can use agile development strategies to link a big data repository to a high-performance querying front end without SQL? Pfaff. This woman invented coding before there was anything to code on.
Meltdown
+ US federal department is censoring use of term 'climate change', emails reveal
+ I don't know, do you want to watch some things blow up together? I feel like I can't even read the news anymore.
https://www.youtube.com/watch?v=H93bgnTmb0s
Geekery Grab Bag
+ People Are Falling In Love With A Video Game Mouse Who Uses Sign Language
+ Why do you need to apply sunscreen before sun exposure? De-emulsification!
+ What Made the Moon? New Ideas Try to Rescue a Troubled Theory
+ Tolkien's Map and The Messed Up Mountains of Middle-earth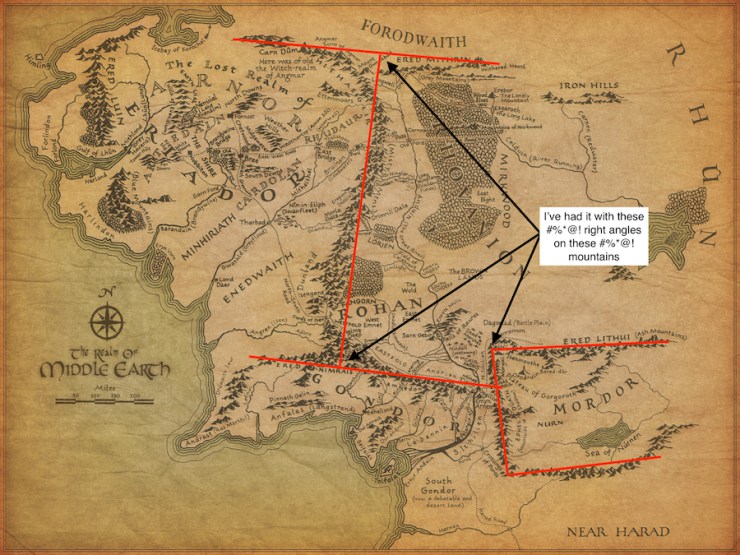 + There's a really fascinating piece in the New York Times Magazine this week about the loyal engineers steering NASA's Voyager probe across decades and space. Straddler Jo tipped me off, check it out!
At the mission's outset [in the 1970s], the flight-team members were mischievous kids. They relieved stress with games and pranks: bowling in the hallway, using soda cans as pins; filling desk drawers with plastic bags of live goldfish; making scientists compete in disco-pose contests. Now, by 1990, they were older, with kids of their own. They had experienced the deaths of colleagues and watched others' marriages falter as a result of long hours at the lab. With no planets to explore, they spent the decade doing routine spacecraft maintenance with a fraction of their bygone manpower. Six of the current nine engineers were on the team then. Sun Kang Matsumoto, who joined the mission in '85, studied so diligently to master the new roles pressed upon her that her sons learned the spacecraft contours by osmosis. When her eldest was 8, he surprised her with a perfect Lego model; now in college, ''he calls and asks, 'How is Voyager?' Like, 'How is Grandma?' '' Matsumoto says.
Can't Hold Us Down
+ Why we need to end the culture of "Cultural Fit"
+ Right Here, Right Now: 27 Simple Actions to Support Women in Tech
+ I love this article by Yonatan Zunger on the Googler's manifesto, a dumbass thing a dumbass man wrote about wanting to exclude women from engineering because he misunderstands both gender and biology.
Essentially, engineering is all about cooperation, collaboration, and empathy for both your colleagues and your customers. If someone told you that engineering was a field where you could get away with not dealing with people or feelings, then I'm very sorry to tell you that you have been lied to. Solitary work is something that only happens at the most junior levels, and even then it's only possible because someone senior to you — most likely your manager — has been putting in long hours to build up the social structures in your group that let you focus on code.

All of these traits which the manifesto described as "female" are the core traits which make someone successful at engineering. Anyone can learn how to write code; hell, by the time someone reaches L7 or so, it's expected that they have an essentially complete mastery of technique. The truly hard parts about this job are knowing which code to write, building the clear plan of what has to be done in order to achieve which goal, and building the consensus required to make that happen.

All of which is why the conclusions of this manifesto are precisely backwards. It's true that women are socialized to be better at paying attention to people's emotional needs and so on — this is something that makes them better engineers, not worse ones.
Do Make Say Think
+ A list of Diversity in Tech Conferences you could go to
---
Notes From A Queer Engineer is a recurring column with an expected periodicity of 14 days. The subject matter may not be explicitly queer, but the industrial engineer writing it sure is. This is a peek at the notes she's been doodling in the margins.