Limited Government, Unlimited Transmisogyny in NC
Earlier in this column, we reported on how hard Republicans across the country are doubling down on bigoted legislation that primarily harms trans people, from "bathroom bills" to "pastor protection" bills. This week, North Carolina and its governor Pat McCrory are taking the spotlight. Whereas most of the headlines we're seeing about this are about state legislatures trying to pass anti-trans bills, what's happening in North Carolina is the opposite. The Charlotte City Council passed an ordinance expanding protections for LGBT people — and Pat McCrory wants to have the state veto it.
Ironically, McCrory has previously actually spoken out in favor of local governments being able to decide their own laws about public accommodations access — in November, when McCrory thought federal legal actions might set a precedent for allowing trans people access to bathrooms that correctly match their true gender, he called the intervention of higher government "unacceptable and unnecessary." As often happens with the GOP, though, it turns out his concerns weren't really about unchecked government power — they were about making sure he could control trans people's dignity and safety in public spaces. Now that a more local government is acknowledging rights he doesn't think trans people should have, it appears he doesn't value limited government quite as much.
Does McCrory actually have the ability to reverse Charlotte's ordinance? The Miami Herald warns that "The legislature can vote to cancel North Carolina local government policies," but it doesn't seem that McCrory can veto anything on his own — he'll need to gather the votes of other state legislators if he wants to cancel Charlotte's ordinance. So far, it seems that Senators David Curtis and Jason Saine have said they'll back McCrory on the issue.
Politicians and Presidential Candidates
+ The Republican Senate, as predicted, is being a big bunch of babies about the fact that there's now a vacancy in the Supreme Court while there's still a Dem in office to choose a nominee, and are refusing to hold a hearing for Obama's nominee. Obama is still trying to take the high road about it, and "wrote a blog post appealing to the Senate's sense of fairness, law, and Constitutional responsibility." It appeared on SCOTUS Blog, my favorite website to get the most accurate and timely news on all things SCOTUS (dead serious). Will this change any Republican hearts and minds? Almost definitely not, but it's a classy move.
Who will Obama nominate for Republicans to have a tantrum about? We don't know yet! Here are six people ABC thinks it might be. Senate minority leader and Dem Harry Reid has apparently suggested Nevada governor Brian Sandoval, and "a source confirmed to CNN that the White House is vetting Sandoval, although he has not been actively involved in the process." The Washington Post has some further info on Sandoval, praising him for bipartisan success. The Bilerico Report wishes Obama would nominate Monica Márquez, a Latina lesbian judge.
+ An NYT investigation says that while Donald Trump frequently identifies himself with New York and links himself to it, he's not very influential there. Specifically, he has "failed to make a number of lists of the top developers in the city, does not belong to major trade groups, and doesn't have much of a relationship with any of the local politicians."
+ I had totally, totally forgotten that Trump University existed — yup, that Trump — but not only did it exist, it allegedly perpetuated fraud against its students. It's unclear as of yet whether Trump will be asked to testify.
The "university," which first began operating in 2005 and no longer exists, was not accredited and did not have a campus. It also did not give students degrees. Instead, students went to the website and bought expensive CDs and DVDs; some of them paid as much as $35,000 for their Trump University education. There are 72 witnesses on both sides of the case concerning Trump University, which has been going on for five years. Trump's lawyers have denied charges that Trump University defrauded students. Lawyers also argued the plaintiffs can't successfully claim that the online classes didn't have value, according to the Financial Times.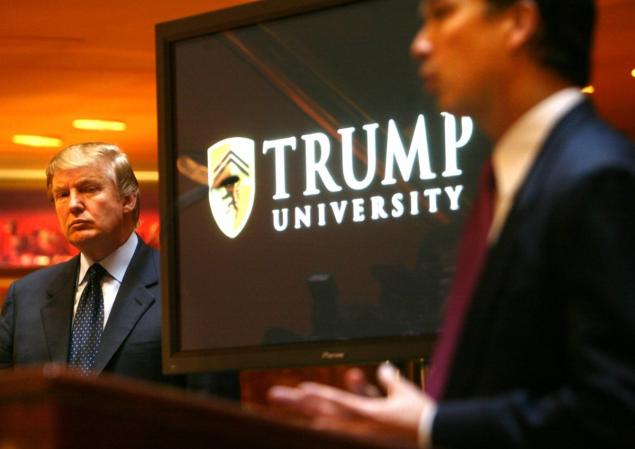 + Director Spike Lee is endorsing Sanders with a radio promo that ran in South Carolina using classic lines from his movies.
+ A piece at ThinkProgress on how the mothers of Trayvon Martin, Sandra Bland, Eric Garner, Dontre Hamilton, and Jordan Davis — all killed by police or died in police custody — are traveling with Hillary on the campaign trail to help make her case to Black voters.
+ A report from the Alliance for a Just Society finds that there are an unbelievable number of barriers to employment for formerly incarcerated people, and they primarily target Black and Latino men.
Law & Order
+ Texas College football player Carlton Ray Champion was sentenced to life in prison for the murder of Ty Underwood, a Black trans woman and his girlfriend, who was found dead from gunshot wounds in her car in January of 2015. Ty Underwood was repeatedly misgendered in the court proceedings; the motive for her murder "was reported to be jealousy on Champion's part."
+ Ammon Bundy and 15 others involved in the occupation of the Malheur Wildlife Sanctuary have pleaded not guilty to federal conspiracy charges.
+ Despite a number of headlines about shootings and mass shootings in the past week, not only is Iowa not passing any laws that restrict or control gun use, it's passing a law that lets children use handguns with parental supervision. I don't know what to say! I've lived in America my whole life and still just have no explanation for this.
+ In the trial of Elliot Morales in the murder of Mark Carson, a gay man in NYC, several witnesses testified they had heard Morales use homophobic slurs earlier in the evening.
+ Colleen Simon, a food pantry worker for the Catholic Diocese of Kansas City-St. Joseph has settled her lawsuit against the diocese, in which she claimed that while her employer knew she was a lesbian and married to her wife, they fired her after her marriage was written about publicly in the Kansas City Star. The St. Louis Post-Dispatch reports that Simon's lawyer said "The diocese did not want those matters discussed in court and offered a settlement."
+ President Obama signed a bill banning the import to the US of goods produced with the labor of slaves — "fish caught by slaves in Southeast Asia, gold mined by children in Africa and garments sewn by abused women in Bangladesh."
+ Legislators are not fans of the Clean Power Plan, a key aspect of Obama's environmental program, and which would call for reductions in carbon emissions by the electricty sector over the next 15 years. ThinkProgress reports that about two dozen Republicans are suing the plan.
+ In Utah, a Republican-headed Senate committee passed a bill that would take the death penalty off the table for those convicted of homicide. Interestingly, at least one legislator, Republican Mark Madsen, essentially cited a lack of faith in the US justice system as his reason for backing the bill, saying "If I knew they were guilty, I have no moral compunction whatsoever pulling the trigger, pulling the switch, whatever it is, but I don't have that level of confidence in government."
+ Wisconsin, the land of cheese curds and terrible Republican legislators and my current home, is considering legislation that would make it easier for debt collectors to take alleged debtors to court, and harder for individual consumers to pursue finding out whether the debts being collected on are even legit.
+ Oregon's state Senate is considering a bill that would require the state's two largest utilities to stop using coal completely by 2030. If passed, it would constitute some of the strongest environmental legislation in the US.
Police/Violence
+ Some current reporting at RawStory on the death of Joyce Curnell, a 50-year-old Black woman, in police custody in July. Curnell had been in the hospital for gastroenteritis and was dehydrated; while she was receiving medical treatment, someone notified law enforcement and they came to arrest her on a warrant for an older unpaid fine. Once in custody, she was taken to a housing unit, not to medical facilities, and there's no record of her being given any water or fluids; she died of dehydration. Her surviving family has filed a notice to sue the jail's medical contractor, Carolina Center for Occupational Health.
Health & Reproductive Rights
+ An appeals court has allowed a Lousiana law restricting abortion access to go into effect. It requires physicians performing abortions to have admitting privileges at a hospital within 30 miles of the abortion procedure, a requirement that's difficult to meet for many abortion providers and widely deemed unnecessary, intended more to tie the hands of abortion providers and keep them from legally providing services than keeping pregnant people safe.
+ Abortion clinics in the US are closing at the fastest rate since 1973! Neat! (No, it's not. It's not neat.) It's prevalent across the US, not just confined to the South or Republican-controlled states.
Data and Research
+ Have you been feeling undervalued today? Maybe it's because, like this new study says, queer women are less likely to receive callbacks for job interviews than their straight counterparts. The study uses resumes with "LGBT indicators," like volunteering with an LGBT organization, and tracks how those resumes perform as opposed to resumes without LGBT indicators.
If you're a Black LGBT woman, there unfortunately isn't much research focusing on your experience in the job market, but it's likely even more challenging than that of a white queer woman.
Cydney Brown is a senior psychology major and Swahili minor at Howard University, as well as the president of the university's LGBT advocacy organization, CASCADE, which stands for the Coalition of Activist Students Celebrating the Acceptance of Diversity and Equality. Brown is androgynous, masculine-presenting and prefers women. When she graduates, she hopes to work in the nonprofit sector, specifically working with groups that advocate for LGBT youth of color… "I started thinking about it because I'm masculine-presenting. The first thing I think about is, 'Are they going to be OK with the fact that I wore a suit and tie to my interview?' Most of the time, I come off as a black man, so there's already that dynamic. Once they realize I'm a woman, it's like a whole list of other factors has to go into this employer's perception of me," she said, noting she often worries about how to "navigate gender and professionalism."
+ One of the many, many hurdles to ending police brutality and state violence against people of color and primarily Black people is the lack of hard data on it — while anecdotal evidence from people targeted is clear, policy changes often have to be motivated by hard research (and even that isn't always enough to inspire change). Right now collection of data on police violence is pretty much only that which is voluntarily reported by police departments, a system with obvious flaws. But some people, like data journalist Vignesh Ramachandran, are trying to work around that system to create an accurate picture with data. For instance, an "interdisciplinary startup project at Stanford University called Law, Order, and Algorithms" uses demographic data collected regarding police officers' traffic stops to try to build an idea of who officers are stopping and why.
+ In a shocking statistic, a new government study finds that half of black men who have sex with men in the US are projected to be diagnosed with HIV, a probability 250 times higher than American men who have sex only with women.
Grab Bag
+ Carla D. Hayden has been nominated by President Obama to lead the Library of Congress. Her career includes years as the head of Baltimore's library system and an advocate for the privacy rights of library users.
If confirmed by the Senate, Dr. Hayden, 63, would be the first woman and the first African-American to hold the position, overseeing one of the world's leading repositories of knowledge and culture and setting the agenda for the nation's libraries.
She would also take the reins during a tumultuous period for the 216-year-old library, which has been without a permanent leader since September and has come to be seen as falling behind other leading libraries around the world, especially in its digital collections.
+ In Puerto Rico, openly lesbian judge Maite Oronoz Rodriguez has become the first lesbian to be the president of the Supreme Court and only the third woman, reports teleSUR.
+ In Southern Africa, Anglican bishops have declared that same-sex couples in civil unions should be full members of the organization. They are still declining to conduct same-sex marriages in church.
+ 19-year-old Nicholas Hawkins, who was out as bisexual, was killed this week after telling his mother he feared someone was trying to kill him. Now 21-year-old Joshua Adam Reese is being held as a person of interest regarding his death.
+ It appears that CPAC, the yearly conservative conference, is once again hiring actors for a "pimp and prostitute" gag at a party. I wonder if they think the founding fathers called for this in the constitution, too.
+ Newtown High School of the Performing Arts in Sydney, Australia will now allow students to choose what school uniform they wear, regardless of their assigned gender. Previously, students had to get permission from parents AND a psychologist to wear "cross-gender" uniforms.
+ A new classification by the Indonesian Psychiatrists Association, the leading psychiatric organization in Indonesia, says that LGBT identities should be classified with mental illnesses. This view is partially enabled by the World Health Organization, WHO, which stopped identifying homosexuality as a disorder in 1990 but "still relates several psychological disorders to an individual's LGBT identity."
+ At least 25 Black students at San Francisco's elite Lowell High School have walked out in protest this week to draw attention to racist experiences in the school environment (like a sign posted on a public billboard that read "Happy Black History Month, #Gang"), a lack of intervention by school faculty when racially motivated aggressions occur, and a lack of Black Lives Matter curriculum in class.
According to several students at the walkout today, some teachers intervene when they hear offensive remarks toward black students, but most don't. There isn't enough black history being taught at Lowell or discussions of police brutality or the Black Lives Matter movement, Davis and other members of the Black Student Union told Mother Jones. "We just feel like our individual complaints are not taken seriously by the school. So, we decided to take action together," said Davis. She added that today's walkouts were inspired by the national Black Lives Matter movement.
+ The Sydney Morning Herald has made an official apology for outing LGBTI activists in its pages in the 1970s, when it published the names, addresses and jobs of 53 LGBTI people who participated in the "unlawful procession" that was Sydney's first-ever gay pride event.
On 24 June of that year, around 500 people descended on Taylor Square in Darlinghurst in a show of solidarity for New York's Stonewall movement and to call for the Australian government to decriminalize same-sex sexual activity and end discrimination against gay people. The numbers swelled to around 2,000 during the day, and the protest ended up being broken up by police – with many of those involved being thrown in jail or mistreated. Charges against them included hindering police, resisting arrest and the use of 'unseemly words'. To make matters worse, the Sydney Morning Herald went on to publish the names, addresses and occupations of 53 of those involved for 'taking part in an unlawful procession'. Some subsequently lost their jobs. The treatment metered out to the group by authorities is now widely regarded as being unjust and discriminatory. Tomorrow, the New South Wales (NSW) Government will officially issue an apology to the 78ers, and the Sydney Morning Herald has today issued its own apology.
+ A piece on how rising sea levels due to climate change are threatening the homes of the indigenous Quinault Indian Nation on the Pacific Coast of the US.
For the Quinault Nation, which has lived next to the Quinault River and the Pacific coast just west of Seattle for generations, climate change raises more issues than for most communities. Their culture and economy depend on the bounty of the land, forests, rivers, and oceans that are behaving as differently as any tribal elder can remember. The glaciers that feed the rivers and support the salmon population — so integral to their livelihood — are disappearing. Forests on tribal lands are changing, too, as invasive species threaten critical resources. What's more, the waters that feed this ancient tribe have become unusually violent. In fact, intensified storms associated with human-caused climate change have brought the Pacific Ocean and the Quinault River over their seawalls recently with such force that tribe officials issued a state of emergency in March of 2014. They issued another the following January.
+ The Harlem Brewing Company, a craft beer brewery owned by Black woman Celeste Beatty, has gotten a distribution deal with Wal-Mart.