Although the Janelle/Lupita instagram stories have since expired, please note an important request coming through from Kate Leth: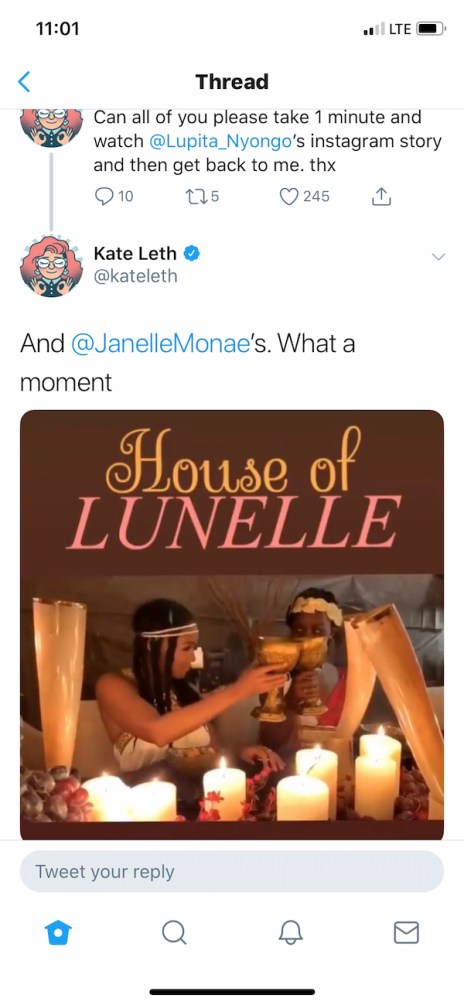 Luckily, somebody took screenshots:
LUPITA?! JANELLE?! "LUNELLE?!" pic.twitter.com/fWaYqFRDMI

— brooke (@darthvernon) May 20, 2019
According to Vapid Fluff Editor Stef, who is currently taking an unfathomably sadistic break from her duties, notes of the Janelle Monáe / Lupita situation: "listen i don't know what's happening but SOMETHING IS DEFINITELY HAPPENING and we don't know if they're dating (does janelle monae ever tell us for sure when she's dating anyone?!?!) but i honestly can't figure out how they possibly could NOT be. this is just science, i don't know how else to explain it."
---
https://www.instagram.com/p/BxtEiuCFrtD/
So I get that this is a "Game of Thrones" reference, but even without watching the show I can tell you that Janelle Monáe is VERY good at bending her own knee and is ???? probably ??? the mother of dragons?? Everybody on our team seems confident that these are thirst traps and that they are probably making Tessa Thompson feel a way. Also worth noting:
Rosie O'Donnell commented on this post to say "bent" GET IT ROSIE
Octavia Spencer commented on this post to say "Bend the knee 😂🤣 and YESSSSS"
Rosario Dawson commented on this post to say "Uh huh, yeah"
Kiersey Clemons commented on this post to say "Yesss j"
Selma Blair pulled a me by commenting on this post to say she hasn't seen Game of Thrones
Everybody is a lesbian in the comments, ladies and gentlepeople. Everybody.
---
Come for Jess From Queer Eye in a hot white pantsuit, stay for the all caps inspirational speeches from Tan and Bobby in the comments. Again: everybody is a lesbian in the comments.
---
It appears L'Oreal is literally sponsoring the borderline-romantic friendship between Amber Heard and Corey Raye and okay, I will buy the mascara.
---
I honest-to-g-d thought this was a photo of me when I first saw it. It's not though. It's just King Princess, passionate supporter of women's athletics, as we all are here.
---
Cherry Bomb!!!
---
Gaby Dunn kindly suggested that somebody adopt this cute dog and… somebody adopted this cute dog. A true influencer in action!
---
Jealous of that stool tbh
---
I have a question for the room which is… why doesn't Roberta Colindrez have an instagram? Also ARE YOU SO EXCITED TO BINGE WATCH VIDA TODAY???