https://instagram.com/p/3wQojNF49m/
Welcome back to No Filter, a column about things we've been absent-mindedly double-clicking on while patronising public restrooms. This week, Orange Is The New Black is back and it's all we can think about, so bear with us. Last week, Ruby Rose was a very pretty person who we heard was sort of a thing somewhere and who we hoped would be an interesting addition to Litchfield. This week, Ruby Rose is the love of our lives and we're vowing to spend the rest of our lives gazing deeply into her eyes. Also, some other famous people existed, took pictures of it.
---
https://instagram.com/p/3xekj-MZb3/
First of all, Ruby Rose achieved my previously-unknown livelong dream of being bitten by Dascha Polanco, and then Dascha Polanco achieved my previously-unknown lifelong dream of biting Ruby Rose. Then Diane Guerrero and Jackie Cruz probably said something amazing.
---
https://instagram.com/p/3_zrEEsZV6/
https://instagram.com/p/3_z7GbMZWh/
This just in: you could adopt these dogs that have been held by Ruby Rose. Also if you hang out at the Silverlake dog park, you could have Ruby Rose hold your dog. I used to date a girl in LA who took her dog there; if you are reading this, please take your dog to the Silverlake dog park  right now.
---

In other news, since Jenny is dead, the coast is clear for Carmen and Shane to get back together and pretend that eternal love is possible in this cold, cruel world.
---

Laura Jane Grace wore this amazing tank top made by my cool friend Nina and her friend Marie at Against Me!'s show at Northside Festival this past weekend. Proceeds from the tanks are being sent to assorted queer organizations including the Audre Lorde Project, the Sylvia Rivera Law Project and Trans Lifeline. Also, Laura looks really cute in it.
---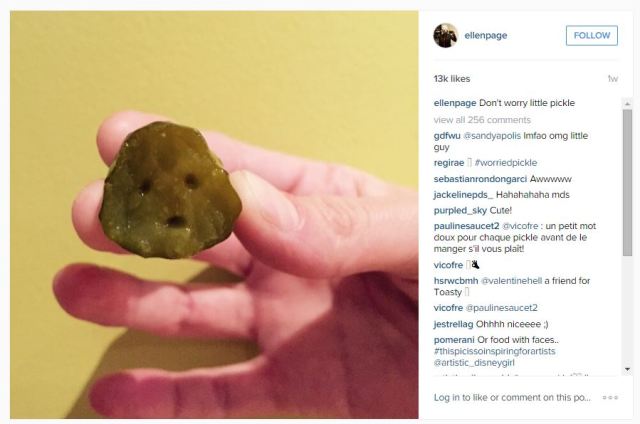 Still unclear.
---
https://instagram.com/p/2Q0BlquyA0/
At what point does this stop being a parody of anything and start just being what Fred Armisen's hair looks like?
---
Join us next week when Ruby Rose and I adopt a family of rescue wolf dogs and raise Kristen Stewart together: coming this fall to NBC.