Welcome back to No Filter, the most prestigious sociological study on Autostraddle dot com. In this week's important celebrity news, Kristen Stewart still doesn't have an instagram account, and Kate Moennig is probably setting up a croquet set in your backyard. Let's dive right in to see which heavily curated glimpses into the stars' private lives the universe offered us this week!
---

I would be remiss if we didn't begin No Filter with the ultimate reunion of gal pals.
---

Cara Delevingne just found out about reading books. It's been a big week.
---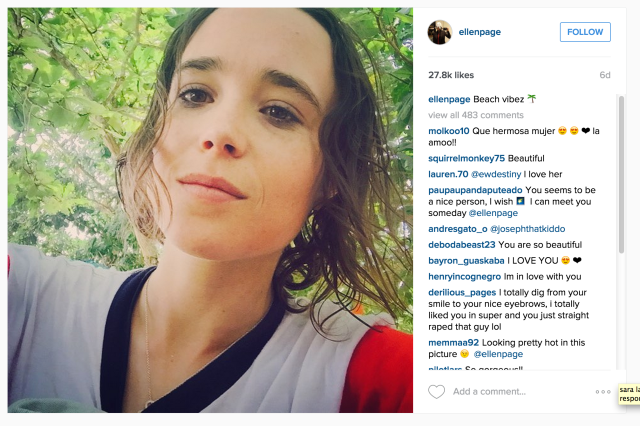 No real comment, I just thought you might like to look at this lovely picture of Ellen Page. She also went to the first-ever pride in Jamaica, because Ellen Page is an actual angel.
---

Laverne Cox looks like a goddamn beautiful butterfly in these sunglasses.
---
https://instagram.com/p/55kOzFGFbX/
In which Sara cheats on her unbelievable cat with this delightful dog.
---

Then that dog was like "whatever" and hung out with Samira Wiley, I guess.
---
https://instagram.com/p/5ySxOxrmqU/
Angel Haze learned a valuable lesson about getting matching tattoos with your girlfriend of about ten minutes.
---
https://instagram.com/p/5a5BwBt1ym/
Generally I try to keep these to photos that happened during the current week, but Jamie Clayton's instagram just appeared on my radar and goddamn, let's talk about this picture with Mariah Carey.
---

I don't even know where to start with this W Magazine spread of Stella Maxwell feeding cake to a glitter-covered, mostly naked Miley Cyrus, but it's here and so are we and that's where we're at right now.
---
Gosh, who knows what Cara Delevingne might be reading next! Join us next week to find out.