"Question: can sexual orientation be changed through conscious decision-making or therapy? The question itself is highly charged with its seeming implication that one sexual orientation may be preferable for another. But some men and women do want to change. And tonight our cameras are allowed for the first time into a retreat for men that claims it can help. It costs $650 a weekend, and it's all part of the latest wave of "gay reparative therapy."
-Intro to Nightline's "Journey Into Manhood"
Last night Nightline aired its SPECIAL EXPOSE on gay conversion camp. From QueerSighted:
I imagine we're all on the same page here – there's nothing wrong with being gay, and "ex-gay" groups are total poppycock, right? Well, ABC's Nightline isn't. They still thinks this is a debatable, "hot button" issue, as they demonstrated with their recent profile of the ex-gay sleep-away camp Journey into Manhood.
Yup, Nightline visited one of those splendorous retreats for men who are trying to get the gay out of their system by crying, slapping "FAG" labels on their stomachs, envisioning themselves as warriors on horseback and other such activities designed to get the homogays excited about banging their wives again.
Gay Conversion Camps are ripe journalistic fodder because they are so utterly ridiculous their very existence makes people laugh. In April, writer Ted Cox went undercover to write What Happened When I Went Undercover at a Gay-to-Straight Christian Camp. Cox, who is not gay, attended a Journey into Manhood retreat and ultimately concluded that, "How anyone could believe that a JiM weekend could turn a man straight still baffles me."
Here's the Nightline bit:
In addition to leading into its segment with "can sexual orientation be changed?" as if that's still an actual question that reasonably employed human beings could ask, Nightline provides equal time and journalistic weight to people on both sides of the debate. Yes — that's good journalism. Unbiased, balanced, fair. But in many regards, these retreats are scamming their customers (there's no scientific proof that sexual orientation can be changed) and also promoting hate-group philosophies. For money. "Are these camps dangerous" isn't a question anymore. We all know the answer.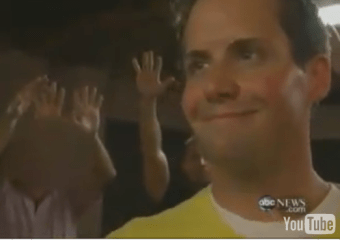 What if this segment had provided balanced commentary about taking black kids out of their urban environment to teach them how to let go of Ebonics and "act white"?  It wouldn't, because when you're dealing with bigots, the "fair" thing to do is to call them out for their bigotry. Because this segment is presented like it's a piece on how St. John's Wort might help with depression better than doctor-prescribed pharmaceuticals, like it all comes down to a disagreement about medical processes.
Back to Ted Cox's Alternet article. Cox went undercover in the "ex-gay" movement for a year, prompted by his Mormon upbringing and consequential problems with the Mormon Church's involvement in the fight against marriage equality, as well as by his belief that these programs DON'T work and should be dismantled as well as this:
…these programs are dangerous. Ex-gay watchdog groups document the stories of men who, after years of failed attempts to become straight, resort to suicide. Later I'll introduce you to Eric, a fellow JiM attendee who would hook up with men on Craigslist and then go home to his unsuspecting wife. For many men in ex-gay programs, often their wives, friends, family, and church members have no idea they struggle with SSA.
In the account that follows, however, Cox doesn't need to impose his perspective onto the actions because his experiences really do speak for themselves. He's greeted at the weekend by a series of men in black cloaks asking him WHAT IS A MAN. Staff members re-enact Jack in the Beanstalk, framed as follows: "Fatherless Jack has lived in the safe, feminine world under his mother's care; the old man in the village represents ancient tribal elders who help boys transition into manhood; the seeds given to Jack represent both his sperm and the masculine potential for creation."
Here he describes the three different 'healing touch' techniques as described to him by retreat staff members:
First: Side-by-side, where two men sit shoulder-to-shoulder, facing the same direction, their legs outstretched in front of them. The man giving the Healing Touch puts one arm around the receiver.
Second: The Cohen Hold, named after "certified sexual re-orientation coachwp_postsand Healing Touch pioneer Richard Cohen*. For this position, the receiver sits between the legs of the giver, their chests perpendicular, the receiver's head resting on the giver's shoulder. The giver encircles his arms around the receiver.
Third: The Motorcycle. The receiver again sits between the legs of the giver; this time, the receiver leans his back up against the chest of the giver. Again, the giver wraps his arms around the receiver.
The idea behind Healing Touch is to recreate the father-son bond that apparently we missed as children. In this twisted, neo-Freudian theory on the cause of homosexuality, men who didn't get appropriate touch from their fathers sexualize their need for a "healthywp_postsnon-sexual masculine connection. Healing Touch techniques recreate a loving, father-son bond, and are completely non-sexual.
Well, that's what they tell us.
*Richard Cohen is the guy you might remember from when he got schooled by Rachel Maddow.
Nightline didn't get clearance to film an actual Journey Into Manhood retreat, however. It attended a "reunion weekend" which was free of many of the camp's traditional activities, like the aforementioned Healing Touch. Nightline interviews a former JiM attendee who recalls, much like the Alternet article reported, activities which involved nudity and touching, but they hone in on the sensationalized idea that sexual activities are happening in a camp which attempts to "cure" its patrons of unwanted same-sex-attraction, rather than the more obvious angle (though less juicy) that regardless of the degree of physical contact, the exercises themselves are completely absurd.