How do you prepare for an experience you've never had before?
The most consistent advice that has worked for me is actually writing advice that comes from Richard Price:
"The bigger the issue, the smaller you write. Remember that. You don't write about the horrors of war. No. You write about the kid's burnt socks in the middle of the street. Write to the smallest thing in the room."
Whenever I think about A-Camp, my first thoughts are dressed in anxiety:
I've tried to get there for years, why should this year be any different?
How the hell will I do this alone?
What makes me think I'm deserving of any good thing, especially this?
I go down an anxiety spiral and it leaves me feeling useless and stuck.
Going from the advice up top, I've learned to start small. To ground myself first before taking any other steps.
Instead of why should this year be any different? I think of what one of my therapists said when I went to LAMBDA (my first plane ride by myself): Just get on the plane.
I focus on the steps that will get me on the plane. Packing my suitcases. Double and triple and quadruple checking the flight information. Printing multiple copies. Praying in a circle with my family before I leave. Taking anti-anxiety medicine if it gets too bad, not shaming myself for letting it get too bad, allowing myself to believe that it doesn't have to be too bad before I give myself space to fix it in the healthiest ways I can. Not shaming myself if I don't make it to the healthiest way first and not letting that determine whether or not I can help myself in good ways for the rest of the trip. Knowing I can ask for help. That asking for help is not perfect or glamorous. That sometimes there will be incoherent sobbing and making room for that.
Instead of how the hell will I do this alone? I give myself a freebie with this one and say, I can't do this. I'm doing it anyway. Because if you know me, you know stubbornness fuels at least 90% of my actions. Thinking, if I keep praying, then I will feel less alone. Remembering if the outside noise is too much, I can put on my headphones and listen to a noise I can control. Remembering even if I can't listen to music on my headphones, at least keeping them in place will keep others at a distance until I'm ready to join.
Instead of what makes me think I'm deserving of any good thing, especially this? I remember Kiki Petrosino writing, "Because I'm not worthy, just lucky." Instead of staying stuck in whether or not I deserve (a question I've got to make peace with knowing will always follow me), I look at the work I should do from this place I am lucky to be in. How can I be a better writer, a better friend, a better queer in this space? If I cannot escape this question (which is okay), then how can I grow into the person who deserves to be in this place? How can I be gentle with myself in the answers that I find?
Rephrasing my fears are the first part in grounding myself. The second part includes action, I just think "faith without works is dead" (James 2: 17) and I've gotten to putting faith in myself, so how can I make sure I move forward with it?
So this is the part where I write and talk out loud to myself if my intrusive thoughts are louder than my belief (which I usually call prayer) and I draw and I reach out to at least one person. I fidget when I feel safe enough to. As a black person, I can't just go anywhere tossing things back and forth to myself. I can't walk into a store with my hands in my pocket as I go over a fidget cube. I can't pull anything from my person that I didn't walk into a place with. I can't have anything that looks like I stole from them especially when I don't have a receipt or a white friend with me.
Quotes give me enough space from myself to focus on someone else. Usually, I keep parts of poems and novels and essays close because it allows me to obsess over something without worrying in my own words about myself. Let me try that again — keeping quotes close allows me to better understand myself without hurting myself in the process. Sometimes, I'd go so far into myself that I thought I'd never be able to get out. Quotes are like sticking a spike into earth, a place I can pull myself back to when I've gone too deep in the well of myself.
I understand that not everyone believes in prayer, so I want to say that this can also be an extended conversation with yourself or whatever higher power you believe in.
When I pray, it takes me a really long time (or so it feels like it) to get through it. Once it took me at least twelve hours to get through one prayer. I start and stop, get distracted, daydream, fight through a lot of intrusive thoughts, feel guilty about being distracted and try to forget the whole thing and always end up just doing the best I can at that time. So praying teaches me a lot of forgiveness with myself. I think any kind of extended conversation where you sit with your thoughts and work through them one step at a time, is good no matter what practice you call it.
I lean into the positive shit I come across, as long as I believe in some part of it. I say kind things to myself even when I don't believe it. If I can't say nice things, then I try to say neutral things, or distract myself until I can come back to myself kinder. Like it feels mad foolish when you start, like your cynical side is definitely side-eying you, like, if it was this easy to heal yourself why didn't you do it sooner? and there's no way this can help you, but no matter what the cynical side says to you, it can't hurt to try.
Apps like Shine Text help me do this: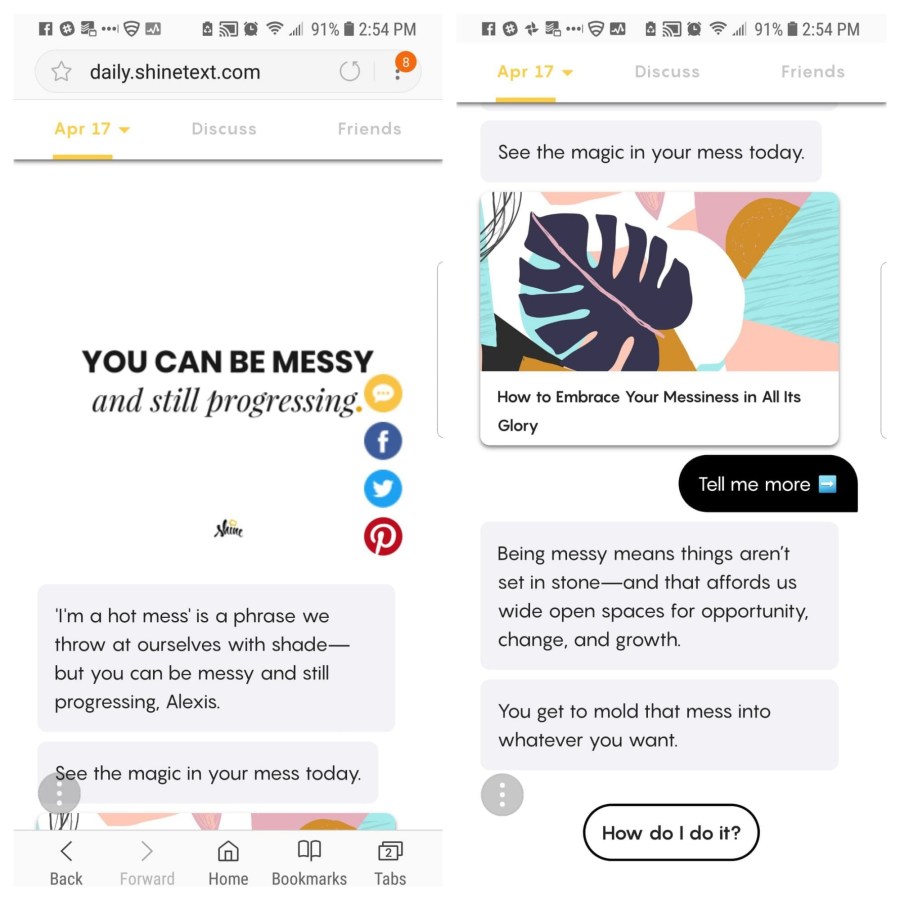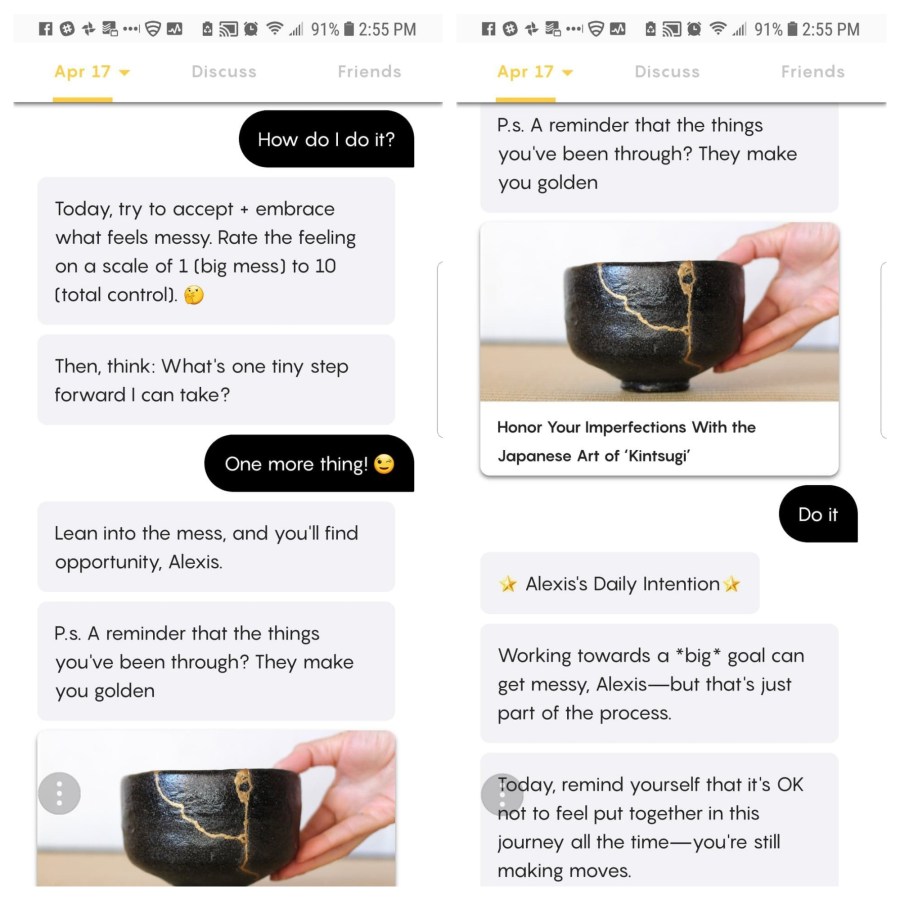 My sister, mostly plays the biggest role in helping me talk kinder to myself. She sends me a Bible quote every morning:
She also sends me messages through Instagram — they're kind of like the corny word art messages you'd roll your eyes at while you scroll past your aunt's and grandma's Facebook pages. Each one is really positive or a Bible quote, and I think when she first started sending them, I'd just skim over them and let it be.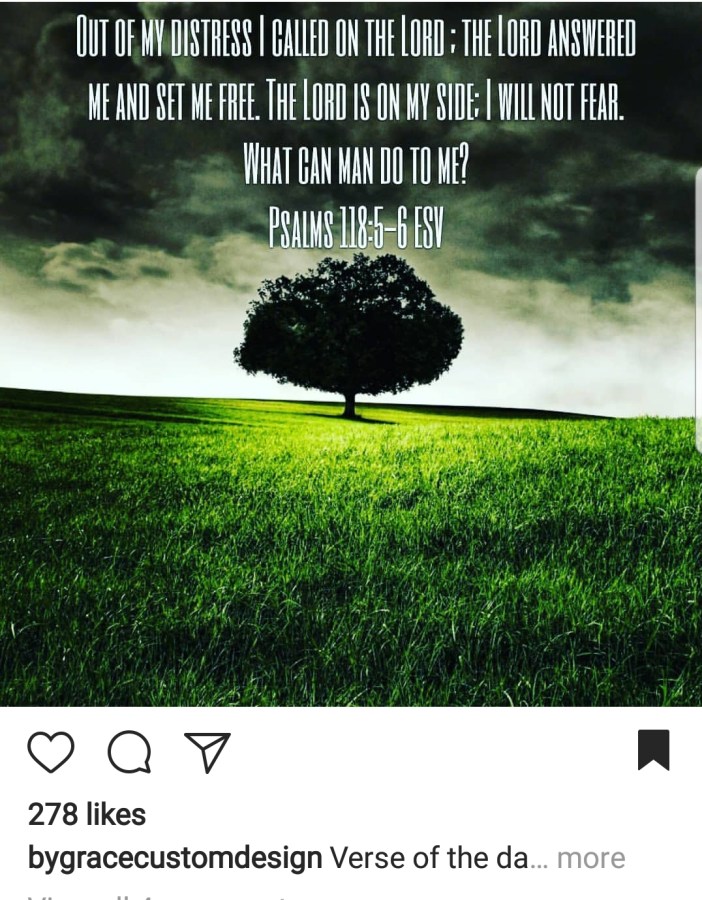 But she sends them throughout the day, and they've turned into this calming thing. Like sometimes I let them accumulate when I'm having a bad day, and read them when I'm getting ready to go to bed or when I really believe I can't feel better ever again, and they really help. Maybe I don't believe them all at once, but it's like when you tear your room apart in a hopeless anger frenzy and your body instantly freezes when you're about to throw the little angel figurine your best friend gave you after they came back from their first trip to their father's house on the other side of the country. You stop at a reminder that someone thought you worthy of love, at least once, and you find yourself letting that seed take root in you.
These things make a difference. Not all at once, sure, but at some point. I've realized when something bad happens, I don't go, i deserve this and stay there like I used to. I still say I deserve this when something bad happens but now I don't stay there. I say to myself, well, I can't prove that I deserve this and focusing on that will keep me stuck. Regardless of whether or not it's true, how can I move from this place? And it goes back to the burnt socks. I don't think about how I can immediately win the lottery and all my problems are solved. I think about how I can write seven things I'm thankful for. That I can text my best friend that I love her. That I can write the truest sentence I know, and that will get me closer to the answer and further from the problem. What I'm getting at here is that staying grounded (even though it sounds like an oxymoron) gives you the ability to move.