It's been a big week for homosexual-related first person narratives in liberal-and-feminist-but-mostly-heterosexual publications!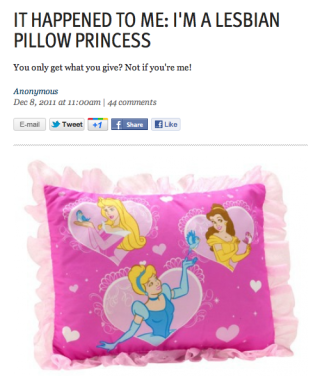 Our first piece comes to us via xojane, the women's website headed up by Jane Pratt (my hero)
(I'm serious) of Sassy and Jane. Entitled "I'm a Lesbian Pillow Princess," this piece is part of the "It Happened to Me" feature which also existed at JANE magazine and consists largely of writer/reader-submitted accounts of subjectively fascinating personal experiences.
The anonymous author of this piece, who I'll call "Ariel," is actually bisexual, but because she readily provides blow jobs to her male partners but doesn't date or often go down on women, she is, she explains, technically, only a "Lesbian Pillow Princess." (She also refers to herself as "mostly straight" and "straight" at other points in the narrative.) Her reputation began, she explains, when her first lesbian hookup — a smokin' hot dyke named Kelly at her college — went down on her for an hour. She la-la-la-loved it and then immediately fled the scene fearing her own inability to perform such fantastic cunnilingus upon Kelly for such an extended period of time.
She writes:
"Needless to say, word got around that she and I had hooked up and that I'd left her hanging, which had the odd effect of giving me folk-heroine status. Kelly called me a "pillow princess," and henceforth, I was one. It was like some sort of movie conceit where the hero is mistaken for a celebrity and gets to ride in a limo and stay in a fancy hotel because of it."
This apparently totally worked out in her favor, as she romped about in college hooking up with lots of "aggressive types who got off on the idea that I was reluctant to let a girl touch me." Post-college, she moved on to the internet, where she advertised her relaxed status and often met up with girls for NSA sex.
Near the end she problematically explains that when hooking up with a woman she's not attracted to, she simply closes her eyes and envisions someone else "while [the lesbian] does her thing." Sometimes it seems like she wants women to eat her out just because they're allegedly better at it than men are. She could go down on them but "I'm not dating them, and I don't think I would want to have my fetish corrupted by caring for somebody enough to give back."
I wouldn't want to sit next to Ariel on an airplane, but her one-sided sexual encounters are consensual and she's just telling a true story of her life, so I'm not really sure what to make of this (and I'm interested to know what you make of it, if anything).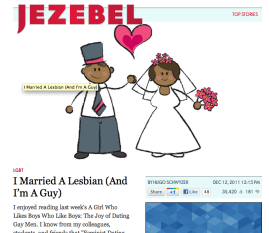 Then, on Jezebel (via The Good Men Project) we have I Married a Lesbian (And I'm a Guy). The author, Hugo Schwyzer, "tended to get crushes on the same type of girl: the star basketball player, the soccer forward, the swimmer. Some were lesbians. Some weren't." He wondered:
What is it that drew me so often to women who were same-sex attracted? It certainly wasn't the stereotypical male fantasy about what they were doing in bed, and it certainly had nothing to do with a macho belief that I could turn a gay woman straight.
In parts, the piece (which does tred on some stereotypical ground) reminded me of this quote from The Girls Next Door, which I quoted in an article about female masculinity:
"…if we had to make one other generalization about lesbian taste, it would be that a lot of us are powerfully attracted to women, gay or straight, beautiful or not, who look as if they can take care of themselves."
The author eventually marries a lesbian who presented as straight, and he found their ensuing sex life to be unsatisfactory. She refused to give him blow jobs and didn't really like penetration but happily accepted his offerings of cunnilingus. When their sexless marriage ended in divorce and a drug relapse (for him), he is seemingly compassionate to his ex-wife's struggle rather than labeling her as deceptive (as many of the commenters do):
 She had come from a conservative family who would have been deeply embarrassed to have a gay child. She may always have known, but did her best to hide it, perhaps hoping that her feelings might change. Or she might have been like more than a few women I've known, and only discovered her true sexual identity after already being married to a man.
What's redeeming about this essay to me that the writer's conception of his own gender is mostly free of the traditional masculine posturing one might expect in a piece like this (he even refers to himself as "femmy"). Maybe it just seems that way because men so rarely write about wanting strong, athletic, powerful women with short hair; but it's refreshing nonetheless.
I don't fault Hugo or Ariel for telling their stories, but it's worth mentioning that both narratives seem to ride on the idea that bedroom behavior is the ultimate/only litmus test of sexuality. Hugo and Courtney enjoy each other's company, but Hugo cites Courtney's disinterest in penetration as a "warning sign" he missed, when penetration is hardly an exclusively heterosexual act (it seems more likely Courtney feared the intimacy of penetration with a man she didn't truly want to be with, but really who knows) and falling in love, ultimately, is about your vagina but it's also about your heart and it's mostly about having romantic feelings. Those romantic feelings are what turns a hook-up relationship into a relationship, after all.
Finally at nerve.com we have a sweet story straight from the horse's mouth — My First Time: Female. 17. San Francisco. I think this is the first time the "First Time" series has featured a lesbian.
Basically, in ninth grade, the author confessed to her best friend that she had lesbian feelings for her, and her best friend reciprocated, and they proceeded to carry on a covert lesbian relationship and they are still together now and she is a grown-up in the military! It seems they've yet to take their relationship out of the closet, which is a bit puzzling, but whatever. [ETA: Turns out this story was written before DADT was repealed, even though it just got published, therefore there is nothing puzzling happening here. This is just straight-up sweet in every way, unequivocally.]
The focus of the piece (which is very cute and sweet) is on the author's discovery of what lesbian sex IS:
 We had never gone down on each other, and I was pretty sure that's what we'd meant when we said we wanted to have sex. (Now I realize that there's more to fucking than licking a girl's vagina and calling it a day.)
 She concludes:
I know that a lot of people disagree about what virginity means to a gay woman, but virginity is totally subjective, and it really depends on who you're asking. Some people might say penetration has to be involved, but I think it's up to the person losing his or her virginity. If I feel like I've lost my virginity, then goddammit, I have!
I've spent most of the morning and afternoon staring at wordpress, trying to figure out what point I could make about any of these pieces. I thought a lot about why we'd never publish "I Was a Lesbian Pillow Princess" on this website but can't get past the explanation that I'd fear 50 of you would vow to never return here and the remaning many-thousands of you would fight with each other about bisexual erasure/lesbian erasure until the heat death of the universe. I pictured someone submitting "I Was a Lesbian Pillow Princess" to us via email and then I imagined the editorial meeting where we'd get to that story and all say "NO" at the same time.
In searching for a point to gleam from these stories, I've tried to figure out what you would think or say, and I can't, and I want to finish this post as soon as possible to speed up the process of me finding out what you think about these stories. Yup, for the first time ever since beginning Autostraddle, I've got no idea what to say about a thing. So maybe I should just ask you — what's your reaction to these pieces?