feature image photo credit: @tall.milk
Nature abhors a vacuum; queers hate being forced to operate on only one valence. Our dance parties are also fundraisers for mutual aid; our organizing planning sessions are also cruising opportunities; our exes are our friends and our weed dealers and our emergency contacts. Historically, our art has also been activism; when the AIDS epidemic began, our kink practices also became public health measures; we know that sometimes there's no difference between sex and play and processing and friendship.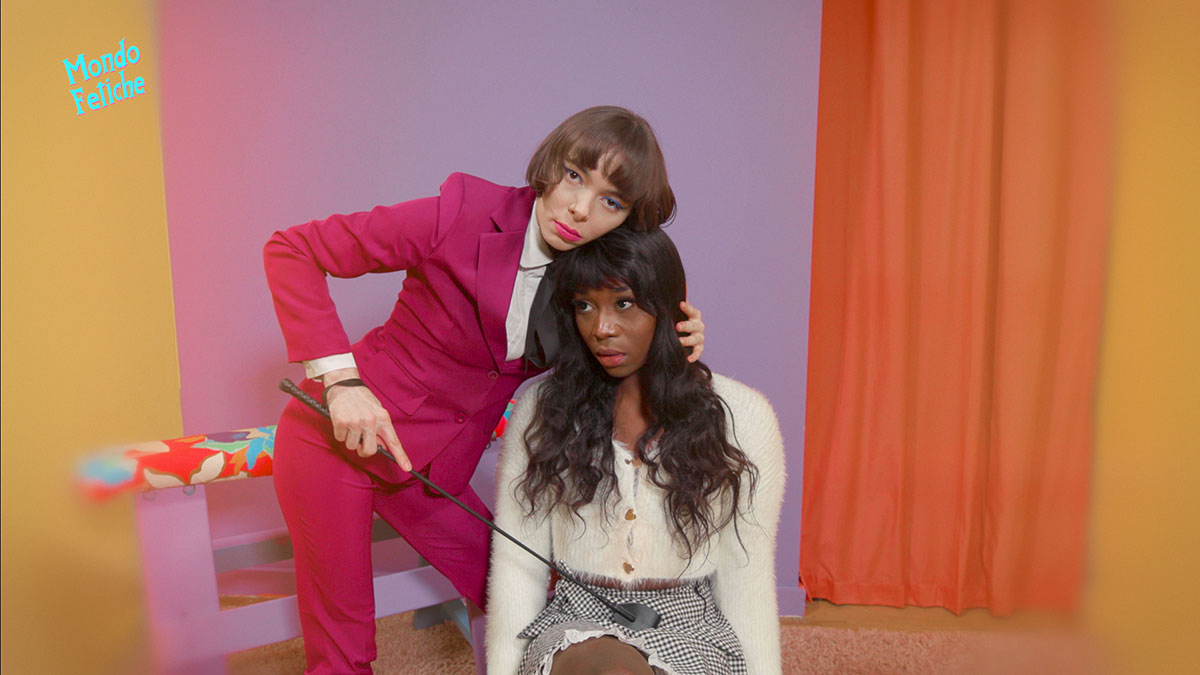 It's no surprise, then, that some of our best queer porn creators are also fine artists. Iconic founder of Pink & White Shine Louise Houston got a film degree from the San Francisco Art Institute and came up through feminist & queer art communities as well as sex worker advocacy circles before founding Pink & White Productions. Maria Beatty is a curator and documentary director who also pioneered her own genre of 'erotic noir' inspired by German cinema, surrealism and noir to create work like The Seven Deadly Sins. While working with Beatty on that film, queer Latin American filmmaker Carlos Deth experienced a total paradigm shift around what queer porn could be, and brought his experimental film background to the floor to create Mondo Fetiche. Annie Sprinkle, who you may recognize as one of the world's pre-eminent sexologists, was an early devotee: "The fetish world of Carlos Deth is super sexy, stylish and smart. Post-porn for people with good taste, who taste good. I'm a big fan."
Billed as artcore fetish film and "a creative love affair between modern kink and vintage cult cinema," Mondo Fetiche's popping color palettes and self-aware cultural pastiches add a fascinating new layer to the vintage leather aesthetic many of us associate with queer kink. There's plenty of leather, don't worry about that – and there's also babygirl femme tea parties, lesbian soccer scenes on a DIY field, and queer porn tributes to the femdom art of Namio Harukawa. Scenes are inspired by vintage cult classics, pulpy horror, and the forebears of queer fetish art – and they feature real queer models, from some of the most respected names in fetish work (like Ashley Paige!) and newcomers of different sizes, genders, ages, ethnicities and sexualities.
Queer porn has always operated on a different model than mainstream porn; it's born out of a communal need for our desires and intimacies to be documented as real and something we can share and pass on to each other — things conventional porn could never speak to. As Amazon Maddox, a performer who made her adult debut on Mondo Fetiche, put it, "I knew conventional porn was not for me, for many reasons, but mostly because I am not conventional." Mondo Fetiche's erotic vignettes push us to new visions of what queer art & sexuality can look like with porn that's also independent art films, fetish work that's also camp & horror, real queer sex that's also dreamy, sexy fantasy. We love weird art and hot queer sex – why choose?
---
To learn more about Mondo Fetiche visit MondoFetiche.com or give them a follow @mondofetiche on Instagram and Twitter.