This was a big election week, with lots of great wins for people who care about all things good like reclaiming union rights in Ohio and recalling Russell Pearce, that guy who came up with that  "papers please" law in Arizona.
And then there was the exceptional failure of the Mississippi "Personhood Amendment." Rejoice!
Now, let's talk more about what the religious right is trying to do to get all up in your reproductive rights and take away access to basic healthcare for women.
Back in July Carmen gave us a marvelous overview of the ongoing attack by the GOP and religious right to women's reproductive health.  The Mississippi "Personhood Amendment" is the most dramatic of these efforts. The amendment goes so far as to ban abortion even in the case of incest and rape and would ban some forms of birth control by redefining a "person" to include "every human being from the moment of fertilization."
The Center for Reproductive Rights further explains the reach of the "Personhood Amendment" (I've bolded one of the most important aspects of this for lesbians):
The amendment also could affect a wide range of other medical care, including many common forms of contraception, in-vitro fertilization, stem cell research, and medical treatment of pregnant women. Hormonal contraception that may prevent the implantation of a fertilized egg, such as IUDs, could be banned. Physicians would likely stop performing in-vitro fertilization, in part because the process involves the creation of some embryos that are ultimately discarded or damaged.
The thought was that if the amendment could pass anywhere, the conservative electorate of Mississippi would be the ones to do it.  Fortunately 58% of voters said, no thank you very much I would not like to vote all my reproductive rights away if that's ok with you.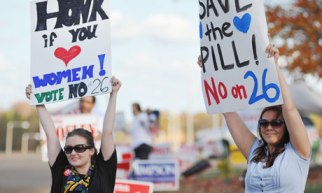 Mother Jones reports on the failure of the amendment:
The primary reason for the measure's failure was overreach. In recent weeks, opponents of the measure made the case to the public that it wasn't really just about abortion, but could also have far-reaching impacts on birth control, in vitro fertilization, and a doctor's ability to provide care for pregnant women. Nsombi Lambright, executive director of the American Civil Liberties Union of Mississippi, pointed to the many grassroots and medical groups that got involved in the debate that were outside of the traditional abortion rights supporters like the ACLU and Planned Parenthood. In the past weeks, those groups were also knocking on doors, appearing in public forums, and making phone calls.
This is definitely a victory for women's rights, although reading reporting coming out of the anti-abortion community, it seems like they're actually responsible for a significant chunk of their own defeat. Amanda Marcotte parses the difference between the anti-choice and "pro-life" camps which likely hindered the success of the amendment.
Writing for The Washington Post Jacques Berlinerblau calls those from the Christian religious right who supported this amendment, "the most swashbucklingest social movement out there".  Berlinerblau continues, "They will pull out all the stops, give you the razzle dazzle, double-down on doubling down. And, yes, they will be back, bigger and better than ever."
Well, I know some swashbuckling feminists who would disagree.
For more information about the history of birth control and abortion and how this issue has  become so politicized, listen to this recent Fresh Air interview with Jill Lepore, staff writer at The New Yorker and author of the recent piece Birthright.
---
Before you go!
It takes funding to keep this publication by and for queer women and trans people of all genders running every day. We will never put our site behind a paywall because we know how important it is to keep Autostraddle free. But that means we rely on the support of our A+ Members.
Still, 99.9% of our readers are not members.
A+ membership starts at just $4/month.
If you're able to, will you join A+ and keep Autostraddle here and working for everyone?
Join A+