Hi, and welcome to Messy Kitchen, a new Sunday series I'm doing where I'll highlight three to four things I ate that week, paired with mini essays, recipes, and other fun things like playlists and reading recommendations. I can pair just about anything with food.
These dishes will sometimes be things I made, sometimes prepackaged snacks from the grocery store, sometimes things made for me, sometimes things eaten out. Much like the way I run my kitchen at home, there are very few rules. I will try to occasionally take photos that are beautiful, aspirational. But I am far from a food content creator, though I admire them and follow many. If this series is meant to be an honest look at the way I make and eat food, then it can't be too artfully done — at least not all the time. Every once in a while, I know a thing or two about plating and about staging/framing the mise en scène of my table.
Think of this like those What I Eat in a Day/Week TikToks/Reels — but instead of a video, written word, and instead of carefully curated and stylish, chaotically curated and inelegant. Yes, I have an aesthetic, and the aesthetic is mess. It's sloppy angles and spilled sauce and oil-stained tablecloth. Dig in.
---
Summer Sunset Salad (Beet, Stone Fruit, Tomato, and Greek Yogurt)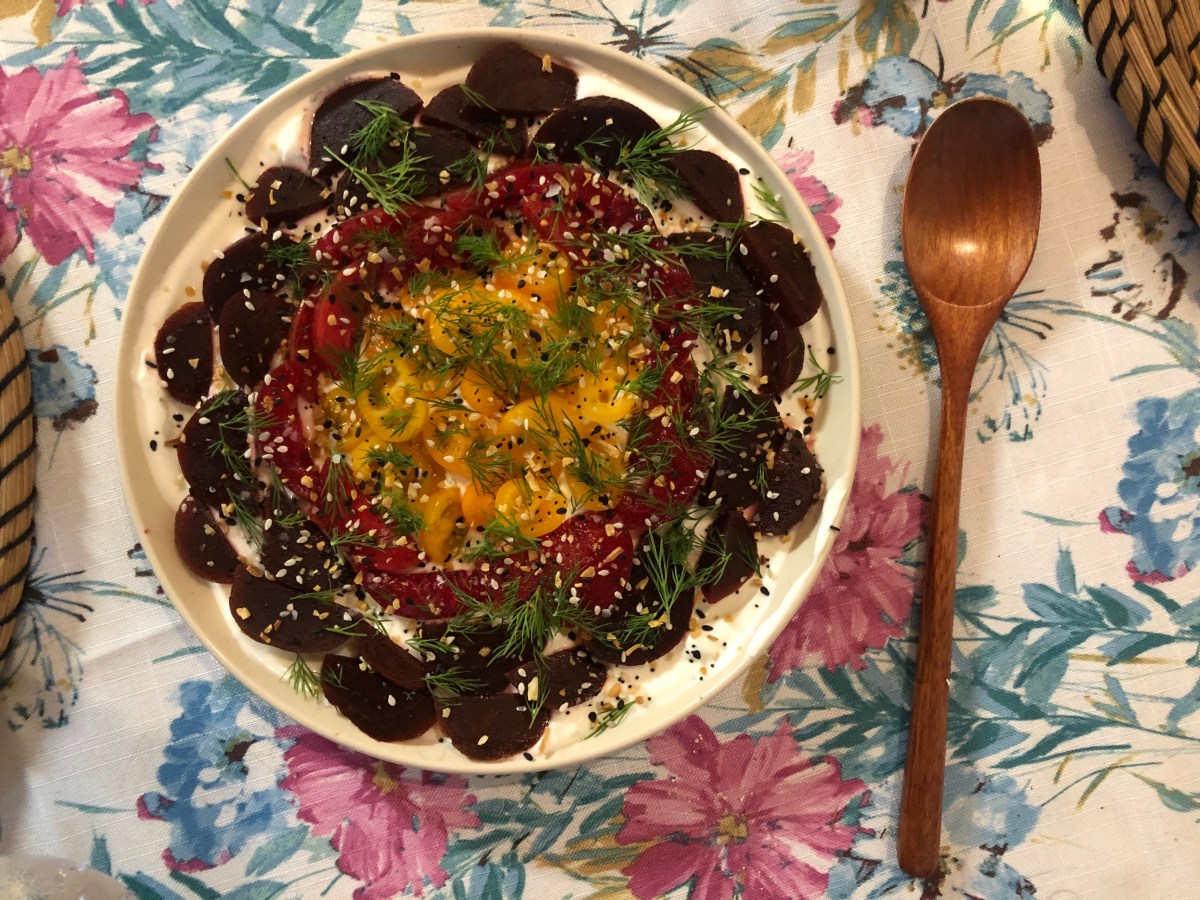 Of course, after all that preamble, I'm now presenting what is easily the most gorgeous thing I've made in months. It was actually one of the first things I made in my own kitchen in months period. I took an extended break from cooking — my longest in a while — when my brain was too staticky to be trusted around things that can burn. When I started again, I kept things simple, not so much cooking as arranging, a task that felt easily accomplished. Low risk, high reward. This was a perfect summer salad and so quick to make! It could easily dazzle a date or a dinner party despite being extremely simple. Here is my recipe for what I'm calling the Summer Sunset Salad:
1 package Trader Joe's steamed and peeled beets, sliced into half moons
1 individual portion plain Greek yogurt
2 plumcots, sliced into half moons
8 oz cherry tomatoes, quartered
2-3 sprigs of fresh dill, chopped or torn (I prefer to tear my herbs)
Everything Bagel seasoning
Spread the yogurt on a plate and then arrange the beets, plumcots, and tomatoes however you like! I went for a sunset-inspired design, but you can really do it however you want. Then top with fresh dill and seasoning. Serve with a large spoon.
I got all of these ingredients at Trader Joe's, which ended up being very cost effective. Their steamed and peeled ready-to-go beets are divine! I love beets, but working with them from raw is a lot of messy work, and while yes I do like mess in my kitchen, I also like convenience from time to time. Most pre-packaged beets you encounter at the grocery store are pickled, which isn't quite the right flavor profile for this particular summer salad (though I am happy to recommend a pickled beet salad in a future installment of this series). I hear Costco also sells pre-cooked, peeled beets. You can substitute the plumcots for any stone fruit, and I recommend using fruit that isn't overripe so that it maintains a firm texture similar to the beets. You could get even more colorful with this by using a mix of different color cherry tomatoes. And you could easily swap out the Everything seasoning for your favorite seasoning of choice. This would also be good with some chopped walnuts, but I made it last-minute with things I already had on hand and unfortunately didn't have any nuts other than almonds, which I don't think would have the same effect.
---
Mozzarella Sticks and Marinara, Neptune Diner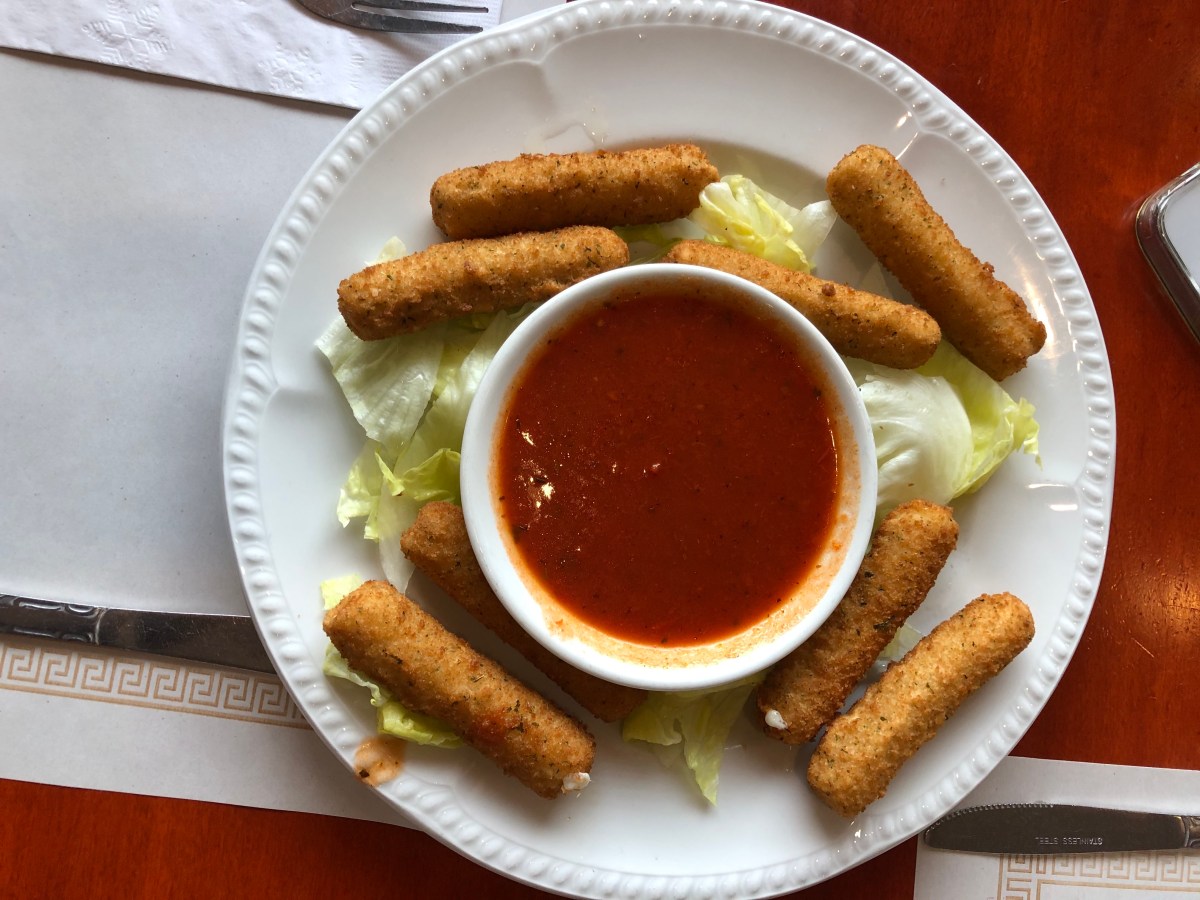 These mozzarella sticks were good, but I wish they'd been better.
I've written about them before — sort of. I once ranked all the mozzarella sticks I've eaten, a project that began as a pitchy piece of humor writing but turned into something else. A eulogy of sorts, for a relationship and for the mozzarella sticks I was moving away from. My beloved mozzarella sticks belonged to Neptune Diner II in Brooklyn, and my sister and I used to always say we had to go to the original Neptune Diner in Astoria but never did. Finally, this summer, I went to Neptune Diner THE FIRST with my best friend, who lives nearby. At eight in the morning, I ordered these mozzarella sticks as an accompaniment to my traditional diner breakfast. It was a day of many firsts: my first trip to Neptune Diner I, my first Morning Mozzarella Sticks, my first glass of sherry — had many hours later at El Pingüino in Greenpoint, which I highly recommend, especially for happy hour.
The mozzarella sticks were good, but they weren't the ones I remembered. This could be attributed, perhaps, to a difference in ingredients between Neptune Diner II and its older sister. But more likely it's because the setting I usually enjoyed these mozzarella sticks was not over breakfast before work but rather minutes after hopping out of a car on the way home from being out at the bar with friends, my ride home perfectly timed to the delivery guy ringing my buzzer. I once ate these mozzarella sticks so fast I burned my entire mouth. So when I sent my sister a photo of these breakfast mozz sticks, she promptly texted: did you burn your mouth?
I kind of wish I had.
---
Oysters with Salmon Roe and Crème Fraîche
When my friend James makes food for my Orlando friend group, it feels like we're in a Nora Ephron novel or a Nancy Meyers movie. He and his fiancé Alicia are some of the most generous people I've ever met when it comes to wining and dining their friends. Nights at their house are a flurry of charcuterie, grilled meats, fresh seafood, sauces that took all day. Sometimes, we're celebrating something specific, sometimes we're just gathering for no real reason. Every time, it's a lavish affair with many courses, many homemade condiments, and many drinks, often mixed up with love and fire by our friend Kristopher. I expect these dinner parties will show up a lot in this series; they are a perfect contained snow globe of everything I love about food: community, connection, personal stories and histories, good smells and good tastes, sure, but good company above all else.
At the most recent gathering, there was the usual massive spread of intricate dishes. This one was the most simple but the one that lingered on my tongue long after. Raw oysters, shucked with impressive effort by James, and topped with juicy pearls of salmon roe, a dollop of crème fraîche, and a squeeze of lemon. This is like candy to me. Salty, creamy, decadent. I could have eaten three dozen. I should probably finally learn how to shuck oysters. My fiancé Kristen bought me a fancy oyster knife for Christmas. But it's also nice to watch someone else shuck. It's violent, taxing work for such a delicate bounty.