Welcome to Messy Kitchen, a Sunday smorgasbord of micro essays about my favorite things I ate this week.
---
Chocolate Croissant with Bacon

These lines from the Time Zones Week essay "We Call It Time Travel" by Vanessa Pamela Friedman echo in my head, often: "I think about this all the time. How a relationship is its own time zone."
I especially think of them when I ask Kristen: Could you set the croissant alarm?
This is part of our relationship language, our relationship time zone. The croissant alarm refers to an 11 p.m. alarm set on her phone meant to remind her to take two of the Trader Joe's frozen chocolate croissants out of their box in the freezer and set them on a cookie sheet in the oven to proof over night. My favorite mornings are the ones when puffed up croissants sit waiting to bake in our oven but I wake up forgetting they're there, the mornings I go downstairs to a special surprise.
I didn't know what "proof" in baking meant until we met, until she showed me The Great British Baking Show during the long stretch of months we were stuck in Las Vegas. I'd never tasted these croissants before we met either, but she wasn't the one who introduced me to them. We tasted them for the first time together, at my parents' house, my siblings and parents all shocked we hadn't tried one of Trader Joe's greatest creations.
The picture isn't doing it justice, but to be fair, that's partially because Kristen and I always skip the egg wash step, much to the chagrin of my family who insists it's necessary. I don't like using up an egg! In this economy?! So even though the croissant above looks a little mottled, I promise it's delicious. Trader Joe's has cracked some sort of code with these bad boys. They taste about as close to a bakery's offerings as you can get at home without, you know, actually making them from scratch. I like mine with a side of bacon, a classic sweet and salty combination.
My parents always have at least one box in their freezer at all times, and so do we. Kristen proposed to me on Christmas morning in the downstairs bedroom of my parents' townhouse, and after we told them, we ate chocolate croissants and drank champagne. My three-year-old niece sucked all the chocolate out of hers and then wanted more.
Could you set the croissant alarm? I ask on some days when we're back home in Orlando. There's something about the time between the craving and the sweet treat that I enjoy. It's a planned little joy, something you have to wait for. When I ask her to set the alarm, I'm not saying I want a chocolate croissant now but that I know I'll want one tomorrow. I like to look forward.
Grilled Fish and Lemon with Pickled Veggies, Baba in St. Pete
If anyone cared that I started just picking the flesh off this fish with my hands and eschewing my fork to eat it, they didn't say anything. We were at the Greek restaurant Baba in St. Petersburg the day after Kristen and I had a joint book event at Book + Bottle, a wine shop and bookstore in downtown St. Pete. We made new friends, all of us queers living in Florida, which does come with a certain special bond. Our book event, in fact, was called the Big Gay Book Party, and it attracted all the right people. We drank funky, effervescent wines in deep oranges and pinks and talked about books, Florida, the summer heat, the things we like in a place others think should be impossible to like.
And the next day, Kristen and I split this fish. It was delicious, especially its crispy salty skin, but there were a million little bones, and I finally said fuck it and started eating it with my hands because it was easier. I knew Kristen wouldn't mind. She loves when I go a little feral with food. I go full cartoon cat mode with a whole fish in front of me. The server kept telling us to take our time, no rush, have a nice long dinner, he didn't need to turn the table over quickly. So we did. We ate slow, and I almost wish we'd gone even slower. I could have stayed there all night.
Anchovy Snack Plate and Gazpacho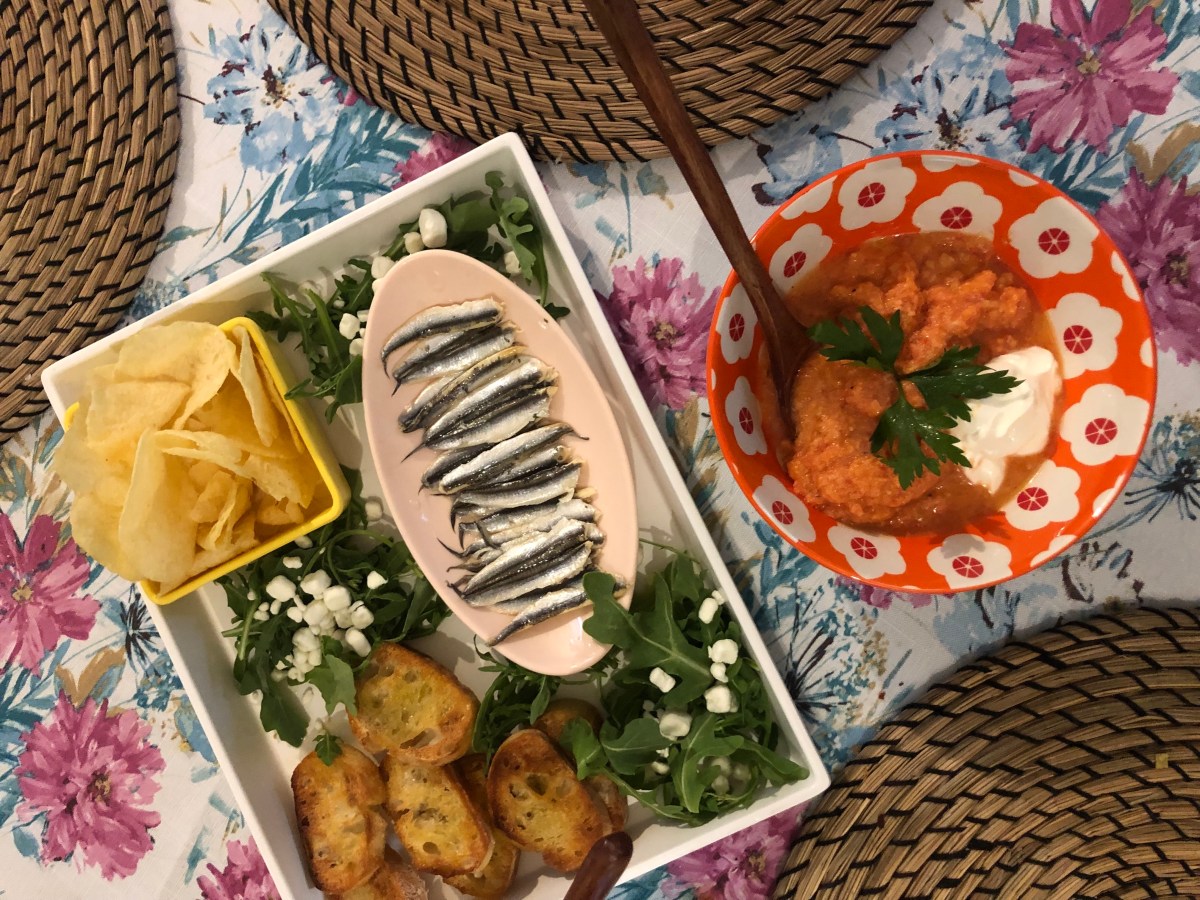 I whipped up this dinner when we got back from our St. Pete weekend because I was mostly just trying to use stuff up from the fridge and have a nice laid-back summer night where I didn't have to turn the oven on. Before our trip, I'd thrown half a baguette and a box of tomatoes in the fridge (normally, I'd never store tomatoes in the fridge because it kills their flavor, but I didn't want anything to go bad while we were away). So I took out the bread, sliced it into rounds, drizzled it with olive oil and baked them into crostini. I threw the tomatoes in a bowl with onion, citrus vinegar, olive oil, and the heel of the baguette, and blended it with my immersion blender, seasoning with garlic salt and cayenne pepper.
I am obsessed with Fruits de Mer's white anchovies, which have a much softer flavor and texture than regular tinned anchovies as they're packed in vinegar and oil and are not cured. Even if you think you don't like anchovies, I think you should try out white ones. I threw the last remnants of a bag of arugula on my snack tray and sprinkled goat cheese crumbles on top. And I'm a firm believer that all snack plates should have at least one variety of chip. This time, I opted for a classic Lay's salt & vinegar. We spread goat cheese on the crostini and then topped with some arugula and several silvery anchovies, and it felt like fancy foraging. Chips dipped into gazpacho is also top tier, because let's be real, isn't gazpacho basically salsa soup?
P.S. IS this a Girl Dinner? I think I'd prefer to call it a Dyke Dinner.