When I was a wee girl, I was absolutely obsessed with Hello Kitty, which makes sense, really. I did grow up to become a Cat Lesbian who still, at middle age, collects cute stickers (shut up, I'm cool). A few years ago, when Nintendo partnered with Sanrio to bring a whole bunch of Hello Kitty characters to Animal Crossing: New Horizons, I rushed out and bought every Amiibo. I needed that Cinnamoroll tuxedo jacket! I needed those Kerokerokeroppi rain boots! So imagine how my cozy game-loving heart sang when I found out about Hello Kitty Island Adventure, the new life sim where you rebuild a dilapidated amusement park on a deserted island with Hello Kitty and all her pals!
My Melody? Yep, she owns a gift shop and bosses me around! Badtz-Maru? Mm-hmm, he has a comic book stand on the dock! Pompompurin? He's definitely here, I met him on the plane, but he got lost when we had to jump out using balloons and parachutes and I haven't found him just yet. (Don't worry, I will.)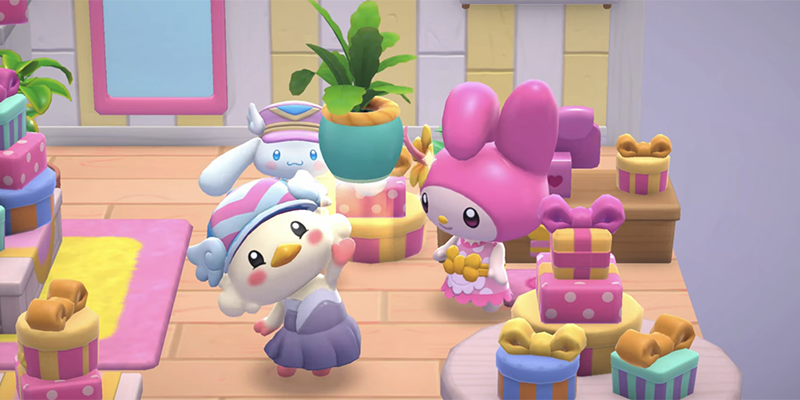 Hello Kitty Island Adventure is as close to Animal Crossing as any cozy sim I've ever played, and I've played a whole lot of them. You start out creating a custom character (either a cat, dog, or bird, of various sizes and head/body shapes); you choose from a limited selection of color palettes and outfits (which will, of course, expand later on); and then you get hurled from the sky onto an island with a zillion little low-stakes adventures to unlock, and the main task of making new friends. Like all life sims, there's things to collect, things to craft, things to trade, things to give as gifts. There's hats to dye. There's furniture to build. There's mysteries to unravel. There's rooms to decorate. There's puzzles to solve. And there's endless little to-do projects as you create a thriving island for you, your puppy pals, and your visitors.
I've put about five hours into Hello Kitty Island Adventure since it landed yesterday, and my only real complaint is that it's an Apple Arcade exclusive that has to be played in iOS devices. I don't have a game controller for my phone, so it took me twice as long to do everything as it probably should have because the running mechanism involves dragging your left finger along the screen while jumping/talking/collecting things by tapping with your right, and I kept running head-first off the pier and into the ocean, or directly into cliffsides and palm trees. Because, well, it's a phone game so I was also obviously watching TV while playing it.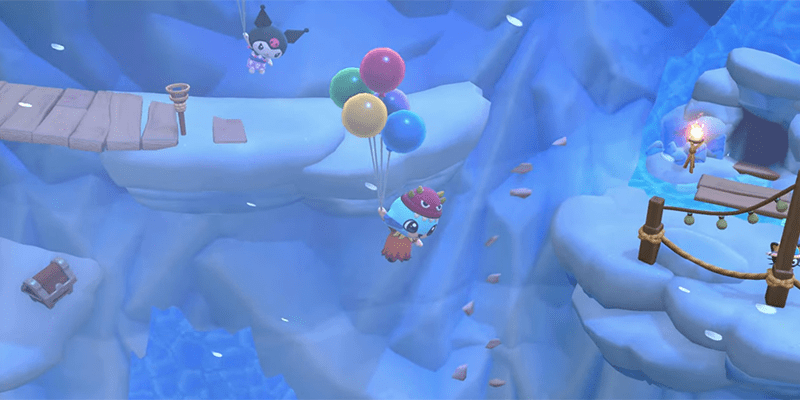 One of the most surprising things about Hello Kitty Island Adventure is that it's listed as a game for ages 4+, but it's really kind of winking at elder millennials. Sometimes characters break the fourth wall with weird dated jokes. Like, for example, we had to abandon our aircraft en route to the island because of a baking disaster and Badtz-Maru shouted, "I"m tired of these cakes on a plane!" before hurling himself out the open door. And Chococat spends a not insubstantial amount of time worrying about "neural networks." I actually like it better when my Animal Crossing characters go full Matrix and ask me if they're living in a simulation. (No, Dom, you're okay. Why don't you go back to lifting weights and leave the worrying to me.) I'm also a little bit disappointed that all the Sanrio characters' personalities seem fully locked in. Stardew Valley spoiled me on the character growth front.
Other than that, this one is a real fast-paced blast and I haven't even come close to feeling like I've run up against the edge of the island, the storylines, or the world itself. Now, if you'll excuse me, My Melody needs me to find her missing strawberry crates and she does not like waiting.