As a child, I loved watching wrestling. The oldest daughter in a family overrun by women, one of the quickest ways I bonded with my father was by watching wrestling. The pageantry and theatrics drew me in, and the "very realwp_postsultraviolence made it so I couldn't look away. People leaped across rings as if they could fly, men wore coats embellished in glitter and feathers, wrestlers would taunt their opponents by spray painting their faces on the crotch of their tights, and depending on the night, I could watch someone throw their opponent through a table or even rise from the dead.
As I got older, however, the sport began to change, and the storylines became isolating. Misogyny, brownface, objectification, and gay panic all became commonplace. As a budding queer woman, wrestling stopped being something I could enjoy with my dad and became a major source of insecurities. When I stopped watching, so did my father, therefore severing any connection I once had to the sport.
Nearly 20 years later, I was sucked back into the world of wrestling by my nephew, who wisely introduced me to an intergender match (when those who identify as men and women fight against one another) where a woman took a soccer cleat covered in thumbtacks to the face and overpowered two men to win the belts for her and her tag-team partner. (I love you, Candice LeRae). I was immediately six years old again and threw myself back into wrestling, focusing on the independent circuits now available thanks to the advent of the internet. I gotta say, wrestling today feels like an entirely different universe than the one I grew up with, Wrestling is now a place where women, queer folks and trans folks are finally able to succeed in ways that never seemed possible, if you know where to look.
In 2018 at Wrestlemania 34, Sonya Deville, (real name: Daria Berenato) the first openly gay woman to wrestle with WWE, entered the ring at the first ever WrestleMania Women's Battle Royal covered head to toe in rainbow ring gear. The former MMA fighter has become a fan favorite within the wrestling community, and this year joined the cast of the hit WWE television series Total Divas. The scripted reality show is a huge hit with non-wrestling fans, and Berenato's introduction of her girlfriend, Arianna Johnson, offers the first insight in the show's history of a lesbian relationship.
This isn't to say that WWE doesn't still have a hell of a long way to go with queer representation. An episode of Monday Night RAW began trending on twitter after a storyline involving the wrestler Lana exposed as having cheating on her man with another woman, Liv Morgan, royally angered fans. Queer fans and allies alike took to the internet to express their disgust with queerness being equated to scandal, especially in a storyline where all of the performers (to our knowledge) are actually straight. WWE can't be mentioned without discussing the owners' political beliefs, given the fact that one of the co-founders of the company is a former member of Trump's cabinet and is now the Chairman of a Trump super-PAC. Last night during the women's royal rumble, there were two open lesbians competing… only to have a man in a dress as a joke enter the women's match as well. They basically destroyed their own progress in one shot. However, the fact the biggest name in wrestling across the globe is granting a spotlight to an openly queer woman through their reality series is a step in the right direction, albeit a tiny one.
Not to be outdone, WWE's competitor, All Elite Wrestling (AEW) made history this past year when they signed a wrestler named Nyla Rose. Rose, a First Nations person with Oneida heritage, became the first openly transgender woman to perform with a major wrestling promotion. In AEW's first ever women's match, she participated in a four-way battle with Dr. Britt Baker, Kylie Rae, and Awesome Kong (known to most as the woman behind Tammé "Welfare Queenwp_postsDawson on Netflix's GLOW.)
Wrestling fans were… divided, to put it kindly.
Plenty of ignorant asshats came out of the woodwork to complain about Rose's "biological advantage,wp_postsdespite the fact that the outcomes of all professional wrestling matches are pre-determined. The internet wrestling community turns into an absolute shitstorm for days leading up to and following any major event featuring Rose, but she's yet to let it get her down.
"It was a little frustrating because I didn't get the chance to tell my own story myself,wp_postsRose tells Autostraddle. "I mean, I never hid the fact I was trans, so it was definitely out there, but another news source I guess learned about me and ran with it, before I knew it was everywhere.wp_postsShe continues, "Now it's just kinda whatever."
Fellow transgender wrestler, Candy Lee, is no stranger to this kind of treatment. "I just laugh and call people out for it,wp_postsshe says. "At the end of the day, I've been through worse and heard it all before, so I'm not fazed by it."
Known out of the ring as Leilani Tominiko and online as Lei Barbie, Candy Lee is New Zealand's first transgender professional wrestler and one of the few openly trans women wrestling around the world. Lee debuted in the United States at the promotion RISE during their "Pride and Joywp_postsshow, a Chicago wrestling event billed as "pro wrestling's ultimate event of love and inclusion.wp_postsThe show featured a number of openly queer and gender non-conforming wrestlers, including world famous Luchador exótico wrestler, Cassandro.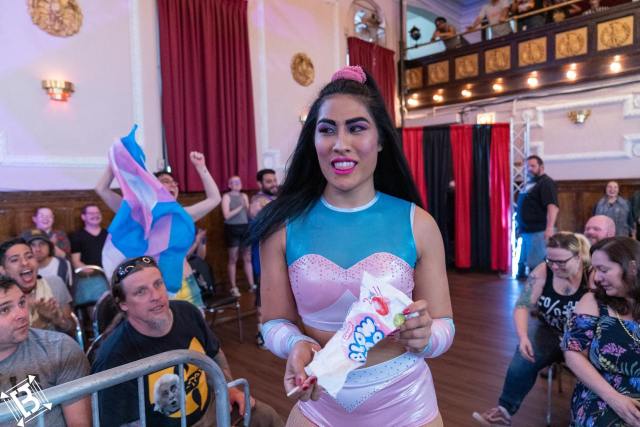 "Growing up there wasn't much representation so to be apart of,wp_postssays Lee. "I just want to inspire people by being my authentic self and doing what I'm passionate about."
"It was imperative to me that I bring a normality to what people understand as transgender,wp_postssays Rose. Nyla Rose on the AEW roster not only normalizes trans performers in professional wrestling, but also makes her accessible to audiences all over the world every single week. "The biggest take away, for me, is that normalcy we talked about,wp_postsshe says. "That we can be funny and entertaining without being relegated to hurtful and problematic punchlines. That it's ok to be attracted to a trans person, or find them attractive. That said attraction doesn't change anything about you that you don't want it to. That we are all people that have dreams and we all deserve at least a chance to chase them."
Throughout wrestling's sordid history, one of the easiest ways for an opponent to "get overwp_postson their opponent was by emasculating them. Putting wrestlers in dresses or calling them "girls,wp_postslike a schoolyard bully was commonplace, which means that for many years, the very thought of a transgender performer would immediately have become a joke. "I never wanted my transness or my journey to be a factor in my character,wp_postssays Rose. "Especially when knowing that even unintentionally I would be representing an entire community in the public eye."
Fortunately, both fans and other wrestlers alike have made it clear that wrestling is no longer a business where bigotry is going to be tolerated.
For non-binary wrestler Jamie Senegal, the sentiments are similar. "Bigotry is my favorite, as sick as that is, because the more of it I endure, the bigger the fire lit under me becomes,wp_poststhey say. "I love proving people wrong." When Senegal wrestled Candy Lee for the iconic all-women's promotion, Shimmer, the duo made history as being the first Trans v. Gay match in the promotion.
For many queer and trans wrestlers, the idea of an "intergender matchwp_postsis still viewed as taboo. The openly pansexual wrestler known as Allie Kat frequently wrestles against cis men, and wins. "There's a difference between not liking technical wrestling because you think it's boring or not liking death matches because it's too gory; that's just a preference like your taste in music,wp_postsshe tells us. "But then there's people who don't like intergender because it's either A. not believable to them or B. they don't like 'seeing women in these situations' to which both are obviously rooted in misogyny whether they know it or not."
The major difference between professional wrestling and something like Mixed-Martial Arts or UFC fighting is that although everyone is putting their bodies on the line for sports entertainment, the outcomes are predetermined and the hits, bumps, moves, and spots are all approved upon by the fighting parties ahead of time. For someone to argue that a woman is incapable of defeating a man is pretty ridiculous. "I am silly and I act like I am a cat and put whiskers on my face and if [people] want to discredit my wrestling based on my gender and not that? Then I just don't have the time to waste,wp_postssays Allie Kat.
Outside of the two biggest promotions (WWE and AEW), other wrestling promotions have not been shy about their LGBTQ+ talent. Kiera Hogan and Diamante, the tag-team known as "Fire and Adrenalinewp_postswon the WOW Women of Wrestling tag team titles back in November. The duo became the first openly LGBTQ+ couple to win tag team titles in history, a couple in both "kayfabewp_postsand in real life.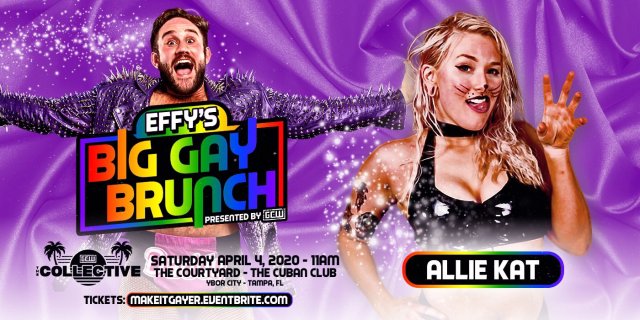 This April during "Wrestlemania Weekend,wp_postsin Tampa, FL, the promotion Game Changer Wrestling is hosting an event called "Effy's Big Gay Brunch,wp_postswhere the independent wrestling scene's resident "Daddy,wp_postsis hosting an all LGBTQ+ wrestling show during the biggest wrestling weekend of the year. The event will host the "Bi-Curious Battle Royal,wp_postsHe's already booked talent like Allie Kat, Ariane Andrew, and Cassandro.
Events like "Effy's Big Gay Brunchwp_postsare just the tip of the iceberg when it comes to the explosion of LGBTQ+ inclusivity in wrestling. "When you look into a crowd 20 years ago and a crowd now, I see more women, POC; not just a sea of dudes in NWO shirts anymore,wp_postssays Allie Kat. "I take that as something has happened, someone made it possible for marginalized groups to feel more comfortable and enjoy going to see wrestling."