Welcome to the another installment of Make A Thing, where we make handmade gifts for people. Or ourselves. Who doesn't need something special in their life? Join in on the DIY fun and avoid the unnecessary consumerism of the world (and I promise you'll save a few dollars while you're at it).
Header by Rory Midhani
---
Shrinky Dinks. I'm going to say that name about a million times because it's hilarious. Shrinky Dinks. What a misunderstood medium. I never had these as a kid, probably because my mom thought it was ridiculous to buy shrinking plastic I'd play with for twenty seconds (very wise, that woman). I was introduced to the magic of Shrinky Dinks when I was around sixteen and bought them at midnight in Wal-Mart to make with my friends while we were eating Funfetti cake. Party animals!
Shrinky Dinks have officially grown up. Gone are the days of pre-printed clowns or whatever terrifying image the Art Director of Shrinky Dinks thought we wanted. I'm instantly a sucker for anything tiny and anything that masks all of your mistakes by shrinking to a third of its original size. I favor Shrinky Dinks for jewelery  personally, but I'm also making some Christmas ornaments out of them this year.
For the purposes of this tutorial, we're going to be making fairly simple Shrinky Dink earrings.
Let's talk Shrinky Dinks basics here. I like the Bright White (creepy clown front) and the Frosted Ruff 'n' Ready (creepy angel front). Bright White smears easier, so it's best for fine permanent markers. Ruff 'n' Ready is great for acrylic paint and stamps, but it is see-through, so if your design doesn't cover the whole thing you're going to see the earring blank behind it and it looks funny. There's also Ink Jet Shrinky Dinks which looks super cool but they didn't have them in stock and I'm too frugal to spend $12 on magic shrinking plastic, you know? Choose wisely!
Supplies Needed: Shrinky Dink plastic (I bought mine at Michaels, it's in the stamp aisle, but you can also find it online or at most craft stores), an oven, permanent markers or stamps or acrylic paint, scissors or a shape puncher, parchment paper, Mod Podge (optional), super glue, jewellery findings — ring blanks, earring blanks, pendant bails or whatever you'd like.
Level of difficulty: Shrinky Dinks are made for children, so… I think you'll be okay, little buddy.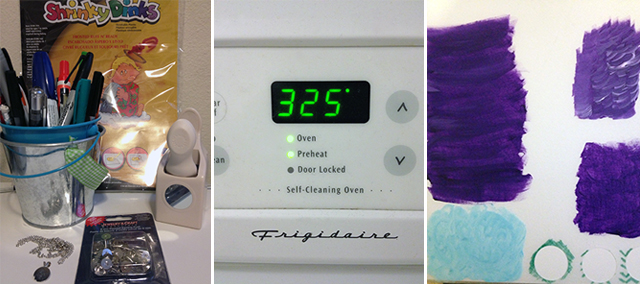 1. Preheat your oven to 325°.
2. Draw or paint or stamp on your Shrinky Dinks plastic pages. If you're using Ruff 'n' Ready (the name kills me), color on the rough side. Go bananas with it. I did some wonky chevron, some assymetrical herringbone, some not straight lines, and some random globs of paint. It doesn't have to look that great, but just don't smudge it because smudges become 329% more noticeable when they shrink.
3. Cut them out. I like to use a shape puncher
because I'm lazy and I feel it necessary to have matching shapes for earrings and I have zero abilities to cut in straight lines with scissors, much less perfect circles. Maybe you're really good at tracing circles and cutting them out. Go ahead and do that. I envy you. For reference, my shape puncher is a little larger than a quarter and my earrings shrunk down to smaller than a dime. They really take their name seriously.
3 1/2. If you are making something like a keychain or ornament, now is the time to cut a hole for the string.
4. Place them on parchment paper, colored/"ruff" side up, on a cookie sheet and put them in your preheated oven.
5. If your oven has a window, perfect. You get to watch the magic happen. If not, wait for about 2-3 minutes and then peek inside. Your Shrinky Dinks will do nothing for a long time, then curl up and shrink and flatten out again. Wait for about thirty seconds after they unravel and then take them out, pressing down on them with parchment paper to flatten them out.
6. Let them cool down for about fifteen minutes. If you painted them, put a layer of Mod Podge over them for added protection, because they'll scratch easily.
7. Use the super glue to stick them to the earring blank or ring blank or bail or whatever you're getting at here.
8. Tah dah! Dang, those are some pretty sweet Shrinky Dinks you got there.
I've made necklaces, vegetable garden label sticks, keychains, rings and earrings out of Shrinky Dinks. They're tough and they hold up, I can promise you that. No one has to know how easy these were to make. It can be our secret.