Brittani's Team Pick:
"Raisin in the Sun?" What are your thoughts. It doesn't matter. Because Lorraine Hansberry herself was bored to death of it. So much so that she included it on her "I AM BORED TO DEATH WITH:" list. Now one of my greatest fears is that I will die unexpectedly and all of the random/weird/embarrassing slips of paper I have floating around my room, thrown in folders of keepsakes, and in pockets of pants that haven't been washed yet will come to light. If any of them were as brilliant as the lists Hansberry wrote, I wouldn't worry about this at all.
In addition to the "I AM BORED TO DEATH LIST WITH:" list, she made a  few others of things she likes, things she hates, and things she wants. This is basically all I use the internet for so I'm impressed and jealous that she was able to come up with such a good list in probably one sitting and that these lists are some of the funniest things I've ever seen in my life.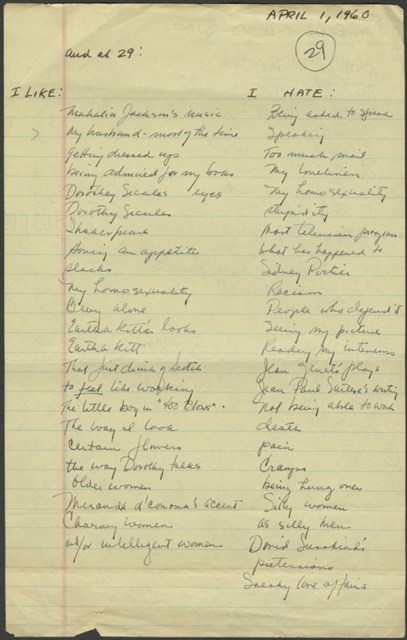 Highlights include putting "my homosexuality" in the like and hate columns, how hot she thought Dorothy Secules was, being bored with both being a Les AND Lesbians (with a capital L, so including herself?), hating Sidney Poitier, every time she said silly, cramps — ok, who I am kidding. This entire thing is a gem. I want to print it out. I want to frame it. I want it to be the first thing I hang in my new apartment whenever it is I get a new apartment. But real talk, how much sex was she having that she was bored enough with it to list it in all caps? Nothing has ever made me more interested in any person in the history of everdom than these lists have made me in Lorraine Hansberry. God bless April 1, 1960.