Just in time to kick off Bisexual Awareness Week, 53-year-old Lord Ivar Mountbatten has become the first out member of the British Royal Family by coming out as bisexual. In an interview with the Daily Mail, Mountbatten said he's known he was bi since he was a teen, but "just did not want to go there because there would have been so much grief." Mountbatten, a cousin of Queen Elizabeth, married wife Penny in 1994, and they divorced in 2011. Mountbatten says that he was out to his wife as bisexual and dated men after their divorce, but never came out publicly until he met now-boyfriend James Coyle, who he says wasn't willing to be with someone closeted for the long term.
Although Mountbatten doesn't face many of the challenges that bi people worldwide tend to, like poor health and poverty, due to his wealth and class, it seems that his family's stature hasn't insulated him from some other forms of biphobia, like the fact that headlines seem to almost exclusively refer to him as coming out as gay even though he refers to himself as bisexual several times. (He also refers to himself as gay elsewhere, saying "I am a lot happier now, though I am still not 100 per cent comfortable with being gay," but the nuance of his using both labels does not seem to be reflected in most coverage of him.) Additionally, when talking about his ex-wife, he says "Given my sexuality, I was quite surprised she married me in the first place. It was brave. Perhaps she thought she could change me but in the end she realised she couldn't," a sad statement — unfortunately, it's far too common for bi people feel that their sexual orientation makes them undesirable as partners, or that their partners are with them in spite of their bisexuality.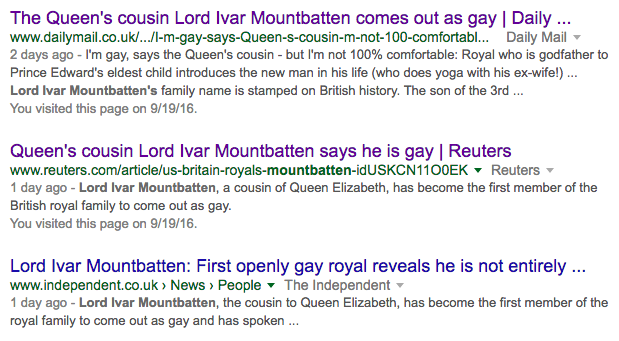 Today, Mountbatten seems happy and settled with Coyle, an airline cabin services director; he says "everyone in our family knows and could not be more supportive." Both are still close with his ex-wife, Penny, and Mountbatten is out to his three daughters, who he says love James as a stepfather.