Friends, I was in a liquor store with a friend buying a completely unrelated bottle of something or other when I saw it. Hudson Whiskey puts out a maple rye that I previously knew nothing about.
If you've ever had a drink with me, you know that I have strong, positive feelings about rye whiskey. It's often a little spicier, a little sassier than bourbon. And if given the choice of American whiskeys, I will choose rye literally every time. I have been made fun of for this before—rye has not necessarily been in vogue, and has, in the past, been considered a drink for old curmudgeonly men. But hot damn, I love, love, love it. It's complex and gorgeous and delicious. I feel the same exact way about real, honest-to-goodness maple syrup — one of the great treasures of breakfast food. I look for excuses to put that shit in everything. So imagine my utter fucking delight to head back to the liquor store and purchase a bottle of Hudson's Maple Cask Rye. Wherein Hudson Whiskey sends barrels to a Vermont maple syrup producer, who ages and seasons in the whiskey barrels, and then sends them BACK TO THE DISTILLERY wherein Hudson Whiskey ages a rye in them.
First I tried to make my standard Manhattan with it, and while it was good, it didn't really allow the chance for the maple to sing. I blame sweet vermouth for this. So back to the drawing board—what would showcase this beautiful new creature with which I was mixing? Enter the Old Fashioned—a drink so deceptively simple and so uproariously tasty that it should be a standard for your average queer cocktail enthusiast. It generally consists of only three ingredients: rye, sugar and bitters. That's all, folks! It's even built in the glass for minimal cleanup. But given that I wanted to create this drink as a ring box for my new rye, I figured we could fancy it up a little.
Enter the idea to set an orange on fire without the proper tools at my disposal.
You will need:
Hudson Whiskey Maple Cask Rye
Sugar and water OR a premade simple syrup
Angostura bitters
an orange
better matches than I had OR an unscented tea light WE WILL GET TO THAT IN JUST A HOT MINUTE
the will and/or stupidity to light those matches extremely close to alcohol
a bar spoon
First, if you don't have simple syrup already made, go ahead and throw half a cup of water and half a cup of sugar into a pot and bring it to a simmer on medium heat until the sugar is completely dissolved. Stir occasionally for faster results. You will know when you are finished when your liquid is clear-ish with a slightly sweet brown tint to it. Set it aside to cool.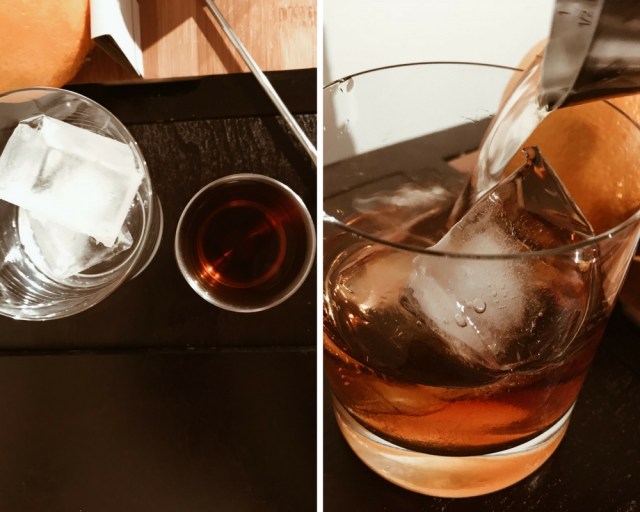 Once your syrup is reasonably room temperature, grab two large ice cubes and stick them in a tumbler. Measure out two ounces of whiskey and add that to the glass. Throw in a quarter-ounce of simple syrup and two dashes of angostura bitters.
Slip your spoon between the ice and the edge of the glass and stir whilst trying not to make a really ugly clinking noise. Depending on how many drinks you have had previously this evening, you may have little success. Just try not to crack the ice.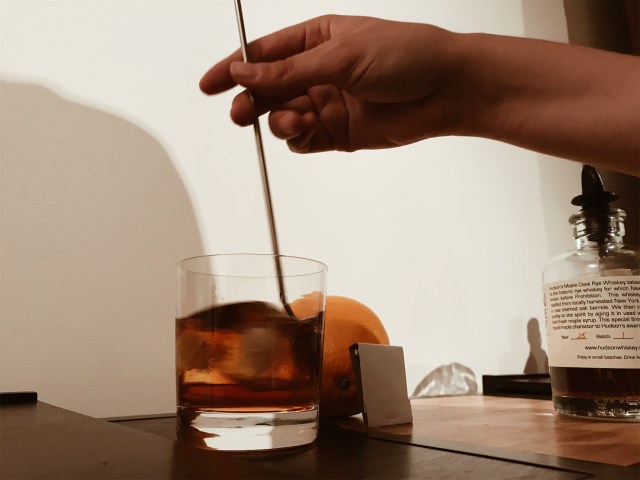 If this were a standard Old Fashioned, you'd serve it up exactly like this or you'd spear a cherry for garnish. BUT WE ARE FANCY FOLKS. We're going to play with flames.
Cut a coin out of your orange such that you've got peel and pith, but not actual orange meats. It'll look like this: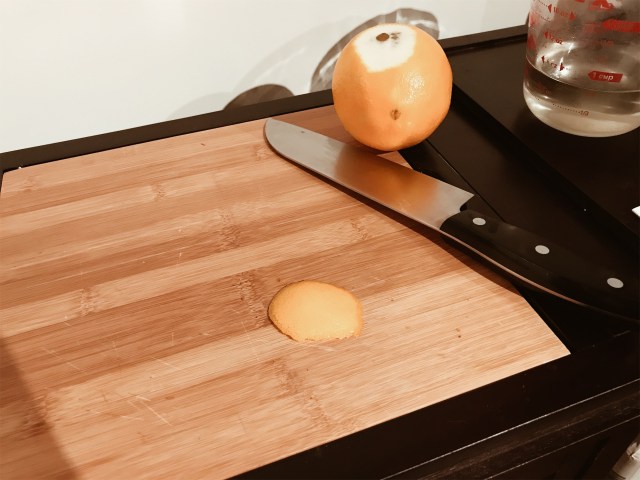 Light a match and warm up the orange coin. Realize that your only matches are made for lighting cigarettes and that they are way too small to move to the next step. Burn your finger. Accidentally char an orange coin. Throw the match away, realize you have forgotten to run it under water, consider pouring water into your trash can. Contemplate your failure to properly prepare. Wonder if meditation is teaching you anything about being more present in the moment.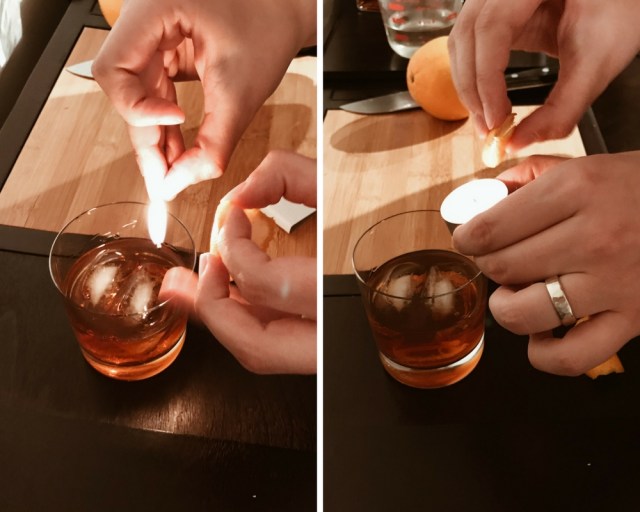 Cut another orange coin and thank the universe that you read your tarot cards every morning and have literally one hundred unscented tea lights in your linen closet. Procure said tealight. Use the insufficient matches to light the tea light. Warm up the new orange coin and marvel at how you can see the light through it and wow, isn't that pretty? Then hold the tealight close to the rim of the glass and squeeze. Watch as the flame flares up. Feel like one of the witches in Practical Magic. Realize that there's a new one of those books out and it focuses on the aunts, who are clearly the best part. Rub the orange coin around the rim of the glass so the flamey oils get all over it, then drop it into the drink unceremoniously. Photograph your triumph on the queerest bookshelf you own and serve your Old Fashioned.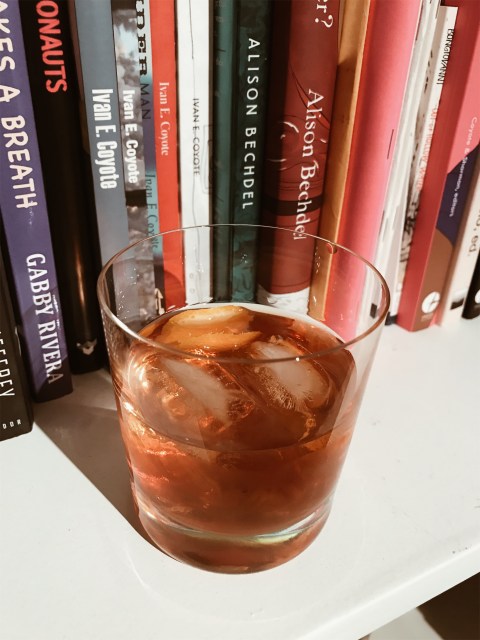 If you don't have Maple Cask Rye, just sub out the simple syrup for maple syrup and HOT DAMN THERE YOU GO.