It's been like five fuck-buddies, six umbrellas, 567 bottles of whiskey, three apartments and one incident of Heather Peace kissing me on the cheek since we last caught up with the lovely women of Lip Service, and at last Season Two is really truly honestly actually happening. On Friday, April 20th at 9:30 PM on the BBC3, Lip Service will return to your box (if your box is UK-based), with all your favorite ladies sporting new haircuts.
Episode One will find Cat (who very recently shagged her BFF/first love Frankie) and Sam back in Glasgow after a fun lesbian holiday in South America, Tess in a super-happy relationship with the hot neighbor, and Frankie and Tess struggling to pay rent. Clearly they'll have to take on a third roommate. It will not be this guy: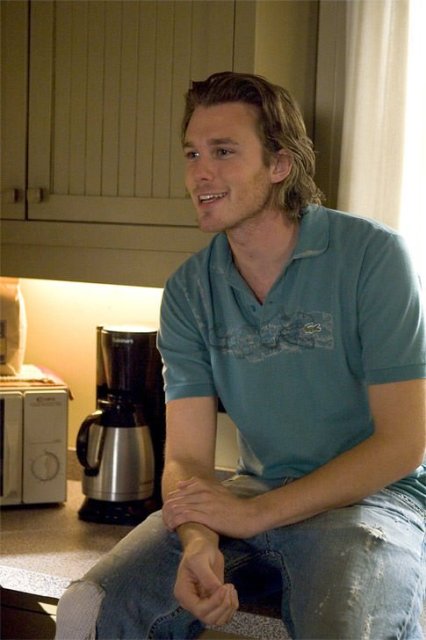 All signs point to the new roomie being new character Lexy — "a sexy, funny and straight-talking Australian doctor" played by Anna Skellern. Creator/writer Harriet Braun told the BBC3 that she always wanted to write a doctor because "there's something intrinsically sexy about the whole "I can handle a crisiswp_poststhing."  There'll also be some new bros this season like Lexy's "irreverent" gay doctor friend, Dr. Declan Love. Also, Sadie is back!
"Although there will be as much comedy as ever, I think I would say Lip Service gets a lot darker this season," said Braun. "First time around, I looked at people at a pivotal age — late twenties or early thirties, trying to get what they want and avoiding making the same mistakes again. This time it's about what happens when you get what you want and it isn't quite what you expected… or you can't have what you want."
Twists and turns are promised, as well as "surprising directions" and "emotional curveballs." You can read summaries of all of the first four episodes of Season Two on Cult Box and the complete intrview with Harriet Braun on BBC3.
The BBC 3 also has put out some "monologue" videos. Here's my girlfriend, Frankie, discussing her first lesbian kiss:
Are you excited? The best news of all is that we'll be recapping Lip Service, and these recaps will be written by a very very very special guest writer who was making people pee in their pants over her L Word recaps before I even knew it was on. So what are you most excitant about? Besides Frankie's tank top?