LOHAN: Okay, The Insider. We've established that Lindsay Lohan is not a hoarder. She also has feelings. There are a lot of shoes in her house. But man they are dragging this shit out.
Okay moving on! Chipper introduction begins here: with all the relationship drama, career troubles and crazypants father shit happening, it may have been a while since you were jealous of Lindsay Lohan. But then she gets this professional organizer and you're like "dammit, I want her life!" Also, people on The Insider TALK SO WEIRD. I just want to see this stuff on The Soup, I can't bear to see it in context. "I AM SO EXCITED TO SEE LINDSAY LOHAN'S SYSSSTEMMM!!" (imagine that last word emoted Oprah Winfrey-style please)!
Also az central reports that the house-cleaning has more benefits than that: Lindsay Lohan is selling off her possessions for charity. The 'Mean Girls' actress is gutting her home to help her "move forward" emotionally and will sell off the unwanted items to raise funds for good causes.
Actually, the opportunity to do something major for Haiti is way more worthy of our admiration/jealousy. Lindsay will be hosting a benefit after The Brit Awards on February 16th:
TASHA: Rose Rollins is going to be back into your life and back in your dreams and back in your head with her perfection and beauty in NBC's Jerry Bruckheimer-produced drama pilot "Chase."
QUEEN LATIFAH: Grammy award-winning singer Queen Latifah opened the 2010 Super Bowl game with her rendition of "America The Beautiful." (@blackgaygossip)
WOMEN IN ROCK: White Washed: Black Women in Rock: While my love for female-based rock music is well-documented and longstanding, even a fangirl like me can easily admit that riot grrrl and the punk scene more generally have long been a largely homogeneous affair, with a lack of racial diversity and inclusion among its iconic musicians and those who loved them. Partially inspired by Black History Month and partially by Beyonce's rendition of Alanis Morissette's classic at the most recent Grammy's (skip to 3:10 in the video), I wanted to showcase some women who defied narrow expectations and produced amazing music. (@bitchblogs)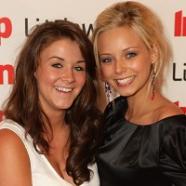 CORRIE: At the moment, Coronation Street's Sean Tully (Anthony Cotton) may be able to claim he's the only gay in the village. But not for much longer, as show bosses prepare to screen the Street's first lesbian snog this April. (@ukpa)
FILMMAKER: "Very few first-time filmmakers get to see their work in front of more than a few friends or family members, let alone the elite crowds that grace the Sundance and Slamdance Film Festivals, but that's exactly what Marja Lewis Ryan, writer, co-producer and co-star of The Four-Faced Liar has just experienced." (@afterellen)
BLACK HISTORY MONTH: Logo Online's DowneLink's Black Pride Celebration has a bunch of full-length movies and other specials up online right now, including some you might be familiar with like U People and some Robin Roemer did the principal photography for (shameless plug) like Shirts & Skins! They've also got Coming Out stories up including Sheryl Swoopes. (@logo)
DARIA: May 11 2010, that's when Daria is coming out on DVD.Daria: The Complete Animated Series on DVD will, according to the studio, contain "ALL FIVE SEASONS PLUS BOTH MOVIES!" The running time is 1606 minutes (almost 27 hours!), and video is listed as full screen and it will include the Pilot episode, the Mystik Spiral Music Video "Freakin' Friends". Daria Day Intros, Top Ten Video Countdown Hosted by Daria & Jane, Cast & Crew Interviews and the  Never Before-Seen Mystik Sprial spin-off script.