There are plenty of people who would argue that Lindsay Lohan's public image as the twenty-first century's definition of a young female fuckup precludes her ability to succeed as part of a real 'artistic' production. But that's exactly what Richard Phillips, pop art painter turned filmmaker, is banking on. His ninety-second short film and/or commercial, "Lindsay Lohan," is part of a tradition of work that focuses on celebrities of all types, and has "a certain fixation on the power of media gods and goddesses to distract us from the people they really are."
The film is part of an event called "Commercial Break," a program of 80 videos presented by the Garage Center for Contemporary Culture. It's aptly named; "Lindsay Lohan" can be thought of as "a 90-second ad for her more sober self."It makes sense that someone whose work has always revolved around celebrity – Phillips' last major exhibition was "outsize portraits of famous faces belonging to Leonardo DiCaprio, Taylor Swift, Justin Timberlake, Dakota Fanning and the like" – would be interested in Lohan. But what is it that he's interested in, her talent or her reputation?
While his resume would indicate the latter, he says it's more about the former: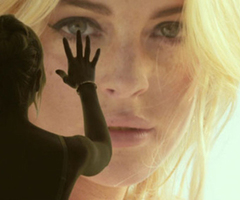 This time out, he wanted to get beyond a public image widely exploited, or ridiculed, in the media, and past the celebrity endorsements and luxury-goods sponsorships that, he says, are what herald serious art projects today.
So what is there once you get beyond the public image? Well, Lohan alternates between shots in a somber black turtleneck, and a skimpy white bikini – references to her sober and less sober selves, or perhaps her public image and real self.
In "Lindsay Lohan," the beleaguered beauty is captured mostly in close-up, and in attitudes that Phillips appropriated from two 1960s movie classics, Jean-Luc Godard's "Contempt" and Ingmar Bergman's "Persona," starring Brigitte Bardot and Liv Ullmann, respectively. The skimpily clad Lohan stands in for each, appearing anguished, introspective, seductive, sleepy, hurt, querulous, innocent and always alone.
Is this really a "brief psychological portrait of Lohan [which] attempts to unite the irreconcilable differences in her divided personality?" Does it actually mean anything, coming from a director who says upfront he's "never made a film, not even on an iPhone?" Why are we still talking about a starlet who's appeared more often in the tabloids than onscreen for years, and whom most reputable media outlets have lost interest in except for stories about drug abuse or embarrassing tweets?
Maybe just because in her first serious piece of work in years, Lindsay Lohan, one of our only out queer female celebrities and someone who seems committed to honesty about drug addiction and how hard recovering from it is, doesn't even have any lines.